The Poetry of Diego Maradona, and Hateful Truth in It
Diego Maradona's football has been described recently as poetry, and in his death poetry has been extinguished in the game. Except, just as difficult as it is to understand and appreciate poetry in person, Maradona was too. He lived in a duality, and worked on different metres.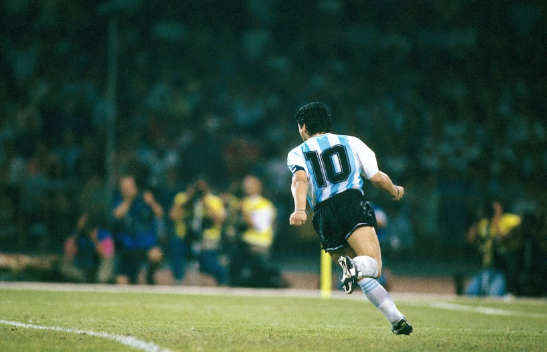 Even as the world mourns Diego Maradona's death, one is inclined to celebrate his passing for all the joy he provided on the playing field, the full life he lived, and what he gave to football.
There are some things — notions even — which are so explicitly true that they become universal laws. For instance the Law of Gravity and its corollaries one learnt in a Physics book quite a while back. The universality in football is another example of a notion being accepted as a norm, a law. Everybody, almost everyone (one should be factually correct), loves football. And yes, almost every other person you meet hates poetry, brushing it under the carpet as an emotionless heap of dust that, if left unattended, would settle and soil the very table on which they eat their food-for-thought every morning before starting the day. Poetry is an inconvenience for many. Poetry is illegible, unlike football. And understandably, poetry is hated, unlike football.
But then, a beautiful goal is always poetry, A flourish on the ball is poetry in motion. Diego Maradona's death is the death of poetry in football, some established names in the game averred yesterday, the 25th day of November, 2020.  
It is amusing to see poetry being the most used and abused art form when it comes to describing sport, not just football. The word — the art, the concept, the idea of stringing words in stanzas — is a skill to behold, but its beauty is lost because no one notices poetry. That makes us wonder how poetry gets so much attention on the football field. Maybe it is because of football's perceived and inherent beauty. Or perhaps, it is because of Diego Maradona.
Also Read | Kolkata Derby in Goa: Only Fools Rush in, They Say…
Maradona's death is being mourned across the world. In a strange dimension, though, one is inclined to celebrate his passing for all the joy he provided on the playing field, the full life he lived, and what he gifted to football. However, strangely enough, representative of the enigma the man himself was, one feels completely shattered by his death. Even while remaining unsure whether it is because of the love for football or love for the man.
Maradona was the first footballer one began living with, having been born in 1980, and being just about the right ball-kicking age on the school playground when Mexico 1986 hit the TV sets. We were all awed, naturally so, by the grey and white striped jersey-wearing maestro on our family black and white, 14-inch TV set. 
We are all completely shattered despite not being an Argentine or a Neopolitan, who would forever be indebted to him for what he promised, lived and delivered, playing a ball game well, so well that 35-odd years down the road, they talk about renaming stadiums and forever resting the No. 10 jersey from the game to honour his memory, his poetry.
Ah yes, poetry… Now, everyone seems to know Maradona, and has got something to talk about him… An anecdote, a quirk, a moment of joy, a flash of guile, a Hand of God even. This phenomenon, of everyone knowing you, is reserved for Gods — guess Maradona is one after all — and poetry. 
In his 2016 book, The Hatred of Poetry, the American poet and novelist Ben Lerner, talks about this disjunction and dichotomy in the art form, a topic addressed by many poets and wordsmiths in the last one and a quarter century or so. They all were mute, and at times unmute, witnesses to the growing disconnect the world has with poetry. But still, everyone knew poetry. Lerner expresses that with amusement in his book. 
"If you are an adult foolish enough to tell another adult that you are (still!) a poet, they will often describe for you their falling away from poetry: I wrote it in high school; I dabbled in college. Almost never do they write it now," he writes. "They will tell you they have a niece or nephew who writes poetry."
It is not a mere attempt at being polite in conversation, feels the author, but an attempt to be relevant in the space, time and ideas the poet provides or represents. "The awkward and even tense exchange between a poet and non-poet — they often happen on an airplane or in a doctor's office or some other contemporary no-place — is a little interpersonal breach that reveals how inextricable 'poetry' is from our imagination of social life. Whatever we think of particular poems, 'poetry' is a word for the meeting place of the private and the public, the internal and the external; my capacity to express myself poetically and to comprehend such expressions is a fundamental qualification for social recognition. If I have no interest in poetry or if I feel repelled by actual poems, either I am failing the social or the social is failing me."
The attempt to identify with the poet (or maybe it could be empathize) is because there is a ticking moral clock inside, for some odd reason one can't fathom, which makes us believe that not identifying with poetry is an indication of one's dissociation with the larger schemes of being human in a social setting. Poetry is social, but with no social network framework to help it flourish.
Maradona is much like poetry. We all want to connect with him now in death, much like we wanted to be part of him in his prime, or even in his days struggling to come to grips with the reality of a much abused body and spirit. The connection is perhaps to validate our love for football.
So, is there poetry remaining in football after yesterday?
Also Read | AIFF Approaches Supreme Court Seeking Extension of Tenure of Executive Committee
Since we don't understand poetry — much like we only have a very peripheral, almost frivolous understanding of the actual meaning of the game to our lives — we may not be able to see it even if it existed. 
There is a song that has been playing in loop in one's head since this morning. 'Live is Life' by Opus. There are multiple videos of Maradona warming up to this song being played on the loudspeakers of the stadium ahead of a European match for Napoli. He seems to be in a trance. He seems to be in a transcendental meditative zone. The word 'Mars' written across the back of his warm-up jacket seems to reiterate his extra terrestrial belonging. He seems to be in a poetic perpetuity. He seems alive. He seems ready to breathe life into the game. He was born to breathe poetry into the game. 
Maradona is dead. And we remain alive, as lovers of El Diego, of football, and… yet we continue to hate poetry!
Get the latest reports & analysis with people's perspective on Protests, movements & deep analytical videos, discussions of the current affairs in your Telegram app. Subscribe to NewsClick's Telegram channel & get Real-Time updates on stories, as they get published on our website.
Subscribe Newsclick On Telegram