UP Polls: Stray Cattle Issue Treads on the Heels of BJP as Polls Move Eastwards
"Demanding a ban on cow slaughter, we had supported the BJP in 2014 and 2019 Lok Sabha elections and 2017 Assembly polls. We did not know that the problem would become so severe. Learning from the past, this time we stand behind the Samajwadi Party," said a farmer.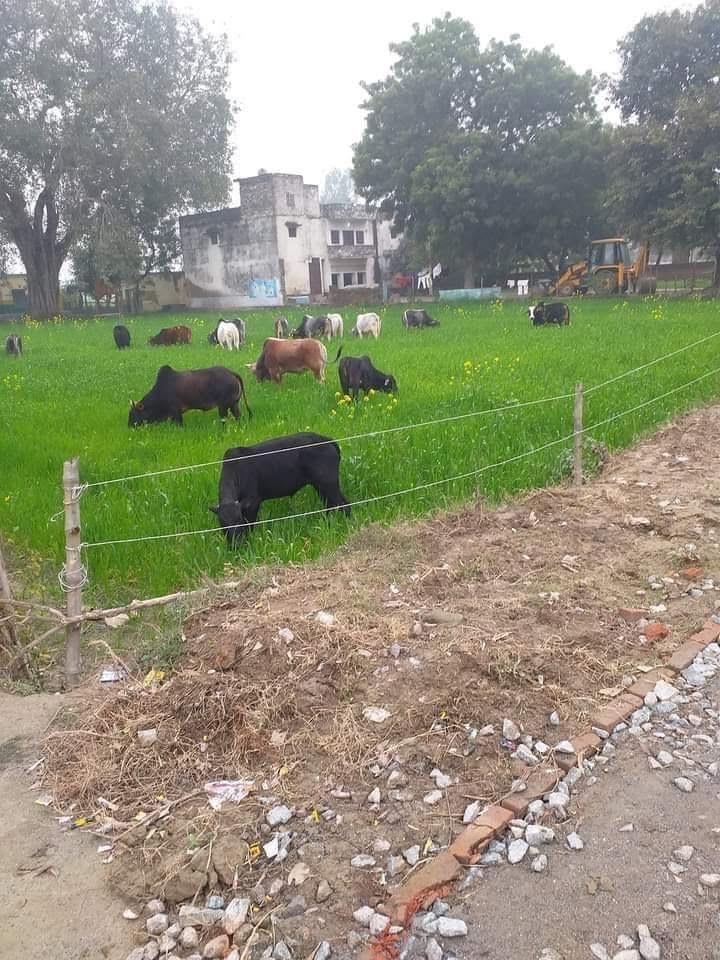 Gorakhpur/Deoria: Parbhansh Kushwaha (60), a marginal farmer from Paina village in Deoria district, grows wheat and seasonal vegetables. He is among thousands of farmers from the state whose crops have been damaged by stray cattle. He says that the stray animal menace has taken a toll on his mental health so much that he went into depression and had to be put on medication. 
"I have lost a huge chunk of my crop because of stray cattle," said Kushwaha, who has cultivated wheat on his 15 kattha land. Very little wheat has been salvaged, he added.
About 70 km from Paina is Ahirauli Bujurg village in Uruwa Bazar, Gorakhpur region. Mahendra Kumar speaks of a similar experience. He has spent sleepless nights guarding his produce from stray cattle. He says no one has come to pay heed to his problems in the past five years. "Once the voting is done, no one listens to our plight," said Kumar.
"There is much talk about the barbed wire fences to keep the cattle away, but only big farmers can afford to put in those fences. Around Rs 16,000 is required to do so and still, it's no full-proof plan," he told NewsClick.
As the ongoing Uttar Pradesh Assembly elections move to the Eastern region of the state – away from the Western and central districts – so does the issue of stray cattle. It continues to be a reason for discomfort for the ruling Bharatiya Janata Party (BJP).
The number of cows and their progeny has substantially risen in the east. As per Livestock Census, 2019, Gorakhpur has witnessed an increase in the number of stray cattle to 2.87 lakh from 2.53 lakh. Similarly, this number has grown to 2.88 lakh from 1.91 lakh in Deoria and to 5.11 lakh from 2.88 lakh in Mirzapur.
The problem emerged following the ban on cattle slaughter and its strict enforcement by the Yogi Adityanath-led BJP government in the state.
"There was no stray cattle menace in this region five years ago. Today, stray cows and bulls have wreaked havoc," Ramchandra Singh, who grows sugarcane, wheat and mustard at Laxmiganj in Kushinagar district, told NewsClick.
Visits to some of the villages in Gorakhpur, Deoria, and Kushinagar reveal that several local issues faced by people do not figure in the poll agendas of political parties at all. While unattended animals devouring the standing crops in the field is a common sight across Uttar Pradesh, floods – inundating people's houses during monsoons – is another severe issue that does not find place in pre-poll rhetoric.
Sudhir Kumar Tripathi, who belongs to Basevarai village in Basti, said farmers here are backing the Samajwadi Party-led Opposition alliance just because of "aawara pashu" (stray cattle).
"Demanding a ban on cow slaughter, we had supported the BJP in 2014 and 2019 Lok Sabha elections and 2017 Assembly polls. We did not know that the problem would become so severe. Learning from the past, this time we stand behind the Samajwadi Party," he said.
People here told NewsClick that because of the strict enforcement of the ban during the Yogi regime, people let loose non-milking cows, male calves, and bulls. It resulted in multiplication of their numbers. Prime Minister Narendra Modi recently made a promise at an election rally in Unnao that the government would address the trouble caused by stray cattle after March 10 – when the results of the polls are out.
Sharan Kumar Nishad, a farmer from Bahraich, said the menace is giving farmers sleepless nights. "We fear losing our crops day and night. There is no solution in sight. The BJP talks about improving the law-and-order situation in the state. There is no point of anything if we go to bed hungry," he added.
For farmers, the costs are not only on account of crop losses, but also due to the need to erect barbed wire fences. "For a single bigha (0.2 acres), 100 kg of steel wire at Rs 80-90/kg and 40 RCC poles (costing Rs 200-250/pole) are required for three rounds. That comes to over Rs 16,000," said Jagnarayan Verma, pradhan (president) of Basevarai panchayat.
"Had there been no awara pashu, per bigha wheat yield would have been four quintals. But today, I would be fortunate enough If I harvest even two quintals," said Ram Sharan Yadav, standing guard over his field in the Ahmadpur village in Maharajganj.
The farmers were unimpressed with the Yogi government's solution to the problem – building more gaushalas (cow shelters). "Gaushala caretakers ask for money when farmers go there with stray cattle. The shelters are crowded beyond capacity. They are not given fodder properly, leading to the deaths almost daily in gaushalas across the state. And once we leave the shelter, the animals are once again let loose at night," claimed Purshottam Paswan from the same village.
Ram Kishor Verma of Bhatpar Rani of Deoria district too admitted that the stray cattle are a major issue in the region, but refused to agree with the presumption that it would impact poll prospects. For him, the larger issue of unemployment, which leads to migration, farmers' movement, loss of sources of livelihood during Covid-19 lockdowns, and castes are the factors influencing the elections.
"Eastern UP shares a border with Bihar. So, the bordering region has forests and bushes. The stray cattle can be seen going there as those areas have abundance of fodder for them. Nilgai (a largest Asian antelope) are found in large numbers in the region. It mainly destroys the crops," he said.
Not the issue of stray cattle alone, he said, but a combination of factors is impacting the voting process in the ongoing polls. "The polarisation of different castes – which had voted the BJP en-block in the previous elections – in favour of the Opposition seems to be working," he suggested.
However, Verma – who is part of the 'Nilgai Bachao Andolan', a farmers' movement working to save crops from stray cattle in Deoria and Gorakhpur – has no hope from the Yogi Aditynath-led BJP government. "The ruling government keeps misleading people in the name of religion to divide them while making money from meat exports. Crores of rupees are allocated for developing cattle care centres. Where does that money go? The only concern for politicians is their businesses, but only the poor have to suffer," he opined.
Yogendra Yadav Jigyasu of Rajdhani village of Chauri Chaura also said the same. "Cattle menace is an issue in the East, but not as strong as it is in the Western part of the state. Farmers here have small landholdings and are not as prosperous as their counterparts in the West. This region has strong farmers' unions to raise their issues too," he said. 
He added that caste plays an important role in the politics here. "The new equations that have emerged with the formation of a new Opposition alliance have resulted in a caste polarisation against the BJP," he added.
This NewsClick correspondent visited Katasikra village of Brahmpur block under Chauri Chaura tehsil; majority of the farmers here were marginal farmers who grow seasonal vegetables. Most of them also belong to Scheduled Castes. They said that due to heavy losses, flood, and stray cattle, many are giving up on farming.
"During the 1998 flood, the water engulfed the entire Purvanchal region and unfortunately fertile land turned into barren. The farmers who used to sow wheat, paddy and mustard are now left with only pointed gourd and water melon in the name of farming. And even that is not safe because of stray cattle," said Shailesh Yadav, village head of Katasikra.
Om Prakash, professor of agriculture in Gorakhpur, told NewsClick that due to economic conditions, farmers abandon an animal that does not give milk. "At the same time new machines and tractors which are easily available in the market have ended the usefulness of the calves. In such a situation, it becomes difficult for the farmers to rear the calves. An animal needs at least 10 kg of straw or wheat straw and 15 kg of green fodder every day. Along with this, one kilogram of food containing proteins, carbohydrates, and minerals needs to be eaten. It can be bran, cake or animal feed. Rs 130 to 150 have to be spent on each animal every day, which farmers cannot afford," he said.
Get the latest reports & analysis with people's perspective on Protests, movements & deep analytical videos, discussions of the current affairs in your Telegram app. Subscribe to NewsClick's Telegram channel & get Real-Time updates on stories, as they get published on our website.
Subscribe Newsclick On Telegram