Pollution Control Norms for Coal-Fired Power Plants Relaxed Despite Modi's Commitment to Environment
In a notification issued on September 5, MOEFCC extends deadlines set upon thermal power plants to reduce emission of sulphurous oxides.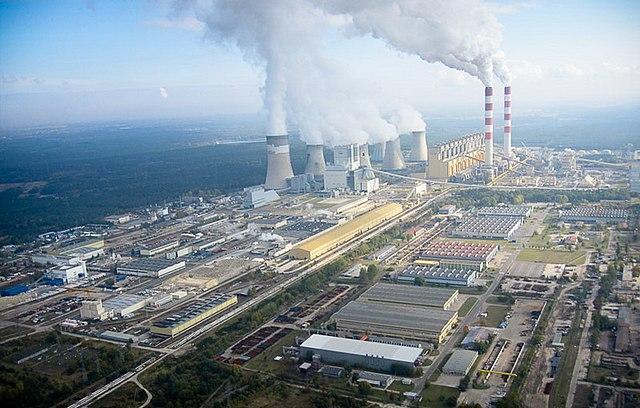 Coal-fired power station. Image Courtesy:  Wikipedia
New Delhi: Notwithstanding Prime Minister Narendra Modi's display of commitment toward environmental conservation, the central government has, within the past 18 months, twice extended deadlines set upon thermal power projects to control the emission of toxic and harmful gases. Two days ahead of the International Day of Clean Air for Blue Skies, which is observed by the United Nations on September 7 every year to strengthen international cooperation in improving air quality and reducing air pollution, the Modi government did away with the deadlines that it had itself set in March 2021.
The new deadlines – to reduce emissions of the toxic oxides of sulphur generated from the combustion of coal in thermal power plants – were issued through a gazette notification by the Union Ministry of Environment, Forests & Climate Change (MoEFCC) on September 5.
"In a country marked by high death rates due to air pollution, the cost of inaction is high when it comes to non-enforcement of emission control norms upon coal-based power plants. These emission norms were put in place after realising the fact that coal-based power plants are a major contributor to air pollution. Non-adherence to emission control deadlines eventually results in higher mortality rates amongst the population living in the vicinity of thermal power projects. Numerous extensions provided by the central government to implement emission control guidelines only goes to show that public health in India takes a backseat when it comes to safeguarding the interests of polluting thermal power plants," said Sunil Dahiya, an analyst at the Centre for Research on Energy and Clean Air, an independent research organisation.
In December 2015, the MoEFCC issued ultimatums upon coal-based power plants to reduce emissions of the oxides of sulphur and nitrogen. Through a notification, the ministry had initially set a two-year time period for all thermal power plants to achieve the new emission standards. However, the Central Pollution Control Board (CPCB), a statutory body entrusted with powers and functions to control air pollution, extended this deadline by five years after most thermal power plants failed to achieve the new standards by December 2017. Depending on their respective years of commissioning and installed capacities, different thermal power projects were thereafter set with different timelines till December 2022 for achieving the emission standards.
However, before the aforementioned deadline was set to expire, the ministry issued a new set of deadlines in March 2021 in which power plants were divided into three categories depending on the location and area of the projects. Through this notification, "non-retiring" as well as "retiring" units within a 10-km radius of Delhi-NCR or cities with populations exceeding one million had to achieve the emission control standards by December 2022. Power plants meeting these qualifications fell into the first category of projects.
The second category of projects comprised those within a 10-km radius of Critically Polluted Areas or Non-Attainment Cities. (The CPCB has identified certain cities in India as Critically Polluted Areas on the basis of their low scores on various environmental parameters. Similarly, Non-Attainment Cities are those that do not consistently meet air quality standards, as envisaged under the central government's National Clean Air Programme, over a five-year period.) Non-retiring units were set the deadline of December 2023 while retiring units were set the deadline of December 2025 in the second category. The third category of coal-based power plants comprised those that did not qualify for the two categories described above. Non-retiring plants in this category were set the deadline of December 2024 while the retiring plants were given the target of December 2025.
Through the latest notification, the ministry has extended the deadline until December 2024 and December 2027, respectively, for non-retiring and retiring thermal power plants within a 10-km radius of Delhi-NCR and in cities with populations exceeding one million. Non-retiring and retiring units falling within a 10-km radius of Critically Polluted Areas or Non-Attainment Cities have been set the deadline of December 2025 and December 2027, respectively. Similarly, non-retiring units and retiring units falling in the third category of thermal power plants have been set the deadline of December 2026 and December 2027, respectively.
Further, all power plants that are set to retire before the end of December 2027 will no longer require to adhere to regulations concerning emission standards for sulphurous oxides at all by submitting exemption requests to the CPCB and the Central Electricity Authority (CEA). Notably, the CEA, a statutory organisation that advises the central government on all matters pertaining to policies and plans for the development of electricity systems, has never compiled a list of "retiring" and "non-retiring" thermal power projects in the country.
On the other hand, CEA's data shows that compliance by thermal power plants for achieving norms regarding the emission of sulphurous oxides, in terms of installing pollution control equipment like Flue Gas Desulphurization (FGD) systems, is very poor in the country. Only 21 out of the 600 thermal power units across the country have installed FGD systems to date, as of data released by the CEA in September 2022. These include 15 units in the private sector and six units belonging to the central government. It accounts for a mere 4.15% of the total installed thermal power capacity in the country. None of the 222 thermal power units belonging to different state governments has installed FGD systems to date.
Experts have flagged the issue that the deadline for adhering to sulphurous oxide emission standards is being continuously pushed even as the central government has allowed permission to open up more coal blocks in the past couple of years and given a record number of new Environmental Clearances for the establishment of thermal power projects.
However, a section of experts also advocates for alternate methods to reduce pollution caused by the emission of sulphurous oxides instead of sticking to FGD technology which is considered a costly affair. "Domestically produced coal does not contain high amounts of sulphur as compared to imported coal. Over the past few years, the thrust of the thermal power sector in the country has been to reduce dependency on imported coal. In this scenario, installation of FGD equipment may not be worthwhile. Domestic coal, on the other hand, has a high percentage of ash content due to several impurities. Washing of coal at the source of production could be an alternative that would reduce emissions and increase its calorific value," Partha Sarathi Bhattacharya, former Chairman of Coal India Limited, told NewsClick.
The MOEFCC has given leeway to coal-fired power plants, considered primary sources of air pollution, notwithstanding the fact that Modi has been ceaselessly launching programmes aimed at conserving the environment, ecology and wildlife in the country. In June 2022, Modi launched a global initiative called Lifestyle for the Environment ( LiFE), which is a movement for citizens to adopt an environment-conscious lifestyle. In September 2022, Modi also launched Project Cheetah for the re-introduction of the felines, which were considered extinct around seven decades ago, in India.
Following a highly-publicised event to release eight Cheetahs procured from Namibia into the Kuno National Park in Madhya Pradesh on the occasion of his 72nd birthday on 17 September, Modi tweeted, "I spent the day attending programmes that cover our economy, society and the environment. I truly believe that when we collectively work on these spheres, we will fulfil our goal of sustainable and inclusive development. May we keep working harder and harder in the times to come."
(The writer is an independent journalist. Views expressed are personal.)
Get the latest reports & analysis with people's perspective on Protests, movements & deep analytical videos, discussions of the current affairs in your Telegram app. Subscribe to NewsClick's Telegram channel & get Real-Time updates on stories, as they get published on our website.
Subscribe Newsclick On Telegram