Modi Govt's Coal Mining Expansion Spree Keeps Local Communities Away from Decision-making
In the recent past, project proponents have been falling back on a 2017 rule to expand existing coal mines incrementally without consulting local communities.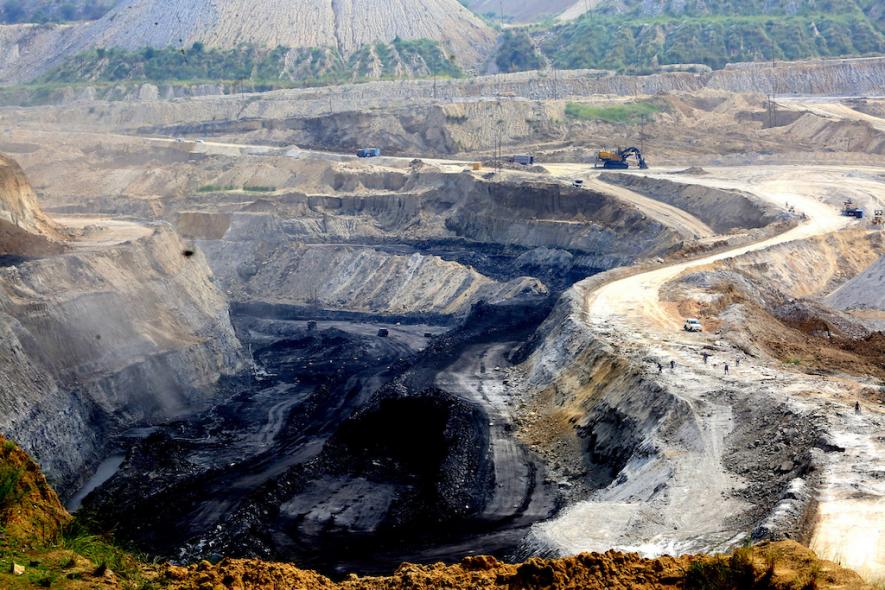 New Delhi: In a worrying trend that is indicative of the Modi government's indifference towards local communities affected by industrial development, no public hearings were conducted for as many as six out of the nine coal mining projects that were provided environment clearances for expansion in the first half of 2022. The combined expanded capacity of the six projects is 200% higher than that of the three projects for which public hearings were conducted.
The six projects which were cleared without public hearings account for a capacity addition of 10.70 million tons per annum (MTPA) to the country's coal mining sector, shows an analysis of data contained on the website of the Union Ministry of Environment, Forests & Climate Change (MoEF&CC). On the other hand, the total expansion in capacity of coal mining projects for which public hearings were conducted is 5.35 MTPA.
"The very concept of awarding prior Environmental Clearances without conducting public hearings is dubious enough even though it is done by properly following rules. The rules followed to procure clearances in this manner do not take into account special provisions available to local communities in areas which, owing to the preponderance of tribal population in them, have been identified as Schedule 5 under the Constitution of India," said Rebbapragada Ravi of mines, minerals and PEOPLE (mm&P), an alliance of individuals and communities affected by mining.
Coal-mining industries are bypassing the process of public hearings by resorting to a rule introduced by the Modi government in September 2017. The rule – introduced through the MoEF&CC in the form of an office memorandum – allows for an incremental increase in the capacity of coal mining projects, up to a maximum limit of 40%, without necessarily having to conduct public hearings.
In the first six months of 2022, the MoEF&CC provided Environmental Clearance to seven new coal mining projects with a combined capacity of 55.81 MTPA. The Siarmal Opencast Coal Mining Project in Sundergarh district of Odisha – undertaken by the public sector Mahanadi Coalfields Limited – accounts for whopping capacity addition of 50 MTPA. If this large project is discounted from the list of new coal blocks that have been provided environmental clearance for mining, the proportion of capacity addition in terms of expanding existing projects is nearly double that of new projects. Total capacity addition to the country's coal sector in terms of expansion of existing mines has already touched the figure of 11.35 MTPA so far this year.
As per a study released recently by the New Delhi-headquartered Legal Initiative for Forests & Environment (LIFE), in the past three years spanning the period between 2019 and 2022 at least 18 coal mining expansion projects were cleared without public participation. These include six projects in 2019, five projects in 2020 and seven projects in 2021. These 18 projects accounted for total capacity addition of 39.834 MTPA to the coal sector during 2019-21.
"This issue is of great concern as during 2021, almost 50% of Capacity increase of Expansion projects coming for EC under the provision of clause 7(ii) of EIA Notification, 2006, has been granted EC without any sort of public participation," states the LIFE report.
The report further highlights that between the years 2019 and 2021, the MoEF&CC provided Environmental Clearances to as many as 38 coal mining projects. These include 11 projects (five new, six expansion) in the year 2019 while 12 projects (three new, nine expansion) were provided Environmental Clearances in 2020. In the year 2021, the ministry provided Environmental Clearances to 16 coal mining projects (four new, 12 expansion).
However, by the first half of 2022, the ministry has already provided 16 Environmental Clearances out of which seven are for new projects while nine are for expansion of already existing projects. Given the pace at which coal blocks are being opened up for mining in gross disregard for climate change and the negative environmental impacts thereof, a section of experts has already begun arguing for totally moving away from fossil-fuel-based energy sources.
"Any new investment in coal mining is not only destroying our biodiversity, ecosystems, forests and livelihoods of forest dwellers but is also adding to stranded assets in the sector in a manner akin to that which has happened in the power generation sector over the past two decades. We already have enough coal mining capacity which is either operational, under development or has already been granted Environmental Clearances. Future growth in energy demand will and should be fulfilled by renewable energy sources. There is no need for giving new clearances to ecologically destructive projects like coal mining," said Sunil Dahiya of the independent research organization Centre for Research on Energy and Clean Air.
However, coal-based energy sources continue to account for nearly 50.7% of the total installed power generation capacity of the country while the capacity of installed renewable energy sources lags behind at less than 40%. In times of extraordinary increase in demand for electricity consumption, like the one witnessed between March and June this year when prices of imported coal simultaneously sky-rocketed, the government had to naturally fall back on increasing production and transportation of domestic coal. Environmental Clearances for all new seven new coal mining projects were also provided during this period, that is, between March and June.
Nevertheless, barring local communities from having their say vis-à-vis large coal mining projects is a practice that has been followed by governments cutting across party lines and ideologies. The practice, apparently perceived as beneficial for the corporate sector, was put in place by the Congress-led United Progressive Alliance (UPA) government in December 2012 when, the Union Ministry of Environment & Forests, as it was called under the UPA government, exempted public hearings for coal mining projects seeking to expand 25% of the production capacity. This policy which was also issued through an Office Memorandum permitted only a "one-time expansion" with a ceiling of 2 MTPA if the extracted coal was to be transported by road and a ceiling of 5 MTPA if it was to be transported by the railway network. Just ahead of the general elections of 2014, the UPA government extended the provision of exemption from the public hearings for one-time expansion of coal mines with a capacity of up to 8 MTPA to 50% or 1 MTPA, whichever was higher. The extension was provided through an Office Memorandum that was issued in January 2014 by the environment ministry.
After BJP-led National Democratic Alliance (NDA) was elected to power, the MoEF&CC issued another Office Memorandum on May 30, 2014, extending the provisions of the notification issued in January 2014 to those coal mines as well that had already expanded their production capacity as a one-time measure following the notification of December 2012. The NDA government issued another office memorandum in July 2014 empowering the MoEF&CC's Expert Appraisal Committee, a panel that conducts appraisals of industries likely to impact the environment, to decide on exempting those coal mining projects, where the capacity exceeded 16 MTPA, from public hearings to a ceiling of up to 5 MTPA. This was applicable in cases where extracted minerals were not to be transported by road.
The practice of easing procurement of Environmental Clearances for mining activities by issuing amendments to the Environment Impact Assessment (EIA) Notification, 2006 through mere Office Memoranda was flagged by the National Green Tribunal while delivering its verdict in a case in September 2015.
" … the [EIA] Notification mandates the requirement of "prior Environmental Clearance" without exception. However the entire mandate of prior Environmental Clearance has not only been diluted but completely rendered infructuous or ineffective by issuance of these impugned Office Memoranda. Therefore, the Office Memoranda stated to "guidelines", are potently destructive of the Notification of 2006," the tribunal had stated in the judgement issued on 7 July 2015.
Nevertheless, since the issuing of this judgement, the Modi government has not limited exemptions for public hearings to the coal mining sector alone. The exemption has been extended to the mining of other minerals including iron, manganese, bauxite and limestone. On 20 October 2021, the Modi government exempted five-star rated mining firms extracting iron, manganese, bauxite and limestone from public hearings while expanding production capacity by as much as 20 per cent. This exemption, which was again issued through an Office Memorandum, holds "written submissions" from affected communities and individuals as measures adequate enough in so far as public consultations are concerned.
| | | | | | |
| --- | --- | --- | --- | --- | --- |
| Name of the Project | Location | Project Proponent | Capacity of New Projects granted EC (MTPA) | Capacity Increase of Projects granted EC for Expansion (MTPA) | Capacity increase of Projects granted Expansion under Sep 2017 OM (MTPA) |
| Kathara Opencast Coal Mine | Block Bermo, District Bokaro (Jharkhand) | Central Coalfields Limited | 1.9 |   |   |
| Bharkunda OCP | Tehsil Patratu, District Ramgarh (Jharkhand) | Central Coalfields Limited | 2.05 |   |   |
| Jamadoba Underground Coal Mine | Tehsil Jharia, District Dhanbad (Jharkhand) | Tata Steel Limited | 0.34 |   |   |
| Brahampuri Coal Mine Project | Tehsil Parasia, District Chhindwara (Madhya Pradesh) | Birla Corporation Limited | 0.36 |   |   |
| Chhal Opencast coal mining | Tehsil Dharamjaigarh, District Raigarh (Chhattisgarh) | South Eastern Coalfields Limited |   | 2.5 |   |
| Bikram Opencast cum Underground Coal Mine | Tehsil Burhar, District Shahdol (Madhya Pradesh) | Birla Corporation Limited | 0.36 |   |   |
| Vakilpalli Mine (VKP) Underground Coal Mining Project | Mandal Kamanpur, District Peddapalli (Telangana) | Singareni Collieries Company Limited | 0.35 |   |   |
| Siarmal Opencast coal mining project | District Sundargarh (Odisha) | Mahanadi Coalfields Limited | 50 |   |   |
| Jawahar Khani– 5 | Mandal Yellandu, District Bhadradri Kothagudem (Telangana) | Singareni Collieries Company Limited (SCCL) |   | 1 |   |
| Makardhokra- I OC mine (Phase-I) | Tehsil Umrer, District Nagpur (Maharashtra) | Western Coalfields Limited |   |   | 1.4 |
| Amadand Opencast Coal Mine | Tehsil Kotma, Annuppur (Madhya Pradesh) | South Eastern Coalfield Limited |   | 1.85 |   |
| Garjanbahal OC mine | Tehsil Hemgir, District Sundargarh (Odisha) | Mahanadi Coalfields Limited |   |   | 2.6 |
| Kulda Opencast Coal Mine Project | Tehsil: Hemgir, District Sundargarh (Odisha) | Mahanadi Coalfields Limited |   |   | 2.8 |
| Manuguru Opencast coal mining Project | Manuguru Mandal, Bhadradi Kothgudem District, Telangana | Singareni Collieries Company Limited |   |   | 0.30 |
| Parsa East and Kanta Basan (PEKB) Opencast Coal Mine | Tehsil Ambikapur, District Sarguja (Chhattisgarh) | Rajasthan Rajya Vidyut Utpadan Nigam Ltd |   |   | 3 |
| North Urimari OCP | Tehsil Barkagaon, District Hazaribagh (Jharkhand) | Central Coalfield Limited |   |   | 0.60 |
|   |   |   | 55.81 | 5.35 | 10.7 |
The writer is an independent journalist.
Get the latest reports & analysis with people's perspective on Protests, movements & deep analytical videos, discussions of the current affairs in your Telegram app. Subscribe to NewsClick's Telegram channel & get Real-Time updates on stories, as they get published on our website.
Subscribe Newsclick On Telegram