UP: Preparation, Mobilisation on War Footing for April 5 Mazdoor Kisan Sangharsh Rally in Delhi
The Left leaders across the state have been holding meetings at district levels.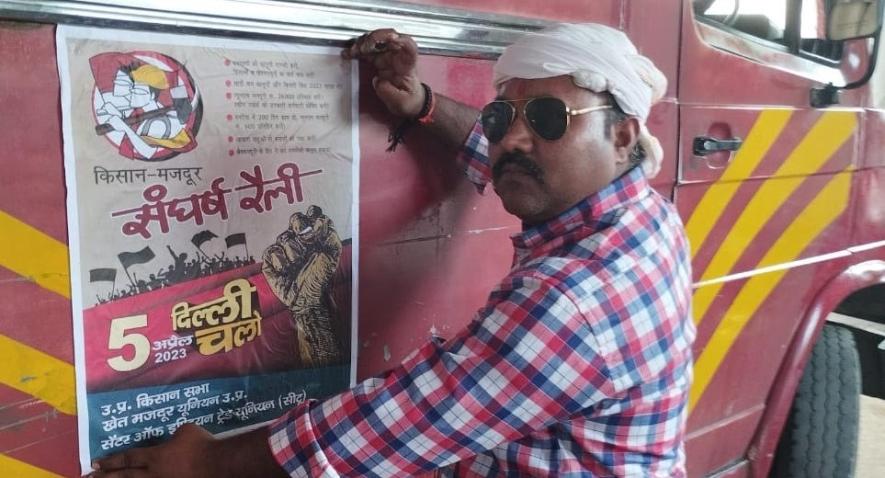 Lucknow: Preparation for the 'Mazdoor Kisan Sangharsh Rally' of workers, farmers, and agricultural workers is in full swing and it is receiving an enthusiastic response from across Uttar Pradesh.
Pamphlet distribution against the 'anti-labour and anti-farmer' policies of the Union government and non-stop announcements and door-to-door campaigns are happening on a war footing in rural areas. The Left leaders across the state have been holding meetings at district levels.
"We have organised more than a dozen meetings with scheme workers including ASHA, Anganwadi, MGNREGA and transport workers' union and asked them to join the April 5 rally in Delhi. We have also held a state-level convention in Lucknow where unorganised workers' unions participated," Prem Nath Rai, general secretary of the Centre of Indian Trade Unions (CITU) told NewsClick. 
Rai further said that joint meetings in more than 35 districts of the state were held where it was decided to distribute pamphlets in every district. "A meeting with coal, cement, theka mazdoor and railway factory union was also being organised by our CITU office-bearers and they agreed to join the rally in large numbers," he said.
Accusing Prime Minister Narendra Modi of not fulfilling the promise made to the people of this country despite being at the helm of affairs for eight years, the CITU leader said, "The Modi government is leaving no stone unturned to ensure 'Amrit Kaal' for cronies like Adani and Ambani by exploiting and looting workers and peasants while the pro-corporate policies have brought the daily life of producing classes under heavy inflationary pressure."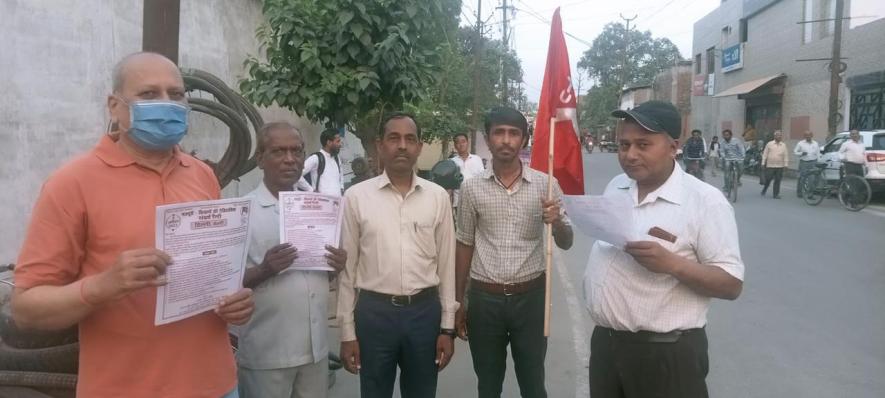 Echoing a similar sentiment, Mukut Singh, state general secretary of All Indian Kisan Sabha (AIKS), speaking to NewsClick said the Union government was pushing for reforms that were anti-labour and anti-union policies on the one hand and inflation was adding to the misery of the people on the other hand. 
"Preparations for the rally have been going on for the past few months. Cultural programmes and door-to-door campaigns are going on in rural areas. We are also visiting industrial hub areas to mobilise workers to join in a large number and we are getting a good response," Singh said. 
The union leaders visiting rural areas said that almost every person in the village knows about their struggle and the pain that they are going through under the current regime. Therefore, they have assured them that they will definitely come to Delhi.
The Centre of Indian Trade Unions (CITU), All India Kisan Sabha (AIKS), and All India Agricultural Workers Union (AIGWU) have jointly called for a massive rally on April 5 in Delhi.
A 13-point list of demands includes ensuring minimum wages at Rs 26,000 per month and a pension of Rs 10,000 to all workers, the scrapping of the Agnipath scheme, no contractual labour, ensuring minimum support price for crops as suggested by the Swaminathan Commission, and a one-time loan waiver for all poor and middle-income peasants and agricultural workers.
Expanding Mahatma Gandhi National Rural Employment Guarantee Act (MGNREGA) workdays to 200 with minimum wages at Rs 600 per day, scrapping four Labour Codes and the Electricity Amendment Bill, 2022, enacting an urban job guarantee scheme, stopping the privatisation of Public Sector Units and public services, tackling price rise and reducing central excise tax on fuel, taxing the super-rich, introducing wealth tax, and enhancing corporate tax are some of the demands as well.
Sonbhadra and Bundelkhand — the two most backward regions of the state and also 'homes' to tribals have always been neglected by the government. The predominantly adivasi areas have been demanding stringent implementation of the Forest Rights Act (FRA); withdrawal of the amendments to the Forest (Conservation) Act and Rules that allow the Union government to permit clearance of a forest without even informing the residents.
According to the Left leaders, a large number of tribals will join the rally on April 5 in Delhi. 
"With the non-implementation of the Forest Rights Act in the Sonbhadra, which is leading to harassment and intimidation by the forest officers, the tribals here have nowhere to go. Thousands of poor tribals are booked for farming where they have been living for decades. They have been denied their rights under MNREGA and Food Security Act in tribal regions for years. We have been demanding their rights for several years but to no avail," Nandlal Arya, a communist party of India (CPM) leader in Sonbhadra, told NewsClick. 
He said around 500 people from Sonbhadra would join the rally on April 5.
Meanwhile, members of the Leftist farmers' body have been organising nukkad natak (street plays) depicting the adverse consequences of the three agriculture-related Bills, privatisation of PSUs and non-implementation of labour laws in different districts including tribal areas.
Tribals in Bundelkhand region under the supervision of Mata Dayal, a veteran forest rights activist in Chitrakoot -- where he has been working to uphold and defend the rights of oppressed and persecuted forest dwelling communities for several decades -- are up in arms to participate in 'Chalo Delhi'.
"There is neither work in MNREGA nor food for tribals. The forest officers do not allow tribals to do farming and other mainstream work. What else will they do? Even after 75 years of independence, the tribals of this country do not have land or food to fill their stomach. We will participate enthusiastically in this rally as it is a life and death issue for us," he said. 
Women Lead Rallies to Garner Support 
Women in villages under the banner of Mazdoor Kisan Manch are organising special rallies and foot marches to exhort people to join the batches scheduled to leave for Delhi on April 5. Enthusiasm in women to participate in the protest against the 'anti-labour and anti-farmer' policies of the Union government is more than their male counterparts. More and more women are planning to leave for the national capital.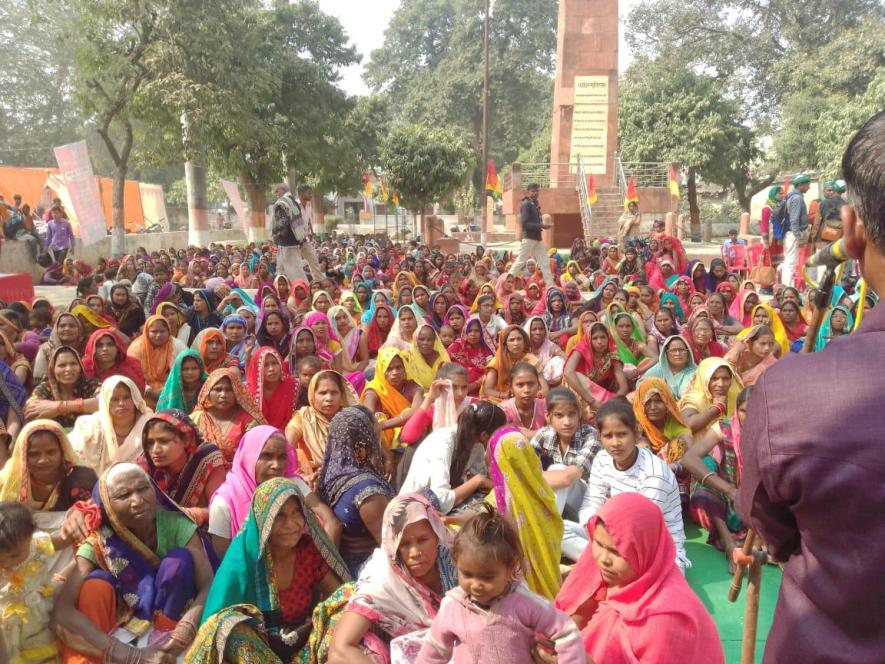 Sitapur, Lakhimpur Kheri, Bahraich and Hardoi where Mazdoor Kisan Manch is said to have a stronghold will send a huge number of women who are angry with the low budget for Mahatma Gandhi National Rural Employment Guarantee Act (MGNREGA). 
Brij Bihari, general secretary of Mazdoor Kisan Manch, Uttar Pradesh told NewsClick, "There is palpable anger among the people at the grassroots level about the low budget allocated by the government for the MGNREGA scheme. The second concern we found during our campaign ahead of Mazdoor Kisan Sangharsh Rally is that in other states the wages have reached Rs 300 to 400 per day; whereas, in Uttar Pradesh, it is still Rs 230."
The Mazdoor Kisan Manch leader further said that the Yogi Adityanath-led Uttar Pradesh government is trying to "strangle" the rural job guarantee scheme by cutting budget allocations to it so that they are given lower wages in the private sector.
"Lack of access to technology will discourage workers, and drive them to work for cheaper wages outside of the scheme. If they will not get work under the scheme, the government will give them work where the investment work is going on. This is the strategy behind low wages," claimed Bihari. 
Wages of MGNREGA workers amounting to Rs 6 crore are due alone in Sitapur district, according to Bihari.
Get the latest reports & analysis with people's perspective on Protests, movements & deep analytical videos, discussions of the current affairs in your Telegram app. Subscribe to NewsClick's Telegram channel & get Real-Time updates on stories, as they get published on our website.
Subscribe Newsclick On Telegram