Protest Anniversary: Songs, Slogans Rent Air as Thousands of Farmers Throng Delhi's Borders
Upbeat farmers say battle will go on till other demands are met, especially on MSP and Electricity Bill. Solidarity marches held across states.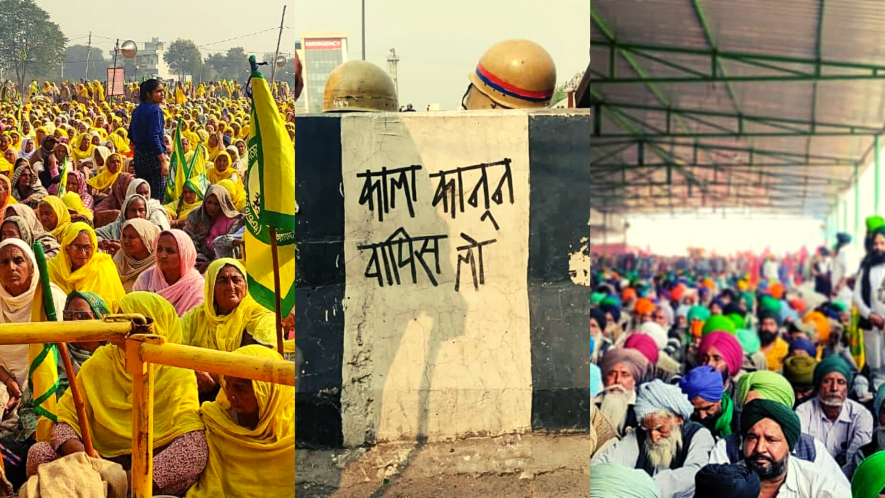 New Delhi: Batches of farmers with their colourful flags, many of them on tractors, had started reaching Delhi's borders at dawn on Friday to mark the completion of one year of their valiant movement. By afternoon, the crowds swelled as farmers from PPunjab, Uttar Pradesh, Haryana, Rajasthan, Uttarakhand started descending on the capital city's three protest sites – Singhu, Ghazipur, Tikri -- which have become symbols of their historic and peaceful struggle.
The jubilant farmers have made the Narendra Modi-led BJP government "bend" and announce repeal of the three farm laws, despite trying all tricks of the trade that failed. The farmers were termed "terrorists", "tukde tukde gang", "Khalistanis" merely for raising demands to save their livelihoods as well as the agricultural secotor, on which over 60% of the country's population depends for survival. 
They braved police lathicharge, teargas, barricades, digging of roads, nails driven on roads to stop tractors from proceeding to the capital. That's when they decided to begin sit-in protests on Delhi's borders and managed to snatch what they call "half victory" of their demands. 
The protests, which were spearheaded by Samyukta Kisan Morcha (SKM), a collective of over 40 farmers' organisations, has now written to PM Modi about six pending demands of farmers, including the law for MSP, withdrawal of Electricity (Amendment) Bill, 2021, cancellation of criminal cases lodged against the farmers for participating in protests, compensation to the farmers who died in the struggle, among others. 
At Ghazipur border, farmers were in no mood to retreat on the anniversary of their historic struggle. They reiterated that the Centre must immediately resume talks with the leadership of SKM on pending issues, including withdrawal of the police cases against the farmers and compensation for the families of those who were killed during the agitation. 
Hundreds of farmers, hailing mainly from Uttar Pradesh (UP) and Uttarakhand thronged the Ghazipur border to participate in what was termed as a 'panchayat' organised to mark the first anniversary of the protest at Delhi borders as well as the 'historic victory' of the cultivators.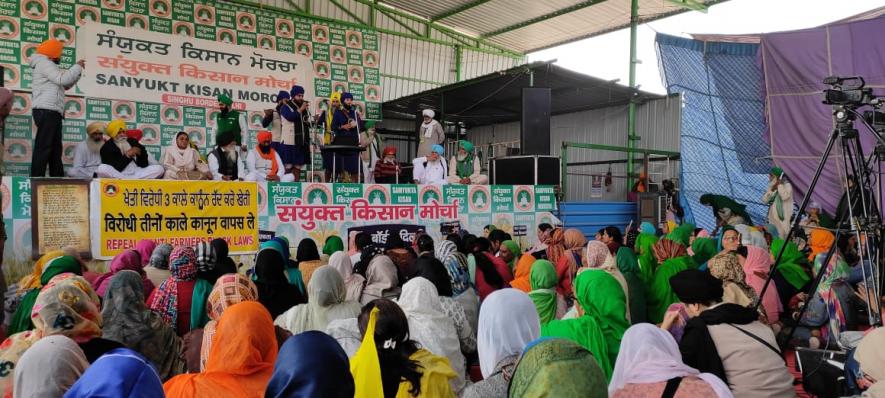 Prompted by the passage of the three Bills in Parliament last year, thousands of farmers at the joint call of their respective unions had marched to the national capital on November 26 last year. 
"The sheer resolve of not only the farmers but all those who stood shoulder to shoulder with them forced the Modi government to relent," said Joginder Singh, 52, who arrived at Ghazipur border from western UP's Muzaffarnagar district to participate in the anniversary celebration.
Tejveer from Shamli, while distributing jaggery, claimed that he's among the farmers who squatted at the Ghazipur border in protest last year. "I have seen many ups and downs here. There were times when we were not allowed to set up our tents or even the toilet booths. There were moments when we were told that the farmers would have to leave," the 55-year-old said referring to the confrontation  at the Ghazipur border soon after the January 26 Republic Day parade. "Yet we survived all of that. Now, we are nearing a complete victory," he added.
Neeru Senger, 50, from Ghaziabad, shared similar sentiments. "I've been coming to Ghazipur border, at least, once every month. I can never forget the people I met here. Now, as and when the pending issues will be resolved, the farmers will go back home but not without many lessons," the AIKS member said. 
Among leaders who addressed the gathering were SKM leaders, including Rakesh Tikait of Bharatiya Kisan Union (BKU), Yogendra Yadav of Jan Kisan Andolan and Hannan Mollah of AIKS.
"Both farm laws and Corona (COVID-19) were diseases eventually defeated by the people of this nation," Tikait said. He reminded the Centre of the pending issues that should be discussed. "When we started this movement, we had four issues: the farm laws, MSP, electricity bill and stubble burning. "We reached an understanding on two of these issues with our meeting with the ministers [last year]; one of it is now getting resolved," he said, adding that "the Centre must now convene a meeting immediately to discuss the remaining one, the MSP." 
SKM leaders will convene a meeting at the Singhu Border on Saturday to discuss the further course of action, Ashok Dhawale, national president, AIKS, told Newsclick.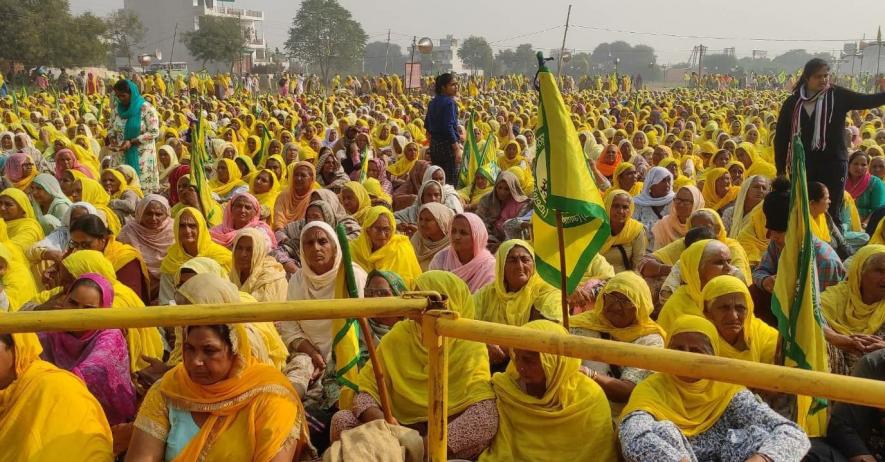 Friday's anniversary celebration also triggered a discussion on the upcoming elections in UP and Uttarakhand. Modi's backpedalling on the farm laws last week was seen by many as directed more toward appeasing voters. Parvinder Chaudhary, 37, said that farmers "don't forget things easily". "Nearly, 700 of our brothers and sisters died because Modi took one year to change his mind," Chaudhary, hailing from Ghaziabad, said. "Surely, we will retaliate—but in elections. Modi ji ko vote ki chot denge (We will inflict an electoral wound on Modi)." 
At Singhu Border, the farmers were happy and triumphant. After one year of painful journey, they had won. The environs at the Singhu border were charged with energy, happiness and confidence. As the folk singers began their song 'Sabr Jabr ki Ladai Dilliye, Tu Ek Baar Phir Haar Gayi,' the cheerful audience greeted them with slogans and claps. This, perhaps, summed up the celebrations of the first anniversary of farmers' protests against three Central farm laws and a law guaranteeing MSP. 
Ajit Pal Singh, a PR professional who made the border his home for the last one year, told NewsClick that the sudden announcement by Prime Minister Narendra Modi on national television about repealing farm laws left him speechless. 
"We were too much emotionally invested into it. It was a moment of realisation that we would only win if we resisted. My family was under the impression that I would return with my farmer brothers after a few days. When I came here, I realised that this was not a small struggle. My 12-year daughter never slept without me by her side since her birth. I left her for one year. My sacrifice does not count when I see that 700 farmers died on the borders for their just rights. The partial victory did come at a cost. However, we are not going anywhere until other demands are met," Singh said. 
Darshan Singh, who travelled along with his friends from Fatehgarh Sahib to participate in the celebrations, said he was now hopeful that the government would listen to the demand regarding MSP.
"They need to understand that the law on MSP on our crops would reduce uncertainty and fluctuations in prices. The prices of wheat and paddy have been relatively stable in previous years. The consumers also benefited from it. Now, when you see the prices of vegetables like potato and tomato, you find a heavy variation. Now, tomato's price is above Rs 100/kg, and no one benefits from it- neither consumers nor farmers. So, the MSP, as per Swaminathan Commission, will save both stakeholders. The precious lives of farmers will be saved who commit suicides under the burden of unbearable debt," he said.
Anand Singh, another farmer who sustained injuries in the Karnal lathicharge, furthered the argument by saying that farmers were seeing this "plunder straight away that his tomatoes are getting sold on Rs 100/Kg. In contrast, he is hardly getting Rs 30/kg. However, he is hopeful that the pending issues will resolve as the ruling Bharatiya Janata Party feels the heat before Assembly elections in five states. They will listen. It's a compulsion."
Balbir Singh Rajewal, a veteran farmers' leader and President, Bharatiya Kisan Union Rajewal, said the movement should be seen from the perspective of building the society, not mere repealing the farm laws. 
Addressing the jam-packed protest site, Rajewal said that the victory came after the farmers realised they remain the epicentre of politics and no policy could be framed by sidelining them.  
"It's our victory, and we clinched it. On the one hand, we were called annadaatas, and on the other hand, the supporters of BJP called us names, branded us as Khalistani, terrorists and what not! Remember, they do not deserve our sympathy. I urge you to recognise the power of organisation. The ruling party backtracked because we started asking them difficult questions! When we asked for MSP, the government supporters told us that it would hit consumers. When the farmers asked for the right prices, they said industries would be hit! Why should we bear the responsibility for everything under the sun? I just want to assure you that we will not let this guy sell our national assets at his whims and fancies." 
Reminding people about the power of organised struggles, Rajewal appealed to the audience to "always put the flag of your union on your doors. The leaders will fear you that he will be asking for responsibility. Only your organisation will save you!" 
The partial victory seems to have enthused other movements of students, pensioners and workers who constituted a significant part of the mobilisation. While the workers' unions demanded the withdrawal of four labour codes, the students' organisations mobilised to show their opposition to National Education Policy.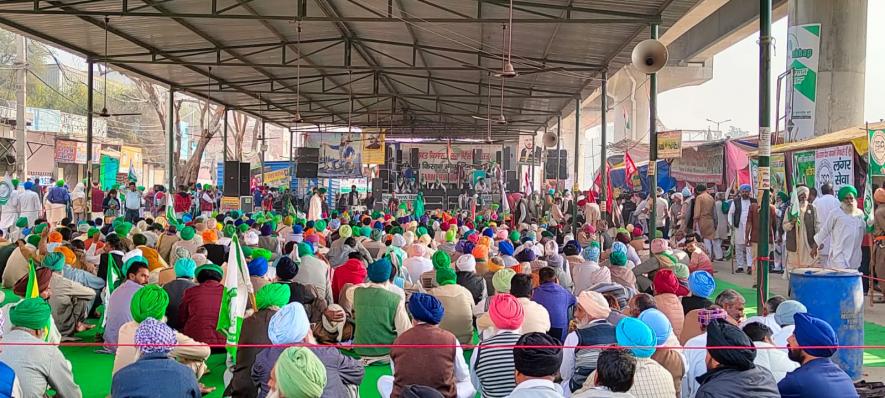 At Tikri border, Rajendra Singh Deep Singhwala of Kriti Kisan Union , said: "The peasant movement has made the government, which was becoming a dictator, bow down. Germany's dictator committed suicide admitting his defeat and the dictator of our country (Narendra Modi) conceded his defeat in the media and has committed political suicide. This is the first victory of the movement as it has re-established the values of democracy in the country." 
Sumit Singh, a young farmer, who is  secretary of Haryana Kisan Sabha and was present on the Delhi border from day one, said today the farmer had  gone back to where he was before the introduction of these laws. "But even today, his questions remain the same. We were demanding guarantee of MSP from the very beginning. That was one of our main demands and it has not been resolved. So, the movement will not end."
Since the beginning, the farmers movement has drawn support from labourers of Haryana and Punjab. This support still persists and was evident in Tikri, where where many workers had landed up.  Jagwanti, 45, who is an ASHA worker in Haryana was there with her entire family.  She said she was not a farmer but eats what they grow, so she "was and will always be with them in this movement." 
UP: Focus Turns on Demand for Law on MSP

 
Under the banner of Bharatiya Kisan Union (BKU), All Indian Kisan Sabha (AIKS) and Khet Mazdoor Union, farmers from across Uttar Pradesh gathered at their district headquarters to mark the first anniversary of the farmers' movement. The farmers said that the protest would continue till the Central government resumes talks on their demands. 
Abhiraj Singh, a farmer from Barabanki, who along with others handed over a memorandum to the district administration, said: "Farmers at Delhi border have been staying on the roads facing the vagaries of the weather for one year, but we are determined to get the farm laws repealed in Parliament and law on MSP. Farmers plough their fields after buying fertilisers and seeds at expensive prices, (and) when it is time to harvest, we have to run from pillar to post to recover our cost which is usually below the MSP. Therefore, our fight to get guarantee law on MSP will continue," he told Newsclick.
Farmers in Sonbhadra also held demonstrations to mark the first anniversary of the protest against farm laws. They said despite the Centre's announcement, the ground reality had not changed.
"Over the years, prices of diesel, insecticides, and pesticides are soaring. We can recover our cost only if you pay us the actual cost of the produce. So for this, we are protesting and demanding a law on MSP," Naresh Chaudhary, a farmer associated with BKU said.
They accused PM Modi of accepting only "half demands," and that too after more than 650 farmers lost their lives during the movement. They warned to intensify their movement across the state if the government did not announce a legal law on MSP.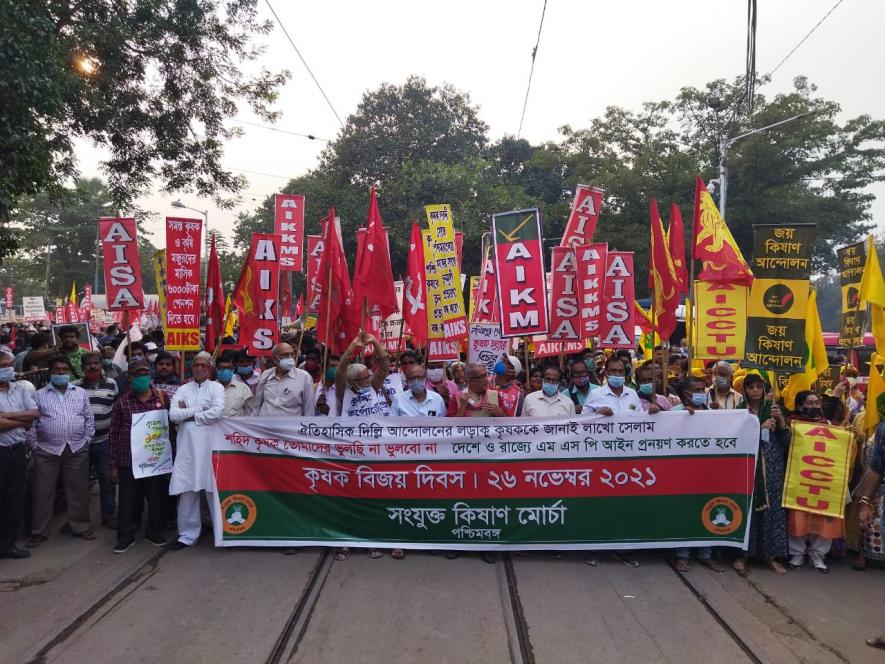 Kolkata: Farmers, Supporters Take out Procession
Tens of thousands of farmers, workers, teachers and a cross-section of civil society supporters of SKM, took out a huge rally in Kolkata. Following the repeal of the three contentious farm laws, they demanded fulfilment of the rest of the demands like a law guaranteeing minimum support price (MSP), scrapping of the electricity bill, repeal of four labour codes, and disbursal of Rs 7,500 to all families lying outside the income tax bracket in the country.
The huge rally that started at Lenin's statue at the heart of Kolkata and took 20 minutes to pass through a junction, saw thousands of fluttering red, and green-yellow flags, colours that represent All India Kisan Sabha (AIKS) and SKM, respectively.  As the rally converged at Sealdah railway station in central Kolkata after completing a journey of 2.5 kilometres, the effigy of Prime Minister Narendra Modi was burnt. 
Pradip Kirtanya, a farmer with 4.5 bighas of land in his village in Bankura district, who attended this rally, shared how his entire crop of potatoes had been spoiled due to unseasonal rain, while he was forced to sell his paddy produce in the open market at less than half the MSP of Rs 1,940. 
"We are dying. PM Modi along with the West Bengal government are responsible for bringing contract farming here. It should be recalled that the State government had passed a farm Bill in 2016 which is similar to the three farm laws (that came out in 2020)," Pradip told NewsClick. 
The rally was led by AIKS state secretary Amal Halder, who is also the state secretary of SKM's West Bengal chapter. Others present in the procession included All India Agricultural Workers Union leader Tushar Ghosh, state secretary of Centre of Indian Trade Unions Anandi Sahu, state president of CITU Subhas Mukherjee, SKM convener Kartik Paul, among others. 
Kerala: Protest Meetings, Solidarity Marches Held

 
Protest meetings and solidarity marches were organised across Kerala marking one year of the historic farmers' struggle by SKM. The solidarity marches were taken out by various other sections of society, such as trade unions, including All India Centre of Trade Unions, Centre of Indian Trade Unions and Indian National Trade Union Congress.
The Kerala State Karshaka Thozhilali Union, which represents agricultural workers, marked the occasion by introducing peoples' resolutions in 2,100 village centres in the state in support of the protesting farmers, paying respect to the martyrs and calling for acceptance of all demands raised by the famers. The resolution will be sent to Prime Minister Narendra Modi after collection of signatures.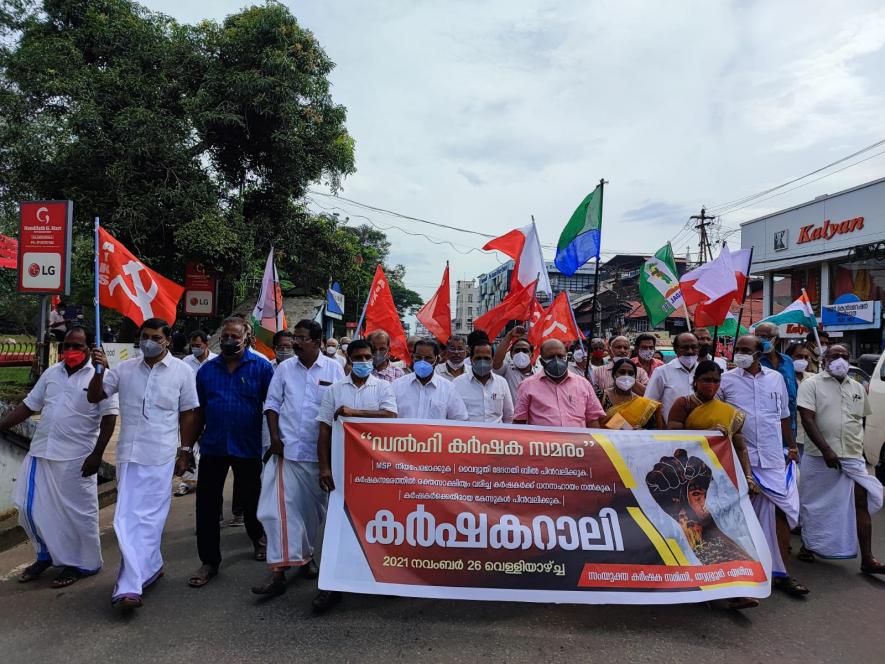 Flagging off the protest demonstrations in Thrissur, former Minister for Agriculture VS Sunil Kumar said the farmers' struggle had "historic" significance in independent India as it had resulted in the Union government being forced to withdraw the three "anti-farmer, anti-people and anti-national black laws". 
Stating that the three farm laws were against food and economic sovereignty of the nation and also against the federal rights of the states, Kumar attacked the ruling BJP at the Centre for police brutality, registration of false cases and the violent attack on farmers at Lakhimpur Kheri in UP. 
(With inputs from Ronak Chhabra, Ravi Kaushal, Mukund Jha, Abdul Alim Jafri, Sandip Chakraborty, Azhar Moideen and PTI)
Get the latest reports & analysis with people's perspective on Protests, movements & deep analytical videos, discussions of the current affairs in your Telegram app. Subscribe to NewsClick's Telegram channel & get Real-Time updates on stories, as they get published on our website.
Subscribe Newsclick On Telegram