Punjab's Politics Over Symbols Could Ripple Across India
AAP is turning to Bhagat Singh and BR Ambedkar to counter the nationalistic and religious BJP narrative. The question is, will it work?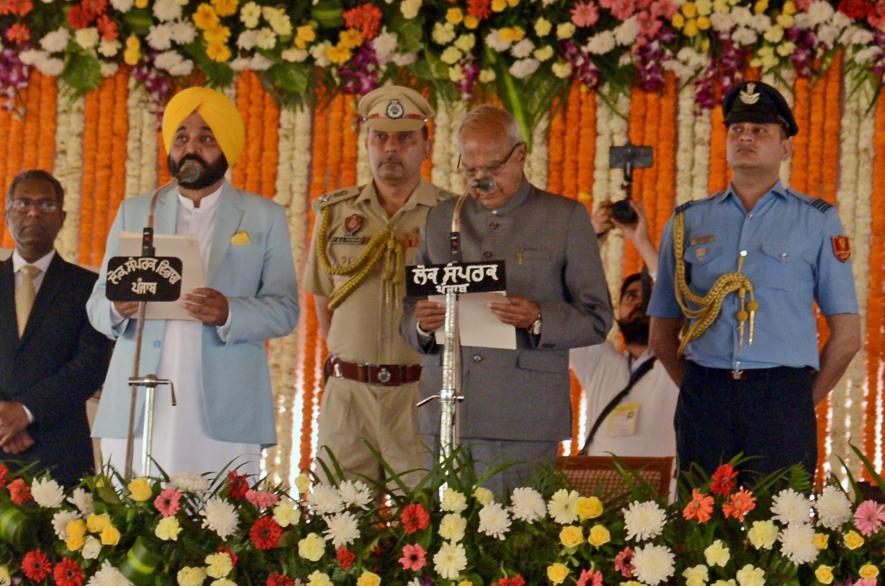 Bhagwant Mann takes oath as Punjab Chief Minister
Symbols, buzzwords and catchphrases are quite common in politics, particularly during elections, and no political party refrains from using them. Some buzzwords and symbols are consistent with the identity of a political party and become inseparable from its politics. Flags, election symbols, and frequently used slogans shape a party's politics and identity. The Bharatiya Janata Party (BJP) leads other parties in using symbols and buzzwords by a wide margin. 
Since the 2014 Lok Sabha election, there has been a hurricane of catchphrases and symbols, often corresponding to religious identities. However, since the 1980s, the BJP has stuck with two core issues, the Ram mandir and Hindutva, although it rode to power in 2014 on the catchphrases of development (Vikas), good days (achhey din) and the promise to distribute black money in the accounts of Indians from Swiss banks. By contrast, the Congress party stopped using new buzzwords and symbols in the present century. Rajiv Gandhi, who talked of a future with computers and communication, was the last to use them effectively. The Congress party would ride on the old symbolism of Gandhi and the freedom struggle, adding a touch of Jawaharlal Nehru and Indira Gandhi, but the BJP has been making special efforts to demolish all these by using Vallabhai Patel and Subhas Chandra Bose.
In the context of using symbols, the political landscape of Punjab is quite different from the rest of the country. The Akali Dal has been using Sikh religious symbols and idioms for fifty years, if not longer. From the 1990s onwards, it had to shift its "Panth is in danger" catchphrase to development, but it did not discontinue the use of religious symbols. 
The BJP has no significant political presence in Punjab. The Congress party never had a specific symbol or catchword after Giani Zail Singh, the first political leader who used Shaheed Bhagat Singh and Sikhism for his political gains—something he did effectively. He focused on developing a memorial to Bhagat Singh at his village Khatkar Kalan (not his birthplace), and the construction of Guru Govind Singh Marg in the 1970s to commemorate the memory of the tenth Guru of the Sikhs.
After a long time, the Aam Aadmi Party (AAP) reintroduced the symbol of Shaheed Bhagat Singh to capture the minds of Punjabis, though its leaders knew quite well that somewhere down the line, the image of a martyr might not be adequate. Thus, AAP added another national symbol in the form of Dr BR Ambedkar. The two complement each other without creating any contradiction within. Although Bhagat Singh inspired the youth to sacrifice their lives for the country's liberation, a government could also use his methods to delegitimise Gandhi's path in the freedom struggle. On the other hand, the AAP has articulated Ambedkar as the symbol of constitutional morality, meaning freedom of speech and fundamental rights. In a way, postcolonial India needs both, although in one case, the idea of martyrdom has been given a new notion, that is, defending the country's sovereignty. 
However, both symbols have multiple other meanings. Ambedkar simultaneously symbolises the struggle of the Dalits and depressed classes against caste-based oppression and gave the slogan 'Educate! Organise! Agitate!'. He also rejected Hinduism and embraced Buddhism. On the other hand, there has been a political tug-of-war over whether Shaheed Bhagat Singh should be represented as a turbaned Sikh or clean-shaven and wearing a hat. Though both are acceptable, some controversy has always been present. 
On top of that, it is well-known that Bhagat Singh was an atheist. So, as a martyr, he has been transformed into a myth that nobody would dare question. I am reminded of the 1969 Italian war drama film 'Queimada! [Burn!]', the story of an island the British wrested from the Portuguese and ruled over as a colony. When uprisings against the British turned violent, they brought in the army, which captured the resistance leader. While deciding what to do with him, one member of the ruling committee, played by Marlin Brando, told the others they should not hang him because that would turn him into a myth. You can break a man, but it is impossible to demolish a myth. This suggestion was prescient, for the leader was hanged, and the liberation struggle continued.
Bhagat Singh and Ambedkar have become myths. It is impossible to question them, unlike Nehru and the Gandhi family, who, after independence, turned into governing elites whose decisions people could challenge. Both Bhagat Singh and Ambedkar have an all-India appeal. It is here that our curiosity propels us to make sense of the political ambitions of the AAP. It is making earnest efforts to expand its electoral base, and it is pretty clear that AAP aims to fill the political space that the Congress party is progressively vacating. Therefore, it is legitimate to ask whether AAP would use the myths of Bhagat Singh and Ambedkar in every state. If yes, it is essential to keep in mind that AAP will be facing the ever-changing buzzwords of the BJP, which consistently arms itself with rhetoric about the myth of Lord Rama and anti-Muslim and anti-Pakistan rhetoric. 
AAP's primary challenge is to contest the BJP, which, with its hegemonic ideology, seems to have got people's support in significant regions from North India to Karnataka. Unemployment, inflation, and many other meaningful issues linked with people's survival seem to turn irrelevant before the BJP's ability to influence people's perceptions through slogans, symbols, and catchphrases. 
Equipped with Shaheed Bhagat Singh and Ambedkar, a crusade against corruption, and highly nationalist slogans ably articulated and communicated through media and its IT cell, the AAP seems to be preparing to conquer state after state. Only time will tell whether the voters would go for its kind of alternative, but at this moment, it seems pretty optimistic. We should remember that historically Punjab was the gateway to India, and ultimately, the one who conquered Punjab reached Delhi.
The author was a professor of sociology at Guru Nanak Dev University, Amritsar, and is a former president of the Indian Sociological Society. The views are personal
Get the latest reports & analysis with people's perspective on Protests, movements & deep analytical videos, discussions of the current affairs in your Telegram app. Subscribe to NewsClick's Telegram channel & get Real-Time updates on stories, as they get published on our website.
Subscribe Newsclick On Telegram