Questions on Police's Neutrality Arise: Leaders at Young India March
"It is very strange that a lot of police personnel have started talking like Bharatiya Janata Party members. The government is misusing them completely," said Sandeep Pandey.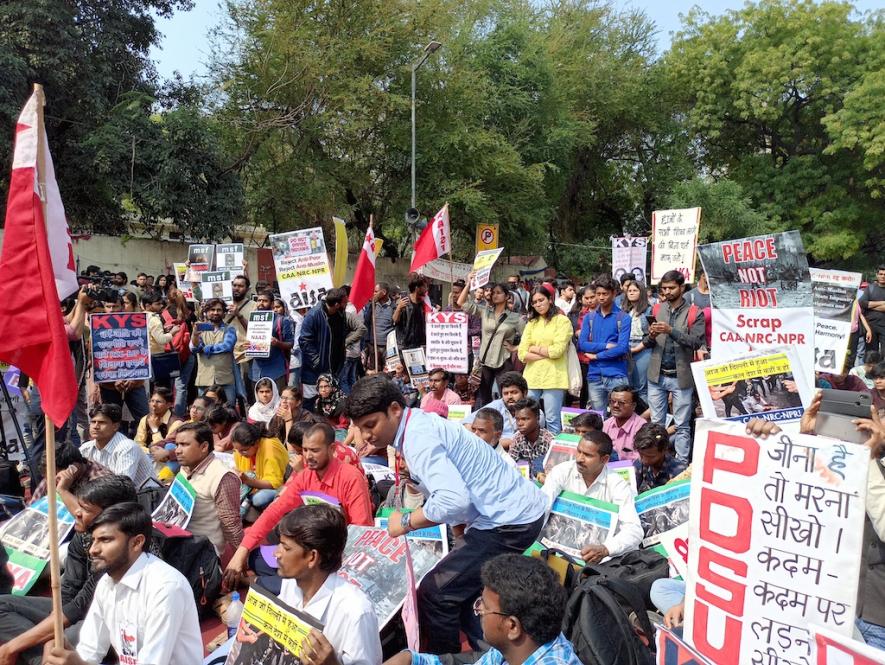 Photo by Pranita Kulkarni
After several anti-CAA protesters were detained by the Delhi Police from Ramlila Maidan in the national capital on Tuesday morning, a number of student leaders and activists condemned the police's action and questioned their neutrality. The protest was later shifted to Jantar Mantar.
The protesters had reached Ramlila Maidan following a protest call by Young India against the Citizenship (Amendment) Act, imminent National Population Register and proposed National Register of Citizens. The march was organised also to demand immediate punishment for "instigators of communal hate and pogrom", in the wake of the riots in Northeast Delhi.
Communist Party of India (Marxist-Leninist) leader Kavita Krishnan alleged, "The Delhi Police is preventing any kind of gathering. They are not allowing any kind of march in the city. Then they have started picking people up from outside Delhi."
"People were gathering in buses in Delhi University and Jamia, etc [to come to the protest site]. We have heard that they are preventing the buses from moving. They are picking up the bus drivers. These police officials are saying that we will do whatever we can just to prevent this gathering from happening," she told NewsClick.
Criticising the police for having showed "alacrity" in stopping the peaceful protesters, Krishnan said, "[T]hey [the police] did not act against hatemongers. They did not arrest the people inflicting violence on the minority community in Delhi. They, in fact, facilitated those violent mobs – anti-Muslim mobs. So, the contrast between their conduct – when their job was actually called for, had they shown this kind of eagerness to act against the mobsters, the rioters, against the communal mobs, it would have made a big difference. Instead, they are doing it against the students who want to march for justice."
Bhim Army Chief Chandrashekhar Azad, who was one of the speakers at Jantar Mantar, said, "We say it's a democracy, which sounds good. But we can not talk. We can not protest. We can not take to the streets. We can not move around freely. We can not raise our voice against oppression and injustice. Then, what kind of democracy is this?"
Referring to the failure of the police in controlling the violence unleashed earlier last week in Delhi, Azad questioned, "Why could the police not fulfill their responsibility? […] There are several videos. The police have become worse than the rioters. They are pelting people with stones."
Former student leader and activist Umar Khalid, while speaking to NewsClick, said that the police have become the henchmen in the hands of the police. He gibed, "One should not be applying for permission [to stage a protest] anymore. I think they would give you permission if you simply go there and raise the 'goli mararo' slogan," as he referred to "peace march" led by BJP leader Kapil Mishra on February 29. It should be noted that Mishra is one of the BJP leaders accused of making hate speech that led to the violence in Northeast Delhi. According to reports, the provocative "goli maaro" slogan was also raised during this "peace march" in the wake of the communal clashes.
Khalid said, "Delhi Police is not acting like the police anymore. […] A bullet is fired in Jamia, and Delhi Police do not take any action. They themselves are entering Jamia and beating up [students]. Goons enter and wreak havoc in JNU for two hours, but Delhi Police do nothing. Riots take place in Delhi; people die, but Delhi Police do nothing. We can see in the videos that they are even participating [in the riot]. In such a situation, questions have to be raised on the neutrality of the police."
He added, "The most important message that had to be conveyed through today's march was that the youths of the country want peace, contentment, justice and their rights. They want food, clothing, housing, education, and employment. They do not want riots and violence. They do not want CAA, NRC, NPR."
Veteran social activist Sandeep Pandey, who was also present at Jantar Mantar, said, "Police to iss samay sarkar ki gulam ban gayee hai. (The police have become slaves of the government.) It is very strange that a lot of police personnel have started talking like Bharatiya Janata Party members. The government is misusing them completely. This government is perhaps the only one to misuse the police to this extent. Indira Gandhi might have done it during the Emergency. But we haven't seen this after that."
However, Pandey said, that as many people have managed to participate in the protest despite the detentions earlier in the day, this shows that this struggle will be over only when the CAA will be repealed.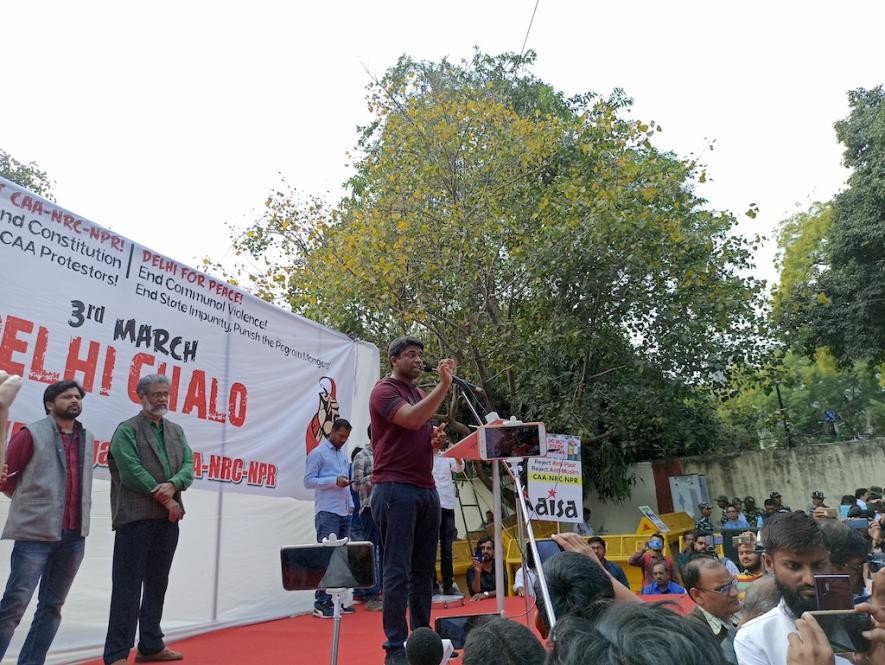 Appealing to the people to unite against this politics of hatred, former IAS officer Kanan Gopinathan, who was also one of the speakers, said that the fight against the CAA-NRC-NPR is not a Hindu-Muslim issue. "More than whether you are a citizen of this country, the focus is on whether you have any proof of that citizenship," he said.
Jawaharlal Nehru University Students' Union President Aishe Ghosh demanded that a resolution against CAA-NRC-NPR be passed in the Delhi Assembly. She said, "There have been consistent attempts at suppressing voices of those who are raising their voice against this black law [CAA]. But we will continue raising our voice and will convey it to RSS and BJP that we are not the ones to back off."
Get the latest reports & analysis with people's perspective on Protests, movements & deep analytical videos, discussions of the current affairs in your Telegram app. Subscribe to NewsClick's Telegram channel & get Real-Time updates on stories, as they get published on our website.
Subscribe Newsclick On Telegram