Rahul Gandhi Calls 'Kashmiriyat' as 'Home'; Challenges BJP/RSS to Go For Similar March
Marking the end of Bharat Jodo Yatra, the Congress leader said he understood the 'pain and grief' of victims of violence in J&K, as he
himself had experienced it.
Srinagar: Congress leader Rahul Gandhi on Monday launched a scathing attack against the ruling Bhartiya Janata Party (BJP) leaders accusing them of perpetrating violence, as he urged people to stand against the 'ideology' which, according to him, was trying to break the country.
"We have to stand against the ideology which is trying to break this country not with hatred but with love. I am sure that not only will we defeat that ideology but we will be able to remove it from their hearts," Gandhi said during his address in Srinagar amid heavy snowfall.
Gandhi, who completed the countrywide unity march – Bharat Jodo Yatra – on Sunday, walked close to 4,000 km from Kanyakumari to Kashmir in what is now being attached with the his "resurgence" as a leader against the almost deified image of Prime Minister Narendra Modi. Gandhi began his march on September 7 and walked in over a dozen states for about 135 days meeting supporters from across the country and was joined by prominent faces from politics and civil society.
The Congress leader said he received an overwhelming response from Jammu and Kashmir since he arrived on January 19 and was joined by three former chief ministers -- Farooq Abdullah, Omar Abdullah and Mehbooba Mufti.
Gandhi termed his entry to Jammu and Kashmir as a "homecoming" and challenged leaders from the BJP and Rashtriya Swayamsevak Sangh to undertake a similar march. He added that he was also advised against this by security.
"The security persons told me that I could walk throughout the country including in Jammu, but I should use a car in Kashmir for the last four days. I was told, perhaps to scare me, that if I walk, I would be hit with a grenade But, I decided to walk among my family. I also thought of providing an opportunity to the people who hate me, and want to change the colour of my T-shirt from white to red," Gandhi said.
The Congress leader added that the people of Jammu and Kashmir did not throw grenades but welcomed him with an open heart. He said he not only considered the idea in Kashmir, known as Kashmiriya,t as his "home" and also shared a special bond with the people that neither the Prime Minister Narendra Modi nor Union Home Minister Amit Shah would understand.
"Since childhood, I have been living in government accommodations and I never considered them as home, for me they were mere structures. What you call Kashmiriyat, I call it home," he said.
Even as Gandhi was received by hundreds of locals from across Jammu and Kashmir during his yatra, the attendance on the final rally was quite thin due to inclement weather. He addressed his supporters in the Sonwar cricket ground amid heavy snowfall that many, despite acting as a dampener, considered a blessing in disguise.
"I also thank you that you brought snowfall to Srinagar that everyone was waiting for. It is a good omen. It may have caused inconvenience but it has brought light in our lives," National Conference leader Omar Abdullah said.
Both Omar and Mehbooba Mufti of People's Democratic Party (PDP) said Rahul Gandhi had shown that there was an alternate to the 'politics of hate' and considered the 52-year-old leader as a 'ray of hope' amid the heightened polarisation in the country.
"I hope that what the ideology of Godse has snatched from Jammu and Kashmir and this country, that Gandhiji will return. Gandhiji had said that he saw a ray of hope in Jammu and Kashmir and today entire country is seeing a ray of hope in Rahul Gandhi," Mehbooba Mufti said.
Omar Abdullah also urged Rahul Gandhi to carry out a similar march from Eastern parts of the country to the West and expressed
willingness to join him.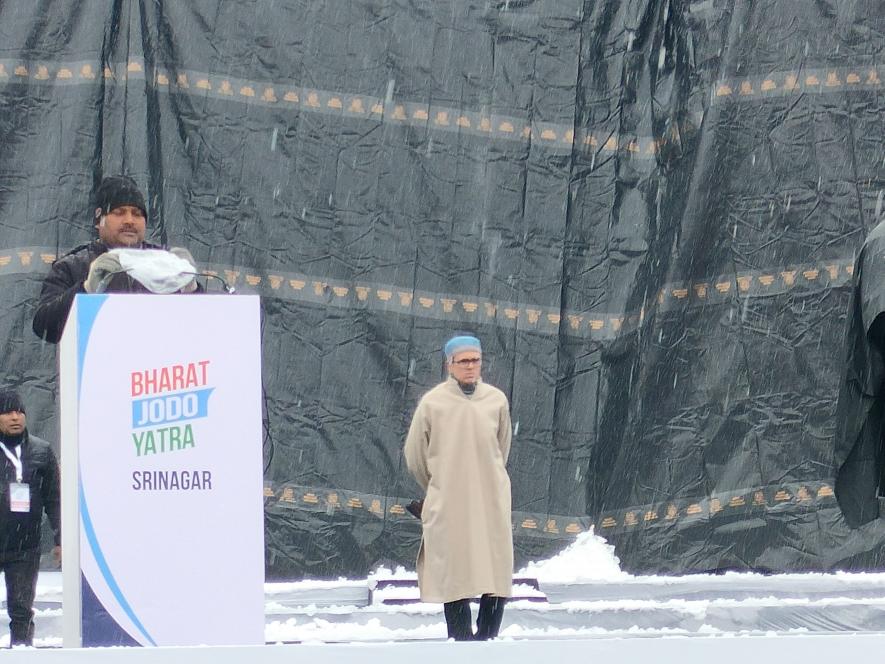 Throughout the address, the Congress leader emphasised on the philosophical concept of shunyata or devoidness that he indicated remains at the core of his political consciousness. He said that similar concepts could be found in Islam where it is referred to as fanaa or annihilation (of self). He said he understood the people of Jammu and Kashmir and the families of the security forces, their grief and pain caused due to violence something that most others wouldn't.
"I understand violence. I have been its victim...I have seen it, faced it. Those who have not seen it, they will not understand it. Like Modi ji, Amit Shah ji or the people of the RSS. They have not seen it," he said.
He added that no one from the BJP would be able to walk in Kashmir because they fear it. Recalling the assassination of his father Rajiv Gandhi and grandmother Indira Gandhi, the Congress leader said he wanted to put an end to the calls received by families of victims of such violence and that, he said, was the objective of the Bharat Jodo Yatra.
"I got calls, like the families of the victims of Pulwama blast, like the thousands of families in Kashmir have received. But those who
perpetrate violence like Modi, Shah and Doval or the RSS, will not understand it," he said.
Gandhi also recalled some of the moments from his Bharat Jodo Yatra including how a young girl inspired him to continue marching despite getting hurt and also how a group of four poor children became a reason for him to not wear a sweater in cold. He also said that he met a group of women, who were raped but feared reprisals for reporting it to the police.
Get the latest reports & analysis with people's perspective on Protests, movements & deep analytical videos, discussions of the current affairs in your Telegram app. Subscribe to NewsClick's Telegram channel & get Real-Time updates on stories, as they get published on our website.
Subscribe Newsclick On Telegram