Recalling Ambedkar's Fears of Majoritarian Polity and Unequal Minorities
Once awakened, the Hindutva genie will keep searching for newer victims, spawning more conflicts, not just with Muslims but members of every marginalised group.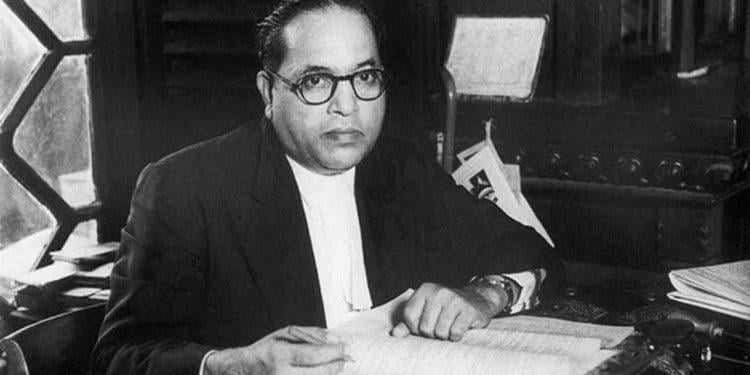 On the 131st birth anniversary of Dr BR Ambedkar, we in India painfully confront his worst apprehensions. Ambedkar's warnings that minorities would suffer exclusion and deprivation because of the communally charged electoral process have become a frightening reality that threatens to upend India's constitutional vision. 
Recently on Ram Navami, Indian Muslims were violently targeted in many states. It has become a routine affair to vandalise Muslim places of worship. In several areas, the government demolishes the homes of the weakest sections of society, primarily the Muslims. In complete violation of the law, state governments ruthlessly employ bulldozers to break the homes of alleged criminals. 
All these events prove the apprehensions of Ambedkar frighteningly correct. His analysis of elections and voting patterns demonstrated that victories could easily be registered by candidates who commanded numerical majorities. In a chapter devoted to majorities and minorities in his book, "Thoughts on Linguistic States", he wrote, "Minority communities may be crushed. If not crushed they may be tyrannised and oppressed. They are sure to be discriminated against and denied equality before the law and equal opportunity in public life." 
The communal nature of a regime that registers electoral victories without needing to field a single candidate from a minority community is at the root of today's lumpenised majoritarianism. In the Constitution that Ambedkar drafted, this kind of political behaviour amounts to denying equality before the law and equal opportunities in public life to all citizens.
The incendiary speeches of so-called sants in which they call for war against Muslims, the calculated, divisive statements of those who occupy constitutional posts to turn them into the 'other', have become par for the course in Indian public life. This is why Ambedkar had cautioned that India would face calamities if the idea of Hindu Rashtra became a reality. He had appealed to all concerned to resist and defeat it.
Paradoxically, Ambedkar is celebrated on his birth anniversary, while the ruling political formations (and outfits aligned with its ideas) wilfully ignore his intent and openly call for genocide. India today confronts every kind of calamity associated with establishing a Hindu Rashtra that Ambedkar had prophetically outlined. Minorities are the worst victims of exclusion and exploitation, but this process, unless arrested, is unlikely to stop even at ghettoisation and exclusion of some. Once awakened, the Hindutva genie will likely keep searching for new victims, spawning more conflicts.
Ambedkar once described Indian politics as theology in action. Today, ruling regimes fail to invoke secularism—forget making it central to the political and electoral discourse. What does this mean, except that politics is becoming a sub-set of a peculiar brand of religious fanaticism? Chief ministers and other top officials in charge of state apparatus are turning an ancient religion into a network of lumpen elements who brook no dissent and easily take offence. They treat secularism with utter contempt, leading to an erasure of diversity that further derails politics from its constitutional tracks.
Judicial pronouncements have declared secularism a part of the basic structure of the body politic, yet we are witnessing a near-fatal blow to it. Endangered republican values spell danger not just for some abstract notion of secularism but for the co-existence of Indian communities. 
In 1928, Ambedkar wrote that the nature of politics of India is such that it has a weaker secular dimension than European countries. "If the representative government is so weak when operating among European peoples, where the secularisation of politics has gone far further, how much weaker must it be in India where politics is nothing but theology in action," he said.
In his book, "Pakistan and Partition of India", Ambedkar outlined Savarkar's Hindutva in straightforward terms. He reminded that Savarkar's "scheme is really creating a most dangerous situation for the safety and security of India" and observed, "Mr Savarkar will give the Hindus an empire over the Muslims and thereby satisfy their vanity and pride in being an imperial race". 
Sadly, every word of Ambedkar rings true today. Full-blooded Hindutva is propagating Savarkar as a hero and imperially sweeping over the nation in the name of Hindi, Hindu, Hindustan. Threatening peace-loving citizens and preventing citizens from living a life without conflict and strife has become an everyday obsession. To stop Muslims from offering namaz, deny Muslim girls access to education on the ruse of an innocuous headscarf, and calls for economic boycotts of Muslims demonstrate India's racing against itself, straight to the bottom. The power brokers and their followers will refuse to acknowledge this, but this tendency has become more virulent since 2014. But, to declare war against your own people, the minority, the poor, the Dalits, the excluded and marginalised, will only create losers among Indians of all faiths.
In the discussion on Objectives Resolution in the Constituent Assembly, Ambedkar strongly opposed the idea of violence and bloodshed. He said, "If there is anybody who has in his mind the project of solving the Hindu-Muslim problem by force, which is another name of solving it by war... in order that the Muslims may be subjugated... this country would be involved in perpetually conquering them".
He appealed to the Constituent Assembly and the political regime to exercise power with wisdom. Unfortunately, using state power to create second class citizens and rob them of constitutionally guaranteed rights continues heedlessly. 
On Ambedkar's birth anniversary, let us remind those entrusted with the responsibility to run the republic to serve and defend the Constitution, which celebrates fraternity. It should be their categorical imperative to eschew polarisation politics and divisive narratives. There is no room for divide and rule, which will only perpetuate war-like situations, a dire prospect for Indian people. Ambedkar defended the secularisation of polity and society and opposed Hindutva and majoritarian vote-banks. To follow his lead would be an authentic tribute to Ambedkar: anything else would be a monumental error.
The author was Officer on Special Duty and Press Secretary to President KR Narayanan. The views are personal.
Get the latest reports & analysis with people's perspective on Protests, movements & deep analytical videos, discussions of the current affairs in your Telegram app. Subscribe to NewsClick's Telegram channel & get Real-Time updates on stories, as they get published on our website.
Subscribe Newsclick On Telegram