Reject NEP, it Will Drive Poor Out of Schools and Colleges, Say Teachers
The teachers held a protest in Delhi under the joint leadership of the Joint Forum for Movement on Education and the All India Federation of University and College Teachers Organisations.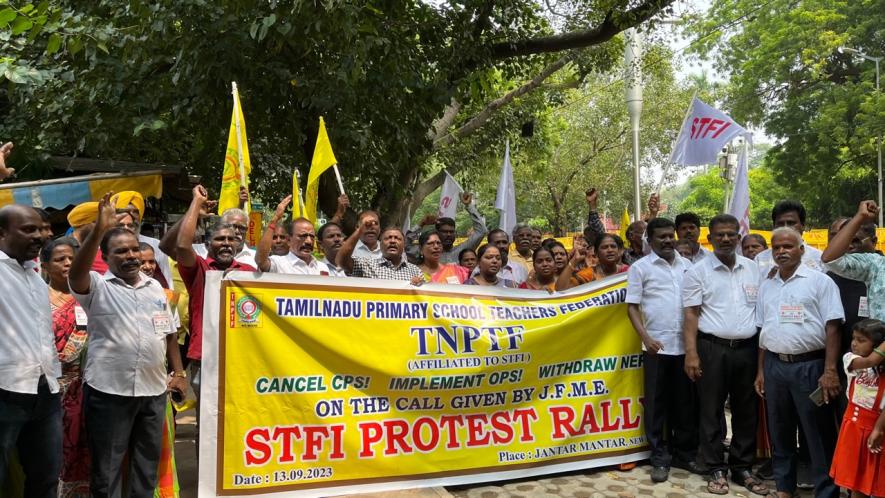 New Delhi: Shri Prakash Yadav sits calmly in his chair, observing hundreds of protesters from different states at Jantar Mantar who came to the National Capital on Wednesday to register their protest against the New Education Policy (NEP) and demand the introduction of the Old Pension Scheme (OPS). The protest was organised under the joint leadership of the Joint Forum for Movement on Education and the All India Federation of University and College Teachers Organisations (AIFUCTO). Yadav maintains that the students and teachers at his Janata College in Auraiya, Uttar Pradesh, are anxious about the policy and its repercussions.
Talking to NewsClick, Yadav says, "It appears that the policy will transform colleges into regular exam machines, and learning will take a backseat. The students need to pay fees twice for semesters. Then, there will be two examinations, multiple assignments and projects. When will we teach?"
Yadav is equally miffed at the New Pension Scheme (NPS) and emphasises that teachers are so demotivated that they may not receive a liveable pension post-retirement. "The MPs and MLAs are taking pensions as per OPS but want employees to be under NPS. You are not even telling us where you are investing our money. Is it justifiable?" he adds.
Jyoti Dahiya, Joint Secretary of All Haryana Government College Teachers Association, tells NewsClick that the state government is in an inexplicable haste to implement the NEP in totality by 2025, and two out of nine state universities have seen forceful imposition.
"Haryana government was first among few states which announced its implementation. Interestingly, no discussion with teachers took place. We have two state universities, Kurukshetra University and Chaudhary Ranbir Singh University in Jind, where it has been implemented. We are also witnessing a sharp fee hike in its aftermath. Guru Jambeshwar University recently increased its fee, and it is deeply linked with the stand of the government on education," she says.
She adds, "The state universities were issued circulars twice to be self-dependent in mobilising resources this year. It means that they are pushing us towards Privatisation. I teach in a rural college, and students often approach us for help because they find it difficult to arrange Rs 5,000 for college fees. Just imagine how students will afford the fee if it is increased three times. The biggest sufferers will be girls students as there is hardly any consensus on teaching them in patriarchal societies like ours."
D. Kumar, who teaches at a government college in Gwalior, Madhya Pradesh, says the policy was introduced without any consultation and students are grappling with different problems. "The policy recommends different subjects to be taken in undergraduate courses, but where are the teachers to teach these subjects? It refers to a golden past where students, following the Gurukul model, studied in universities like Nalanda and Taxila. No issues, but how many universities have you created where students and teachers live and learn on residential campuses? Is it not ironic that the students in the third year do not know anything about the syllabus to be taught next year?" he adds.
Kumar adds that the state government is merging colleges to suit the needs of the policy. "The colleges were created in the first place because they were needed. It is very easy to merge two colleges to do away with scarcity of teachers. It takes time, sweat and resources to build a new institution. Our country needs new institutions, not rhetoric," he says.
Mahavir Singh Sihag, a school teacher in Churu, Rajasthan, feels there will be fallouts for school-going children, too, where Class I and II students will be transferred to the anganwadi centres. "The posts for teaching these classes will simply vanish. We are also seeing a new wave of contractualisation under the policy, which will deprive employees of social security. The Rajasthan government recently hired 10,000 contractual teachers to teach in schools who will work on one-third of the salary given to regular teachers," he adds.
 "Our second concern remains with children in Anganwadi centres, ill-equipped to deal with them. Neither do they have the infrastructure nor trained teachers. In this situation, the parents would be forced to take children out of centres and transfer them to private schools. So, the beginning of the policy has privatisation in its hands." Sihag says.
Sihag says NEP may also push for child labour, although unintentionally. It recommends that students in Class VI be sent for internships. "The students usually explore their strengths and weaknesses till class XII. So, you are breaking his/her momentum. What's the intention of imparting skills at this level?" he asks.
"You must understand that there is tremendous poverty in our country, and if a child gets partial training enough to mend a machine, workshops may lure him to engage in child labour, and uneducated parents may not object because he is ultimately bringing home some money. However, he will lose chances of higher learning, and if governments are really interested in job creation, why is it not filling 10 lakh vacancies in school education departments? The population and their needs have increased, but no new jobs exist. Why?" he adds.
Bhoop Singh Kookana, standing beside Sihag, has other concerns about large schools which will cater to the areas about six kilometres away.  "The poor parents would not be able to send their children to schools because it would cost money. Then, parents remain particularly concerned about the safety of girl students. Second, there are more than one lakh vacancies in school education department in Rajasthan alone. The provisions of the Right to Information (RTI) make it clear that under no circumstances more than 10% of posts can be held vacant for six months. Yet, these posts are vacant, constituting about 40% of total strength." he says.
Governments are unnecessarily adding another layer of schools named Mahatma Gandhi School, where full strength of teachers will be employed through contracts. "Two teachers would generally handle a school, but the strength will automatically increase to five in the case of Mahatma Gandhi schools. Here, too, three additional teachers will come via contracts. Why is there double standards? First, you will poor people, then hand these schools to private players!" Kookna says.
Away from North Indian states, K Narasimha Reddy from the School Teachers Federation of India Andhra Pradesh narrates a similar story about his state. "The Jagan Mohan Reddy government merged primary schools into high schools in three kilometres, and we lost four lakh students from government schools to private schools. Additionally, 25,000 posts were abolished. We have 4,000 schools where only one teacher is teaching. That's the impact of NEP. We do not want others to go through the trauma!" he tells NewsClick.
Get the latest reports & analysis with people's perspective on Protests, movements & deep analytical videos, discussions of the current affairs in your Telegram app. Subscribe to NewsClick's Telegram channel & get Real-Time updates on stories, as they get published on our website.
Subscribe Newsclick On Telegram