Rural Workers Mobilized En Masse in South African General Strike
Thousands of farmworkers took part in the historical general strike highlighting the racist dehumanizing treatment they face by white farm owners.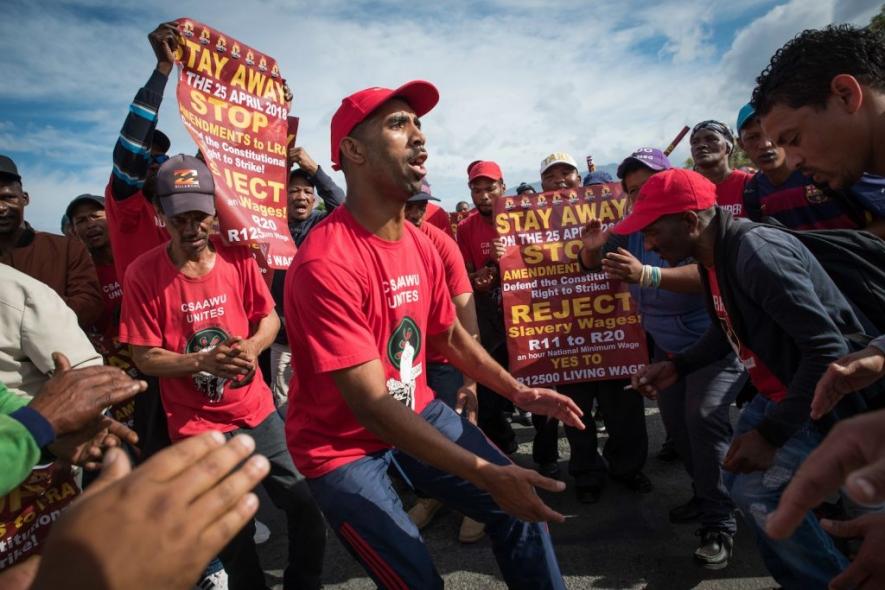 Around 3000 farmworkers from areas around Robertson joined the a strike by CSAAWU against the proposed minimum wage bill. © Madelene Cronje for New Frame
Wednesday's national general strike was not restricted to South Africa's urban centres. Many farm workers throughout the Western Cape also downed their tools. These included over 3 000 members of the Commercial Stevedoring and Allied Workers Union (CSAAWU).
Several hundred CSAAWU members marched through the streets of Robertson in the fertile valley between the Langeberg and Riviersonderend mountain ranges. The workers came from across South Africa's famed wine route – from Worcester, Montagu and Bonnievale. Many of Robertson's residents looked on from behind their fences.
Robertson is 50 km south of De Doorns, where a worker-led uprising in 2012 resulted in an increase of almost 50% to farm workers' minimum wage.
Wednesday's march ended at the Callie de Wet sports grounds, where CSAAWU General Secretary Trevor Christians repudiated the most recent incarnation of the minimum wage.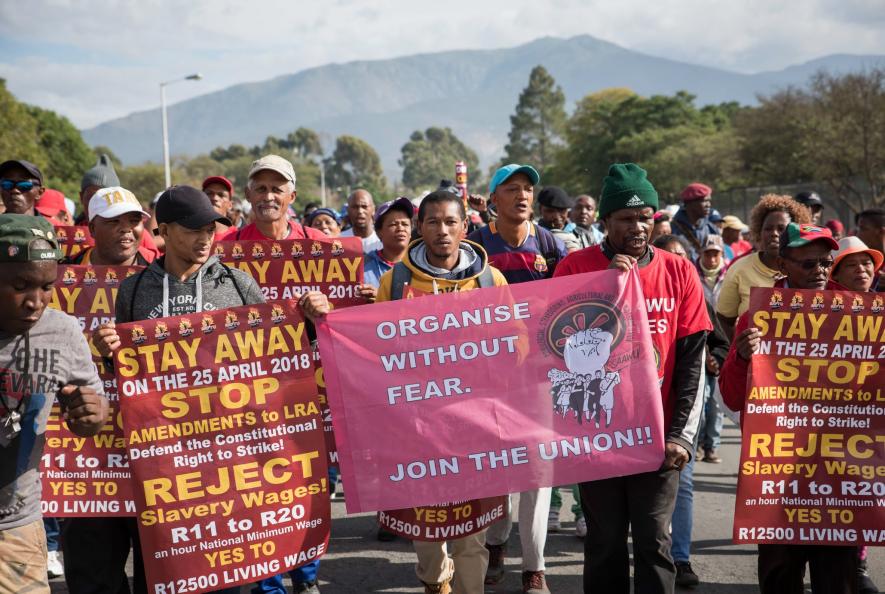 Photo Credit: Madelene Cronje
According to the National Minimum Wage Bill, currently being considered in Parliament, farm workers will not be allowed to earn below R18 per hour.
While this represents an increase on the current sectoral determination, under which farm workers earn R16 per hour, Christians compared the figure to the R8 600 per hour earned by top managers.
"This is a declaration of war!" Christians told workers. "Workers cannot earn these managers' monthly wages in their lifetime," he said. "You will have to be born 100 times over."
The spectre of the Marikana massacre was evoked throughout the rally. "Never forget that workers have died for a living wage," said Christians.
Organising on farms
National Labour and Economic Development Institute and Human Rights Watch figures place union density among Western Cape farmworkers somewhere between 3% and 5%, compared to South Africa's overall unionisation rate of 30%. This places serious restrictions on the ability to agitate for workers' interests.
According to Karel Swart, CSAAWU's Deputy General Secretary, organising farm workers in the Boland is made particularly difficult by hostile farmers and huge distances between small groups of workers.
The Labour Relations Act protects the rights of representative unions to access workplaces without permission to meet with members. But Boithumelo Ramehlele, a CSAAWU health and safety specialist said that one of the biggest obstacles to organising farm workers effectively is that farmers prevent union access to farms, often at gunpoint.
On the Tuesday before Wednesday's strike, New Frame accompanied Ramehlele to Langvlei, a farm just over 100km west of Robertson in the "Agter-Paarl" region. He was due to meet with the workers on the farm – all of whom are CSAAWU members – to discuss the upcoming strike.
Workers' homes at Langvlei are lined along a yard strewn with three rusting shipping containers. Two of these are empty. But the other houses the single shower and toilet which all seven households share for ablutions. The facilities are in disrepair.
The stench of rotting flesh soaked the yard and flies streamed from a low brick structure at the bottom end. The source – a pile of decomposing sheep guts – lay on the floor on the inside among rusty meat hooks. The workers say that the building, only a few steps from their front doors, is used to slaughter sheep.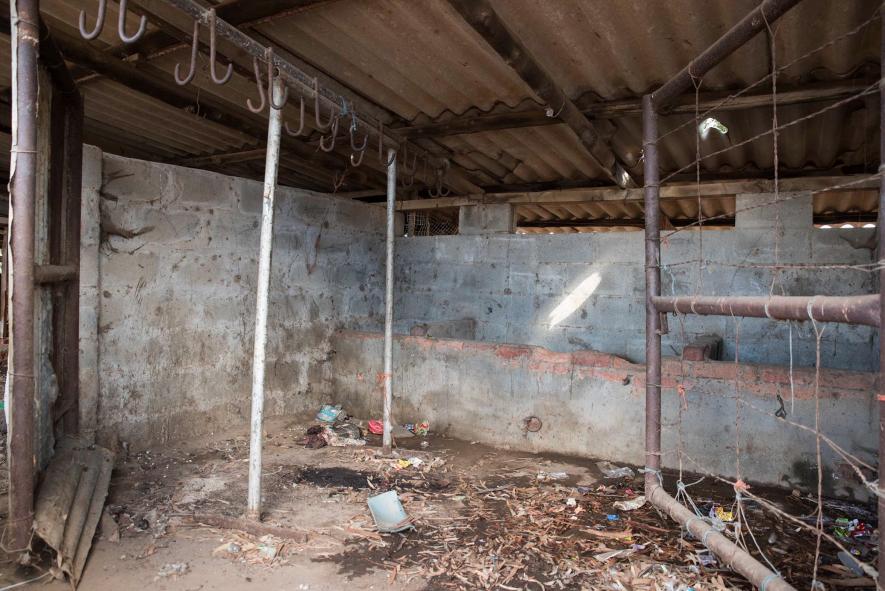 Photo Credit: Madelene Cronje
Ramehlele was prevented from completing the meeting after the arrival of the farmer and a farm manager. Ramehlele informed them both of his organisational rights, but was told by the white manager to, "Show me some respect, boy."
Before returning to his bakkie and calling the police, the farm manager pointed at the workers, who had gathered over their lunch break, and growled, "We have to work our arses off to feed these people! We are the breadbasket of this country."
Ramahlele feels sure that, had he not been in the company of white journalists, he would have been arrested at Langvlei.
Despite the unique challenges of organising rural workers, Christians says that CSAAWU is building solidarity across the urban/rural divide. He says that class solidarity – including with international partners in the countries where the products of South African agriculture are consumed – is the only way for workers to combat the oppressive practices of farmers who are "well organised and well resourced".
Swart added that "land and the hunger for land" is uniting rural and urban workers. He concluded that the ANC's proposed programme of land expropriation without compensation is farcical in light of the ongoing eviction of farm workers from their homes. According to Swart no land reform programme will be complete without a moratorium on farm worker evictions.
Christians closed his address by calling attention to the history of racial dispossession on Western Cape farms. "If you want to see if this guy [a farmer] will change, think of yourself and your family," he appealed to workers. "How long have we lived this way? They have a filthy history of killing our people! They have a filthy history of evicting our people!"
"This struggle is against white privilege. Because white privilege is killing us. We have a right to defend ourselves against white privilege," Christians continued. "If something comes to you from a boer [farmer], don't trust it! They have a lot to lose, and we have a lot to gain, because we have nothing."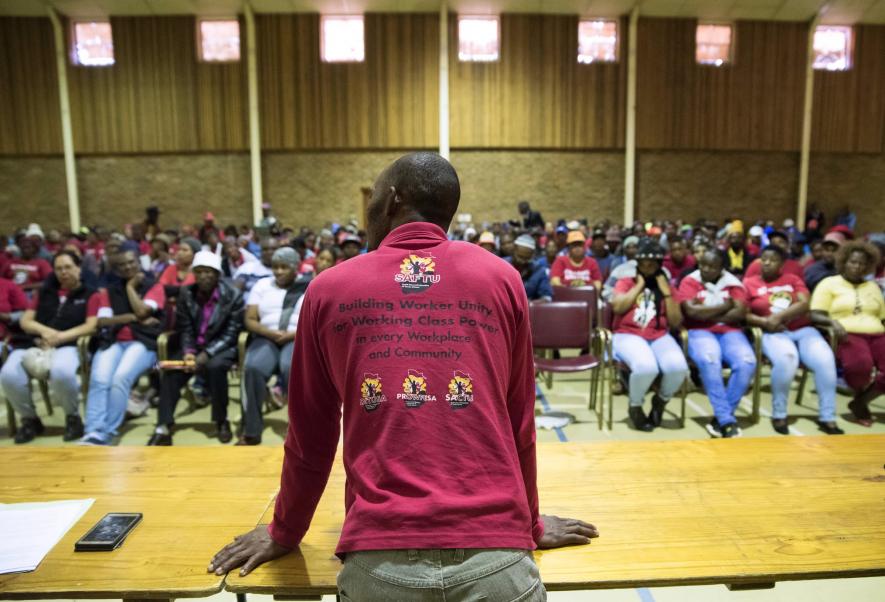 Photo Credit: Madelene Cronje
Get the latest reports & analysis with people's perspective on Protests, movements & deep analytical videos, discussions of the current affairs in your Telegram app. Subscribe to NewsClick's Telegram channel & get Real-Time updates on stories, as they get published on our website.
Subscribe Newsclick On Telegram