Salwa Judum 2: Born to Kill Again?
Newsclick interviewed human rights activist Gautam Navlakha on the revival of Salwa Judum 2 in Bastar district of Chhatisgarh. Navlakha explains how the revival of Salwa Judum is related to the larger project of providing benefit to corporate houses and suppressing voices of dissent. He explains how just before the announcement of Judum 2, Modi visited Chhattisgarh and signed MoUs worth Rs 24,000 crore. In 2005 too, the Chhattisgarh government had signed deals with Tata and Essar before Mahendra Karma launched Judum. He also talks about how the presence of armed forces in the area and the impunity provided to them has resulted not only in the massive loot of natural resources but has also led to a rise in the number of atrocities including rape. This onslaught on the rights of Adivasi population is going to result in a higher degree of resistance, he reckons.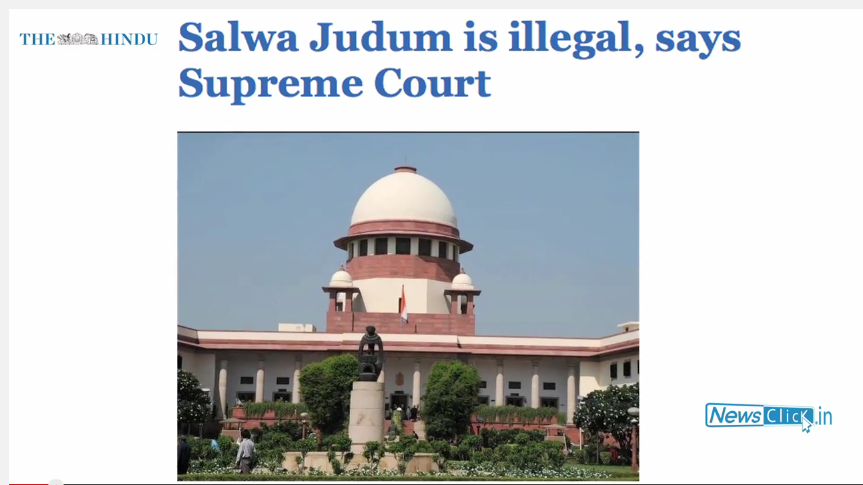 Pranjal - Hello and welcome to Newsclick. Today we have with us Gautam Navlakha who is a Human rights activist and an author. We are going to discuss about Salwa Judum that has been initiated in Chattisgarh once again by Chavindra Karma.
Hello Gautam, We have seen in the newspaper that Salwa Judum-2, they have been again trying to initiate in Baster district by Chavindra Karma is trying to doing it. His father had already started it which was deemed illegal by the Supreme court. So what was the reason to start once again and what are the political background behind this?
Gautam Navlakha - I think let us be very clear; It was even the Ministry of Rural Development in its report on unfinished tasks of Agrarian reforms in India, etc had mentioned, there was much that happened behind the scenes. Although Mahendra Karma and Chavindra Karma today seem to be taking the initiative in terms of public gauze. Actually it is a much bigger game plan than anything being handled by one individual. It is significant that May 25th was the date chosen of, obviously because the day five years back when Mahendra Karma was killed by the Maoists in an ambush. But the date is also significant because few days prior to that Narendra Modi visited Dandewada and announced Rs 24000 Crore worth of MoUs which was signed. How many of them would get realised on the ground is a separate matter but the point is there is a similarity between this and what had happened in 2005 June because of 5th June, Govt of Chattisgarh signed an MoU with Tatas and few days before that with ESSAR. Immediately after that Salwa Judum got formally launched. This time again the dates became a matter of confusion because a lot of people protested against, the Maoists also came out with their warning. Congress party decided that they will have nothing to do with it and many people cited the instances of the Supreme Court judgment to say that this would be the violation of Supreme Court, etc. So there was even the Chattisgarh Government at least publicly distanced help from it. But the significant thing was the presence of IG of police of Baster range as well as the District Collector at the meeting where Chavindra Karma announced the launching off. Now he has dropped Salwa Judum but that doesn't matter. I mean you can call rose by any other name but still it remains rose. Similarly Salwa Judum or something which is anti-people gradation which is unleashed on civilians as the date in 2005 which has depopulated in 640 villages in Baster and drove out 3.5 lakh people from their home and heart. Many of them subjected to camps and all. Now therefore announcing this launching is also an indication of the govt is thinking simultaneously as it a war against the Adivasis primarily lead by the Maoists in this area. May have to be met then you have to build another force also simultaneously on the ground. So as the war picks up, you will find the internecine nature or the civil war nature of the conflicts, the Adivasis fight among themselves is again being attempted to be launched.
Pranjal - You have raised a very important point. They call it Vikas Sankarsh Samiti and he also said that it will be a peaceful one, not the one which was brought into action in 2005. We also have operation green hunt which is going on the ground, the atrocities committed on the Adivasis and tribals and there has been seen land acquisition act coming to place which has brought by the new govt. Can you find any link between all these things? Land acquisition act, operation green hunt and also suppressing voice of dissent.
Gautam - It is very true. If we look at it the bane in the last one year many of the important laws which protect the interest, for instance of Adivasis or the peasantry, each one of them and especially for Adivasis are concerned, the Forest Rights Acts, the Forest Conservation Act and I mean other Environmental protective act; social consent which is required for acquiring x, y, z; all these positions are one by one being dismantled. It took years of struggle by the people and it took war and Salwa Judum to remind bring people back to realising how dangerous this policy of the govt was, which were taking the people granted and thought that they could get away by imposing their will, one way or another, either through fraud or by caution and enable opening up the forests and mineral wedline under it to be exploited by big private Corporations which depend on Foreign Direct investment. Either in form of equity or debts whichever way, foreign comes into it and they would be investing only if they are assured of security of their investment. It is this that is being enabling and the tweaking of laws are also indicative of this. Now you look at it, I mean in each of the area, not just in Baster, even else where you find, for instance that all the areas where the Adivasis are driven away under one pretext or other happen to be those areas where rich fines(Mines) have been located and those are the areas. You look at the tweaking or the changes that have been brought in the coal industry, the recent auction, the facts that the leases have been increased to 30-50 years, the fact that the auction money or the non-royalty part of the premium willac-route to the govt only over 30 years and now the lease has been extended to 50 years automatically. It means that a massive onslaught by capital against people is being launched.
Pranjal - We also have a judiciary in our country which has an important role to play. We have cases of GN Saibaba who has been lockedup into cell, 90% disabled man. Recently Kerala High Court gave a judgment that if you are ideologically supporting somebody doesn't not mean that you are a Maoist and you should be arrested. So do you see a silver lining or what role has Judiciary has to play in all these things?
Gautam - Kerala High Court judgment only endorses actually what happens in Mumbai HIgh Court also, where Justice Katju's statement. He said there can be no guilt by association and the Kerala Hight court said that being Maoist itself is not a crime. See it is only when you commit an offense that you can be prosecuted, not otherwise; which is upholding the right to preach and propagate one's ideology and belief and conviction is not something that can't be taken away. The point is even when the Supreme Court upholds it; I mean now that have been challenged by the Union Govt and Assam Govt and I am sure that the Kerala Govt will also will go and appeal. PUDR, my organisation that I am connected with has also requested the court to imply in the same matter because we are an interested party since the govt had tried to scare in their plan to silence all the dissenting voices. So I don't know what will happen in the court. But even if the judiciary comes out it, it is the reality on the ground that we must also taken to the account despite the judiciary saying it repeatedly there is no such notion as such as incriminating literature or ban literature, etc, etc. Despite that, that is used to foist cases against. As it is happening in the case of GN Saibaba for instance and several others who suffered also or thousand of others who are rotting; I mean who are political presence also rotting in different part of the country. And these are not Maoists, there are SIMI activists who are also being rotting in the jail in long run out procedures and prosecutions, etc. So it is a much bigger problem that we are confronting with so even when the Supreme Court comes out with a judgment, at the low level, at the level of those who file the case, file the FIR, do the investigation, prepare the charge sheets and start the trial, etc, etc those people it doesn't matter. Because there is an other law which is protects them. Each time people like GN Saibaba or Hem Misra and others have picked up, they are picked up under concocted cases as we discover after years of trial, and when the trial ends they will get a quit in. But during the court, no action can be taken, primarily because we believe that everybody is, every govt servant is working in good faith and that good faith protects them even when they foist cases as we know. I mean, our city alone we have that experience of the special foisting. Planting guns and explosives to incriminate Liaquat Ali Shah of Kashmir. So my point is even when the Supreme Court does and it is good that they, the individual cases they are quit and they uphold also various rights and freedoms. Unfortunately at the low level, it doesn't which results in years of incarceration which itself is a punishment and there the Supreme Court or judiciary has not come to any aid of these under trials.
Pranjal - Thanks Gautam for giving us your time. As the things proceed, we will be coming back to you on such issues.
Thanks you for watching Newsclick.
Get the latest reports & analysis with people's perspective on Protests, movements & deep analytical videos, discussions of the current affairs in your Telegram app. Subscribe to NewsClick's Telegram channel & get Real-Time updates on stories, as they get published on our website.
Subscribe Newsclick On Telegram