Sangampreet Singh Bisla: Upcoming Indian Archer Contemplates Form In Lockdown
With limited access to ranges and equipment for training, archer Sangampreet Bisla has gone back to his childhood, training on the family's farm to keep himself going.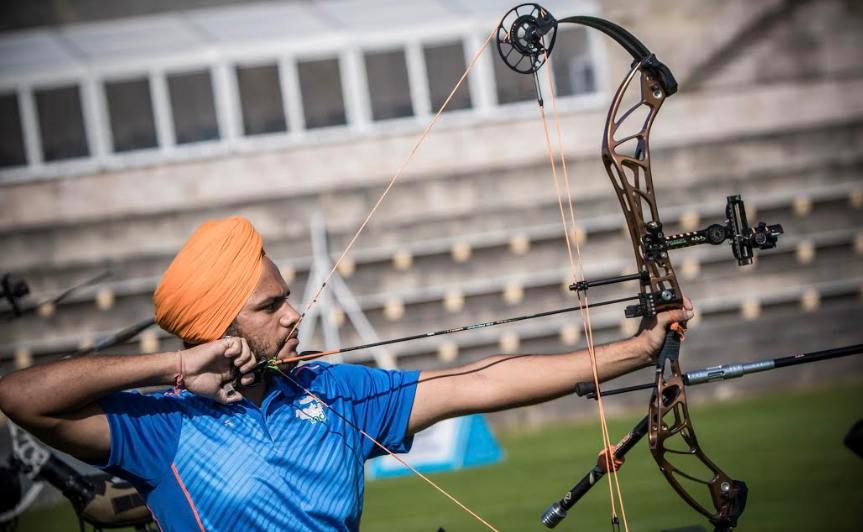 Sangampreet Singh Bisla hit the mainstream last year when he won bronze in the Men's compound team event (with Sukhbeer Singh and Tushar Phadtare) at the World Archery Youth Championships in Madrid.
"I belong to a family of farmers," Sangampreet Bisla says when asked how a nationwide lockdown affects an archery prodigy. "On our fields, I have set up a proper range with proper safety measures since before the lockdown to practice and train. It is different to practice alone with no other player or competitor around you." 
It is a simple enough thought, a self improvised training regime to follow in this odd physically distant time. And yet, even in that, Sangampreet Bisla is different. Where others may have thought of this as stop-gap, Bisla gew up practicing this way, and in many ways considers this first nature. It is this sort of single minded dedication to a craft that separates him from every other archer in his age group in the country. 
Bisla hit the mainstream last year when he won bronze in the Men's compound team event (Bisla was teamed with Sukhbeer Singh and Tushar Phadtare) at the World Archery Youth Championships in Madrid. It was a nerve racking competition, putting to bed any misnomers that exist about archery not being an adrenaline filled sport. The Indians trailed by a point leading into the final set, before shooting a flawless 60, to clinch the decider and the bronze.
Also Read | Amphan And Covid-19: The Double Blow Has Rocked Foundations of Bengal Football
This wasn't India's first archery medal at the youth stage, but it was another one where there was hope of more to follow. Bisla struck the ground with several junior colleagues like Komalika Bari, Raginee Markoo and Muskan Kirar in an effort to rattle the senior team's hegemony in the sport. With sports on hold, Bisla has been supported by both his coaches during these uncertain times.
"My Coaches Jiwanjot Teja who coaches me from Canada and Gaurav Sharma who is here in Patiala have been in constant touch and have helped throughout the lockdown," he says. Aside from that the Archery Federation of India's online classes in conjunction with the Sports Authority of India have helped keep the mind active.  
"We are given weekly tasks," Bisla says. "We are expected to record our tasks on video and send it. However, we can always call and talk to them if I have any queries or problems."
Also Read | Balbir Singh Sr. Tribute: Indian Hockey's Senior Stalwart, a Legend with the Golden Stick
Most of this is theory though, and for elite sport, theory is rarely enough. With ranges shut, and access to them still limited, archers have been locked out. Moreover, most of them, regardless of their level of competition don't have access to equipment to train with.
"We can practice short range but it doesn't help much in competition," Bisla says. Compound archers shoot longer distances and as much as the practice at the farm is useful, it is more recreational that athletic pursuit. "Short distance archers can improve their style of shooting even with access to basic ranges, but long distance archers won't feel the same."
What has helped is Bisla's multi-sport habit. Archery was the last stop on a sporting station that included basketball, horse riding, football, hockey, wall climbing, shooting and tennis. Physical activity, and the discipline it imbibes are the natural consequences of his youth.
Many sports have chosen to go virtual in this lockdown, and sports like archery and shooting -- which have always encouraged simulators and virtual technology -- aren't too far behind. Despite the popularity, Bisla isn't sure about how accurately they replicate real life. The rawness of competition, the need to adapt to changing weather conditions and the small discrepancies that make one shot differ from another add up. And then of course there is the very real adrenaline rush of competing live with an opponent only a few metres away. 
All of that though is far in the future, one clouded by an uncertainty caused by the coronavirus crises. Bisla has resigned himself to not knowing about what will happen next. "First our team was withdrawn from the upcoming Asia Cup world ranking tournament in Bangkok in March," he says. "Following that all the tournaments have been cancelled for now." The national Olympic trials are also on hold, with the Khelo India University Games the last event Bisla took part in. 
As much as the Archery Association has been working to keep their archers in good spirits, their own internal turmoil has put the sport in the country hanging on tenterhooks at the international stage. World Archery suspended AAI for defying its guidelines by electing two parallel bodies in July last year. 
It took until January this year for the national federation to hold fresh elections in front of three observers, where Arjun Munda was unanimously elected President. At the time Munda had put 'lifting ban by World Archery, restoring the recognition status of the Association with the Ministry of Sports, setting up more archery academics, streamlining the activities of the Association, generating funds through sponsorships' on a priority list.
And yet, despite that AAI still awaits much movement going forward. In a list of NSFs granted annual recognition by the Sports Ministry to the Delhi High Court, the AAI finds no mention. 
The AAI's compliance reports were sent to the Delhi High Court but a combination of the special bench being disbanded and the coronavirus-enforced lockdown has meant the court is yet to look into the matter.
Also Read | IOA and Ministry's Quid Pro Quo Games An Embarrassment for Indian Sport
In the midst of the administrative shut down, as usual, it is the athletes who suffer. For a sport that struggles with mainstream popularity, basic challenges like this which affect funding are huge roadblocks for success. Moreover, it puts the archers under an awkward spotlight in the international arena. "Last year during the Asian Championships our team were banned from participating under the Indian Flag," Bisla recalls, "We had to compete under the World Archery Flag. It bothered many of us."
Now, despite all the promises of regular competition and grassroot work, archery in India remains a fringe sport, picked by a few with a natural talent and dedication to it. In the past archers were an afterthought. A glut of medals and youth prospects have helped raise the sport's profile. Despite everything the administrators get wrong, somehow when it comes to competition, they get it right. Or at least the athletes do. It is just that simple truth Bisla relies on when he looks towards the sports future in the country. "There has been a shift," he says. A small discernible turn of the tide. "Now, we feel like real sports persons when we go out and compete."
Get the latest reports & analysis with people's perspective on Protests, movements & deep analytical videos, discussions of the current affairs in your Telegram app. Subscribe to NewsClick's Telegram channel & get Real-Time updates on stories, as they get published on our website.
Subscribe Newsclick On Telegram