Short of Year-end Target, Only 63% Adults Fully Vaccinated in India
Centre's flawed vaccination policy, and its misplaced trust in private sector with 25% doses, is to blame. The only way out is to strengthen the public health system.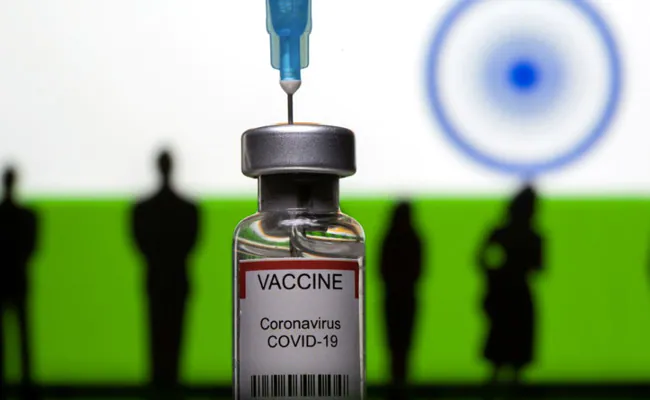 Representational image. | Image Courtesy: NDTV
As on December 30, 2021, India had vaccinated about 63% of its adult population. While this is no mean feat in a short span of about a year, the achievement falls short of the target that the Central government had itself set.
The Centre had earlier announced a target to fully vaccinate all adult population in India by the end of December 2021. However, at year-end about 97.3 million adults still need two doses and about 244.9 million need their second dose; that is, nearly 439.6 million doses.
As the government announced the rollout of vaccination for the 15-18 year age group from January 3, 2022 and precautionary dose for identified vulnerable categories (healthcare workers and frontline workers and co-morbid 60+ group), the requirement for vaccines is set to increase.
With this, the total requirement at the moment would include –
Nearly 99 million beneficiaries in the age group of 15-18 years, which will require about 198 million doses (2 doses)

About 30 million precautionary doses for healthcare and frontline workers

About 142 million precautionary doses for 60+ year population

Nearly 439.6 million doses for the remaining adult population
This implies a total requirement of roughly about 810 million doses in the coming few months.
Production Capacity – Domestic and Export
The Centre had informed the Rajya Sabha on December 14 that the current monthly vaccine production capacity of Covishield was approximately 250-275 million doses and approximatelt 50-60 million doses of Covaxin. With both companies – Serum Institute of India (SII) and Bharat Biotech-- operating at 90% of their current capacity, the government has put it on record that sufficient quantity of vaccines is being manufactured in India to vaccinate the adult population.
To get 810 million doses and cover the target groups announced and the remaining adult population, it would require about three-four months with the current production targets and everything else remaining as they are ng now. This time frame is likely to get extended given that the guidelines issued by the Health Ministry stipulate mandatory use of Covaxin for the 15-18 age group and the requirement of precaution dose to be given on completion of nine months from the date of administration of the second dose.
In fact, SII announced on November 26, the resumption of exports to the international vaccine sharing programme COVAX. Earlier, SII had to stop all supply to other countries and COVAX when India imposed a ban on vaccine export when cases surged in India during the second quarter of 2021.
While the supply side constraint has been seemingly overcome, the slow vaccination rate continues to remain a challenge.
With declining monthly rate of total doses administered since September 2021 (Figure 1), the vaccination targets would need recalibration and the government would have to devise appropriate policy measures.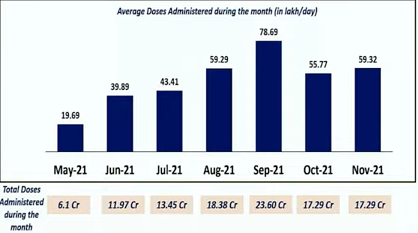 Figure 1: Monthly Doses Administered (in crore) | Source: PIB Release
Mismanagement at Policy Level
Why could we not meet the target of vaccinating all adult population? Experts have time and again pointed out at the Centre's flawed vaccine policy. The bringing in of the private sector has also been criticised.  
While from January to April 2021, the model was that the Centre procured the vaccines from the manufacturers and distributed to states. From May 1, the 'Liberalised and Accelerated Policy' was introduced, wherein 50% of the share was procured by the Centre and the rest 50% the manufacturers could directly sell to states and private providers. As a result, states had to float global tenders for vaccines, which did not get much response from the pharmaceutical companies. With the utter failure of this policy, and amid rising discontent and reprimanding from the Supreme Court, the Centre was forced to withdraw this policy. From June 21, a total of 75% vaccines were to be procured and distributed to States by the Centre and 25% could be procured by the private sector.
In May 2021, the Centre had projected the availability of nearly 2,170 million vaccines over the period August-December 2021. However, in June 2021, this projection was reduced to 1,350 million doses, as submitted by the Centre in its affidavit to the Supreme Court.
Use of Only 3 Vaccines Despite Larger Approved Pool
Recently, two more vaccines got the emergency-use application – Corbevax (Biological-E/ Baylor College of Medicine) and Covovax (SII/ Novavax) – along with the oral drug Molnupiravir (Merck). Before this, six vaccine candidates had been approved in India.
| S. No. | Vaccine | Manufacturer | Platform |
| --- | --- | --- | --- |
| 1 | Covishield | Oxford-AstraZeneca/SII | Non-replicating   Viral Vector |
| 2 | Covaxin | Bharat   Biotech | Inactivated |
| 3 | Sputnik   V | Gamaleya | Non-Replicated   Viral Vector |
| 4 | ZyCov-D | Zydus   Cadila | DNA-based |
| 5 | mRNA-1273 | Moderna | RNA-based |
| 6 | Ad26.COV2.S | Johnson   & Johnson | Non-Replicated   Viral Vector |
| 7 | Corbevax | Biological-E/   Baylor College of Medicine | Protein   sub-unit |
| 8 | Covovax | SII/   Novavax | Nanoparticle-based   vaccine |
| 9 | Molnupiravir | Merck | Oral   Pill |
Source: COVID19 Vaccine Tracker
Despite having approved six vaccine candidates before the recent approval of last two vaccines and the oral pill, the vaccination drive largely depended on SII's Covishield.
As on December 30, while the share of Covishield vaccine is 89% in total vaccinations, the share of indigenously developed vaccine, Covaxin, by Bharat Biotech is only about 11% in total vaccinations (Figure 2).
Figure 2: Doses Administered in India – 3 Vaccine Candidates (in million) (as on December 30) | Source: https://www.incovid19.org/
For the new phase of roll out from January 3, 2022 for the 15-18-year age group category and precautionary dose for identified vulnerable categories, the government has mandated the use of only Covaxin.
With 45 million doses expected to be the monthly supply of Covaxin, it remains to be seen whether the quantum of 198 million doses for the 15-18-year age group is supplied in time, especially with the looming threat of a third wave in India.
At present, Indian government has only focused on augmenting domestic manufacturing capacity of Covaxin. It has given some support to facilities at Indian Immunologicals Limited, Hyderabad, Bharat Immunologicals and Biologicals Corporation Limited, Bulandshahr, Haffkine Biopharmaceutical Corporation Ltd, Mumbai and Gujarat COVID Vaccine Consortium– all for production of Covaxin; hence, the mandatory Covaxin for 15-18-year age group.
Public Sector Vaccine Procurement Driving Production
The experience of COVID-19 has shown how important the public sector is in providing healthcare services. In fact, the redundancy of private sector is clear when it comes to preventive services, such as vaccination drives. In addition, during the pandemic, the private sector was largely ineffective in dealing with the crisis, with instances of profiteering prompting the Centre and some state governments to invoke powers under the National Disaster Management Act and State Epidemic Acts and to bring in price caps.
In an affidavit to the Supreme Court in June 2021, the Centre had made a strong case for involving the private sector in the COVID vaccination drive. The affidavit stated – "…in any public health program – be it vaccination or otherwise, involvement of private hospitals is always found desirable". Under its Liberalised Pricing and Accelerated National Covid-19 Vaccination Strategy, the Centre had allowed private sector to procure 25% of vaccines directly from the manufacturers.
As on December 7, 2021, about 96.3% (or 108.5 crore doses) of COVID-19 vaccines had been administered at government COVID Vaccination Centres (CVCs) while 3.7% (4.1 crore doses) were administered at private CVCs.
As Chandrakant Lahariya, a public policy and health systems expert, points out: "When it comes to preventive and promotive services, the private sector's contribution is relatively small. In the almost four-decade-old universal immunisation programme of India, private facilities deliver 10% to 15% of total vaccines. The share of the private sector in mass vaccination campaigns, such as Japanese encephalitis, polio, measles, etc., has been even smaller."
Some of the private sector hospitals in states such as Karnataka are worried and want to clear the vaccine stock before expiry. For this, according to reports, they are even organising camps to administer both Covishield and Covaxin for free.
As 2022 begins amid fear of a surge in pandemic once again, with newer SARS-COV2 variants, such as the Omicron, and large election rallies being held for the upcoming Assembly elections in five states, one hopes the Central government won't mess up the situation this time round, too.
Get the latest reports & analysis with people's perspective on Protests, movements & deep analytical videos, discussions of the current affairs in your Telegram app. Subscribe to NewsClick's Telegram channel & get Real-Time updates on stories, as they get published on our website.
Subscribe Newsclick On Telegram