Son of Mallah, Ex-BJP Ally in Bihar Might Join INDIA Bloc
Vikassheel Insaan Party founder-president Mukesh Sahani has been targeting the BJP for failing to provide job reservation to Nishad, Beldar, Kewat and Mallah communities.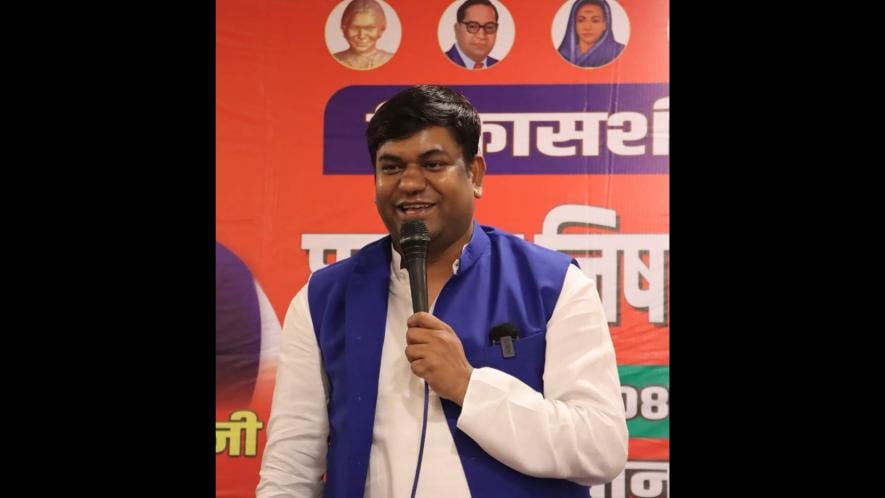 Vikassheel Insaan Party founder-president Mukesh Sahani. Image Courtesy: Twitter/@sonofmallah
Patna: The Vikassheel Insaan Party (VIP), a small regional party from Bihar, could join the opposition Indian National Developmental Inclusive Alliance (INDIA). It will increase the number of parties in INDIA ahead of the 2024 Lok Sabha election and is bound to strengthen the state's ruling coalition.
The possibility increased with VIP founder-president and former state minister Mukesh Sahani urged his caste at a public meeting in Nalanda district during his ongoing Nishad Aarakshan Yatra on Tuesday that they shouldn't vote for those in power in Delhi "for failing to provide job reservation and ignoring the demand".
Referring to the development of COVID-19 vaccines, He said, "We have made a vaccine with Ganga Jal (Ganges water) to oust Modi. When you use this vaccine, Delhi's power will shake".
Sahani also questioned Prime Minister Narendra Modi's "failure" to provide two crore jobs annually. "In the last nine years, Modi has not provided jobs to even nine lakh people," he said. 
"Modi has provided 10% reservation to the poor among upper castes. We have no problem. But he failed to provide job reservation to Nishad, Beldar, Kewat and Mallah," Sahani said at the big gathering of his caste in Nalanda, the home district of chief minister (CM) Nitish Kumar.
Sahani further targeted the BJP for its communal politics. "Those seeking votes in the name of temple and mosque have no right to remain in power." 
The government's "responsibility is not to construct temples but to set up schools and hospitals for the poor. By giving five
 kg rice, they [BJP] want to enslave the poor permanently. It will not work as Nishad, Beldar, Kewat and Mallah communities want job reservation, not rice", he added. 
In recent days Sahani, popularly known as the son of Mallah—a community of boatmen and fishermen—expressed his unhappiness with the BJP for its "failure to provide reservation" in one rally after another.
He repeatedly said, "If there is no reservation, there is no alliance and if there is no alliance, there are no votes."
An outspoken Sahani claimed that "his party would join hands with an alliance that provides job reservation to his caste". His main agenda is to attract and mobilise the support of his caste, particularly the youth, across Bihar, eastern Uttar Pradesh (UP) and Jharkhand.
His stand against the BJP-led NDA and Modi is widely seen in Bihar's political circle as an indication of the VIP likely to join INDIA.
A VIP leader close to Sahani told Newsclick that senior JD(U) and RJD leaders are in touch with the VIP and initial talks were held to join the state's ruling coalition, an important part of INDIA. 
"One thing is obvious: we are not in a hurry to join the BJP-led NDA and exploring the possibility of an alternative. Our
 leader Sahani has repeatedly exposed the saffron party and Modi for their failure to provide reservation to the poor Nishads and Mallahs," the leader said. 
According to the state's political watchers, the BJP wants Sahani to be part of the NDA but with the condition of not demanding job reservation for his caste. 
"The BJP understands the importance of his caste support in
 elections but has a bitter relation over job reservation demand. Sensing his different political stand, the BJP didn't invite Sahani to last month's NDA meeting, indicating the discomfort," a political watcher requesting anonymity said.
After the then-ruling BJP allegedly engineered a split of ally VIP early last year, Sahani accused the saffron party of cheating its allies and vowed to continue his fight for the rights of the poor and most backward, including reservation for his caste. 
Sahani had said that the BJP was unhappy and angry after he demanded reservation in SC or ST category for Nishads and
 supported demand for a caste census.
After all the three VIP MLAs joined the BJP, Sahani's party was left without any MLA. His term as an MLC later ended.
Soon after this development, Sahani, forced by the political compulsion to survive, announced that he would focus on raising the issue of job reservation to expand the support base among his caste. Nishad and Sahanis are a sizeable part of Bihar's population, mainly in the flood-prone Mithilanchal, Koshi and Seemanchal regions.
In 2020, the VIP, for the first time, won four seats, including Bochaha, as part of the NDA in the Assembly elections. Interestingly, Sahani, who contested but lost, was made a minister and elected MLC in a by-poll.
The Bochaha seat fell vacant last year after VIP MLA Musafir Paswan died. The BJP fielded its candidate in the April 2022 by-poll, which was opposed by Sahani, who fielded a VIP candidate. But the RJD candidate won the by-poll. 
Another political watcher said that Sahani's relations with the BJP began souring last year after he repeatedly targeted it on several issues, including a caste survey and reservation.
Nearly one-and-a-half years ago, the BJP was angered after Sahani ignored its request for not contesting the UP Assembly polls. Sahani fielded VIP candidates from 55 seats against the BJP and appealed to voters not to vote for the saffron party in advertisements in UP newspapers.
In July 2021, Sahani was stopped at the Varanasi airport by the police ahead of the unveiling of the late dacoit-turned Phoolan Devi's statue. Sahani later accused CM Yogi Adityanath of being against the installation of Phoolan's statue, regarded as an "icon" by Nishads. 
The BJP and the JD(U), who ended their alliance last year, are set to contest the election without each other's support next year unlike the 2019 Lok Sabha election.
Interestingly, the BJP's top leadership, including Modi and Union home minister Amit Shah, are reportedly concerned about contesting the elections alone in Bihar.
The BJP has only small regional parties as allies—Lok Janshakti Party (LJP) of Union minister Pasupati Kumar Paras, which has no MLAs and is considered a spent force; Chirag Paswan's LJP (Ram Vilas); former Union minister Upendra Kushwaha's RLJD; and former CM Jitan Ram Manjhi's HAM. Though the BJP has brought these small parties into its alliance, they don't have a broad social support base.
Shah has already visited Bihar four to five times as part of the party's 'Mission 2024' campaign for the Lok Sabha election and declared the party's intention to secure victory in all 40 seats.
Get the latest reports & analysis with people's perspective on Protests, movements & deep analytical videos, discussions of the current affairs in your Telegram app. Subscribe to NewsClick's Telegram channel & get Real-Time updates on stories, as they get published on our website.
Subscribe Newsclick On Telegram