'Songs of Equality': Meet 'Venal Thumbikal', Asia's Largest Street Theatre Movement for Children
Through children's theatre, the movement creates a space to discuss a wide range of themes: wars, racism, gender discrimination, environmental issues, child rights violations, distortion of history, scientific temper, etc.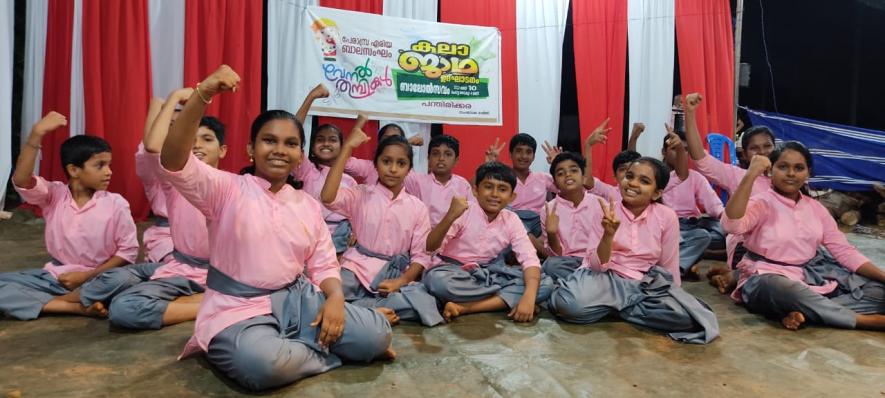 Thiruvananthapuram: Around 4,000 child artists, 209 troupes, in over 4,000 venues singing songs of equality and telling stories of justice. Kerala's 'Venal Thumbikal' is Asia's largest street theatre movement for children. Organised every summer by Balasangham, a progressive cultural forum for children, the theatre groups at block levels traverse through the length and breadth of the state, including remote and rural regions.
After a two-year break following the Covid pandemic, 'Venal Thumbikal' are back to the business this summer. 'Venal Thumbikal' means 'Dragonflies of the Summer'. The name is a metaphor, comparing the vibrance, enthusiasm, and curiosity of children with dragonflies. Through children's theatre, they discuss a wide range of themes: wars, racism, gender discrimination, environmental issues, child rights violations, distortion of history, scientific temper, etc.
When NewsClick met 'Venal Thumbikal' at Technical Higher Secondary School, Muttada, Thiruvananthapuram, the young performers were busy on stage. Not just on stage, they were everywhere - setting up the stage, arranging props, and even giving instructions to the mic operators. The majority of the audience was also children. With a brilliant blend of sharp social critique and wit, the performers engaged the audience throughout the show.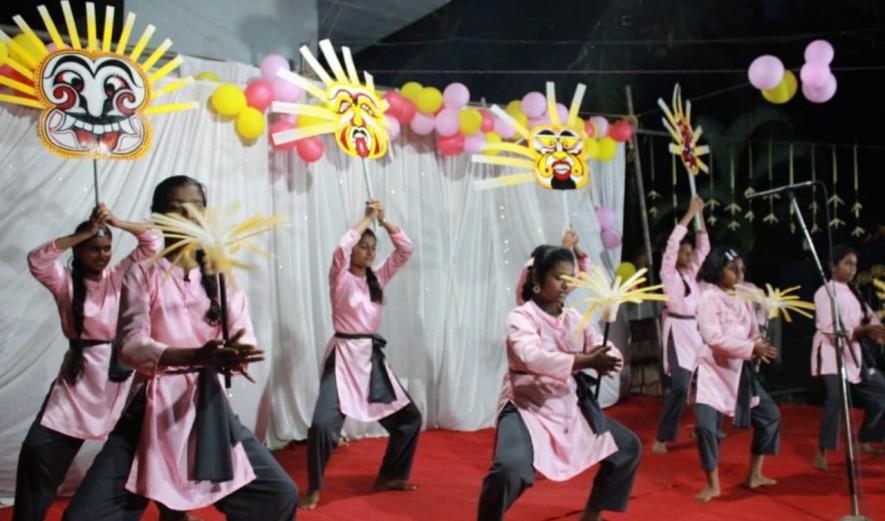 After the performance and a brief gathering with the team members and mentors to discuss how they fared on stage, some little artists talked to NewsClick. Shabana Shoukath from Karakulam, Thiruvananthapuram, who is one of the youngest members of the Peroorkada block team, was seen as very excited about her experience at the rehearsal camp and the tour. She and her friends got to learn many things from the camp and from the plays they performed. "We should oppose all sorts of injustice, like child labour, superstitions, etc. That's what we learned," the 7th-grade girl said.
Meera Krishna from Nalanchira, who has joined the team after completing her 10th-grade exams, elaborates this further. "We could very well relate to all those issues that we discuss through our performances. For example, equality among girls and boys in school is the theme of one of our plays. Similarly, in my school, we have seen such an attitude of discrimination. They don't even want girls and boys to be close friends. At Balasangham camp, there were no such restrictions" – said Meera Krishna.
The play she donned the major role discusses the concept of gender-neutral uniforms. In the play, girls want to play Kabadi alongside boys. But the teachers and some of the boys oppose saying girls are too weak to play with boys. But in the end, the girls win the game as they decide to wear comfortable outfits like boys, abandoning their skirts which are not suitable for outfield activities. Through their play, the children's theatre group gives a fitting reply to those who opposed when some government schools in Kerala decided to implement a common uniform- pants and shirts- for girls and boys in December 2021.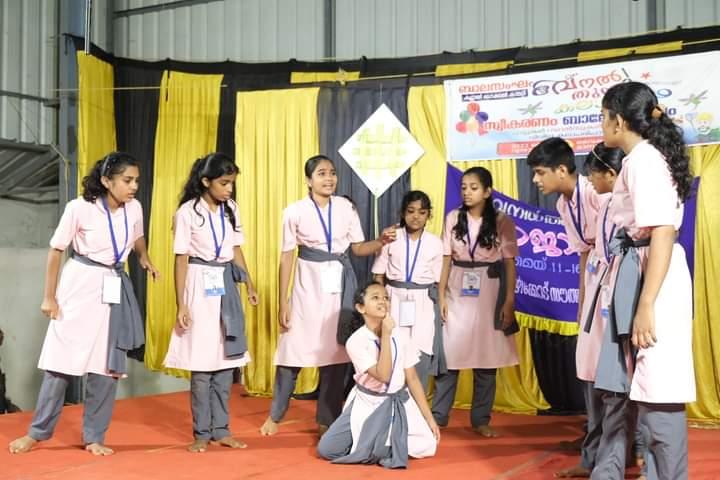 Another play upholds scientific temper, passing a jibe at superstitions related to COVID-19. "During the pandemic outbreak, we saw several superstitions like asking people to chant 'Go Corona Go' or to clang utensils to fight Covid, and fake claims that Gomutra (cow urine) can cure Covid. We study science in school; we know that the Coronavirus is a micro-organism, and the only way to stay safe is to wear masks, sanitise or wash hands, and get vaccinated on time,"- said Adarsh, a 9th grader at St Thomas School, Thiruvananthapuram. Alphin and Brinda joined, saying they had got new friends from the camp.
During the summer vacation, when they miss friends from school, they could make new friends from the training camp. The activities and training at the rehearsal camp were fun; training and staying with friends was a very special experience, said the children.
The form and content for 'Venal Thumbikal' theatre groups are carefully crafted with contributions from children's writers, playwrights, theatre artists, musicians, etc. State-level workshops of experts and mentors are held every year to devise content for the year. Block-level teams of up to 20 members are selected through selection camps for children of 8 to 14 years of age. The selected team members attend a training camp for five days. Besides the training, it is an opportunity for the children to stay together and get to know each other better.
The mentors in charge of the camp are children's theatre experts like Biju Nadakappura, who trained four teams, including Peroorkada block 'Venal Thumbikal' at Govt UPS Konchira,Nedumangad, Thiruvananthapuram. Biju Nadakappura had been part of the same theatre movement as a child, which ignited his interest in children's theatre.
"Children's theatre is a great medium to work with, and children are fun to work with. Moreover, Venal Thumbikal raises socially relevant issues and children's issues through them their language. Children's street theatre groups across the state for over 30 years. This is an unparalleled feature," said Biju Nadakppura, who also trains children's theatre groups for school youth festivals.
Sarod Changadath, state secretary of the Balasangham and a state-level coordinator of 'Venal Thumbikal' told NewsClick that the theatre movement envisions a just society through children. "We uphold constitutional values of unity, fraternity, and secularism through street theatre" – said Sarod.
Inspired by several children's theatre experiments during summer vacations that 'Balasangham' had been organising, the children's organisation gave form to 'Venal Thumbikal' in 1990. The theatre odyssey of children has only grown tremendously ever since. The movement, which started with one state-level theatre group travelling across Kerala, later began with district-level teams, and now the movement has 203 theatre groups across the state at block levels. In regions of linguistic minorities, the name and content of 'Venal Thumbikal' change: 'Besika Thumbikal' speak Kannada in Kumbalam, Manjeshwaram regions of Kasaragod district whereas 'Tamil Thumbikal' parade Munnar, Marayur regions of Idukki district.
Get the latest reports & analysis with people's perspective on Protests, movements & deep analytical videos, discussions of the current affairs in your Telegram app. Subscribe to NewsClick's Telegram channel & get Real-Time updates on stories, as they get published on our website.
Subscribe Newsclick On Telegram