South Africa: Trade Unions Call for General Strike on April 25 against Anti-Labour Reforms
Anti-worker amendments to take effect on International Workers' Day.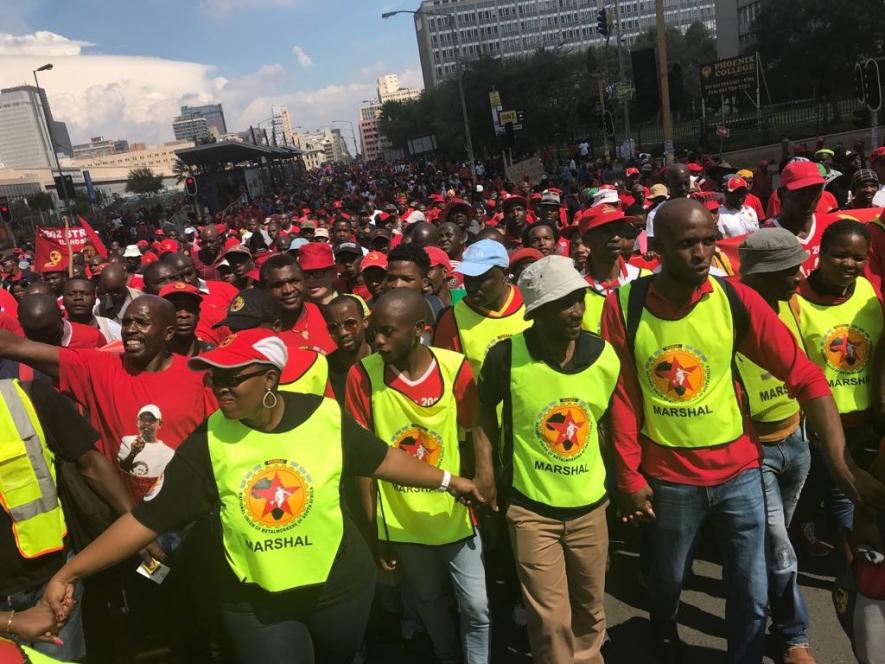 South African Federation of Trade Unions (SAFTU) has called for a general strike on 25th of April against the introduction of the National Minimum Wage Bill, and the amendments proposed to Labour Relations Act (LRA) and the Basic Conditions of Employment Act (BCEA).
National Minimum Wage Bill, if passed by the parliament, will peg the national minimum wage (NMW) at a little over half the income required for a family to afford the basic essentials for living, while the proposed amendments to labour laws impinges on the workers' ability to go on a strike by making it compulsory to have a secret ballot of its workers before striking and by allowing the affected employers to approach either the Commission for Conciliation, Mediation and Arbitration (CCMA) or the courts for compulsory arbitration, whose decisions the union will have to abide by, even if their demands are not met. 
The decision to push for these laws were taken after consultation with leaders of three trade unions - COSATU, NACTU and FEDUSA - at the National Economic Development and Labour Council (NEDLAC), which according to its website, is a "the vehicle by which Government, labour, business and community organisations seek to cooperate, through problem-solving and negotiation, on economic, labour and development issues.." 
Accusing these trade unions of selling out "their members and the working class to the highest bidder, who is white monopoly capital, and their rented stooge Cyril Ramaphosa," the SAFTU called upon the rank-and-file members of these unions to "break with the leadership sell-out deal and join our fight to defend their democratic rights and the trade union movement."
Questioning the legitimacy of NEDLAC, the National Union of Metalworkers of South Africa (Numsa), said in a statement, NEDLAC is "terrified of being confronted by a truly militant, independent trade union federation and that is why they only want to deal with COSATU and FEDUSA.. NEDLAC cannot claim to have consulted labour if SAFTU is not part of that structure. SAFTU is only 4 months old but it represents almost a million South African workers and their families. NEDLAC has no legitimacy if SAFTU is not part of that structure,"
A minimum wage which SAFTU calls "slave wages"
National Minimum Wage Bill, if passed in the parliament, will mandate NMW of 20 Rands an hour, or 3,500 Rands for a 40-hour week from 1st May. This amount is a little over half the living wage. A 2016 research by South African Labour and Development Research Unit at the University of Cape Town showed, "that an employee would have to earn at least R4,400 per month to clear the working poverty line; for households the level is closer to R5,500 per month." Adjusting this figure to current prices in 2018 would mean that at least 6,000 Rands will be required for a worker and his/her family to afford the absolute basics. 
For farm-workers and domestic workers, even this minimum wage of 20 Rands will not be applicable. According to the current proposal, the minimum wage for farm-workers will be set at 18 Rands an hour, and for domestic workers, at 15. The 2014 data of national statistical service of South Africa, adjusted to 2016 prices, shows that 538,791 workers in the agriculture sector and almost a million domestic workers earn less than 20 Rands an hour.   
"We will not allow workers to earn R20 an hour while President Cyril Ramaphosa earns over R3 million a year. If you are a domestic worker, Ramaphosa says you deserve to earn R15 an hour. If you are a farmworker, he says you deserve to earn R18 per hour. This is all happening while CEO's are earning R8 625 per hour. They are rich because of these workers, yet workers are being told that they deserve to earn slave wages," said Hlubi-Majola, spokesperson of Numsa, which, along with SAFTU and other organizations, marched yesterday in preparation for the general strike from Mary Fitzgerald Square in Johannesburg to the Department of labour, not to celebrate the Human rights Day on March 21, but to remind the government that "Workers' right are Human rights."
In a statement released by NUMSA on 19th March, declaring their support to SAFTU's call for general strike, the association pointed out the national statistical service of South Africa has "confirmed that the average White household earns five times more than the average African household. At the same time, CEO's in South Africa are amongst highest paid in the world, earning an average of R8625 per hour. Meanwhile workers in other sectors will continue to earn slave wages."
The negotiations for national minimum wage went on for two years from 2015 to 2017. Speaking to the Daily Maverick, the lead negotiator on labour's behalf, Neil Coleman said,  "After two difficult years of negotiations, in December 2016, business negotiators were proposing a NMW of around R2,000 per month or about R11.50 per hour. So from that perspective the agreement on R20 per hour was an advance, even though labour had demanded a NMW of R4,500 per month or R26 per hour in 2016." However, he acknowledged that, since this wage level is not even sufficient to meet the minimum requirements of workers and their families, "it is clear that the NMW level is very low, and will need to be substantially improved."
"The labour movement and its allies will have to mobilise to bring the NMW closer to a decent minimum wage," he said. "There is a saying in the labour movement: you can't win in the boardroom what you haven't won in the streets, meaning that negotiations is about power. There is no doubt that if there had been greater social mobilisation, we could have achieved a better level in the negotiations. But this remains an ongoing possibility, as contestation continues over the future NMW level."
Moreover, in many sectors, like engineering for example, "after years of mobilization and struggle we have obtained a minimum wage of 43 Rands," Hlubi-Majola told Newsclick on phone. By setting the minimum wage as low as 20 Rands - half of what workers in this sector are already earning - the government is offsetting the hard-earned gains by the labour movement, causing a reduction in their earnings, she complained.  
Workers' right to strike under attack
The amendments proposed to the labour laws would make it compulsory for unions to carry out a voting by its individual members through a secret ballot before going on a strike. The decision to go on a strike is taken collectively at general meetings in which workers participate. But once the secret ballot is made compulsory, the collective nature of the decision-making will be compromised, with each worker voting in his individual capacity on whether or not to strike. The ability to act as a collective, Hlubi-Majola explained, is the strength of a workers' union, and it is this strength that is being targeted to weaken unions' power.
Moreover, the "bosses and managers" will be able to witness and monitor the secret ballot - the very people against whose interests the workers will be deciding on whether or not to go on a strike. This allows an enormous scope of manipulation of the ballot, Hlubi-Majola fears. Also, the cost of carrying out voting through a secret ballot will be an additional imposition on the unions. Further, organising such voting is a "the logistical nightmare", making it impossible for the likes of garage workers, who are not concentrated on common platforms, to participate in such a voting.
If the proposed amendments are passed by the parliament, a union will also have no choice but to appear for arbitration at CCMA or courts, everytime an employer decides to approach these institutions, whose judgements are binding. "This will give employers enough legal reasons to stop any strike at all, even just by claiming that it will adversely affect their business, which is precisely what a strike is intended to do. It will turn workers into virtual slaves. It will unleash a war on workers' rights, liberty and living standards," SAFTU said in a statement.
These amendments and the National Minimum Wage bill, which is packaged as a progressive move, are a multi-pronged attack on the labour union's strength to mobilize and bargain, SAFTU and NUMSA complained. Once legislated, these changes will be applicable from May 1st, an irony that Hlubi-Majola does not find entertaining.
"We call on all workers and their families to support the march and demonstrate their disgust with this government for trying to take away our rights. We also urge all workers and their families to support the strike on the 25th of April. This is a battle we cannot afford to lose. The working class defeated Apartheid. We must unite once again in order to defeat our oppressors," NUMSA's statement concluded.
Get the latest reports & analysis with people's perspective on Protests, movements & deep analytical videos, discussions of the current affairs in your Telegram app. Subscribe to NewsClick's Telegram channel & get Real-Time updates on stories, as they get published on our website.
Subscribe Newsclick On Telegram