Students Allege SAU 'Stubbornness' Killing Their Hopes, Dreams
South Asian University students have been demanding an increase in the scholarship amount and as per UGC standards and an extension of tenure for research students affected by the pandemic since October.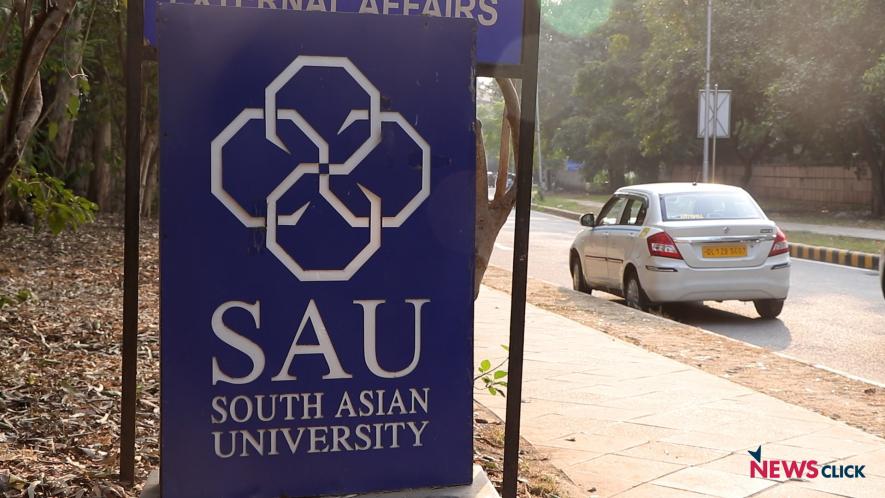 As protests rock Delhi's South Asian University (SAU), an Afghan student poignantly asks, "Which international student will enrol here once he/she finds out students hardly have a say?" He is among the several students restless about the ongoing protests against the reduction in scholarship amount and demand for an extension to pandemic-affected research scholars.
The students allege that students of masters courses are being paid an abysmal monthly scholarship of Rs 4000, which is too less for surviving in one of the poshest areas of the national capital.
SAU, a joint initiative by member countries of the South Asian Association for Regional Cooperation (SAARC), was established in 2010 with the vision to provide "liberal and humane education to the brightest and the most dedicated students of South Asia so that a new class of quality leadership is nurtured".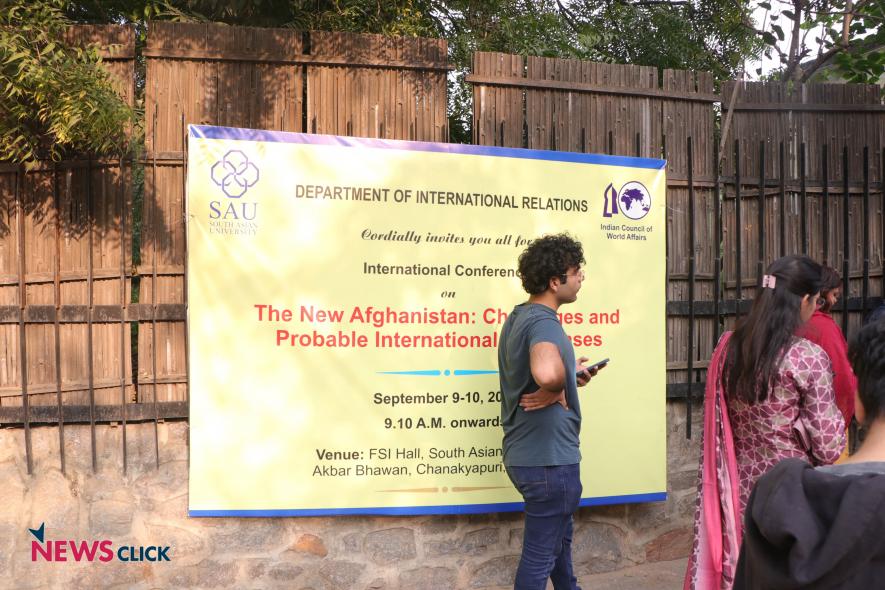 The protests began in October when students demanded an increase in the scholarship amount and as per UGC standards and an extension of tenure for research students affected by the pandemic.
Gathered at the entrance gate of the university, students told the media on Wednesday that their demands were ignored even when they were seriously ill following days of hunger strike.
"The university expelled only five students whereas the entire student community was involved in the protests. The expulsion notice fails to mention the charges levelled against us. No show-cause notices were issued and the principle of natural justice was simply ignored," says Umesh Joshi, a PhD student of sociology who was among the expelled students.
"The university's authoritarian attitude was first reflected when Delhi Police personnel entered the campus, unprecedented in any international university," Joshi adds.
When students approached the university administration about the expulsions, "we were told to write apology letters. It is ludicrous to expect such letters when we weren't told about the charges", Joshi further adds.
Mentioning the hardships faced by students, Joshi says masters students admitted in 2020 were "promised scholarships of Rs 5,000". However, the "scholarship committee reduced the amount to Rs 4000".
"How a student can survive on this amount? A student pays Rs 3,100 for mess alone. He is left with Rs 900 for the entire month. There are numerous other expenses—on books, photocopying and stationery. When we demanded an increase in the scholarship amount, the administration cited the lack of funds but the dearness allowance of teachers was increased by 2%. The university's latest financial books are yet to be made public. There is complete fallout of trust," Joshi says.
SAU offers four types of financial aid to students enroled in masters courses: President's Scholarship, SAARC India Silver Jubilee Scholarships for Least Developed Countries (LDCs)—also known as SJS scholarships—SAU Merit Scholarships and Freeships.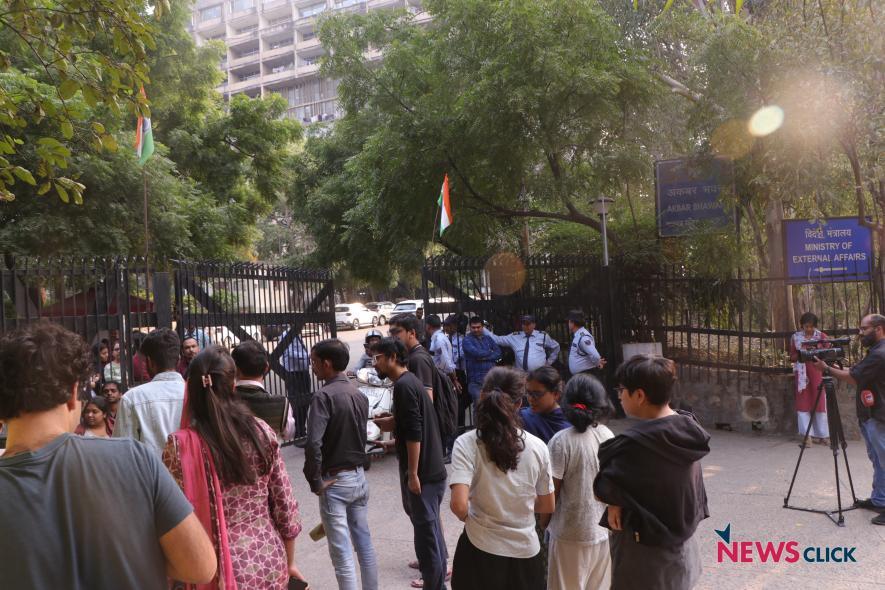 The President's Scholarships is offered to two students: one to a student scoring the highest percentile/rank in the entrance test in the Indian list and the other to a student scoring the highest percentile/rank in the non-Indian list (SAARC members other than India).
Similarly, two SAU Merit Scholarships are offered to one Indian student and a non-Indian student. SAU Merit Scholarships are awarded after the awarding of the President's Scholarship to Indian students, foreign students and SJS to students from LDC students based on merit in the entrance test.
Apoorva Yarabahally, an LLM second-year student on hunger strike, told Newsclick that the university's "apathy is alarming despite the protesting students facing multiple health issues".
"Our appeals were ignored and hunger strike was our last resort. One of the striking students had a blood sugar level of 45. Doctors said that he could have a cardiac arrest at any moment. Another student collapsed on the campus. Yet the administration ignores us. The three administrators didn't have the courage to ask us to end the strike even when our lives were at stake," Yarabahally says.
Conversation with international students on the campus reveals a lingering tension as the objective of bringing students from diverse fields and countries has taken a backseat.
An Afghan student requesting anonymity tells Newsclick that the crisis and the failure to resolve it have "dented SAU's image as a promising centre of excellence in academics in South Asia".
"I was literally crying in the corridors of Primus Hospital when my friend collapsed and doctors were tight-lipped about the situation. We only demanded our rights. If I have to return to my country, I will not recommend other students to study here. The university was a very nice project of SAARC nations but the administration is killing it because of its sheer ego," the student says.
A Bhutanese student requesting anonymity because of fears of a backlash from the university administration said that he feels "betrayed". "I studied at different universities in India for 13 years and I was a topper. I was selected for research at Jawaharlal Nehru University, a university in Denmark and SAU. I chose it because it was a novel project where South Asian students would study and ponder over a shared future of the subcontinent."
However, the student had a bitter experience. "Half of your energy is wasted in writing petitions requesting small facilities. We had to fight for water, a 24x7 library, a mess, security guards and housekeeping staff. How a student will focus on studies when there are other priorities?"
Acting vice-president Senthil Kumar Venugopal did not respond to Newsclick's calls for his response.
Get the latest reports & analysis with people's perspective on Protests, movements & deep analytical videos, discussions of the current affairs in your Telegram app. Subscribe to NewsClick's Telegram channel & get Real-Time updates on stories, as they get published on our website.
Subscribe Newsclick On Telegram