Students Demand a University in Ladakh
There are four colleges in the entire Ladakh region, which are affiliated to University of Kashmir.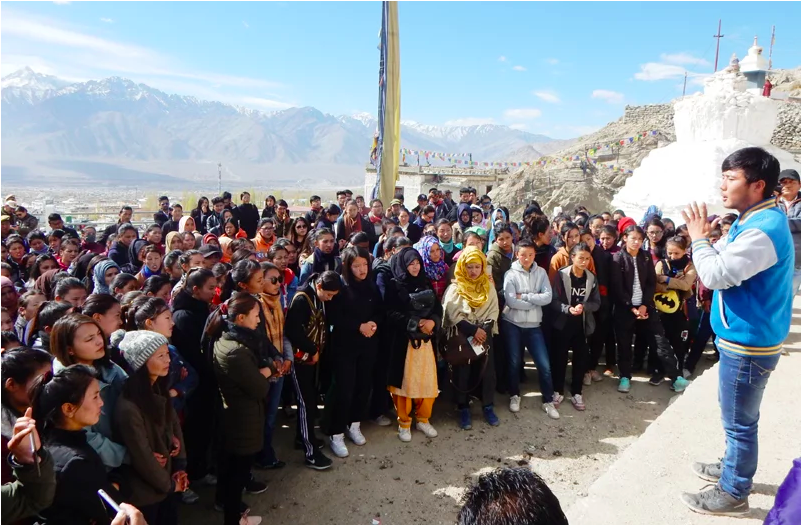 Students protesting at Leh in support of their demand for a University in Ladakh. -Excelsior/Marup Stanzin
On the sprawling ground of Government Gandhi Memorial Science College of Jammu, Ladakhi students had assembled to discuss, and plan the next protest to reiterate their demand of a "separate university." At some distance, on the same ground, a few Ladakhi students were playing in a volleyball match. On the other side, Ladakhi girls were preparing for an upcoming football match – part of a tournament that is organised every year for Ladakhi students. The ongoing discussion was disrupted, as the team United Sham took a lead over the team Sham, which included Ladakhis from Khalsi side.
During the match, a student who was cheering at the match, announced, "I wish we will soon play such matches in our University in Ladakh."
For a long time, Ladakhi students from the two districts of Leh and Kargil have been raising their demand for a full-fledged university in the Ladakh region of the state Jammu and Kashmir. In a memorandum submitted to the J&K Governor Satya Pal Malik, the students from different organisations of Ladakh have expressed their concerns over the current state of higher education in the region.
Also Read: Ladakhi Students Demand Separate University, Allege Discrimination
An excerpt from the memorandum reads: "Different student organizations of Ladakh would like to express their profound concern at the deplorable condition of higher education in Ladakh i.e. Kargil and Leh. All the colleges in Ladakh are affiliated to Kashmir University and its inadvertent work culture amidst problems in Kashmir hugely affects the students in Ladakh." Following the protests, a shutdown was observed in Leh and Kargil on November 1.
Why the demand for a separate university?
Students believe that a separate university is the most basic and urgent demand that they are fighting for. Shakil Ahmad Zaki, the president of All Ladakh Students' Welfare Association, Jammu (ALSWAJ), who belongs to Kargil district, but is currently studying in Jammu, slammed University of Kashmir for "neglecting" the colleges in Ladakh.
"We belong to a dilapidated education system. There are four colleges in the entire Ladakh region – two in each district. The students studying in these colleges are facing grave problems because of the irregularities in the working of the Kashmir University. Our exams are never conducted on time. Results are delayed by one – two years. An undergraduate degree which should be completed in three years, takes five years. Don't you think it is a reason enough to compel students to study outside Ladakh?" Zaki questioned.
"It takes one hour to travel from Jammu city to Katra. Within the distance of 45 km, there are two universities. Can you imagine? And not even a single university in Ladakh?" asked Zaki. Notably, the Jammu and Kashmir division of state have 7 universities each, while there is no university in Ladakh.
As per the experts, the population of Ladakh is also seen as a reason for the "neglect." As per the 2011 census report, Kashmir consists of 11 districts with 7 million people, followed by Jammu with population of 5.3 million and then, Ladakh with the population of almost 1.5-2 lacs. However, Ladakh occupies 58.33 per cent area of the entire Jammu and Kashmir, followed by Jammu with 25.93, and then Kashmir with 15.73 per cent area.
Students say, they left Ladakh by compulsion, not by choice
Calling it a "forced migration," students of Ladakh say that because of absence of a university in their region, they are forced to study outside, which is against their will. "Student community makes up to total 40 per cent of total population of Ladakh, and a university in Ladakh has been its longstanding dream. Ninety per cent of the Ladakhi students have to take refuge in different universities of India for higher education," said Stanzin, vice president of All Ladakh Student Association Jammu.
In one of his articles on why Ladakh needs a university, an acclaimed academician and former Indian Ambassador to Kyrgyzstan, P. Stobdan, wrote, "More than 30,000 undergraduate and post graduate students from Ladakh study programs in business and information technology, communication and design, education, health, agriculture, humanities and social sciences, and science and engineering outside the region. This reflects demand for education degrees."
"We are forcefully migrated. Kyuki Ladakh mei kuch nahi hai tabhi humein Jammu aana padta hai. Hum zabrdasti yahan reh rahe hai. (Because there is nothing in Ladakh, we have to shift to Jammu. We are living here against our wish.)," said another student.
Neglected because of Kashmir-centric policies?
An excerpt from the memorandum to the governor reads: "Whenever Ladakh was discriminated by the Kashmir centric policies, Your Excellency, the Governor of Jammu and Kashmir State came to our help."
Students have expressed their discontent over what they call "Kashmir-centric policies." Talking to Newsclick, Ladakh Student Educational and Environmental forum, Phuntsog Stobgyal, said, "If there is stone-pelting in Kashmir, we are facing its repercussions, as results are not announced. Ladakh is 400 km far from Kashmir. Why should we bear repercussions of the things we don't do?" Students reiterated that the conflict in Kashmir is the reason behind the irregularities they are facing.
Stobgyal underlined that the government has always given importance to Kashmir, then to Jammu and later, to Ladakh.
Satellite Campus: An attempt to dilute the voices of Ladakhi students?
In August 2017, then Chief Minister Mehbooba Mufti had inaugurated two offsite campuses, affiliated to University of Kashmir, in Ladakh. satellite campuses, which according to the government, was an attempt to cater to the long-pending demands of the students, is seen as an "eyewash" by the Ladakhi students. Students call it an attempt "to weaken their struggle for the full-fledged university".
Moreover, students are heavily disappointed with the way satellite campuses function. "The subjects in the undergraduate courses of a satellite campus are different from Kashmir University's undergraduate courses. Satellite campus has put subjects of their own choices, because of which students are forced to change their subjects to get enrolled in the campus. How fair is that?" asked Stanzin.
Deceived by the Government?
There is a strong sense of alienation and discrimination felt by Ladakhi students who feel that they are deceived by the Government of India. "You know education is very expensive for us. The majority of parents in Ladakh can't afford to send their children outside Ladakh because of the financial constraints, and the children can't study in Ladakh because of limited resources. So, the youth ends up picking up the occupation of bus drivers and tourist guides than being an educated Ladakhi youth who can help Ladakh economically," said Zaki.
"We feel deceived by the government, which has always neglected Ladakhis. Ladakh is in news only for two reasons – roads blocks and infiltration at the border. National media and the government – they both have failed us," said Stanzin.
Get the latest reports & analysis with people's perspective on Protests, movements & deep analytical videos, discussions of the current affairs in your Telegram app. Subscribe to NewsClick's Telegram channel & get Real-Time updates on stories, as they get published on our website.
Subscribe Newsclick On Telegram