Tatas Now Own the Pauperised Maharaja
The complete sell-off of Air India has come only after its erstwhile owner, the government, sucked it bone dry with its failed policies of liberalisation.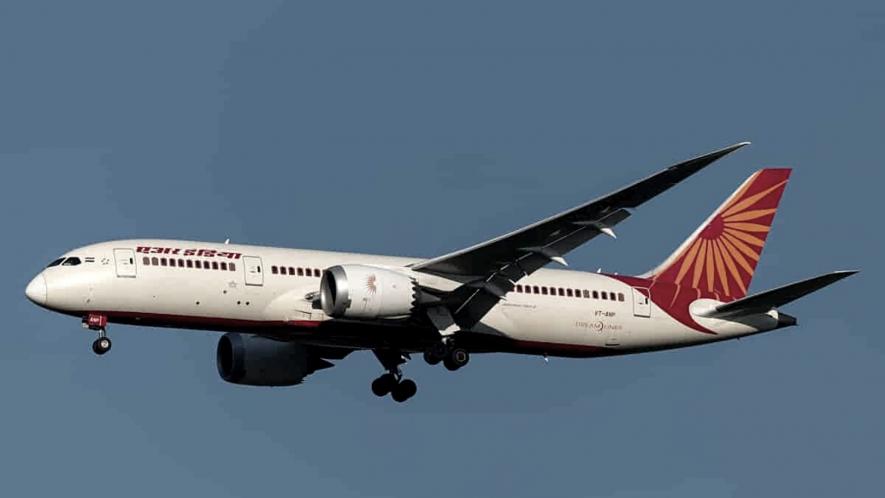 Image Courtesy: Store norske leksikon
State-owned Air India has finally become a private entity with the government formally handing it over to Talace Pvt Ltd, a subsidiary of the Tata Sons -- the highest bidder.
The Tatas would also acquire the ownership of Air India's low-cost subsidiary, Air India Express. With these two carriers, the Tatas would have four airlines in their kitty, including Vistara and Air Asia India.
The transfer of Air India's ownership comes after the government took over most of its massive debt of about Rs 62,000 crore, to be repaid through the public exchequer. The Tata conglomerate, which would share some of this debt burden, is also exhilarated over the acquisition as it gets back ownership of the national carrier after it was nationalised in 1953. 
HISTORY AND LEGACY
The airline, launched by JRD Tata in 1932 as Tata Airlines, had then launched commercial services which were disrupted during the Second World War. On July 29, 1946, Tata Airlines became Air India, a public limited company run by the Tatas. Regular flights from Bombay to London -- touching Karachi, Tehran, Cairo and Geneva, started in 1946 while those to Nairobi, Tokyo, Bangkok, Hong Kong and Singapore began in the early 1950s.
In 1953, when the government nationalised the Indian air transport industry under the Air Corporations Act 1953, Air India International Limited was born. Then on, Air India and Indian Airlines, a wholly owned subsidiary of Air India Limited set up in 1953 to cater to domestic destinations, continued to fly high, expanding in terms of the foreign and Indian destinations they flew, the number of aircraft, the employees and the number of allied departments and divisions.
Both the airlines continued to profit through most of these years and pay dividends to the government.  Air India, which used to operate L-1049 Super Constellations in the 1950's, became the world's first all-Jet airline in 1962, soon after Boeing launched jet engines to power airplanes.
Since the days of JRD, Air India was a top-notch brand in the global aviation market, competing only with the likes of BOAC (British Overseas Airways Corporataion, later Britissh Airways) and KLM. The Maharaja brand figure was seen as the human face of Air India's service fit for the royalty.
The plump Maharaja, with his trademark moustache, first appeared in an in-flight memo pad in the mid-1940s. He came dressed in various garbs, marking the global destinations Air India then flew to. The passengers were pampered with lots of goodies and delicious food and drinks. A flight from Mumbai to London would have several en route stopovers, including Karachi, Tehran, Cairo, Paris and Geneva, due to the technological limitations of the airplanes being flown in those times. So, the passengers would have a gala time in these places and go on a shopping spree.
Through such services, Air India and its staffers placed India on the global map by acting as its brand ambassador. It flew several foreign dignitaries to India and back, as in those days there were hardly any privately-owned aircraft.
Over the decades, Air India also played the role of a senior to other airlines. For example, it helped recover aircraft, stranded or faced with an accident, in the Indian subcontinent, South-East Asia and the Gulf. It was a custodian for these regions for the International Airlines Technical Pool (IATP). IATP, a not-for-profit, independent organisation, is a convention of airlines started over six decades ago to promote aviation safety in the global skies.
During these years, Air India also transported millions of people, both Indians and foreigners, from every nook and corner of the globe and within the country during emergencies. From transporting over 150,000 Indians from war-torn regions of Kuwait and Iraq in 1990-9 which earned Air India a place in the Guinness Book of World Records, to flying NSG commandos to Mumbai during the 26/11 terror attacks, the government always turned to the national carrier. The latest in the series were the evacuation flights from Wuhan to get back Indians stranded there due to the corona virus outbreak.
Air India planes have been regularly used for transport of election material, security personnel and staff to remote places in the country. Air India has also played a critical role in experimenting with sustainable operations with alternate fuel. It was among the first couple of world airlines to use the Polar route while flying to the US and Canada taking advantage of the tailwinds, which not only saves time but also lowers fuel consumption, thus being environment-friendly.
GOVT POLICIES
What really added to the woes of Air India and Indian Airlines was their merger in 2007 and the opening up of the Indian aviation sector, as part of the government's liberalisation and privatisation policies. In the year preceding the merger, Air India had reported a marginal profit of Rs 14.94 crore, while Indian Airlines' profit stood at Rs 49.50 crore. In the first year following the merger, the new entity posted a whopping loss of Rs. 2,226 crore.
The situation kept going from bad to worse due to the government's policies. As international and domestic skies opened up, the merged entity, suffering high losses, had to deal with intense competition from new players, besides its already established rivals. Air India's net loss rose to Rs 8,556.35 crore in 2018-19, against a net loss of Rs 5,348.18 crore in 2017-18. In 2018, Air India's debt stood at Rs 52,000 crore. The same year, the government planned to provide the airline with a bailout package of Rs 30,000 crore and infused equity capital of Rs 3,430 crore over the years to help it overcome the financial crunch, before selling it off. As this fund injection (only part of it was provided) did not help, the government decided to sell its stake and pass on the baton of running Air India to private players.
One key factor that affected the overall functioning of the airline was the regular appointment of its Chairman from among government bureaucrats, instead of the professionals from within.  Till 1993, the AI chairman was appointed from among professionals working in various positions in the institution, but then on, only officers (mostly IAS) were appointed to this post. By the time these officers could understand the technicalities, they were transferred out to other government departments. Such postings at the top-most levels hampered Air India's freedom to take its own commercial decisions. Government's decisions, such as high taxation on aviation fuel and other charges, besides failure of its Ministries and departments to clear the airline's dues in a timely manner, have also played a critical role in increasing the airline's losses.
PRECIOUS ASSETS
Besides aircraft, the engineering and ground handling superstructure, the most important asset of the national carrier is its trained and skilled manpower. Air India has over 12,000 employees, of whom around 4,000 are on contract and 8,000 permanent staffers, including pilots, cabin crew and engineers. Its subsidiary Air India Express has around 1,500 permanent employees. It can be safely said that this trained manpower has turned Air India into a poaching ground for not only Indian but several foreign carriers for several years now.
The Tata group, that has acquired Air India, cannot lay off any employee for a year. However, after one year, the employees would get the option of a voluntary retirement scheme if retrenched in the second year from closing. Minister of State (MoS) for Finance Bhagwat Kishanrao Karad said in Parliament: "the sale is on a 'going concern' basis and the employees shall continue to be employees in terms of the agreed SPA (share purchase agreement) signed on 25th October, 2021. …Employees cannot be retrenched for a period of one year from the closing date and will be eligible for voluntary retirement scheme with maximum benefits in case of retrenchment in the second year from closing."
The employees will also be eligible for benefits like gratuity, provident fund and passage rights, in accordance with applicable law/industry practice, said the minister. Employees have been allowed to stay in the residential colonies for a six-month period from closing. 
Second, among the valuable assets are the flying slots which Air India owns at airports in India and abroad. Airlines have to own slots at every airport so that their flights can land and take-off smoothly. This includes a rental area for parking of aircraft and offloading and boarding of passengers, for which a lot of money has to be paid. Air India currently has 6,200 domestic slots and over 900 slots at airports abroad. When it comes to slots, Air India has the upper hand compared with any new entrant or the existing airlines which often struggle to get a foothold in the market.
Third, the critical assets also include the fleet of different kinds of aircraft Air India and Air India Express operate. Air India has 128 aircraft in a combination of Boeing and Airbus planes, of which it owns 70 and has leased 58 planes. In addition, Air India Express operates 25 B737-800 aircraft.
Air India, with such a rich legacy and experience, has for long been vilified as a poster boy of what ails our public sector organisations. Never has the government owned up its responsibilities in reducing this major player in the global aviation market to nothing. The complete sell-off of Air India has come only after its erstwhile owner has turned the Maharaja into a pauper through its failed policies of liberalisation.
Aviation analysts are unanimous that it will not be an easy task for the Tatas in turning around the airline to stability and ultimately profitability. This would be a long-term project for the Tata group, which would also have to figure out the alignment of the four airlines that it will own. There is no doubt that the Indian aviation market is bound to expand after this development, and, may be sooner than later, some existing airlines would start feeling the pressure of a revitalised Air India.
The writer has extensively covered internal security, defence and civil aviation for the Press Trust of India for three decades. Views are personal.
Get the latest reports & analysis with people's perspective on Protests, movements & deep analytical videos, discussions of the current affairs in your Telegram app. Subscribe to NewsClick's Telegram channel & get Real-Time updates on stories, as they get published on our website.
Subscribe Newsclick On Telegram