Telangana Polls: Paid Rs 173/Day, Beedi Workers Feel Betrayed by Successive Governments
The KCR government has continued the tradition of neglecting the rights of beedi workers while favouring the interests of beedi company owners, say union activists.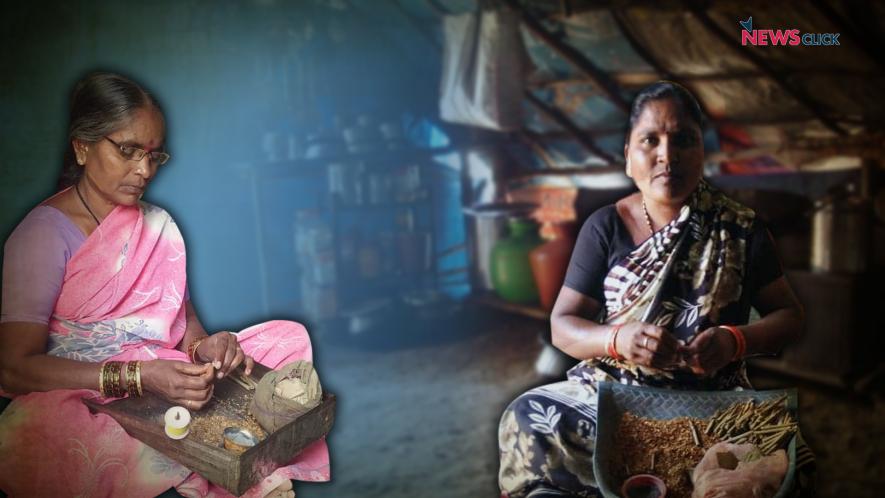 Beedi workers in Telangana continue to face utmost distress, as the promises made by consecutive governments have never been kept, despite numerous workers' struggles. As the December 7 Assembly elections are approaching, MLA aspirants from all the parties are eyeing the beedi sector. But the tragic reality is this, as of today, the average salary of a beedi worker is Rs 173 per day per 1,000 beedis (one working day) and the number of working days has fallen from 26 days in 2014 to 10-12 working days in 2018.
In Telangana, the beedi sector is spread across 16 districts covering 45 constituencies. There are about seven lakh beedi workers in the state, of which more than 90% are women.
"The beedi workers had played a key role in the Telangana statehood movement and the Telangana Rashtra Samithi (TRS) government under K Chandrashekar Rao (KCR) has betrayed the workers outrightly," said S Rama, General Secretary, Telangana Beedi and Cigarette Workers' Union affiliated to the Centre of Indian Trade Unions (CITU).
Speaking with NewsClick, Rama said: "After Telangana became a separate state, there has been no change in the livelihood of beedi workers, it has only worsened. Before coming to power, K Chandrashekar Rao had promised to come up with a suitable Government Order (GO) for the welfare of the workers. When TRS came to power, the government did not even implement the existing GO 41, but kept it in abeyance, following the same trend as the previous Congress government."
Being one of the scheduled industries in our country, state governments are obliged to issue a GO and decide the minimum wages of all category workers in this sector. In erstwhile Andhra Pradesh, in December 2010, lakhs of beedi workers had organised into a Joint Action Committee and led a strike for 32 days halting beedi production across the state. As a result, in 2011, the then Congress government had issued a GO no. 41. As per this GO, the minimum wage per worker per 1,000 beedis would be Rs 258. Perhaps to lure the beedi manufacturers, the GO had been kept under abeyance.
It should be noted that with the non-implementation of this GO, the basic rights of the workers are being attacked while the beedi company owners' benefits run into crores. At present, there are 72 beedi factories in Telangana. Some of the major factories are Lungar, Telephone, Charbai located in the districts of Warangal, Karimnagar, Siricilla and Adilabad. On an average, about 100 crore beedis are produced per day in Telangana.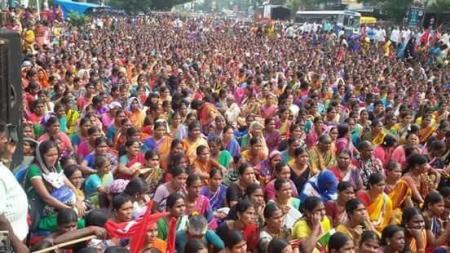 Hundreds of female Beedi workers protest gathering in September 2016, Kamareddy, Telangana
Subsistence Allowance (Pension) for Beedi Workers
Demanding the implementation of GO 41, the beedi workers have led numerous protests after the TRS government took charge in June 2014, including a three-day strike.
Instead of securing the workers with a GO, Chief Minister KCR, in 2015, announced to disburse a monthly subsistence allowance (Jeevana Bruthi) of Rs 1,000 to the beedi workers, but with numerous conditions. However, even this promise was implemented only after a protracted struggle of the workers.
"The government's conditions are such that out of the total seven lakh workers across the state, so far, only 1,56,000 workers have been able to become the beneficiaries of this allowance scheme. If there are four beedi workers in a family, only one would be eligible for this. In addition to this, if a family member is a beneficiary of old age pension or widow pension, then the worker wouldn't get her/his promised allowance," said Rama. She added that these conditions had further worsened distress among the workers and several beedi workers have even committed suicide.
Earlier this year, it had been reported that one beedi worker Vasanta, a resident of Chinna Mallareddy village in Kamareddy District committed suicide, as the government officials stopped giving her allowance when they found that two members in their family (her husband being a beedi worker) were beneficiaries under the same scheme.
Rama argued that the TRS government even failed to provide the beedi workers with identity cards, without which Employees' Provident Fund, Employees' State Insurance benefits, and other such basic rights of the workers cannot be availed. The authority to disburse identity cards to beedi workers is vested with the companies and nearly 50% of the workers are not recognised as beedi workers as the companies have not provided them with identity cards.
Savita, 28, a resident of Velpur village in Nizamabad district told NewsClick that the TRS government had concentrated only on furthering the interests of the companies than that of the workers. "I have been rolling beedis for the last 10 years and I got my identity card as a beedi worker in last December. In the last four years, our co-workers in Velpur had been hopeful that KCR would formulate a suitable GO for beedi workers, but we were cheated," Savita told NewsClick. She said that the beedi company would issue only 3-4 identity cards every year and hundreds of workers in her village were still awaiting identity cards so that they could avail health benefits due to them.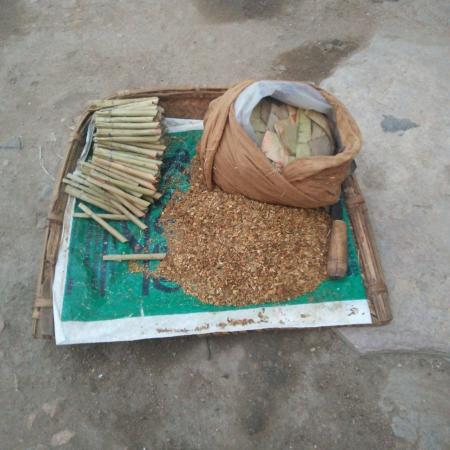 Health Issues
Another issue with the beedi sector is that it is predominantly a disease-prone industry. Beedi workers are prone to tuberculosis, cancer, ulcers among other diseases. "No beedi-making factory in the state provides basic facilities such as toilets, first aid centre, although mandated by central and state laws. This pushes the female workers to work from their homes," Rama said.
Beedi industry is completely dependent on human labour and no technology is employed in making beedis. In the run-up to the upcoming Assembly elections, while the TRS government is promising to increase the monthly allowance for beedi workers to Rs 2,000, the Congress-led Prajakutami is also assuring the same and the CPI(M)-led Bahujan Left Front has announced a minimum wage of Rs 18,000  a month for workers in all sectors, including the beedi sector.
R Sudha Bhaskar, Telangana CITU Vice President, said beedi workers should be paid at least Rs 350 per 1,000 beedis. "Even if the workers are paid Rs 2,000 allowance per month, it will be Rs 24,000 per annum. All that the workers are expecting is a legitimate minimum wage and recognition of their rights," Sudha Bhaskar told NewsClick.
Get the latest reports & analysis with people's perspective on Protests, movements & deep analytical videos, discussions of the current affairs in your Telegram app. Subscribe to NewsClick's Telegram channel & get Real-Time updates on stories, as they get published on our website.
Subscribe Newsclick On Telegram