The Many Reasons Why Tanhaji is Bad Cinema
Movies can politicise and mobilise audiences to get viewers to question their beliefs. Then there is Tanhaji, which cherry-picks history to sow divides.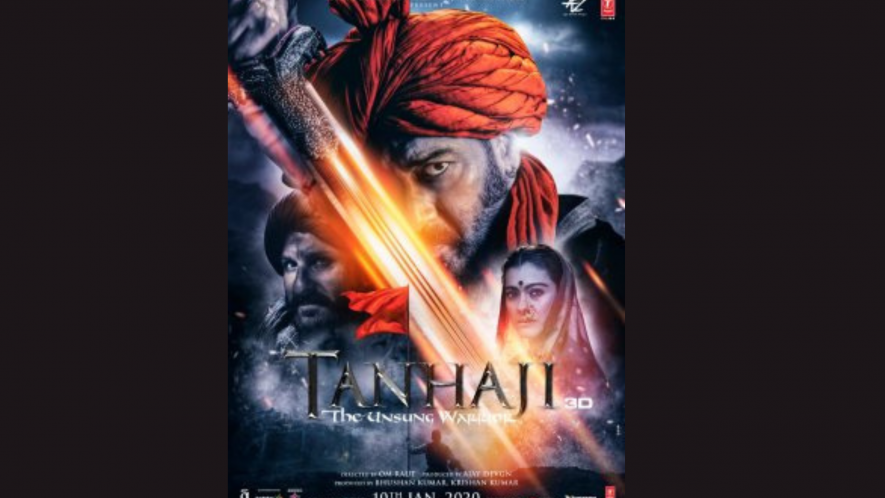 The Poster of Tanhaji. Image Courtesy: Wikipedia
Movies are a potent means to propagate ideas and perceptions. Films and all video content are also sources of information. Each format plays a significant role in shaping ideological moorings, political affiliations and aspirations. The 2008 Rajnikanth-starrer Tamil film Kuselan even has a song about films; how they describe the world, god, and, importantly, history. From cinematic favourites—the story of Salim and Anarkali in Mughal-e-Azam (1960), a ruler's refusal to accept British sovereignty in Veerapandiya Kattabomman (1959), or the recent Samrat Prithviraj (2022)—to movies less famous, all have a lasting impact on our sense of history, nation and identity. To cite Benedict Anderson, visual communication creates "imagined communities".
The Ajay Devgun-starrer Om Raut's Tanhaji: The Unsung Warrior (2020) forays into this complex terrain, but its "imagined community" is the majoritarian "Hindu", who vehemently retaliates against the untrammelled quest for supremacy of the Mughals. In the film, Hindus self-referentially view themselves as representing "dharma", whereas the Mughals are shown as hyperbolic, ever-ready to wage war, abductors of women, and strategisers of the economic and political suppression of Hindus. The film does not just popularise the trope that a "Hindu nation" predated the stereotypical Mughals. It does far worse.
Priya Joshi, a professor at Temple University, wrote in 2015 that popular Hindi cinema can be a space of contestation, dialogue and its own world of imagination. Star power, for instance, emphasises the status of cinema as a form of "public culture". The star culture also makes Hindi cinema a category in the global consumption market. Mani Shankar Aiyar once candidly explained the connection between Tamil politics and cinema. He said, "Superb politicians take advantage of cinema to spread the message of social justice..." That is, movies are a powerful tool to politicise and mobilise people and encourage them to question their beliefs. But Shankar Aiyar also clarified that the cinema-politics link does not work in reverse—bad cinema cannot create good politics!
When a film—like Tanhaji—narrates history to engage in "nation-building", it has multiple consequences. As Jyotika Virdi, who teaches in the Department of Communication at the University of Windsor in Ontario, Canada, has noted, "While Hindi cinema strains to build a powerfully imagined nation, [but] cracks and fissures within a postcolonial genealogy constantly threaten to rupture this cinema's favoured myth. Differences in caste, class, community, and gender inevitably interrupt the 'official' narration."
Tanhaji's approach to the past amounts to fabrication of history. Its storytelling infuses the plot with social and political meanings that are not just myopic. It showcases the structural cleavages that belong in postcolonial India and fuses them into a narrative based on precolonial times. It does a disservice to the audience with its declaration that it is "BASED ON A TRUE STORY".
In their book, Bombay Cinema's Islamicate Histories, Ira Bhaskar and Richard Allen describe how Bollywood narratives often end up entangled within aristocratic civility. Films often depict qawallis and courtesan-infused song-and-dance sequences, and many have a generally Muslimised cultural narration of mythology and history. The canonical model of the Mughal in Tanhaji draws glimpses from these constructs of Muslim representation and the Mughal empire's aristocratic demeanour. However, it does so to falsify all we understand about Indian history.
Tanhaji, Anti-National Muslims, and Chaste Hindu Women
Revisiting history through cinema would reveal conventional elements of heterosexual romance, glorification of womanhood and marriage for women, and so on. Hindi cinema also contains a strain of demonisation of the Muslims, who are cast as "anti-national", selfish, and desirous of supremacy at any cost. Tanhaji, in its 17th-century locale, foregrounds these core elements of historical melodrama through its depiction of the Battle of Sinhagad. It certainly underlines the troubled politics of today's India—but it does so by demonising the Mughals. Such a portrayal has implications for secularism and the coexistence of religious identities in India in the present day.
In the battle of Sinhagad, Udaybhan (the Rajput side) and Subedar Tanhaji (the Marathas) fight for the strategic Kondhana fort. Tanhaji distorts the retelling of this history in two ways—visually, and in terms of the actual content. Saif Ali Khan is cast as Udaybhan, and Luke Kenny (of Burmese-Irish, Italian, and British descent) is cast as Aurangzeb. Perhaps this is a sly nod to the politics of visibly making the Muslims appear like outsiders, foreigners.
Aurangzeb is one of several Mughal dynasts with a variegated record. The history of his rule does not fit the farcical binary imposed on him today. For example, there is at least as much historical evidence that he supported temples and other Hindu religious establishments as that he destroyed temples. His regime had more Hindu mansabdars—high-ranking officials in the treasury, court and military—than Akbar, who introduced the mansabdari system. Further, it is well known that the Marathas ransacked the Sringeri math as the empire fought territorialist wars with Tipu Sultan. It was Tipu Sultan who later restored this math.
Sanjay Leela Bhansali's Padmavat (2018) and Bajirao Mastani (2015) also forayed into the narrative style wherein a personal vision of historical moments is created in order to deliver to the audience powerful symbolic cues about religion, caste and class antagonisms. These films also broke the unity of space and time in their narratives, specifically by pulling postcolonial India into different precolonial eras. Such representations based on postcolonial ideas and realities have significantly shaped Bombay's cinematic representations of history. This has been much to the detriment of popular history and India's secular fabric.
For instance, popular films fix women in Hinduised roles in which they are accorded static notions about virtue, morality, tradition, and 'shame'. They are not just shown to subscribe unquestioningly to these ideas but help glorify them through their roles. Tanhaji, on its part, portrays women as sacrificial puppets. In one scene, women pledge to remain barefoot until the Marathas recapture their fort. Historians dispute such factual errors and so-called melodramatic elements. They do so not because they hold rigid notions about cinematic imagination but because such depictions are helping to perpetuate bias in society and legitimise divisive ideologies.
Tanhaji and Maratha Reinvention
It is crucial to note that Tanhaji's portrayal of the Maratha ethos contradicts the "social justice" paradigm that the historical Maratha empire engaged with, as narrated by 19th-century social reformer and thinker Mahatma Jyotirao Phule. Indeed, Shivaji engaged in a very elaborate act of Sanskritisation to claim Kshatriya status. However, the film makes this moment the sole defining aspect of Shivaji's identity. It does so cleverly to magnify the Brahmanical ethos and conceal the subalterns whose shoulders carried the burden of securing socioeconomic mobility. And it is all being done in the name of making a national icon out of Shivaji.
In multiple scenes, the film displays bhagwa (saffron) as the colour of the Indian nation. Tanhaji's wife in the movie describes the Maratha sword as a protector of women's married status, and the sacred thread Brahmins wear. The "hint" here is that the Marathas fought to defend the honour of women and dwijas. The Marathas are brushed aside as tools in the hands of Brahmanical frontrunners who can claim ownership over India.
A cultural-political product that pivots on farcical antagonisms eclipses opportunities for social groups to build solidarities. We are talking about communities that would benefit from coexistence, mobility, and being able to empower themselves. Such mobility was the goal of the Mangaon Conference held in 1920, BR Ambedkar's first public meeting after his return from England. The meeting was presided over by renowned social justice activist Sahu Maharaj, who called Ambedkar the "true leader" of the oppressed classes at this meeting. They launched the 15-point agenda for the rights of the depressed classes at this meeting. And crucially, the Mangaon Conference was a joint effort of the Marathas, Jains and Dalits.
Instead of harking back to processes through which people sought connectivity across sociopolitical chasms, Tanhaji weaponises communitarian apprehensions and biases. It purports to "bring 'Hindus' together", but not to seek their mobility or welfare. It seeks to locate a mighty invisible 'outsider' in the Muslims. What is erased in such storytelling is the socioeconomic similarities and ultimate affinities between India's Muslims and other communities. What are the odds that a cobbler, barber or butcher (of any religion) caught in a riot and killed or injured could claim descent from Rajput or Mughal nobility? Yet the audience of Tanhaji is called upon harshly and forced to take sides for or against "the Mughals".
Tanhnaji's Success: A Test for the Public
Movies like Tanhaji legitimise the "common-sense" ideas forged and spread by certain interest groups. Another example is The Kashmir Files (2022) and its divisive narrative of history and identity conflict. Such films are attempting to convert propaganda into a self-fulfilling prophecy. In the real world, the status of Indian Muslims is rapidly deteriorating. Intra-caste class inequalities, especially in the lower spectrum of Hindu caste groups, are growing across the country. Spreading antagonisms are a matter of great concern today.
Gender, caste, heterosexuality, class, and religious communities make India the plural nation it is. To paraphrase Virdi, nationalist narrations of Hindi cinema construct a "different" history which disrupts this plurality. History is a fantastic resource—it can create harmony or divisive revivalism. What we as a society make of it is our choice, and we bear its consequences.
Vignesh Karthik KR is a doctoral researcher at King's India Institute, King's College London. Priyam Sinha is a doctoral researcher at the South Asian Studies Programme, National University of Singapore. The views are personal.
Get the latest reports & analysis with people's perspective on Protests, movements & deep analytical videos, discussions of the current affairs in your Telegram app. Subscribe to NewsClick's Telegram channel & get Real-Time updates on stories, as they get published on our website.
Subscribe Newsclick On Telegram