Women Walk Miles for Water, but Play Negligible Role in its Management
Government policies need gender balance when it comes to decision-making on water management, especially in arid and semi-arid regions, says a paper.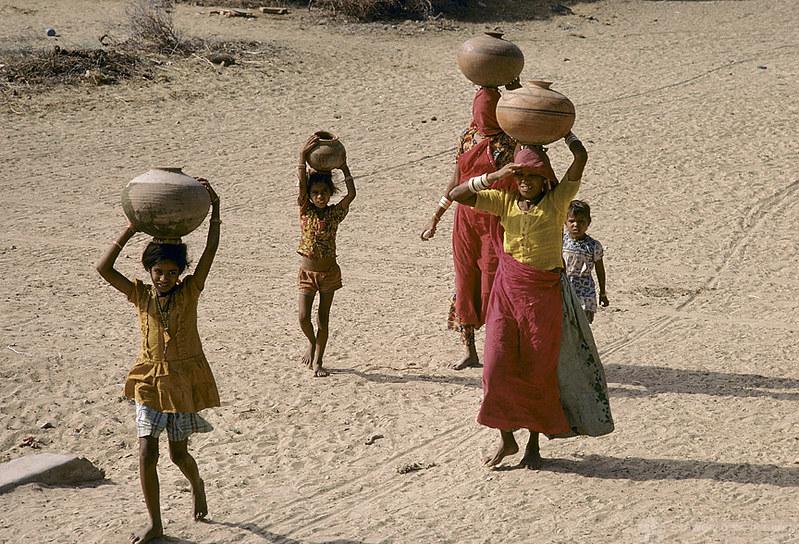 Women have been sharing a close association with domestic water for ages. Be it storing drinking water at home or bringing it from faraway, from wells or springs, in pots, for the needs of their families.  Unfortunately, when it comes to their role in the decision- making process for water management, women are not consulted or heard. 
None of the government programmes, such as the Maharashtra State Water Policy (2019) or National Water Policy (2012), make any specific mention of gender differentiated water needs or women's role in water management, apart from their numerical representation in different committees. However, some  projects, such as Apale Pani and Jal Swarajya Yojana, which are focused on making drinking water available with the participation of women,  show that women played a vital role in their limited success.
Owing to the fact that  80% of agriculture in India is  groundwater-dependent, barring a few initiatives,  such as MARVI project (Managing Aquifer Recharge and Sustaining Groundwater Use through Village Level Intervention), which engage women in groundwater management, there is little research and documentation on women's participation in ground water management.
A recently published  working paper by Watershed Organisation Trust (WOTR), titled 'The challenges and ways forward in gender mainstreaming in the water sector in arid and semi-arid India', explores the key barriers that affect women's participation in groundwater management in arid and semi-arid regions of Maharashtra.
The study was conducted in 14 villages in Ahmednagar district of western Maharashtra and Jalna district in Marathwada, where WOTR has initiated a water stewardship initiative (WSI) to promote water management at the village level since 2016. In-depth interviews, focused group discussions and case study methods were used to obtain information from men and women in these villages.
Marcella D'Souza, Director, WOTR Centre for Resilience Studies (W-CReS)  and co-author of the paper, said: "Our study throws light on key barriers that affect women's participation in groundwater management in arid and semi-arid regions. Along with understanding these perspectives through the lens of gender mainstreaming, we could also understand through some successful case studies as to what made possible for these women to come forward and the challenges they faced in performing their roles. The paper also favours strategies to enhance women's role in overall groundwater management in arid and semi-arid regions of the state."
The study shows that women were concerned about availability of water for domestic use and exhibited interest in prevention of leakages from water taps, promoting use of percolation tanks to increase groundwater availability and implementing water-saving measures, such as drips and sprinklers. The interest of men hinged around their concern for water with regard to irrigation as well  as the need for increasing water harvesting in the village through different treatments.
Women's participation was found low. Overburdened with household chores, which include agrarian field work, women found it hard to take out time to attend regular meetings on ground water management in their areas. Social norms and taboos, too, discouraged women to participate in public events.
Hirabai Banshi Ugle from Kumbharwadi said: "Whenever I ask for permission from my husband to attend training or workshop, he says for such activities, he is more competent and capable and has to attend these workshops, whereas women should contribute in household chores and taking care of children and old people at home."
Societal restrictions on women were confirmed by Vandana Gavande from Kolegaon village.  "Many times, societal norms do not permit women to go out and talk to other men members of committees. Women are questioned as to where and why they are going out or why are they roaming in the village, etc.? Therefore, in a male-dominated society, it is difficult for women to get assimilated even for good causes, like community water management", she said.
The low strength of women also proves a major constraining factor  for other women participants.  "If there were more women we would have spoken our minds. It's difficult to speak out in a room full of men with only two-three other women around. More numbers would have led to better articulation of our concerns," said a woman committee member from a WSI.
Despite the fact that women are more active in agricultural labour,
irrigation water or productive water are considered male domains due to the great  market value attached to it.
The paper highlights the common perception that women are considered for only drinking water needs and overall water  management is a man's business because water management is 'technical' in nature.
The prevalent gender norms and stereotypes encourage this notion. Activities, such as physical survey of soil and water harvesting structures which need roaming in the fields, monitoring the levels of groundwater and availability of surface water, and  calculation of water budgeting ,are technical in nature, and are considered a male domain.
Deepa Kaushlam, an Uttarakhand-based independent researcher, said: "No efforts are made to simplify the complicated technical terms or explanations for women. This glass ceiling continues to remain for them till date. This is the reason their understanding about groundwater issues is limited."
The absence of formal education is also a reason as it instills a lack of confidence in women while attending meetings in public spaces.
However, there are some success stories that inspire. For instance, the initiative taken by Samyukt Mahila Samiti (SMS), formed under the watershed development project in Bhoyare Khurd village (Solapur district of Maharashtra), exemplifies the collective strength of women in the implementation of a micro watershed project programme. The Indo-German Watershed Development Project in Bhoyare village began in 1996 and ended after five years of implementation in 2001.
According to this study, Parubai Rathod, an illiterate woman from Sundarwai village in Aurangabad, brought a large number of women together on village water management issues.
"We have nothing and we are nothing without water. The government may give foodgrains through the public distribution system (PDS), but where will the water come from?" she says.
As a woman, Parubai truly understands the precious value of water. As 100% families in Sundawadi belong to the banjara caste (nomadic tribe), there is more mobility and freedom for women when it comes to participating in meetings in public spaces. Parubai took advantage of this and raised a cadre of women to support watershed development and water management in the village.
Probably the first time in Maharashtra, men and women, with guidance from WOTR, together built a special farm pond in the village for meeting drinking and domestic water needs during times of water scarcity. The role played by Parubai in mobilising women  for their contribution in planning, offering shramadan (voluntary labour) for constructing a pond, and further maintenance has been remarkable.
Lilabai Sonawane, another woman volunteer, lives in Godri village in Bhokardan taluka of Jalna district. She is a member of the Gram Panchayat, head of a self-help group, and secretary of the Village Water Management Committee formed under WSI.
Bhokardan is drought-prone, hence, water scarcity is one of the major problems in the area. Women would have to walk long distances to fetch water for drinking and domestic use.
According to Lilabai, water availability continues to be the biggest problem in the region, with droughts recurring every other year. "If there is no water for us, no water for the birds or the animals, how will we go on living?" she says. Because of her efforts, during a low rainfall year, a few economically better off families who have wells in their farms allow 10 to15 poorer households to draw water.
The Aquifer Management Committee was formed three years ago to sustainably manage the aquifer which is spread in 14 nearby villages, including Godri. Lilabai is an active member of this committee and is instrumental in mobilising the people and spreading aquifer literacy in surrounding villages.
Eshwer Kale, senior researcher WOTR and co-author of the paper, said: "The way gendering of identities and roles have taken shape in the society, men have dominated the decision-making process and and women have faced social taboos and stigma attached to their mobility and participation in public events. These, as well as gender-based divisions of labour, are key barriers to women's effective participation in water management."
The paper calls for more concrete pathways and purposeful strategies in planning and executing the programmes and interventions for achieving the goal of gender mainstreaming in the water sector. Interventions are needed to increase the visibility, confidence and skills of women in water management institutions.
Swati Sinha, an independent researcher and co-author of the paper, said: "Keeping gender balance in view, the project proponents must give serious attention to this vital aspect while designing the projects, programmes and initiatives on water management at all levels -- planning to execution and monitoring to evaluation."
The paper also mentions that although gender mainstreaming has been globally accepted as an international norm to achieve gender equality, it has not yet adequately succeeded in reducing gender inequalities, as envisioned at sub-national and regional levels. Therefore, future research should focus more on assessing what kind of locally-crafted strategies could help gender mainstreaming strategies and support for creating an enabling environment for both men and women.
The writer is a freelance journalist.
Get the latest reports & analysis with people's perspective on Protests, movements & deep analytical videos, discussions of the current affairs in your Telegram app. Subscribe to NewsClick's Telegram channel & get Real-Time updates on stories, as they get published on our website.
Subscribe Newsclick On Telegram