There's More Going Against the Common Entrance Test Than For it
The UGC is pursuing the common entrance test though no stakeholder demanded it. The test focus undermines NEP 2020, promotes rote-learning and undermines creativity.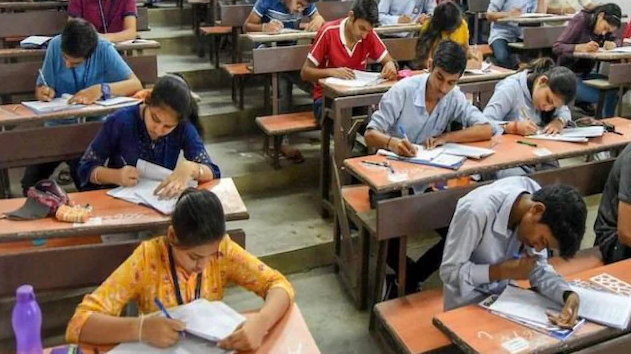 The University Grants Commission has announced a Central Universities Common Entrance Test for admissions to undergraduate courses in 45 central universities. The admission system based on marks secured in the Class 12 exam ceases to exist. The proposed test is a single-window entrance for all central universities. So, students will not have to appear in numerous entrance tests. Often, exam dates would clash, or students would prepare for tests over months, causing them substantial psychological distress.
No Indian is oblivious to the pressure of scoring ever-higher marks. The focus on scores relegates the education system to spoon-feeding students with 'exam-oriented' material and rote learning. Besides, many reputed colleges, especially those in Delhi University, announce 100% cut-off marks for candidates. Promising students are denied a chance to study in better institutions due to this. The question is, to what extent does the Common Entrance Test, which has come to be known as the CUET, promise to fulfil these goals and resolve these problems.
CUET Format
The National Testing Agency (NTA), responsible for conducting CUET, will hold a computer-based test (CBT) with three sections: language ability, domain-specific subjects, and general ability. The language test is divided into two sections, with 13 and 19 languages each, focusing on comprehension and grammar of a Class 8 student's level. The subject test will consist of 27 domains, of which a student can select six, again from a Class 8 student's level. Students will need to attempt 40 of 50 questions in both tests in 45 minutes. In the third section, students must answer 60 out of 75 questions from the NCERT syllabus in one hour.
We have to see this test design within the framework of the New Education Policy 2020. The thrust of the NEP was on multidisciplinary higher education while ensuring quality and equity. It sought "reforms in entrance examinations to eliminate the need for coaching classes". Now, the CUET may allow students from all over the country to compete for admission to higher education. However, there are caveats right from the design stage of this test.
Entrance Tests and Coaching Culture
An entrance test is supposed to test core competencies, but the CUET is more likely to promote cut-throat competition and even more rote learning, defeating the motive of an entrance test. Growing uncertainty among students will force them to seek coaching to secure admissions to elite or sought-after institutions.
The NTA also conducts engineering (JEE), MBBS (NEET), Common Management Admission Test (CMAT) and other exams. From this, we know that the demand for coaching has risen exponentially. Today, hardly a student imagines clearing the medical or engineering entrance test without coaching. Consequently, coaching institutes have mushroomed in every nook and corner of the country, Kota being a classic example.
The proposed CUET for undergraduate admissions is a new paradise for coaching institutions that may now transform the National Capital Region into a coaching hub. Indian students will spend their productive years preparing for competitive tests and exams, heightening the psychological pressure on them. The extreme cases—suicides of students who don't do as well as expected—are also not rare in India. A flawed test design will also hurt students' cognitive and creative learning abilities.
Mismatch between Vacant Seats and Admission-Seekers in Elite Institutions
Over 1.5 crore students pass the 12th Board exam in India and seek undergraduate admissions every year. According to the Central Board for Secondary Examinations, 13 lakh candidates sit for the exam every year, and 12.96 lakh pass, with a pass percentage of 99.37%. Just 70,000 students score 95% or higher. The University of Delhi offers nearly 70,000 seats for admission in undergraduate programmes every year. Hence, it can only cater to students who have scored 95 per cent in CBSE.
All the other CBSE Board pass-outs must go to other universities, missing out on every student's sought-after university. The CUET is likely to boost the fear psychosis among students to grab a berth in a Delhi University college. Their insecurity and uncertainty will force parents and students to resort to coaching, and CUET could become a paradise for the coaching mafia.
Coaching centres are already flooding social media and newspapers with advertisements—'Think CUET think XYZ Coaching!' The CUET has created a significant new market for them, just like the medical and engineering entrance tests have done. Gullible students have no choice but to join one or the other oligarchs!
Rural Students' Challenges
The CEUT proposes to test candidates' aptitudes based on a CBT. The entrance test may not require high skills, but the question of skill does not arise when access to a computer—that too with an internet connection—is a big challenge in rural India. Besides, rural students would get weeded out by their inability to find coaching institutes or resources to afford it. The doors of elite institutions will virtually close for them, driving the rural-urban educational divide. The reservation policy will be undermined, too, as its benefit will disproportionally skew to the advantage of affluent urban students. Therefore, the CUET is likely to create a new class variant among the educated.
Misplaced Emphasis on Entrance Test
India's fragmented higher education ecosystem, the low emphasis on cognitive skill development, limited access for marginalised sections, vacant teaching posts, restrictive autonomy, lack of multidisciplinary approach, ineffective regulation, suboptimal governance, low standard of education etc.—all these flaws are listed by the NEP as well.
The University Grants Commission and other regulatory bodies should focus on these issues, primarily equity and quality in higher education. However, policymakers do not appear to be serious about it, as no action seems to have been taken in this area. Instead, the UGC has taken up an issue which no stakeholder demanded—the common entrance test.
The CUET may have pros and cons, but what India urgently needs is better social and physical infrastructure. India is a self-proclaimed Vishwaguru, but only a handful of Indian institutions feature among the top 100 world institutions or universities.
Real Higher Education Issues on Backburner
The Gross Enrolment Ratio (GER) in Indian higher education is very low, according to the All-India Survey on Higher Education (AISHE). Its report for 2018-19 put the GER for higher education at only 26.3%. The NEP says India must increase it to 50% by 2035. The means would be bridging the gap between secondary and higher education—as the GER for primary and secondary schooling is growing fast.
However, the Achilles' heel of higher education is its poor quality. The NEP may declare raising the quality of higher education as a goal. However, no substantial effort has taken place to make this happen. In fact, many colleges and universities are unable to meet even the minimum requirements of the UGC.
The poor public and social infrastructure in public institutions is worse and calls for higher public investment. Faculty shortage and poor student-teacher ratio are other troubling features. (The NEP targets a 30:1 ratio). India had nearly 12 lakh vacant teaching positions in 2021, 69% of them in rural India, while the student-teacher ratio is also heavily skewed against rural schools. Teaching becomes unpleasant and arduous if this ratio is very high. It hampers teacher-student interactions, research, and other university activities. State-level higher education institutions are also in shambles and need an urgent infrastructure to revamp.
The Way Out
India is among the youngest countries, with a median age of just 28.4 years. Such a young population needs to get channelised in productive directions. Failing to do so could turn the demographic advantage into a demographic nightmare! It needs to cater to the demand for teachers across institutions by making the profession more attractive in conventional and technical learning. The World Economic Forum predicts nearly 100 crore jobs worldwide will be technology-based, which means widespread displacement if India does not gear up to provide technical education to the youth.
Sadly, even the NEP does not emphasise streamlining employment generation with education. The country already has a sizeable unemployed reserve army. The fallout of our faulty education system is that we have a certificate-giving system—not a skill-giver.
The author is an assistant professor at the University of Delhi. The views are personal.
Get the latest reports & analysis with people's perspective on Protests, movements & deep analytical videos, discussions of the current affairs in your Telegram app. Subscribe to NewsClick's Telegram channel & get Real-Time updates on stories, as they get published on our website.
Subscribe Newsclick On Telegram