UP: Thousands of Shiksha Mitras Gathered in Lucknow for Job Regularisation, Increased Retirement Age
A UP Minister, who addressed the gathering, blamed the previous governments for the situation; however, he failed to commit to any of the demands made by Shiksha Mitras.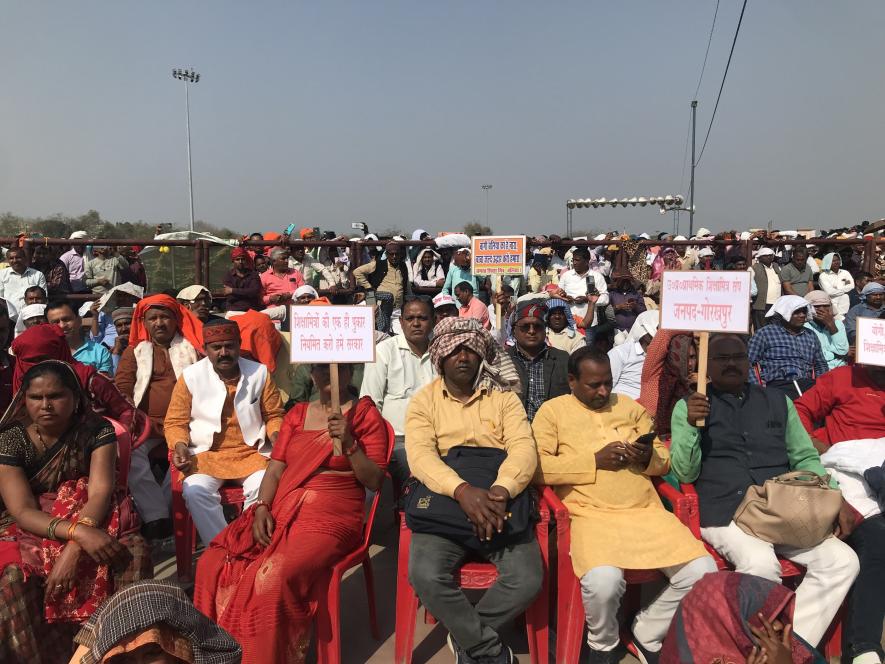 Lucknow: Buses were lined up on all roads leading to Lucknow's Rambai Park, Uttar Pradesh, where thousands of Shiksha Mitra from across the state had come to attend one of the largest gatherings of its kind to build up further pressure on the Yogi Adityanath-led state government on their demand for regularisation of their services and enhancement of the age of retirement from 60 to 62 years.
Shiksha Mitras are demanding that the government bring an ordinance to reinstate them as assistant teachers in the government schools in UP. At the same time, they should be given equal pay for equal work.
"We will not settle down until the government brings an ordinance to reinstate us at the post of assistant teachers and to implement 'same work, same wage' for us till the process of reinstatement is completed," Kusum Verma, a native of Sunawal in Firozabad said speaking to NewsClick.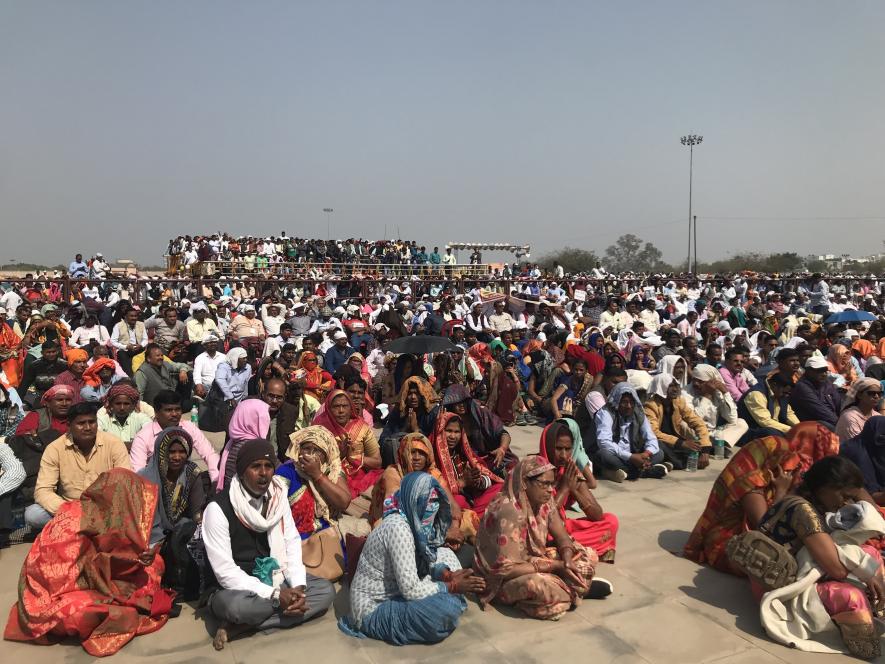 When asked about the strategy in future if demands are not fulfilled, she said, "Mohammad Ghori attacked 17 times to win a battle but was defeated 16 times. His determination could not deter him from winning the battle. We do not have anything expect except hope and struggle. We will keep asking the government to fulfil our genuine demands till our last breath."
Elaborating on the demands, Tabassum Khatun, a Shiksha Mitra from PM Narendra Modi's Varanasi constituency, said they included compensation to the families of hundreds of Shiksha Mitras who she claimed lost their lives in the agitation, making their jobs permanent and issuance of appointment letter to those who have cleared the Teacher Eligibility Test (TET).
She also accused the government of giving additional work, including BLO (booth level officer) duty, census duty and election duty, without any salary increase.
"Along with the regular BLO duties, Shiksha Mitras have also been assigned the census duty for reviewing individual details of residents – by going door to door – but when it comes to pay parity, we are not paid as the regular teachers being paid. We also take care of midday meal in the absence of cooks but metes out step-motherly treatment," alleged Khatun.
Bindu Tiwari, Nisha Devi, Kanchan Mishra and Sita Savitri, all from carpet city Bhadhoi, echoed in a similar voice that the government is making them do similar work as assistant teachers, including NIPUN Bharat Mission or National Initiative for Proficiency in Reading with Understanding and Numeracy, yet is refusing to regularise them.
Ragini Mishra and Meera Dubey came with 2,000 others from the Jaunpur district of Uttar Pradesh on Monday on a call given by Aadarsh Shikshamitra Welfare Association Uttar Pradesh — an outfit of assistant teachers in the state.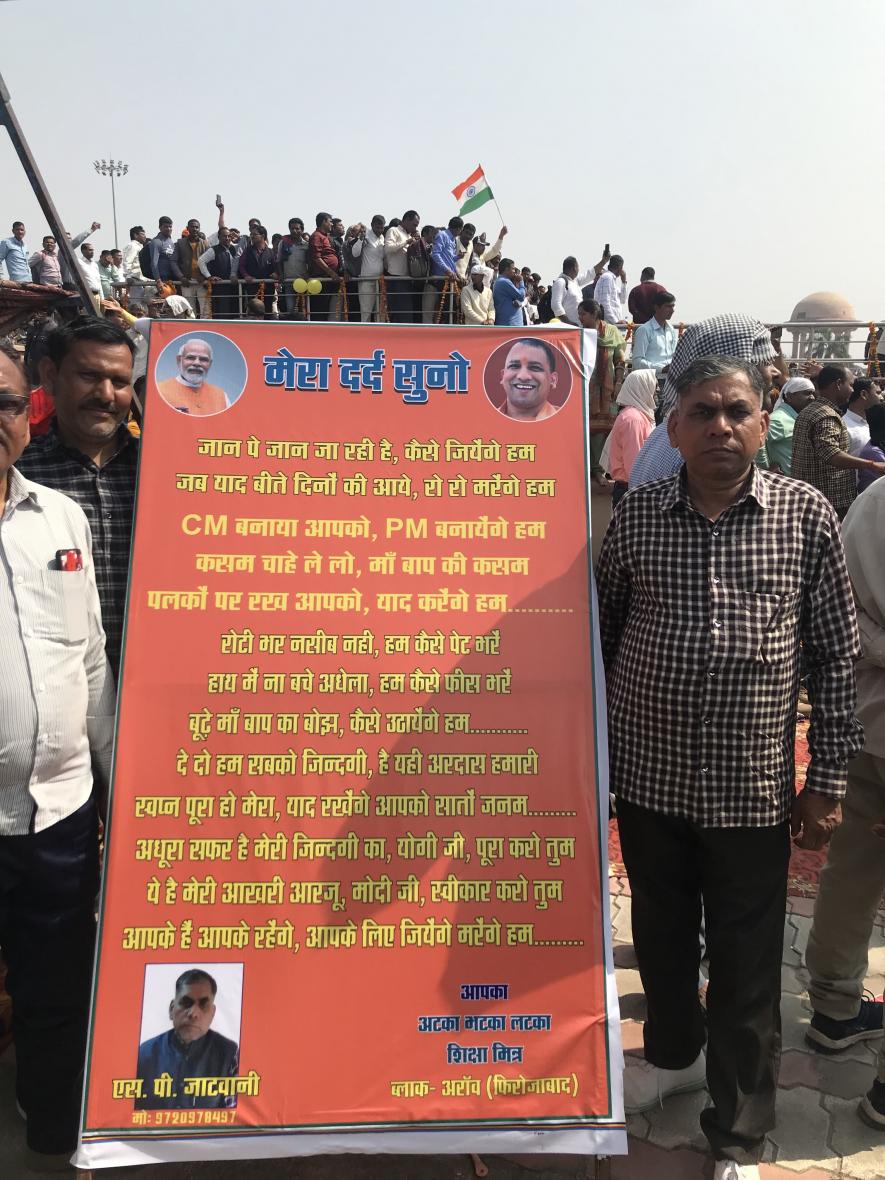 Dubey was appointed as a Shiksha Mitra — a friend in education or para teacher — in a primary school in Jaunpur District in 2006. It was a temporary position which fetched her a monthly honorarium of Rs 2,250.
Over the next 17 years, through the governance of the Bharatiya Janata Party (BJP), Samajwadi Party (SP) and Bahujan Samaj Party (BSP), her status remained unchanged, and her pay grew to just Rs 10,000.
Dubey, now 50, obtained a teaching certificate but remains a temporary employee, paid only for 11 months in a year.
"It has been more than twenty years since I have been working as a Shiksha Mitra. My salary was Rs 2,200/month when I joined in 2001 and Rs 10,000 monthly in 2023. Everything has increased in these 20 years; inflation has skyrocketed, but our salary is not increased with such speed. Why are we being paid less if we do the same work as government teachers? Aren't we human?" inconsolable Dubey told NewsClick.
Dubey and Mishra are in their 50s; only ten years of service are left. They said the state government's indifferent attitude had put a question mark on the future of lakhs of Shiksha Mitras.
Kiran Singh and Kalpana Singh from Varanasi argue that if teachers build children's careers, what about their own children? How will they bear education expenses for merely Rs 10,000?
"My son wants to pursue engineering from IIT, but my budget prevents me from sending him for coaching. What will I be able to do with so little money, teach the child or run the household expenses? Both can not be done together with such a meagre amount. This government is not only giving us our rights but also killing thousands of dreams before their fulfilment," said Kiran Singh, who has cleared both Teachers' Eligibility Test (TET) and Central Teachers' Eligibility Test (CTET) yet not gotten the permanent status of teacher.
Kalpana Singh says that the children she taught have become teachers and feel ashamed whenever her students come to see her.
"Isn't it embarrassing those students I taught secured many good jobs, including government teaching, after clearing the TET examination and getting a handsome salary, but our situation remained the same? Neither our future is secure nor our children," Kalpana Singh, who has been teaching for the last 20 years, told NewsClick, adding that by giving six hours in school, the government teachers are getting Rs 40,000, but they are paid Rs 10,000.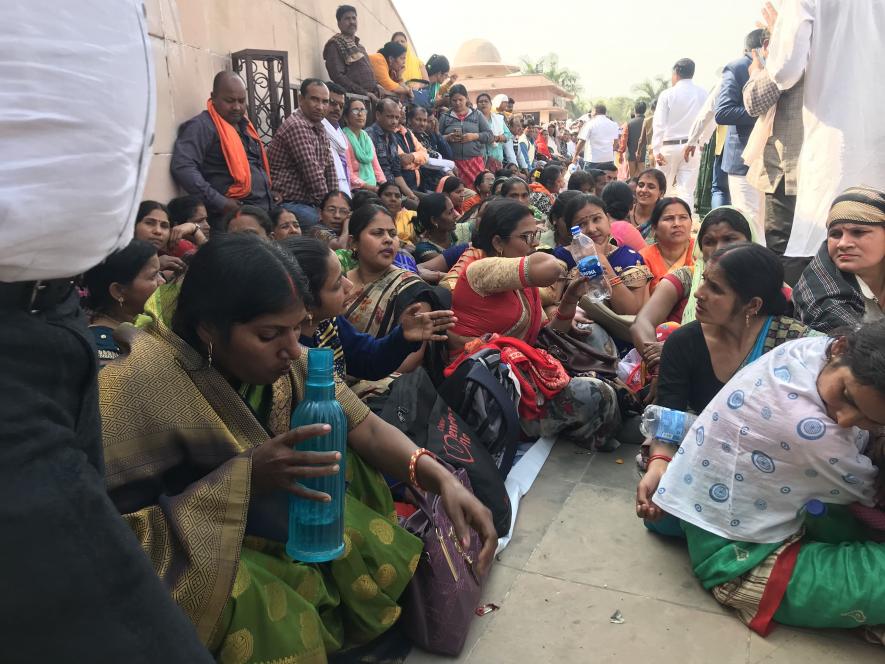 She added, "If the government does not regularise our service, at least we should be given enough salary to sustain and give quality education to our children."
Suman Singh, another Shiksha Mitra from Raebareli, said, "No doubt, we have been protesting for many years, but this is the first time that Minister of State Kaushal Kishore and Education Minister Sandeep Singh came to listen to us. They had never communicated with us before. Therefore, we are hopeful this time."
According to the union, over one lakh Shiksha Mitra from 75 districts had turned up for the mahasammelan (mass gathering) at Rambai Park ground. Police, however, pegged the number at 50,000 to 70,000. The ground was filled to capacity, with large crowds spilling outside, to send a message to the ruling party (BJP) in the state and at the Centre that if their service was not regularised, the party would pay in the 2024 Lok Sabha polls next year.
Ajay Yadav and a group of Shiksha Mitra held a banner lamenting their lives being wasted. A native of Firozabad, Ajay Yadav travelled nearly 310 km to reach Lucknow, hoping that the government might fulfil their demands this time. Still, Minister of State Kaushal Kishore, who was there as chief guest, dashed his hope as he blamed the previous SP government for all the "mess".
"It is difficult to run homes in Rs 10,000. The state government has been exploiting the Shiksha Mitra over the years. They are being paid Rs 10,000/month, which is sheer exploitation," said Ajit Yadav.
Financial distress has led to many suicides in the community, but the families have seen no compensation.
In 2021, Adityanath announced in the state budget that 1.5 lakh Shiksha Mitras would receive Rs 20,000 each, but no money arrived.
"The 2017 election manifesto of BJP said that Shiksha Mitras will get justice and status of becoming teachers. Nothing has been done in this context, even after the 2022 Assembly elections. Several people died in this process, and it happened because the government had given us false hopes," Manish Tiwari said.
BJP MINISTER BLAMED THE PREVIOUS SP GOVT
It was the first occasion in the last few years that a leader from the ruling government joined the protesting Shiksha Mitras. However, the assistant teachers' union claimed that despite several attempts to communicate with the BJP government, no leader joined them.
Meanwhile, Union minister of state for housing and urban affairs Kaushal Kishore was the chief guest, among others. The Shiksha Mitras were very excited that he would announce in their favour, but he disappointed them.
The minister only praised PM Modi and CM Adityanath from the stage. He blamed the previous Akhilesh Yadav-led SP regime.
"The then SP government had done injustice with Shiksha Mitras. Instead of declaring Shiksha Mitras as assistant teachers, if the SP government had made their pay scale equal to theirs, they would not have been in this condition today. Therefore, Shiksha Mitras lost the case in the Supreme Court due to non-fulfilment of the qualifications of assistant teacher."
He further added that the Central and state governments understand the pain and suffering of Shiksha Mitras and are serious about their problems.
"Shiksha Mitras had strongly opposed the BJP government in the 2019 Lok Sabha and 2022 Assembly elections under the influence of some leaders. But the BJP government always listened to them and also worked to increase their pay scales," the minister claimed.
However, his comment did not go well as para-teachers accused the BJP leader of using the platform for his politics and so-called achievement but did not show solidarity with those who came from hundreds of kilometres to listen to him.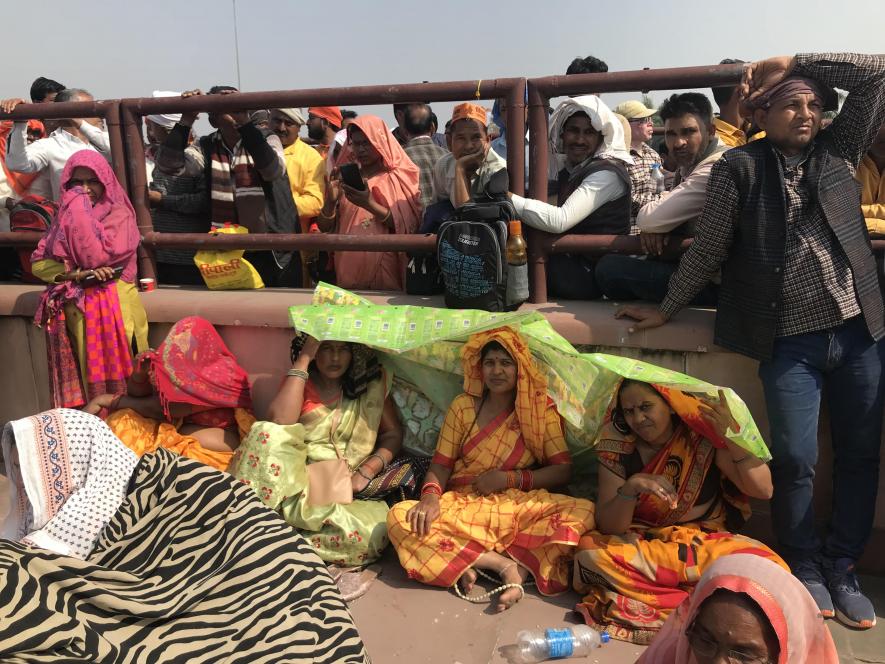 Chandra Shekhar Kushwaha, an assistant teacher from Kushinagar, hoped the minister might speak something that would give a ray of hope, but he was stunned and looking for a bus before the BJP leader could wind up his speech.
"(If the then SP government had done something wrong, befooled us, then why not BJP government bring an ordinance and reinstate our services? The ruling BJP is at both Center and state, and that too for the last 6-8 years," Kushwaha, whose daughter is doing BSc and he was unable to pay her tuition fees in Rs 10,000, questioned.
"College education is expensive, and the cost is increasing yearly. For a semester, I need to pay Rs 60,000. How would my daughter complete her graduation? How will she get married when I cannot arrange any dowry item? The future looks bleak for both father and daughter," he further added.
The Shiksha Mitras NewsClick speak said that the SP government gave them both status of assistant teacher and Rs 40,000 salary/month, but due to some technical fault, they lost the case.
"Every day, 8-10 of our colleagues die because of financial distress, but who cares. The minister came and did image-building exercises in front of poor teachers," one teacher said.
Ashish Kumar Mishra, a Shiksha Mitra of Shravasti, said the onslaught of the economic crisis resulting in helplessness has been taking a toll on their mental health, which is why some have them have been driven to die by suicide.
This was the second event the union organised within a month when Shiksha Mitras reached Lucknow from across the state.
On January 12, a Samman Bachao Swabhiman rally was organised at Eco Garden, Lucknow, where around 20,000 Shiksha Mitras had gathered.
THE ISSUE
In a setback to nearly two lakh contractual teachers in primary schools across UP, the Allahabad High Court in 2015 declared as illegal the Samajwadi Party government's move to regularise them and appoint them as assistant teachers.
Shiksha Mitras appointed during the BSP rule in the state were provided a two-year Basic Training Course (BTC) for primary teachers through distance education.
Uttar Pradesh has over 1.68 lakh Shiksha Mitras who teach in primary schools. Their jobs were regularised by the SP government in 2014.
In 2017, the Supreme Court quashed their appointment and declared that their contractual positions would only be converted into government jobs if they cleared TET.
After the top court's judgment, the salary of the contractual teachers came down to Rs 3,500 from the earlier Rs 40,000.
However, the Yogi Adityanath government increased the salary of contractual teachers from Rs 3,500 to Rs 10,000.
Get the latest reports & analysis with people's perspective on Protests, movements & deep analytical videos, discussions of the current affairs in your Telegram app. Subscribe to NewsClick's Telegram channel & get Real-Time updates on stories, as they get published on our website.
Subscribe Newsclick On Telegram