TMC's National Footprint Proving to be a Tougher Call, Despite Financial Muscle
TMC's electoral preparations in states beyond its command area gained momentum in the last two years and significantly for 2021-22; But, the party's performance in Tripura was a disaster – no seat bagged and a vote share lower than NOTA.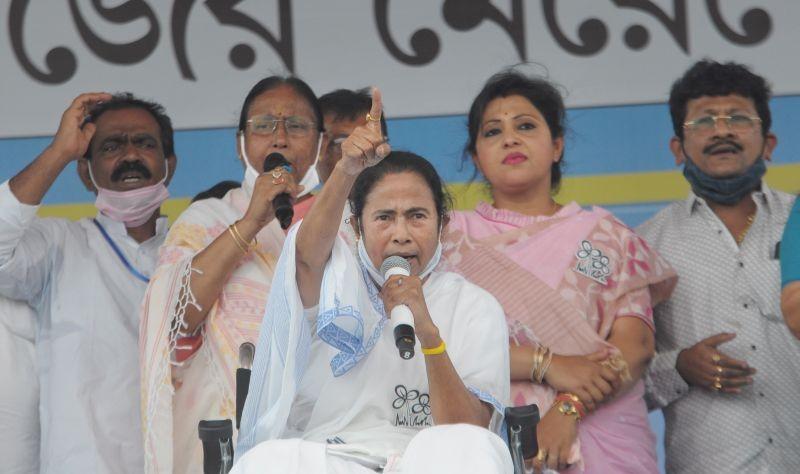 Kolkata: The spectacle of disgruntled politicians from the Congress and other non-Left parties from outside West Bengal coming down to Kolkata to accept the flag of the Trinamool Congress (TMC) at the Trinamool Bhavan and simultaneously being told verbally to open TMC offices in their respective states is missing these days. In fact, most of those politicians, who hailed from far-off states, such as Haryana, UP and Goa have left TMC. The exercise, invariably publicised in the local media, was part of TMC's frantic efforts to increase its footprint beyond West Bengal and be counted as a national party entitled to the attendant concessions and privileges admissible under guidelines of the Election Commission of India and exemptions under the Income-Tax Act provisions.
TMC's electoral preparations in states beyond its command area gained momentum in the last two years and significantly for 2021-22. As the audit report published by ECI on its website showed, TMC had an income of Rs 528.14 crore from electoral bonds, which represented 96% of its total income of Rs 545.74 crore. TMC was only second to the Bharatiya Janata Party (BJP) (Rs 1,033 crore) in this respect. For that fiscal, Congress was third with Rs 253 crore. In TMC's case, the income from electoral bonds showed a phenomenal increase from Rs 42 crore for 2020-21. 
The financial muscle enabled party supremo and state Chief Minister Mamata Banerjee to mount a major drive for spreading TMC's footprint outside West Bengal and she tasked her nephew, national general secretary and Lok Sabha member Abhishek Banerjee to realise the objective. Abhishek kicked off the drive with Goa, where election to the 40-member Assembly was due in February 2022, as the first target. The importance that TMC gave to the Goa election was evident from the audit report which showed the party as the top spender at Rs 47.54 crore, as against BJP's Rs 17 crore plus and the Congress's Rs 12 crore. But, in terms of electoral 'yield', it was a disaster. The party fought on 23 seats but failed to bag any seat, despite high-decibel campaigning by Mamata and Abhishek, among others, and the participation of Prashant Kishore's I-PAC as a strategy advisor. It had a 5.21% vote share.
For TMC the next opportunity came in February this year as elections to three North-East state Assemblies – Tripura, Meghalaya and Nagaland – were scheduled. It kept Nagaland out of the purview of the battle. Bengali-speaking people dominated Tripura which has a 60-member Assembly, it fought on 28 seats but went full steam ahead in Meghalaya, which has been Mamata's target state in the northeast for over a decade. It too has 60 constituencies. The party contested 56 seats. In terms of 'yield' Mamata has had some success here with five seats in the TMC kitty. Some base it had been able to create in the Garo Hills helped it. But, the party's performance in Tripura was a disaster – no seat bagged and a vote share of 0.88%, which was lower than NOTA (None Of The Above). 
Asked about the Bengali voters' aversion towards TMC, state Left Front convener Narayan Kar told the writer,  "See, flying visits to a state on the eve of election cannot help a party to connect with voters. But, that is what TMC and its chief believe in; the party has just not been able to create a base in the state." "Moreover, in this term corruption and misrule have eroded Mamata's credibility. Voters do not consider TMC as an option", Kar added.      
This has given rise to doubts in political quarters about whether Mamata and Abhishek can mobilise votes, to be a factor as they often suggest, beyond their home state. The question being asked is whether TMC should stick to its national footprint objective. It is against this background, informed sources told the writer that in this term TMC is facing multi-pronged challenges the leadership had not comprehended. The  Left and Congress have recouped some of their lost space. BJP has overcome some of its chronic organisational problems and at the insistence of its ideological parent, Rashtriya Swyamsevak Sangh (RSS), is trying to reach out to Muslims who account for 28-29% of West Bengal's electorate. This seems to be part of BJP's calculations for 2024.
The third term of the TMC ministry, which will complete two years in early May, has been mired in controversy. It all started with widespread post-election violence, which invited judicial intervention. For over a year, the education department recruitment scam has remained in news almost on a daily basis. It has tarnished the image of the administration as it involved the Education Minister and a large number of education department officials holding senior positions and having close links with the party hierarchy. Adding to the CM's discomfiture is the High Court-ordered sacking of a large number of unqualified primary school teachers who managed to buy jobs in connivance with TMC politicians. The qualified candidates, who became victims of the malpractices, have been staging 'dharna' for a long time and the Chief Minister appears to be clueless on how to resolve the issue. 
Instances of large-scale corruption and misreporting in the 100-day rural job scheme and Pradhan Mantri Grameen Awas Yojana have been detected by teams of the Union Rural Development Ministry officials. The release of funds under the Mahatma Gandhi National Rural Employment Guarantee Act (MGNREGA) by the Centre remains suspended since December 2021. New Delhi also applied brake on the release of PM Awas (Grameen) Yojana funds. The twin measure has created widespread discontent in the rural areas, particularly among families for whom the 100-day job scheme means much during the lean season. Mamata's decision on a 30-hour sit-in from March 29 to protest the denial of funds by New Delhi is at best an attempt to revive her street-fighter image but she has not been able to deny the involvement of her party leaders and activists in corruption and administrative misuse. 
Her defence of corrupt party leaders, just because of their utility in winning elections, is now proving costly. A case in point is that of Birbhum district strongman Anubrata Mondol, who is being probed by the Enforcement Directorate (ED) for amassing wealth by resorting to smuggling cows and sand. With panchayat elections due in about seven-eight weeks, Mamata herself assumed charge of the party set-up in Birbhum, prompting senior BJP leader and Lok Sabha member Dilip Ghosh to say she was hoping that Anubrata would get some relief from courts and he would, as in 2018, ensure the wholesale defeat of Opposition candidates; but sustained ED action has foiled her plans. 
The continuous agitation by state government employees in support of their long-pending demand for Dearness Allowance (DA) at Central government rates has also landed the CM in a tricky situation. Cash distribution-based schemes for women, students, the elderly and weaker sections have strained the state's finances and increased the state government's dependence on borrowing. Political observers appear to be veering around to the view that for the first time in her 12 year-chief ministership, rampant corruption and administrative lapses have dented her image and leaders of non-Left, non-BJP parties are not taking seriously her suggestions for unity, minus Congress, to oust BJP from power at the Centre. With several cases being probed by the Central agencies against her nephew, which may reveal laxity on her part in taking action against Abhishek, her priority is to save herself and her nephew. This has been the primary accusation of Congress leader Adhir Ranjan Chowdhury. This too will tell on her national footprint aims, say state politics watchers.            
(The writer is a Kolkata-based senior freelance journalist. Views are personal.)
Get the latest reports & analysis with people's perspective on Protests, movements & deep analytical videos, discussions of the current affairs in your Telegram app. Subscribe to NewsClick's Telegram channel & get Real-Time updates on stories, as they get published on our website.
Subscribe Newsclick On Telegram