Saturday High to Sunday Low: Australia Serve India a Seven Goal Reality Check
The Indian hockey team players were taken aback by the pace and press of Australia. They were never allowed to get comfortable on the ball, and neither quick enough nor strong enough nor well enough organised to stop the 1-7 drubbing in their second group game at the Tokyo Olympics.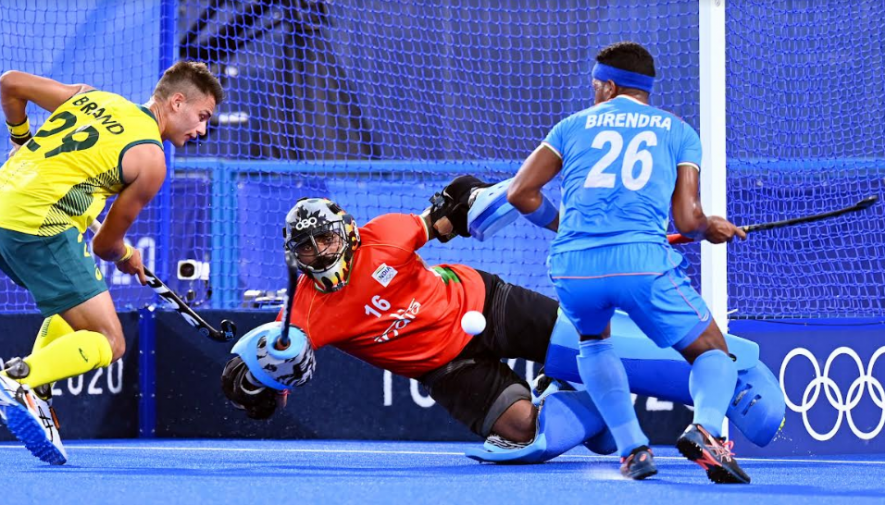 Tim Brand scores Australia's seventh goal past Indian hockey team goalkeeper PR Sreejesh during their Tokyo Olympics preliminary group match at the Oi Stadium on Sunday (Pic: HI).
The chorus from Empire of the Sun's hit pop song is simple. "I feel most times we're high and low," it starts. This is sport. This is life. If yesterday was jubilation, today we are resigned. From pyrotechnics to paranoia, today as a country we are running in circles afraid we may encounter a Kookaburra on a street corner. And why not. They have now subjected India to two of their worst defeats in Olympics history, 45 years apart, but humiliating nonetheless. India may have owned Olympics Saturday, but on Sunday Australia scored a goal for every day of the week. The inquisition may or may not follow, simply because most of us don't really feel like talking. This summarises everything succinctly.  
The overwhelming feeling was koi nahi, which is sort of between 'sorry' and 'chin up'. Tomorrow's front pages will no doubt look to avoid this entirely and you can't really blame anyone for it. Honestly (if not realistically) everyone expected this Olympics' hockey campaign to be the best India have seen for a while now. In truth though, we have no idea what is what anymore. Bubbles and lockdowns, quarantines and swabs, our brains are mush. 
India lost to Australia 7-1 at the Oi Hockey Stadium on July 25, 2021— the heaviest defeat they have suffered at the Olympics. It's a redundant message, but still worth repeating: Yes, seven. But relax. Breathe. Most times we're high and low. 
Click | For More Coverage of the Tokyo Olympics From Newsclick Sports
The 3-2 victory against New Zealand on Saturday was nothing to crow about, just as this one is nothing to be shocked about. An esteemed Olympian said today via Twitter that we need to stop judging athletes on numbers, and instead judge them on performance. Which is fair enough. Because if we look at the numbers from this single game of hockey — minus the only important one — India actually performed well. They had almost as many circle penetrations as their opponents, more penalty corners and somewhat equal possession. None of which mattered, because when push came to shove and goals needed scoring, the Aussies were efficient.
Which is all a long drawn way of saying that calm down yaar, this is Australia, get used to it. And we should be used to it. No matter the stage, the year, the event, the venue, Australia are quite easily India's kryptonite. Indian hockey's eminent historian, the late BG Joshi, loved numbers, and just a glance at this should tell you all you need to know. In 60 years of playing the country from Down Under, we beat them 22 times. This statistic was last updated when India last played Australia in a competitive game prior to this. 
It has been over a year since, and while Australia have had stricter training conditions and haven't actually played a country outside of Oceania in all that time, their ruthlessness has not diminished. They scored 15 goals in a four game test series against New Zealand in June. They've scored 12 in two games in Tokyo. 
Disregard all those numbers, the history, the PTSD of a Kookaburra clash and the reality is simple. This is a tough loss. Historic loss. It destroys everything we may have believed and hoped for. Then breathe. Maybe it doesn't. Shake it off, move on. Analyse, recalibrate and move on. Don't let the effects linger. Most times we're high and low.  
Also Read | Brawler to Artful Dodger, the Evolution of Mary Kom is Complete in Tokyo
The simple inquisition first. India were taken aback by the pace and press of Australia. They were never allowed to get comfortable on the ball. By the time Daniel Beale squeaked in the opener (getting his stick meekly in the way of a shot that was perhaps going off target) the two teams had exchanged PCs, seen one goalkeeper make a save, and the other (the Australian!) beaten (illegally). All in all it looked like a bruising competitive encounter. Even after the opener, India fashioned some chances, Shamsher guilty of lingering on the ball too long with only the goalkeeper to beat, when a long Rupinder Pal Singh pass found him in space. 
And then, much like Belo Horizonte, minutes 20-26 arrived. In those five insufferable minutes, 1-0 became 4-0, shoulders dropped, thumbs typed and minds exploded. Jeremy Hayward, Andrew Ogilvie and Joshua Beltz blitzed the result beyond question. 
What happened after was always going to happen. What did you expect? India to lie down, shack up and try and limit the damage? Be honest, would you accept that as a fan? Sport thrives on resurrection. But not today. As brief as the spark was (five PCs, one green card, one goal) it was all there was ever going to be. India were charging up to save face and the Australians were looking to snack on leftovers.
Also Read | Bad Luck, Poor Form or Lack of Edge? The Case of the Missing Indian Shooting Stars in Tokyo 
In February last year Graham Reid had emphasised on the need to stop Australia wresting control. "Purely tactically, the message we sent was that we need to tackle more outside the circle. Not allow them to come in so deep," were his exact words. Here, the lesson was forgotten. Numbers be damned, Australia made their circle penetrations count. India's game has been about confidence and control over the past few years but here they lost it. They were neither quick enough nor strong enough nor well enough organised to stop the Australians.
India conceded first against New Zealand but never lost control. They hit back, waited patiently, and scored their own. Today their goal did not matter because they did not have the control. Australia had the keys, owned the car and built the road. 
This is defeat but not disaster. Not yet. Shake it off. There are questions to be answered and mistakes to be corrected. Most times we're high and low. 
Get the latest reports & analysis with people's perspective on Protests, movements & deep analytical videos, discussions of the current affairs in your Telegram app. Subscribe to NewsClick's Telegram channel & get Real-Time updates on stories, as they get published on our website.
Subscribe Newsclick On Telegram