Hurdling to Greatness: Karsten Warholm Frees an Event From the Matrix
In breaking a world record in the 400 metres hurdles at the Tokyo Olympics, Karsten Warholm didn't just redefine an event as much as redefine the way athletics needs to be viewed. Sprinting, endurance running, middle distance strategies are easy to understand and the increments in their times are procedural and era dependent. Hurdling, a technical discipline, is a beast unlike any other.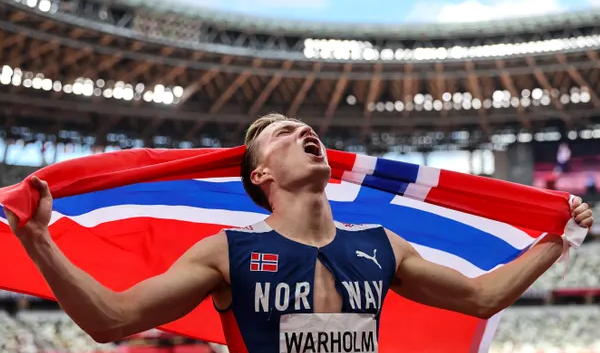 Karsten Warholm celebrates after setting a new world record while winning gold in the men's 400 metres hurdles at the Tokyo Olympics. He won the race in 45.94 seconds ahead of Rai Benjamin of the US who clocked 46.17 (Pic: Guardian, Twitter).
How difficult it is to understand human endeavour, excellence and greatness at the Olympic Games. It is easy, we would like to believe, for greatness defines itself with a medal, with records, with competitive fervour, with artistry in physical action and reaction. But again, greatness is ambiguous and undefined too. 
There is a saying in martial arts or combat sports that you can only see a punch which is slower than the fastest you have ever thrown. The brain — as sophisticated as it is — won't register a knock if it came from beyond the physical parameters of what it has experienced already. Greatness works in a similar, and at times, incomprehensible tangent or plane. So, when people across the world cried out loud that Tuesday brought out the greatest race in athletics history, I nodded, avoiding the pariah tag with the affirmation. But the search for the answer began in earnest too. What is the meaning of the men's 400 metres hurdles final race we just witnessed?
Click | For More Coverage of the Tokyo Olympics From Newsclick Sports
We all understand running. We all understand quite a lot of disciplines in the track section of athletics, in fact. Because, one way or the other, we have tried our bit at running. But never the hurdles. The activity of clearing obstacles at full sprint is analogous to the life we lead, we can say, clearing obstacles as we keep moving forward. But there ends our understanding as a life analogy is not definite enough to make us understand the variables in this technical and physical exertion. 
A weekend running enthusiast would rather complete a half marathon distance than clear hurdles around a track. Said with all due respect to the challenges distance running provides. It is clearly a more natural exertion for the human body to adapt to. So we all run. We all sprint. 
Hence we understand a 100 metre world record and the difficulty or physical magnanimity of running under 9.9 seconds — the prerequisite to be named an elite level sprinter in the world. We even understood the crazy attempt by Eliud Kipchoge to run the marathon below two hours. After all, many among us attempt marathons too and are proud of our personal bests that fall in between the three to five hour mark. The difference between your Mumbai Marathon timing, and Kipchoge's world mark is what makes you respect the man more and understand the world record attempts better. But, do you understand the 400 metre hurdles world record set by Karsten Warholm at the Tokyo Olympics on Tuesday?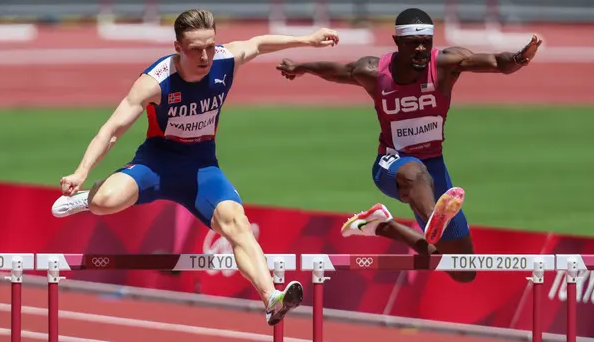 "To be frank, I am having trouble trying to find logic in what happened and how to articulate the feeling or thought," says Jithin Paul, one of India's top 400 metre hurdler. Paul is honest. And Paul is not alone. Warholm seemed confused too after the race. 
Paul has another very valid reason too. It is the quicker-than-comprehensible punch phenomenon. Being one of India's best doesn't qualify him to comment on Norwegian Olympic champion Warholm or his great American rival Rai Benjamin, who both came well under the existing world mark in the final race in Tokyo, with the former grabbing gold by a whisker, becoming the first person in recorded human history to run a quarter mile hurdles race under 46 seconds. 
Also Read | The Tokyo High: Indian Women's Hockey on Cusp of a Revolution That Needs Nurturing
That is history. The sheer quality of the race is history too. The physical excellence seen on track is simply breathtaking. Paul is at a loss of words, and ideas to even imagine what must have taken for this to transpire on an extremely hot and difficult day in Tokyo. Until he remembers that he doesn't have to imagine it at all. The broken 46-second barrier is a reality in his event now. And it will revolutionise quarter-mile hurdling like how Roger Bannister's record did for the mile. Revolutions take time to be understood. Paul is also an exponent of this physically abstract craft of clearing 10 hurdles while running a full loop on an Olympic size track. So he can dare to try and explain. 
"To improve one's timing requires quite a bit of fine-tuning in your existing rhythm," he says. "The number of strides before you hit the hurdle, and then the strides as you land following the air time. And then of course the final sprint to the finish line. All of it is set to a rhythm, a number, and then you run as per your set tempo. That is what we mortals in the sport do. And to change those numbers, to improve your personal best or record, you need to work through the offseason and season till the point where you are planning to peak. And you get that increment. Of course, both Warholm and Benjamin are not in our league. They are many notches above."
But still, can we make sense of this outer-worldly increment that happened in the Olympic stadium in Tokyo?
"Well, it was in the making for a while, if you ask me," Paul says. "To start with, in many races, I have seen Warholm ending up running in outer or inner lanes. Today both him and Benjamin were in ideal middle lanes. So I would imagine they both had everything in place for a fast race. Also, both have been pushing each other. And, you know what happens on track when we have two great rivals in their prime competing against each other. Just that they have not raced each other much over the past two years. They've set fast times in races for sure, but not when both were present."
Also Read | Tokyo Olympics: India Go Down to Belgium in Men's Hockey Semifinal
That rare celestial event happened in Tokyo — the converging of two stars, and the phenomenon it brought out.
Warholm broke the long-standing world record (48.78 seconds set by Kevin Young for the US in the 1992 Barcelona Olympics) last month. And till Tuesday, the Norwegian's world mark was 46.70 seconds. He just shaved off 0.76 from that with a timing of 45.94. Benjamin, on the other hand, was close to the old record in many meets building up to the Games, including the US Olympic trials. His timing of 46.17 in Tokyo fetched him silver. Bronze went to Alison Dos Santos of Brazil, who finished in 46.72 seconds.
Even the athletes themselves were surprised at the sheer quality they brought out, which also reflected on the whole field as everyone pushed a wee bit more, sensing history. Benjamin put it best post race when he said that a month back he would not have believed if someone had said he won't win gold if he ran 46.17 in Tokyo. 
"I was coming, I just ran out of space," said the American. "It was a phenomenal race. We tore the old record to pieces. It was like a child's play. If you would have told me that I was going to run 46.1 and lose, I would probably beat you up and tell you to get out of my room. This is the greatest race ever in Olympic history. It's undeniable."
Also Read | Lightning and the Backhand Swish: An Ode to Tai Tzu-ying and Yufei Chen
Warholm gave it everything. "In the last 20 metres I couldn't feel my legs. I just ran for my life," he told reporters after the race.
This is exactly what Paul observed too. Both the sprinters, he feels, had not changed or altered their set rhythm as far as hurdling is concerned.
"But we could notice that there was a considerable difference in the frequency of the strides between the hurdles. They were pushing. Even at the start of the race we realised that it was going to be a fast one, a record, the way they had stepped up in the sprint zones. In 400 hurdles, you can gain or lose time over the course of clearing. And the increment happens with each of the 10 jumps but those are milliseconds. That adds by the end of it. And when you couple that with an increase in tempo while sprinting, records will tumble." 
However, to manage that, to push that extra bit in sprints, the athlete needs to be in full control over his entire physical being. And, it is not just the muscles or the strides we are talking about. It is also about making those increments without upsetting the hurdle-clearing rhythm, which, if wavered, would see the athlete fall or clip the obstacles, and lose time.
But nobody lost anything on Tuesday in the final. It was one of the most hyped races of the Games. And it lived up to it in all departments, including controversy. The super spikes, which Nike athletes, including Benjamin, used in the race, has been a talking point for a while now. Another talking point was the Tokyo track itself, which apparently has slightly higher than normal feedback for the runners, and has the potential to make things faster for sprinters, say experts.
Also Read | Amit Panghal: Punching on a Prayer and Hope Cannot Make Up for Strategic Errors in Preparation
Warholm, who hates the idea of super spikes, feels it would tarnish the reputation of athletics. He did not mince words when talking about it post race. He did praise Benjamin for his effort and for pushing him. However, in almost the same breath, he said Benjamin "ran on air". 
"He had those things in his shoes, which I hate," Warholm was quoted by The Guardian. 
"I don't see why you should put anything beneath a sprinting shoe," he added. "In the middle distance, I can understand it because of the cushioning. If you want cushioning, you can put a mattress there. But if you put a trampoline I think it's bullshit, and I think it takes credibility away from our sport."
Warholm, of course, earned the right to talk about this contraption brought out by Nike, which throws the idea of level playing out of the window. It is, however, a reality of his sport, and is common to see technology seeping into performance science, aiding athletes to push the envelope to realms considered beyond the capability of a human body a few years back. 
While this controversy would be talked about in the coming days, across the various disciplines on track, the fact remains that the world record was broken by a runner who did not have a "trampoline" under his spikes. And that makes it closer to nature, closer to our hearts, and extra special. 
A slightly better understanding of what all are the various elements within a physical and mental exertion that brings about a perfect race for a hurdler, makes us decipher the larger than life sense of the occasion. It was perfect, we all can exclaim now. However, Warholm, himself, doesn't believe in perfection, or the existence of a perfect race.
Also Read | Elaine Thompson-Herah Breaks Flo Jo's 100 Metre Record at Tokyo Olympics
His post race words, though, betrayed that he may well be on his way to become a believer.
"I can't believe the time, it's so fast," said Warholm. "A lot of the time I am asked about the perfect race. I said it didn't exist but this is the closest I've ever come." 
And Warholm is just 25, Benjamin, 24. If getting closer to perfection is what they seek, then they have a good few years to attain that, whichever way the races tilt. Just that, we hope, the tech is kept in check to the levels which doesn't add unnatural complexities to an already complex race.
The rest, like how greatness is, will continue to remain shrouded in mystery. We will still not be able to fully comprehend the meaning of this physical achievement, that of both Warholm as well as Benjamin. But that is okay too. After all, the beauty of sport, and indeed life itself, lies in the fact that not everything can be explained, least of all fathomed or understood. 
Get the latest reports & analysis with people's perspective on Protests, movements & deep analytical videos, discussions of the current affairs in your Telegram app. Subscribe to NewsClick's Telegram channel & get Real-Time updates on stories, as they get published on our website.
Subscribe Newsclick On Telegram