The Tokyo High: Indian Women's Hockey on Cusp of a Revolution That Needs Nurturing
Regardless of how things pan out for the Indian women's hockey team players in the next two games at the Tokyo Olympics, their achievement is special, and the hope is that it will help open many eyes, and subsequently doors for progress.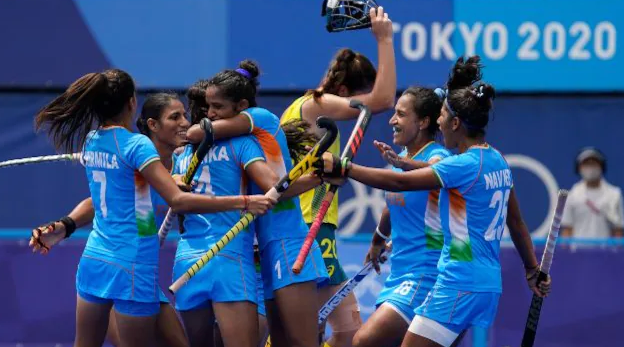 Indian women's hockey team players celebrate after beating Australia in the quarterfinals at the Tokyo Olympics (Pic: Firstpost, Twitter).
Despite the euphoria surrounding Indian hockey over the last few days, on the eve before a semifinal against Argentina, Pritam Rani Siwach's demands remain the same. A month before the Games when the Indian women's team was announced, three players [Neha Goyal, Nisha Warsi and Sharmila] who trained under Siwach at her academy in Sonepat were picked in the squad. 
"I'd hoped that the government would take note of this, and extend support to us," she says. She doesn't ask for much. She just wants the state government to clear funding and sanction the construction of an astro turf and a residential facility at her academy. "Even now, after the semifinal qualification, lots of people have called to congratulate… offer well wishes and whatnot. Each time I've only said, ab toh kar dena…"
Click | For More Coverage of the Tokyo Olympics From Newsclick Sports
The Indian women hockey team's success story has become, borrowed from and reignited pop culture in the country. Across the modern mediaverse, connections, parallels, and quirks have been drawn for this moment with the iconic film Chak De India. It's important to perhaps remember then that that movie was inspired in part by the success of an Indian women's team Siwach was herself a part of — one that won gold at the 2002 Commonwealth Games. 
Looked objectively then, this isn't as much a watershed moment for the women's game in the country as it is a second coming. Unexpected, unbridled success has been experienced before. It just wasn't captured in tweets, gifs and 10-second videos. In this post modern world, everything we see has happened before, a little differently perhaps. 
On that run in 2002, India beat New Zealand and England en route to gold. Both are ranked higher than the Indian women team right now (rankings subject to change dependent on the semifinal). Australia (who were beaten in the semis by England in 2002) were the defending Olympic gold medallists at the time. Their five consecutive fifth place finishes at the Olympics since — and the latest loss to India in the quarterfinals — will be looked at as a slow burn decline. 
Coaches like Siwach toil away, but largely hidden from the public eye, struggling to keep the grassroots running and despite the minimal support producing players who make it to the India squad. Siwach understands the importance of these grassroots initiatives and regularly appeals for more care and support. "If the basics go missing when players are young, then it is tough to correct later," she says.
Also Read | Tokyo Olympics: India Go Down to Belgium in Men's Hockey Semifinal
While the Covid-19 pandemic has hurt grassroots sports across the world deeply, countries that managed to put together safety protocols early have reaped benefits in this Olympics cycle. For most of the last 18 months, both hockey teams were sequestered in the SAI facility in Bengaluru along with the coaching staff, protected from contracting the virus as well and given access to training facilities and regimens through the lockdowns. 
Speaking to Newsclick last year during the lockdown, Neha Goyal admitted that it was tough, boring and made her homesick. But they all recalibrated, and realised how privileged their situation was. The lockdown afforded them something many others (in fact many other athletes too) didn't have: the opportunity and the space to do something they love, safely and professionally. 
The months together also brought about a sense of camaraderie that turned a team into a family. The women players came together to raise money for aid for migrant families via an online challenge. They crowdfunded over Rs 20 lakh in the space of 18 days. The sense of distance from their families hurt them but this was also a way to give back — most of them after all had come from underprivileged backgrounds, in families that struggled to help them play. The stories have been told regularly, blasted over front pages of every major publication the past 24 hours. Each of them are heartening, gut wrenching and worth a cinematic tribute in itself, but each are also a great glimpse into the inequalities of our society, and how, despite our regular claims that sports is the bridge and the way out, sometimes things remain the same. 
Also Read | Lightning and the Backhand Swish: An Ode to Tai Tzu-ying and Yufei Chen
This elation, this support and this deep sense of empathy and connection needs to persist. Despite the outward claims and in fairness sometimes practice that Hockey India is fair to teams of both sexes under its purview, there is a sense that often enough, the women's team don't get the same treatment reserved for their counterparts. The men's team, for example, tours much more frequently than the women. They play more matches too. In 2019, Hockey India withdrew its bid to host the 2022 Women's Hockey World Cup, while at the same time submitting a bid to host the men's for a second consecutive time. They won the men's bid. The women's tournament will be hosted in Spain. 
This, after another one of Indian women hockey's watershed moments the year prior — when the team reached the quarterfinals of the World Cup, losing to the finalists Ireland in a shootout. While these slights may seem minor, easily brushed under the carpet as we bask in this semifinal sunshine, they are important to remember, so that they don't play on repeat. 
One way or another, India's next two games at the Olympics — starting with the semifinal against Argentina — will be a chance for coach Sjoerd Marijne to assert that Rilke line of letting everything happen to you, because nothing really, no feeling is final. Most hockey coaches suffer Indian hockey's eccentricities — the media are an intrinsic part of this, of course — but even by those standards Marijne's treatment at the hands of the federation have been dark satire.
In 2017, the Dutchman was removed as coach of the women's team and put in charge of the men, before being switched back after nine months in charge. His methods (he called them player driven) were rumoured to have not gone well with the squad. The announcement that he would switch places with Harendra Singh (who of course, suffered his own removal not too long after) was made when he was with his family in the Netherlands. 
Also Read | Indian Women's Hockey Team Creates History; Stuns Australia to Enter Semifinals at Tokyo Olympics
Without displaying even a tinge of a bruised ego, Marijne made his way back to the women's team, to get back to the programme. A mere few months later they reached the quarterfinal of the World Cup. Marijne is now being celebrated as the man who has helped India dream — simply by keeping his own eyes open and focussed on reality all the time. 
"Our aim is to reach the quarterfinals," Sjoerd Marijne had said in an interview with the Olympic Channel in March last year. Clairvoyance isn't an easy skill, but Marijne swiped at it. "From there on, anything can happen," he said. 
Something already has, and there is more in store. The men may have failed to get their tryst with destiny, but if there is one thing pop culture has always taught us, it is this: #GirlsGetItDone.
Get the latest reports & analysis with people's perspective on Protests, movements & deep analytical videos, discussions of the current affairs in your Telegram app. Subscribe to NewsClick's Telegram channel & get Real-Time updates on stories, as they get published on our website.
Subscribe Newsclick On Telegram