Lovlina Borgohain's Ring Craft Needs to Be Celebrated More than the Medal it Procured. Now We Push for More
Lovlina Borgohain beat Chen Nien-chin of Chinese Taipei via split decision in the quarterfinal of the 69kg category, guaranteeing herself at least a bronze in the process. Rather than the medal, it is time we focus on the larger picture — how an evolution in ring craft, technique and movement has revolutionised Indian women's boxing. In the post Mary Kom era, these are the gains to focus on.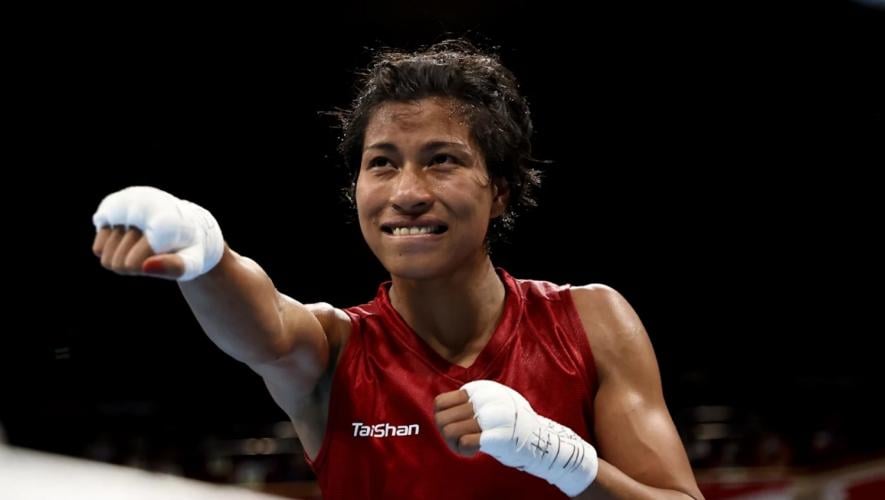 Boxer Lovlina Borgohain celebrates after beating Chen Nien-chin of Chinese Taipei in the quarterfinal of the women's welterweight division at the Tokyo Olympics (Pic: Olympics.com).
No. Let us not celebrate Lovlina Borgohain. Not yet. Yes, let us, she has just secured India's second medal at the Tokyo Olympics…  
This is the kinda dilemma we hope to face after every quarter final an Indian features in, in the boxing ring. We still have a few boxers in contention, and Borgohain has set the bar for them to emulate. She beat Chen Nien-chin of Chinese Taipei to enter the semifinals in the women's welterweight (69kg) division, thereby securing a bronze, and keeping alive hopes of a gold-medal clash.
So, there should not be a tone of finality in this celebration as well as in the chronicles narrating this achievement. The final act for this 23-year-old Assamese boxer is yet to be staged. Borgohain could go all the way to the top of the podium. She may end up with a silver. And yes, the worst case scenario for her now is a bronze, which is a big deal no doubt for a country starved of success. 
Also Read | Olympian Lovlina Borgohain and Assam Boxing's Sudden Revelation
And going by what she has displayed in Tokyo so far, a bronze medal is not what she deserves. By all measures, let us reserve the celebration for that final match, preserve our energies for her semifinal bout as well. Emotionally, let us invest for the nail biters to follow, than in the euphoria of a semifinal entry, and the sealing of a medal, which, by the way, is not unprecedented in Indian boxing at the Games. Let us give Borgohain the benefit of a bigger brighter future [immediate and beyond], and give her ring creds the respect it deserves. She earned it in the middle, displaying quite a lot of maturity, craft, presence and temperament and decisiveness in her punches.
This dilemma is not exactly a pain to write about. There is absolute pleasure in it, the pleasure of success. So, time to get into the moment with Borgohain. 
The orthodox boxer has achieved something remarkable on debut, at a very young age. An Olympic medal assured, maybe she would fight more freely now. Then again, there was no signs in the two bouts so far that she was boxed in by pressure of a medal. It was never evident right from the bell on Friday either.
Click | For More Coverage of the Tokyo Olympics From Newsclick Sports
Borgohain, lanky, and standing a good inch or two taller than her Taipei opponent, fought, as if she was fighting someone taller. That was the preparation involved, we could gather. After all, she was fighting a boxer who has tasted success on the world stage. 
The Indian would go in, bang bang, the left-right combo, and weave out almost immediately. And, defensively, each time Chen tried to move in, she would close up the distance rather than use her height to maintain a gap. The willingness to fight on the inside against a shorter opponent, in itself, shows the level of confidence she has in her pugilistic skill set.
To be frank, Borgohain could have easily sat back and used the same combo to good effect in the tried, tested and successful  tall-boxer gameplan — use the jab to keep distance, and the cross, right straight or her left hook to score. But that would also have given a chance for Chen to have a bit of ring control, something which has the potential to sway the judges cards. Chen, herself, did land a few telling blows, which reflected in the 3-2 split that happened in the first and second round.
Also Read | Anatomy of a Clutch Shot: Archer Atanu Das' 10 to Beat Korean Legend Jin-Hyek Oh
Borgohain, it is evident, is also forged differently. The way she moves in the ring betrays that. Drastically different from Mary Kom, in fact. The direct comparison is because Mary, despite her loss in the Round of 16 a day before, and her rather juvenile rant post that, is still the yardstick with which women boxers from India are measured. Even men, one would say. 
Borgohain is technically more well rounded. In essence, she is the next-to-next generation after Mary's though they are teammates at the moment. And, as far as boxing evolution goes, the fighter that is Borgohain is the perfect link to illustrate a good evolutionary process happening in Indian women's boxing. Mary was an aggressive yet unpolished world beater at 23. Borgohain is refined with measured aggression at the same age. This has been noticed across weight divisions, in fact. This current crop of Indian women boxers are a more technical bunch, period, regardless of the medals they come home with.
Did anyone notice how Borgohain weaved and swayed back to avoid a right straight from Chen and then, in the same motion, uninterrupted, leaned disagonanaly downward towards the left, before using the spring in her crouched stance, and the natural angle at her disposal, to land a left hook as the Taipei boxer tried to fade and evade. A fleeting connection was made. Not sure if the impact of the punch in itself had a large say on the judges. It was not exactly jaw shattering. But that two-second action, natural and flawless, defines Borgohain as a boxer.
Also Read | Misfiring Guns and Booming Loose Cannons: The Burden of Being an Indian Shooter in Tokyo
We as a country define our boxers in other ways though. How we always address Vijender Singh as the Beijing Olympics bronze medallist. Mary is six time world champion and an Olympic bronze medallist. Forever. Borgohain?
Well, the larger wish is that she be kept away from the trappings of gold, silver or bronze, and we address her for her boxing, not for the metal she would end up wearing around her neck, and the many more she could potentially win. Easier said than done though. So, in that case, let us hope that the metal we associate with her won't be a bronze. She certainly seems to possess the craft, and more importantly, is in the right mind space, to make it better. 
Getting back to the dilemma. Should we celebrate Bogohain sealing the Bronze? Of course we should, only if we are ready to reserve the emotions for the next fight, and a larger celebration. 
Get the latest reports & analysis with people's perspective on Protests, movements & deep analytical videos, discussions of the current affairs in your Telegram app. Subscribe to NewsClick's Telegram channel & get Real-Time updates on stories, as they get published on our website.
Subscribe Newsclick On Telegram