The Pain Of Bajrang Punia in His Quest for Olympic Success
Forever the prodigal son of Indian wrestling, Bajrang Punia's debut Olympics is turning into a showcase of bout management. The injury suffered in June has turned an aggressive technician into a passive defensive counter attacker, a change that ended his quest for gold in the semis. Now, with the bronze to fight for, it remains to be seen how much pain can one man bite down to get what his heart has always desired.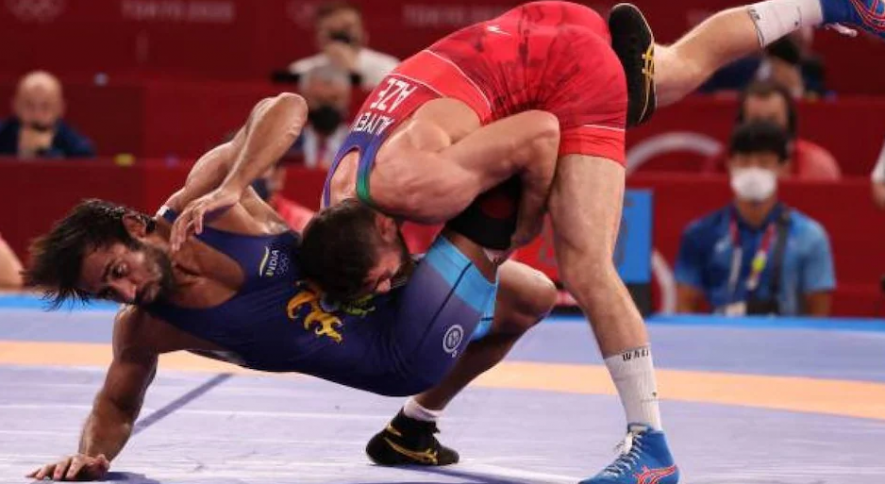 Haji Aliyev of Azerbaijan takes down Bajrang Punia in their 65kg freestyle semifinal bout at the Tokyo Olympics on Friday (Pic: UWW).
Bajrang Punia must be in severe pain!
There was complete radio silence from camp Bajrang since late June, from the time he injured his knee at the Ali Aliyev invitational tournament in Moscow. What was described as a niggle back then, something that would be sorted in a few days, seems to be bigger. It seems large enough to compromise the Olympic podium campaign of the best Indian wrestler of this generation. 
Bajrang indeed would be in pain, and not necessarily the physical kind. It takes quite a lot of courage, and will power, to change one's natural instinct, and fight a restrained bout, both while taking on lesser opponents in the prelims, and a formidable one in the semifinals of the 65kg freestyle category at the Tokyo Olympics on Friday. 
Also Read | Tears of Hope, Screams of Justice: This Indian Women's Hockey Team Inspires Us to Change; It's Time We Did
And the restraint, or caution, was not tactical. It seems the knee injury is causing Bajrang discomfort even now, if not outright pain. Bajrang's slow and defensive persona — something we never knew existed — has a lot to do with him trying to keep the ligaments of his right knee intact through the course of the Olympic campaign. 
It would be very disheartening for the wrestler to go about his business in this tame manner. Bajrang, without his aggression, and combination of takedown moves, is nothing but a toothless tiger on the prowl.
I could feel a little bit of Bajrang's pain as someone who has followed his bouts closely. It was not a happy experience to watch him think, think again, think thrice and four times even, before shooting down for his takedowns. He did that against all his opponents. The doubt — not just momentary, but stemming from calculations in his mind about the percentage of success on offer if he dived in — is not something Bajrang is used to doing. Ever. But it is apparent that he can't afford to be otherwise. Jumping in for the legs is adding stress to the knee. It better be something that fetches points. It's a simple case of maximising gain.
Bajrang, the fully fit version, is a heady cocktail of action, reaction and hyper action, squeezed into two three-minute rounds of relentless execution of techniques and combinations. In the past, I have been critical of him for being overly aggressive. On Friday, I was wishing I could take back all those words, if fate, and the wrestling gods would take this knee injury out of the equation and let the Indian champion fight his bouts on his own terms, and lose, only if the opponent is better on the given day. Only if he is out-wrestled. And loses on his sword.
Also Read | On for the Gold Quest: The Big Stakes in Indian Women's Hockey Team's Tokyo Show
Make no mistake, Bajrang did fight. But in a way that would have been considered a no-fight, because the real Bajrang would never cling onto the opponent in a neck lock or an underhook for the best part of six minutes to eke out a 3-3 result. That was the opening bout, against Ernazar Akmataliev of Kyrgyzstan, a 22-year-old  journeyman.
The bout against Morteza Ghiasi Cheka followed a similar tune, till a critical error by the Iranian which handed Bajrang a position of advantage, and from where he countered and pinned down his opponent. Knee intact, we could feel confidence rising in the Indian too. He had seen off two bouts safely, without exposing his weakness, or worse, reinjuring it again. Two to go, we imagined.
But, injuries can rarely be hidden in wrestling. In the first two bouts, the opponents were trying to attack Bajrang's strapped right leg. A legit and justifiable attempt at working on a weakness. There is no element of gamesmanship in it. Par for the mat, in fact.
However, Bajrang might have bigger issues if the opponents had targeted his good leg, the left one. The wrestling logic is simple. When defending a single-leg takedown, it is the opposite leg which does the bulk of the work. The bodyweight of the two wrestlers in motion, and the kinetic force the charging from the takedown move will all be borne by that leg. This was exploited beautifully by Haji Aliyev of Azerbaijan in the semifinal bout.
Aliyev is a pedigreed wrestler. The 30-year-old Azerbaijani has won three world titles and an Olympic bronze in Rio, albeit in the 57kg category. He jumped up a weight and showed signs that this is his home. 
Also Read | Tokyo Olympics: Ravi Dahiya's Silver, Deepak Punia's Near Miss and the Lessons for Indian Wrestling
Two of the takedown moves Aliev employed over Bajrang — using leverage from an ankle lock — were probably indefensible even if Bajrang was 100 percent. However, the Indian would not have let his opponent run away with the bout the way he did — a 12-5 victory in the end in which Aliyev also employed the phitte (ankle lace) and a double-leg takedown.
Bajrang will now have to wait for the bout between Daulet Niyazbekov of Kazakhstan and Senegal's Adama Diatta to know who he will fight for bronze in the repechage bracket. If the way these two lost against Aliyev is anything to go by, Bajrang has a fighting chance, despite the handicap and the forced passivity of his mat repertoire. Niyazbekov lost to Aliyev 1-9 in the round of 16, Diatta went down 0-4. Scores are deceptive here. As far as the fight is concerned, Niyazbekov may end up booking a Bajrang date on Saturday, August 7.
The Kazakh wrestler and Bajrang have a bit of history too. It was Niyazbekov who ended the then World No. 1 Bajrang's run at the 2019 World Championships in the semifinals. It was a tactical loss that day for Bajrang, and if a rebout happens in the bronze match in Tokyo, it would carry with it the flavours a grudge encounter brings.
Grudge matches are quite something in wrestling. They add emotion. They have fervour. They also provide technical brilliance which takes the bout to a different plane altogether, with the loser from the previous occasion not just trying to win, but to win with such authority and dominance, that the grudge rivalry ends right there. It invariably turns into an attempt to kill the wrestling spirit of the opponent. 
Click |  For More Coverage of the Tokyo Olympics From Newsclick Sports   
Just that, for such a bout to happen, both wrestlers have to be primed perfectly, physically and technically. Sadly, and painfully so, Bajrang seems to be not quite in that zone. 
But, judging by the determination he has shown so far, biting down the bother with some amount of will and physical restraint, he will fight, regardless of what state his knee is in. He will possibly be telling himself that it is just six minutes…
Six minutes is what it takes for Bajrang now. When we look ahead to that, reality dawns. In the three bouts Bajrang fought on Friday, every minute felt longer than it was. Things are not all right. They are tough.
Bajrang Punia must be in severe pain!
Get the latest reports & analysis with people's perspective on Protests, movements & deep analytical videos, discussions of the current affairs in your Telegram app. Subscribe to NewsClick's Telegram channel & get Real-Time updates on stories, as they get published on our website.
Subscribe Newsclick On Telegram