Tears of Hope, Screams of Justice: This Indian Women's Hockey Team Inspires Us to Change; It's Time We Did
With their never say die attitude, their untiring teamplay and even with their tears at the end, the Indian women's hockey team players have inspired a nation towards a sport that has suffered hugely in the past. Even now, in this run of success they have faced brickbats, abuse and controversy. If there is a lesson to take from this campaign, it is that we need to pay more attention, not just to others, but also to ourselves.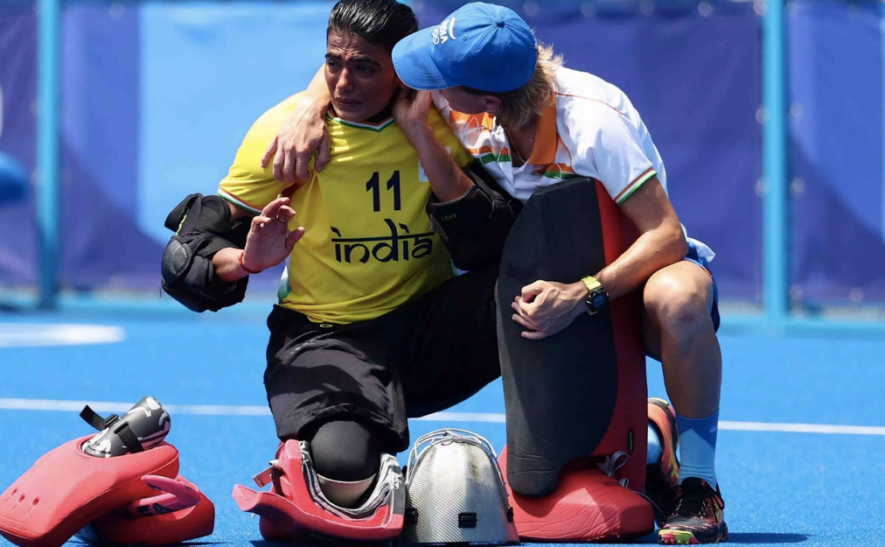 A distraught Indian women's hockey team goalkeeper Savita Punia gets consoled by analytical coach Janneke Schopman after their loss in the bronze medal match against Great Britain at the Tokyo Olympics on Friday (Pic Courtesy: The Bridge/twitter).
We have various celebrated reasons and cliches to head to the stadium — when it is allowed that is — or sit glued in front of the screen to watch sports. Team sports. Watch football, or follow India's very own beautiful game, hockey.   
There is magic in team sports: something enhanced immeasurably at the Olympic Games. More so because a direct comparison is possible since individual events pan out nearby, at the various venues, simultaneously. The contrasts, even the grey areas, can easily be identified, and you understand why, relatively speaking, football is massive compared to even the most popular of individual disciplines. And for India, hockey is that game.
Hockey is a collective endeavour not just in the scope and dynamic of open play on the turf, but also in the way it converges like a convex lens: The energies of the athletes present in the fray, and the aspirations of a nation. While Abhinav Bindra's victory in Beijing 2008 brought out emotion and energy that elevated us, despite the inherent inertness of the sport of shooting, in a  hockey victory, all those intangibles we experience are 11 times more. Or 16 times more if we take into account the entire squad. Just that in defeat, the pain is 16 times more deflating too.
We could not help but cry today, alongside 16 proud Indian women...
Also Read | On for the Gold Quest: The Big Stakes in Indian Women's Hockey Team's Tokyo Show
Hope and dreams are very difficult values to hold onto in sports though these are the easiest and most blatantly thrown about words around. They are the tricky double-edged swords we use as analogy. Katanas rather, since our consciousness is hooked onto Tokyo at the moment. The double-edged katana or the Kogarasu Maru. The Budo (way of the warrior) in Japan describes the double-edged sword as hard to maintain, and difficult to wield or even carry around. It is a burden but Budo celebrates its masters, while remaining wary of its implications.
The Indian women's hockey players have held onto the double-edged sword for a while now, longer than this Olympic cycle. Ever since the time they were born, in all possibility. They personify the Budo, warriors in their own right, and victors with or without the medal. They leave Tokyo without one, still holding onto the mythical values that have made them heroes, arguably, more than the men who won bronze. 
However, the women, who lost 3-4 to Great Britain in the bronze playoff to finish fourth, represent much more than the undefined hockey budo. They, and their success, and their backstories, indict and highlight the social turmoil India is bogged down with. We can ignore the imbalance as much as we want, but the stick-wielding women, the image of them sprawled exhausted on the blue turf on Friday, is forever etched in our memory now. They will act as eternal reminders of the presence of an unfair society. 
Also Read | Tokyo Olympics: Ravi Dahiya's Silver, Deepak Punia's Near Miss and the Lessons for Indian Wrestling
When Vandana Kataria scored a goal on Friday — the third goal India scored to take them a goal ahead in the second half of the match — we all would have stopped whatever we were doing, captured by the serene stillness of the moment and the larger justice it stands to serve. A couple of days back, Kataria's family in a village near Haridwar, Uttarakhand, were subjected to casteist slurs by two upper caste youth, one of them being a hockey player even. They were celebrating the Indian team's loss in the semifinal against Argentina, and clearly said that the team lost because it had too many Dalits playing. 
Kataria answered the slurs. Maybe she did it on Twitter before she impactfully did it on the turf. And we stopped in our tracks, ending our morning chores or journalistic rituals covering a multi-sport discipline. We needed to tell folks many years down the road, possibly on the day of our reckoning, where we were on this day when justice was served via a hockey goal. It was history, but not the kind that the larger sports chroniclers sing about. It had unimaginable layers. It deserved respect. It demanded tears. And I cried.
This Indian team is not a deprived one. For sure they had the privilege to train, to pursue excellence in a highly demanding sport with all the frills and support needed. Just that, the backing, celebrated as they are, were always lesser than what the men were accorded. Always. Having said that, it is not their statuses now that act as yardsticks when we measure their symbolism as heroes. 
The India team's composition is eclectic even with a Dutch influence in it. But it is not an indication of the vibrant India of postcards, or the power of sport to make rainbows when the situation and variables around are so grey that it is not conducive at all for those colour strokes in the sky. 
Also Read | Fearless Attacker Turns Cautious Counter Wrestler: What is Ailing Vinesh Phogat?
Yet, when we looked skywards while the women were playing, we could see a rainbow. And that beauty draws its unparalleled charm from the spirit of the young women on the turf playing their heart out for an idea of India while being constantly reminded, even now, that it is fast becoming a mirage.
One can imagine how bad it was when they were young and spirited girls, hailing from certain sections in the Indian social strata who are constantly at the receiving end, despite policy, despite election manifestos that say the contrary, and a hallowed constitution that grants them immunity from oppression as a right. They were pushed back by apathy, and in more ways than one, even by the hockey establishment, especially at the grassroots, and alarmingly, some of it reaches their level too.
They are born to fight. To break out, they not only need skill or the will to work on the game or fitness or the other sporting traits we celebrate around the Olympics. They needed to fight, or rather ignore hunger. As blunt, basic, truthful and life-providing as one square meal. They needed luck as well. They also needed willingness to ignore what's thrown in their way — slurs, roadblocks, what not. And above all that, they also need to overcome what's not thrown their way. The great Indian sporting apathy.
Last but not the least, the societal set-up was (or rather is) such that they needed to overcome all of the above while fighting the challenges men don't have any clue about. The challenges that are a special preserve of the women. Meant only to put them down.
Click |  For More Coverage of the Tokyo Olympics From Newsclick Sports   
That was the beauty of the players in this Indian women's hockey team. They were not willing to be put down, not by the system, not by the society, not by the game and the quality of it, which they still are chasing, as outsiders, or like they say in sport, as dark horses. They were not willing to be pushed down by their opponents either, and not even by destiny. For this loss is not a failure, not by a long shot. This loss is a victory that narrates stories of all the wins they have managed so far in life and on the hockey turf.
So when they cried, we joined with our own tears. The moments were sombre yet special, immediately after the match. Some of us may have turned away. I turned away. Some of us stayed on. But we all remained in the moment, regardless of whether we stayed or not. Emotions don't need visual affirmation. 
The tears were for the loss. The tears were also for the doubt it creates. Whether it means they have fallen short. They have not, and that is an argument which needs to be proven right by India, and not by the women who represented the country. We, as a society, should perhaps make ourselves deserving of a medal from these women. 
The players themselves deserved the prize. Like they deserved better in all the stages of life they traversed to reach Tokyo, and within a touching distance of a bronze that would have ended defining their careers.
Instead they will return home with hope and dreams not just intact, but magnified multiple times. So much bigger that it is bound to touch and inspire many young girls out there for a tough journey. It is a pity that it still is tough, but that, hopefully, would change. Or rather, it should change, if the tears the country shed today were as truthful as those shed by the players in Tokyo that is.
Get the latest reports & analysis with people's perspective on Protests, movements & deep analytical videos, discussions of the current affairs in your Telegram app. Subscribe to NewsClick's Telegram channel & get Real-Time updates on stories, as they get published on our website.
Subscribe Newsclick On Telegram