Elections 2019: Are Tribal Votes Slipping from BJP in Madhya Pradesh?
In the recently held 2018 Assembly elections, out of 48 tribal dominated seats BJP only won 16 while in 2013, the party had 34.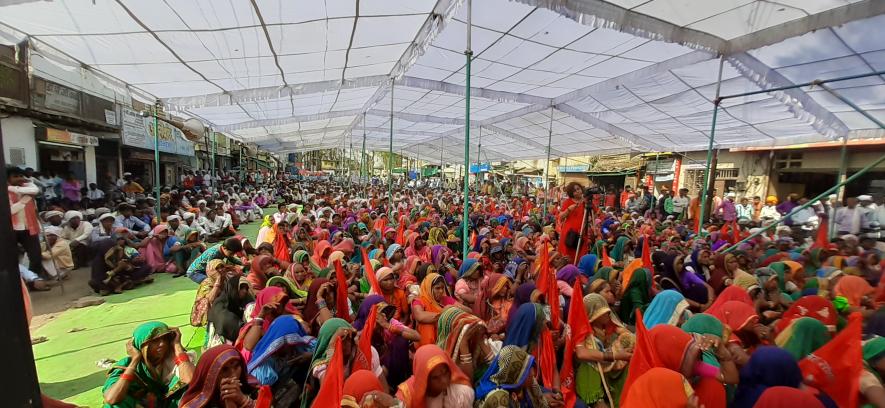 Massive gathering at the Adivasi Adhikar Chetavni Rally in Burhanpur.
Bhopal / Burhanpur : Demanding to uphold the Forest Rights Act 2006 (FRA) and withdrawal of the proposed amendment in Indian Forests Act 1927 by the BJP-led National Democratic Alliance (NDA) government, thousands of tribals carried out an 'Adivasi Adhikar Chetavni rally' in Madhya Pradesh's Burhanpur district on Monday, April 1.
The rally, which was organised under the banner of Jagrit Adivasi Dalit Sangathan, was participated by more than 5,000 tribals who raised their voice for their rights.
Addressing the rally, tribal leaders criticised the Modi government for their disinterest in presenting the tribals' side in the Supreme Court which ultimately led to the verdict of eviction of tribals from the forests.
On February 13, the apex court had directed state governments to ensure eviction of around two million tribals from forest areas spread across 17 states. The verdict can render 2.26 lakh tribal families of Madhya Pradesh homeless. However, the SC stayed its own order till July 2019, following massive backlash from tribals rights groups across the country.
Also Read: Madhya Pradesh: Following SC Order, 2.26 Lakh Tribal Families Face Eviction
"Three days before the Model Code of Conduct was imposed, the NDA government proposed to amend the Indian Forests Act 1927 to make FRA null and void, and snatch all tribal rights from the tribals," said tribal leader Pratibha Shinde adding that the government has done this with an intention to benefit industrialists and businessmen.
They have questioned the Chief Minister Kamal Nath as to why the state government has not opposed the SC verdict and appealed against it, yet.
Addressing the rally, leader of Jagrit Adivasi Dalit Sangathan, Madhuri Jagat said, "According to a report recently tabled before the Parliamentary Standing Committee, in the last five years around 2.15 lakh acres (86,89.09 hectare) of forest lands have been given for industries. Now, the Union government is planning to handover the remaining forests to industrialists and real estate businessmen. BJP is anti-tribal. Why has the PM not raised his voice for tribal rights?"
Weeks ago, the union government handed over 4 lakh acres of forest land to the Adani Group in Chhattisgarh. Likewise in Haryana, on February 27, the State Assembly passed amendments to the Act opening up thousands of acres of land to real estate and other non-forest activity in Aravalli hills and Kant Enclave – which was protected under the Act for over a century.
Also Read: Previous MP Government Conned Tribal Students for Data Collection
"The tribals, who have been living in these forests for centuries are being forced to go homeless and the government is brutally shooing them away. As to those who are opposing it, police are sending them to jail and imposing fine," Madhuri added.
Later they handed over a memorandum with their demands to the district collector addressing CM Nath.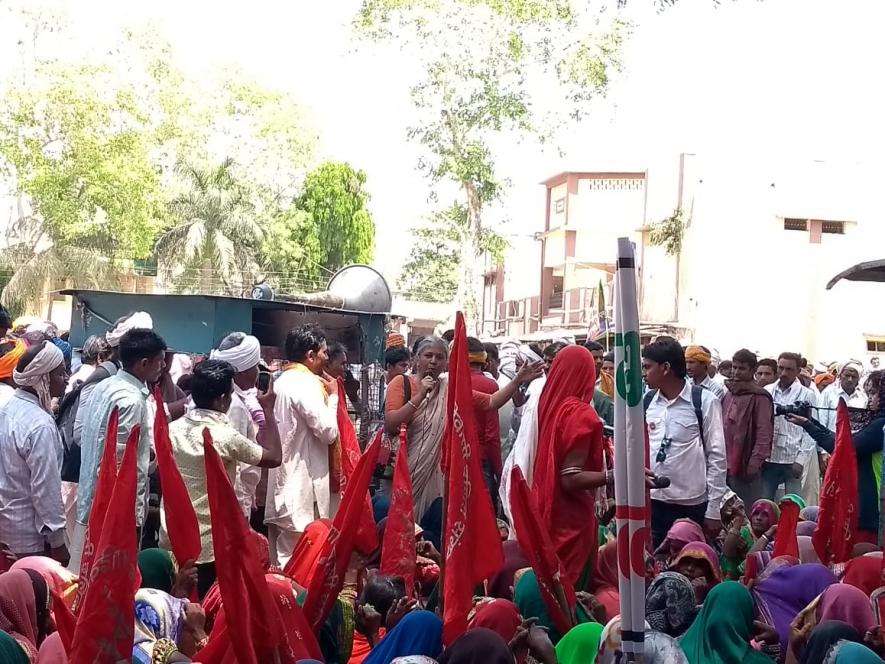 Tribal leaders addressing the masses at the Adivasi Adhikar Chetna Rally.
This is not the only rally where tribals raised voice for their rights. Before the 2018 Assembly elections in Madhya Pradesh, tribals had carried out a number of rallies showing disappointment with the then BJP government in the state.
Are Tribal Votes Slipping from BJP in Madhya Pradesh?
Tribals, which comprise 21% of the total 7.26 crore population in Madhya Pradesh according to the 2011 population census, voted against the saffron party in the recently concluded Assembly election, the election results suggests. Out of total 48 tribal dominated Assembly seats, the BJP won 16 seats, while in 2013, the BJP had 34. On the other hand, the Congress, which had 14 seats in 2013 has jumped to 32 this time.
The following table shows that the tribal dominated parliamentary seats and the results of 2018 and 2013 Assembly elections:
Weeks before the assembly election, the report of the presence of a carcinogenic chemical – azo dye – in the inner sole of the shoes and slippers distributed to tendu patta collectors by the BJP government under 'Charan Paduka Yojana (Slippers for Feet Scheme) had done a lot of damage to the BJP. Tribals not only held protests in various places with shoes and slippers but also demanded resignation of Chief Ministry Shivraj Singh Chouhan for playing with the lives of tribals.
Also Read: Carcinogenic Dye Found in Footwear Distributed by the MP Government, Tribals Protest
The Demands
Implementation of Schedule 5, which gives autonomy to tribal areas, is the primary demand of tribals along with creation of jobs in home districts and stopping migration. Their other demands include conservation of forest lands, implementation of the Forest Rights Act 2006, scrapping of the proposed amendment in the Indian Forests Act 1927 and addition of 'Gondi and Bheeli languages (tribal languages) in the 8th Schedule of the Constitution.
"The shifting of votes show the anger of tribal voters against the 15-year long BJP rule which exploited and suppressed tribals just for votes, while selling their forest lands to businessmen," said Jay Adivasi Yuva Shakti Sangathan leader Heeralal Alawa, who fought and won from Manawar constituency of Dhar district on Congress' ticket.
Unlike 15-20 years ago, tribal voters are now more aware of their rights, since the Gondvana Gantantra Party was formed 16 years ago as part of their attempt to assert their identity. The party is quite influential among Gond voters. The last Assembly polls also saw the emergence of Bhil tribal leadership in Malwa region, leading to the formation of Jai Adivasi Yuva Shakti (JAYS). The party is planning to contest from four seats as independent in the LS polls.
Before GGP and JAYS came into existence, there were traditional parties. Tribal people normally voted en masse, unlike the tactical voting in recent years.
Impact of Tribal Voters in Parliamentary Elections
Out of a total 29 parliamentary seats in Madhya Pradesh, tribal groups hold significant influence in at least six seats including Shahdol, Mandla, Dhar, Ratlam, Khargone, and Betul, which are reserved for scheduled tribes. Besides these seats, they can also influence results in several other seats like Balaghat, Chhindwara and Khandwa.
"Things have definitely changed and the change is apparent. People are becoming aware day by day. It is important that our movement is bringing out colours. For example, when Prime Minister Narendra Modi came to Mandla district, he was forced to say, 'Jai Bada Dev', what led to this? It is the same awareness about our identity. We are nature worshippers, 'Bhagwan' for us means 'Bh' for 'bhumi' 'W' for 'Wayu' and 'N' for 'neer'. We are working to establish 'gram swarajya', get a separate identity and implement Schedule 5, so that the livelihood of the tribal population is secured. Our people are now waking up to assert the rights given in the Constitution," said Aman Singh Porte of GGP.
Also Read: Four Years On, Tribals in MP Still Await Compensation for Kharak Dam Construction
Among several tribal communities in Madhya Pradesh, the Gond community has a major influence in Mahakaushal region and can impact results in Balaghat, Mandla and Shahdol, while Bhils have a sizeable presence in the Malwa-Nimar region. "But unlike Mahakaushal, tribals in Malwa-Nimar are not much into their religious identity and are more attached to its language and region. Apart from implementation of Schedule 5, Bhils are also demanding inclusion of Bhili language into Schedule 8 of the Constitution and a separate Bheelistan region," said the founder of JAYS, Dr Hiralal Alawa, who is now a Congress MLA .
"If we do not get into coalition with any party, we will support independent candidates from four seats," Alawa said. Political parties, too, are aware of the increasing awareness about rights among the tribal populations across the state.
"Our slogan is 'ek teer ek kaman, saare adivasi ek saman'(one bow, one arrow, all tribals are equal). It is on our agenda to address the needs of everyone, be it group or individual. But our priority is to ensure the fulfilling of basic needs of the entire tribal population. After doing so, we will move towards group-specific needs of the people. Tribal population had remained united. But the 15-year long BJP rule created divide among the tribals through their subsidiary organisations," said chairman of Madhya Pradesh Adivasi Congress, Ajay Shah Makrai.
Read more election stories from NewsClick here.
Get the latest reports & analysis with people's perspective on Protests, movements & deep analytical videos, discussions of the current affairs in your Telegram app. Subscribe to NewsClick's Telegram channel & get Real-Time updates on stories, as they get published on our website.
Subscribe Newsclick On Telegram