Tripura: Conduct Fair Elections. Your Credibility is in Doubt, CPI (M) to EC
The poll-bound state saw widespread violence last time to the extent that Election Commission had to appoint three special observers and deploy 200 additional paramilitary forces.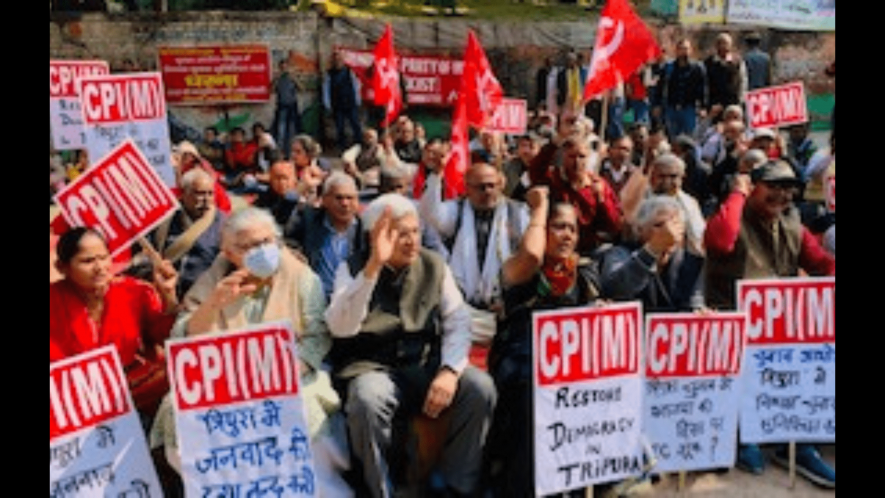 New Delhi: Coming down heavily on the poll violence that left several hundred Opposition workers wounded in Tripura, Prakash Karat, politburo member, Communist Party of India (Marxist), on Friday said he was apprehensive if voters would be allowed to vote in free and fair elections on February 16. Karat was joined by the several members of the Left party at a protest at Jantar Mantar who held placards with slogans like 'Stop murder of democracy in Tripura!' Enraged over unprecedented violence, the leaders and workers raised slogans intermittently to set the tone of the protest. 
Karat said that the local police has succumbed to the pressures exerted by the workers of Bharatiya Janata Party and Rashtriya Swayamsewak Sangh who have resorted to every tactic, from intimidation to arson and looting to win the assembly election. The poll bound state saw widespread violence to the extent that Election Commission had to appoint three special observers and deploy 200 additional companies of paramilitary forces.
Addressing a gathering of workers, Karat said that the upcoming elections were special for the reason that they will hold testimony if democracy and Constitution will survive in India. "Post April 2018, there were three elections in the state. Lok Sabha Polls in 2019, Autonomous Council elections and three Assembly bypolls. In all these elections, we saw widespread rigging and voters were not allowed to exercise their democratic right to vote. Even the candidates were stopped to file their nomination. AT present, the goons are occupying offices of all opposition parties including ours. Over 700 offices were attacked and burned," he said.
Karat added that the law and order situation was so bad that former chief minister Manik Sarkar was stopped in his own constituency from meeting the block development officer. "Sarkar was attacked on September 8 last year when he was going to meet BDO with a mass deputation. We resisted the attack and ensured deputation was heard. Infuriated over it, BJP-RSS workers attacked our offices including state headquarters in Agartala. So, any political activity is a crime nowadays in Tripura and BJPhas ruled the state through violence only during last five years. We, too, ruled the state for 25 years and polls registered 90% voting. In these elections, I am doubtful if the common people will be able to vote or not," he added.
The CPI(M) leader said the Election Commission should actively intervene to ensure free and fair elections. "We brought developments to EC's attention and it assured that it will take necessary steps. They sent 200  companies of CRPF. It is a welcome step. Yet I am receiving reports that these forces have seized cash in crores along with numerous liquor bottles and cannabis and local police did not even file an FIR. Our campaign squad was attacked three days back and two party members were seriously injured," he added.
The veteran leader conceded that CPI (M) faced defeat in last elections only because the administration ensured fair elections. However, "BJP destroyed every aspect of democracy in Tripura."
"It is a small state with 37 lakh people. Our 27 workers have been killed, 4,000 houses were destroyed. District offices have been occupied. Our comrades are fighting it valiantly on the ground. Our only urge to EC remains that please conduct these elections fairly. Entire nation will be watching Tripura on February 16," he added.
Citing lawlessness in state, K M Tiwari, secretary, Delhi CPI(M) ,said that the tiny state witnessed 407 rape cases, including 27 gang rape cases, in previous six months, 1,200 people have been attacked in this period too. "What they promised and what they did is a different story altogether. They promised more days of work under NREGA. They promised more jobs. The reality remains the vacancies in different departments grew from 1,11,000 to 1,44,000. The promise was to raise minimum wage to Rs 391 per day. They even forgot it. To deal with it, they have mobilised all sort of criminal elements and RSS workers from nearby states to attack common people," he added.
Hannan Mollah who represented All India Kisan Sabha said unlike other states where the saffron party uses religion to divide people, it chose identity in Tripura for polarisation. Mollah was referring to communal violence in 2021 which claimed several lives.
"It is a fact that Bengali Muslims, although a miniscule population, have always lived there. It is a state where people are very sensitive about their identity. In 2021, it tried to create tensions between Muslims and Tribals over statehood. During Left rule, we established autonomous councils where the tribals decided their affairs. It was the best that we could do within the framework of Constitution. They have been demanding a full state. So, they tried to create tensions among communities and they failed. They will fail this time too," Mollah said.
Get the latest reports & analysis with people's perspective on Protests, movements & deep analytical videos, discussions of the current affairs in your Telegram app. Subscribe to NewsClick's Telegram channel & get Real-Time updates on stories, as they get published on our website.
Subscribe Newsclick On Telegram