Tripura: Is this 'Peace and Freedom from Fear', Modi ji?
The past five years under BJP rule have seen a relentless onslaught against political opponents and people.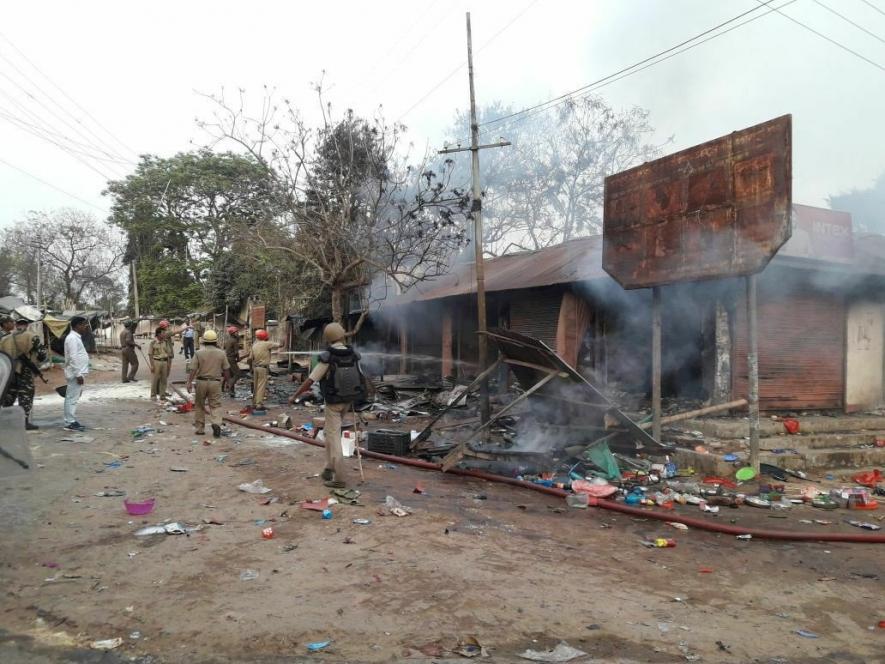 Addressing election rallies in Tripura on February 11, Prime Minister Narendra Modi said that Bharatiya Janata Party's victory in the 2018 Assembly elections brought in rule of law. Tripura goes to polls on February 16.
"The BJP made the state free from fear and violence," he declared.
Has the small border state become free of fear and violence? Even a cursory look at the events of the past five years would show that this is far from true.
Violence against Left
Tripura has seen relentless violence against all political opposition but especially targeting Left forces led by the Communist Party of India (Marxist). It may be recalled that the Left Front had emerged as the main Opposition to BJP after the 2018 Assembly polls which the BJP swept. It got 44.5% of the votes cast while the BJP and its ally IPFT (Indigenous Peoples Front of Tripura) got 54% votes, with the BJP itself getting 43.6% votes, as per Election Commission records.
This violence has been allegedly carried out by BJP supporters, according to CPI(M) reports, and takes the form of physical attacks on activists as well as common people who appear to support the Left. Attacks on offices of CPI(M) and various Left oriented organisations, arson and looting of shops and homes of Left activists, destruction of poultry farms, poisoning of fish ponds, cutting down of rubber trees in plantations, damage and burning of vehicles have become common place in Tripura. According to former chief minister Manik Sarkar of the CPI(M), 21 Left supporters, including one woman, had been killed in the violence unleashed.
Read Also: Violence Erupts in Tripura; CPI(M) Party Offices Vandalised, Torched Allegedly by BJP Cadres
The CPI(M) has recorded various incidents like these from time to time and taken them to the local police but to no avail. According to records maintained by Tripura CPI(M), as many as 3,583 Left supporters, including 321 women were physically assaulted, 3,580 homes and 737 shops were ransacked and damaged, 963 offices of the party and other Left-oriented organisations were torched or ransacked or even occupied forcibly during the BJP rule. Some of the offices were attacked eight to nine times, and some were demolished by the bulldozer. Not a single CPI(M )office in the state, including the CPI(M state committee office, was spared from this violence.
Read Also: Tripura: CPI(M) Leaders Demand Steps to End Violence from Centre
The table below, based on CPI(M) records, gives a snapshot of the violence unleashed by BJP supporters during March 3, 2018 to September 30, 2022:
Commenting on violence and impunity in the state, Sarkar has cited nine cases of mob lynching under the BJP-IPFT regime since March 2018, in which 10 people were killed. In nine other cases, police rescued two people. He alleged that the culprits were not apprehended due to 'immoral leniency' of the administration. In addition, there were five custodial deaths during this period.
Democracy Under Attack
Besides the above attacks, the BJP state government has been actively preventing normal political activity by the opposition parties, especially the CPI(M), which is seen as the biggest threat to its remaining in power. Any demonstration or protest organised by the CPI(M) or Left is met with hurdles created by police which claims that there is fear of disruption of peace or violence.
Left leaders like Manik Sarkar, Badal Chaudhary and others have been repeatedly attacked or prevented from moving about and attending demonstrations and rallies. Even a public meeting to pay homage to 13 martyrs at Birchadra Manu of Santirbazar, south Tripura, who were killed in 1988 by militants patronised by then Congress-TUJS (Tripura Upajati Juba Samiti) regime, was not allowed by the police.
 
Read Also: BJP Men Behind Attack on Party MLA, Supporters in Tripura, Says CPI(M)
All elections held in Tripura since BJP came to power have been reduced to a farce because of terror tactics carried out by alleged BJP supporters. In 2019, in the panchayat elections, out of a total 6,111 gram panchayat seats, 5,278 seats were grabbed by the BJP uncontested. For panchayat samitis, 338 out of total 419 seats have gone to BJP uncontested, while 37 of 116 zila parishad seats saw no contest.
"Bike-borne hoodlums of the BJP were stationed before the election offices, so that no opposition candidate could collect or submit nomination papers. In most of the places, the police were just onlookers," a CPI(M) statement alleged. The state's BJP spokesperson denied the allegation saying "Many seats are witnessing a contest. Only figures of uncontested seats are being shared with the media".
Read Also: Opposition Fares Dismally in 'Rigged' Tripura Civic Polls
In 2021, polls for 334 seats of 20 urban local bodies saw a similar process with seven bodies going to BJP uncontested. The BJP 'won' 122 seats uncontested in all.
Elections to 587 village councils under the Tripura Tribal Areas Autonomous District Council (TTAADC) were due in March 2021 but they repeatedly postponed by the BJP government, fearing losses. Finally the High Court had to step in and direct that these should be held by November 2022. However, these polls have not yet been held till now.
Rise in Certain Crimes
Data from the National Crime Records Bureau (NCRB), available till 2021, shows that in Tripura, there has been rise in certain crimes like kidnapping and abduction, grievous hurt, riots, attempt to murder and arson in four years of BJP rule (2018-2021) compared with the previous four years under Left Front rule (2014-2017). These are crimes associated with political violence.
Attempt to murder increased by 96% from 295 cases in the earlier period to 578 under BJP rule although murder cases declined marginally from 553 to 517. Kidnapping and abduction increased from 539 to 595 cases, rioting cases increased from 371 to 627, arson cases increased from 150 to 326, and grievous hurt cases increased marginally from 4160 to 4548.
Remember that 2020 and 2021 were the pandemic years which saw a general decline in crime across the country as lockdowns and movement restrictions were in force for considerable periods, and people were grappling with the deadly disease. Despite this, an increasing trend in political violence sheds light on the way the BJP government has been running the state government and substantiates the charges of state-backed violence against political opposition
BJP Facing Tough Fight
It appears that the BJP is facing a tough re-election bid in Tripura with the Left-Congress alliance making a strong bid. This is mostly a consequence of the rather dismal performance of the BJP government in the state. That the government was facing increasing discontent and unpopularity was the reason why the BJP top brass decided to suddenly remove the chief minister Biplab Deb in May 2022 and install state BJP president Manik Saha in his place.
Raging unemployment, perceived failure to fulfil many of the 299 promises made by BJP in 2018, growing violence and the feeling of alienation among tribal communities have steadily eroded BJP's support in the state. Tribal sentiments seem to have become averse to the ruling party, as was seen in the outcome of the TTAADC elections where a fledgeling tribal outfit, Tipra Motha, and its alliance partner INPT (Indigenous National Party of Twipra), won 18 out of 28 seats. The BJP could manage only nine seats while one went to an independent.
Perhaps this is why the BJP senior leadership is pulling out all stops to regain lost ground – but playing fast and loose with facts may not help them in this uphill battle.
Get the latest reports & analysis with people's perspective on Protests, movements & deep analytical videos, discussions of the current affairs in your Telegram app. Subscribe to NewsClick's Telegram channel & get Real-Time updates on stories, as they get published on our website.
Subscribe Newsclick On Telegram