Tripura: Tipra Motha Chief Says Party Remains Anti-BJP, Will Fight Lok Sabha Polls
There are growing rumours in the state's politics about Pradyot Debbarma's switch to the BJP; however, he outrightly denied all the rumours.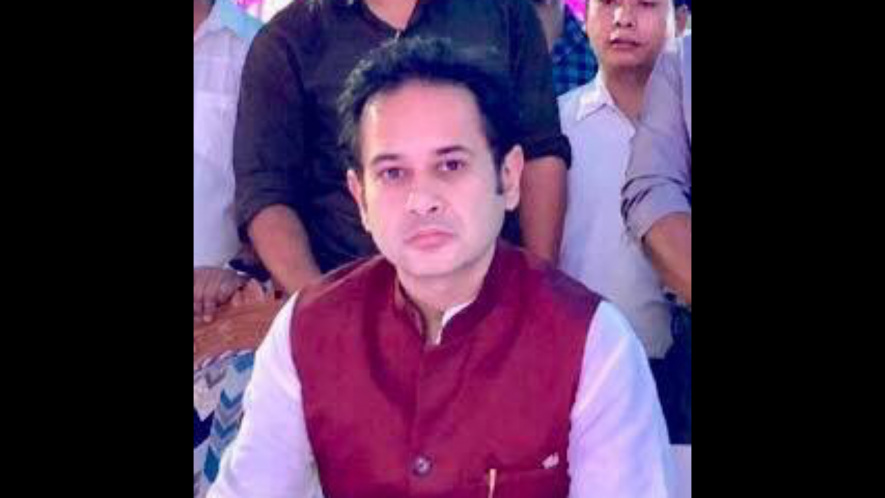 Pradyot Debbarma | Image courtesy: Twitter 
Kolkata: "I remain anti-Bharatiya Janata Party; my party is equidistant from both BJP and the Left-Congress combine. The thrust of my campaign for the last February Tripura Assembly election made it clear that our sole concern is the welfare of the tribals. Our demand for constitutionally-affirmed Greater Tipraland is aimed at realising our sole objective. Those saying that I am moving towards BJP are trying to defame me. Time will prove them wrong."
This is how Pradyot Bikram Manikya Debbarma, chairman of Tipraha Indigenous Progressive Regional Alliance, popularly known as Tipra Motha (TPM), reacted when asked by NewsClick how come, political leaders, including those of ruling BJP, are so inquisitive about his next move.
However, TPM had fought the Assembly election on its own and surprised political quarters by bagging 13 seats. It had put up candidates in 42 of the state's 60 constituencies. Those 42 included all 20 reserved ST seats and, to the surprise of other contending parties, 22 unreserved seats. This was TPM's maiden Assembly electoral battle.
To emphasise that there is no change in his pre and post-election stance, Debbarma said, "Those spreading misinformation about me would be surprised to find TPM fighting the forthcoming by-election and the 2024 Lok Sabha election, again on its own".
At the moment, a by-election for one Assembly seat is due, as Pratima Bhowmik, Union minister of state who won an Assembly seat, has decided to stick to her role in New Delhi.
"Whatever be the number of by-elections, we will contest. For Lok Sabha, Tripura has two seats – Tripura East reserved for ST (scheduled tribes) and Tripura West. We will put up candidates for both. Let my rivals and speculators know this", he observed.
It is a fact that before the Assembly elections, both sides – BJP and Left-Congress combined -- were keen on having TPM as a partner. After the formation of the BJP ministry in early March with Manik Saha as chief minister, speculation has persisted that BJP will be able to persuade Debbarma to be part of the BJP-Indigenous People's Front of Tripura (IPFT) alliance.
Knowledgeable quarters say the chief minister has kept three slots vacant to accommodate TPM. It was expected that the Centre would take some steps about the demand for a Greater Tipraland comprising the jurisdiction of the Tripura Tribal Areas Autonomous District Council (TTAADC) plus some 36 villages with a concentration of tribals but which are not part of TTAADC.
A few weeks back, the Union home ministry assigned the study of Debbarma's demand to senior officer AK Mishra, who looks after the Northeast in the ministry. But, as Mishra suddenly had to attend to the Manipur crisis, he could not take up the greater Tipraland issue. The TPM chief has no grudge about this delay; he is hopeful since the notification has been issued, it will be remitted to the interlocutor before long.
But he has other grievances against the state BJP government. Elections to the 587 tribal village committees have been pending for over a year, despite Tripura High Court's orders, while disposing of a PIL, to hold the elections in November 2022.
Functionally akin to gram panchayats, in the absence of fresh elections, these committees cannot do anything worthwhile for the welfare of the rural people, and there is no word from the government on what is holding up the electoral exercise.
"The government is flouting the high court's order; this is surprising," TPM's president Bijay Hrangkhwal told NewsClick
The government's tardy release of funds for TTAADC has also annoyed Debbarma. The administration does not realise that the council cannot take up development programmes without the regular release of funds.
Is this part of BJP's tactics to pressure Debbarma to join hands with it and impart stability to the ministry? The February 16 Assembly election result did not provide BJP with the comfort it had looked for, although it succeeded in forming the ministry practically on its own. The number of seats bagged in 2023 was (figures in brackets are for 2018): BJP 32 (36), TPM 13 (0), CPI(M) 11 (16), Congress 3 (0) and BJP ally IPFT 1 (8).
With Bhowmik opting for the New Delhi assignment, BJP currently has 31 MLAs and the ally's one. Thus, its Assembly strength counts to 32, which is not comforting. Therefore, with TPM, it can have 45 MLAs in the 60-member House. The result of the by-election will then not be that material.
Given the stance of the TPM supremo, will BJP try to engineer defections? Asked about this, Debbarma suggested that BJP won't dare try that tactic with him. And then, he significantly remarked, "Know it for certain, tribals in the Northeast do not like BJP." Also, Tripura BJP has internal problems.
Asked whether he was hinting at Biplab Deb, Tripura's first BJP chief minister, who was told by the BJP HQs to vacate the post some six months before the Assembly election, the royal scion quipped, "Make an intelligent guess; you get it."
[State BJP leaders do not hide that Deb is a disgruntled element. He was sent to Rajya Sabha and made pravari of Haryana. He thinks the party tasted its maiden success primarily because of his hard work as state BJP chief. He was unjustly shifted out. He reportedly has the support of some MLAs].
Tripura Left Front convener Narayan Kar said deterioration in the law and order situation was hampering the work. Regarding the likely moves of Debbarma, Kar noted it is difficult to predict what he would do.
"The way he flayed BJP in his campaigns made us somewhat optimistic he might consider our offer of an alliance favourably. But our calculation went awry. He was able to split the anti-BJP vote to TPM's advantage. That's what we saw", the Left Front convener told NewsClick.
State committee member and ex-CPI(M) MLA Anjan Das said, "We were pretty certain that the Left Front-Congress would win the required seats. We could see large sections of voters preferring a change, and our tie-up was getting recognised as an alternative. TPM chief's sustained anti-BJP propaganda made us look to him for support. But the split in the anti-BJP votes he could cause benefitted BJP and his party. In several places, with narrow margins, BJP candidates registered victory. His decision to look beyond the ST seats and field candidates in 22 unreserved constituencies too may have contributed to the results that surprised us."
The government is yet to settle down to the tasks that have been prioritised. Signs of distress in certain pockets have come to light of late. Because of the severe drought, jhoom cultivation has not been possible in recent weeks.
"We have reports of some very low-income families pledging their ration cards for cash to buy essentials. The number of workdays under the 100-day job scheme remains well below demand from card-holding families," the CPI(M) leader observed.
Asked whether the state administration has set about the tasks it has prioritised, state BJP present Rajib Bhattacharjee said the new ministry is in office for just three months.
"Still, the chief minister has since firmed up the calendar for target-based implementation of key programmes mentioned in the party's sankalp patra. To maintain law and order in the crime-prone areas, the chief minister recently formed a task force for special attention to the identified crime spots," Bhattacharjee told NewsClick.
The writer is a Kolkata-based senior freelance journalist.
Get the latest reports & analysis with people's perspective on Protests, movements & deep analytical videos, discussions of the current affairs in your Telegram app. Subscribe to NewsClick's Telegram channel & get Real-Time updates on stories, as they get published on our website.
Subscribe Newsclick On Telegram