Tughlakabad Demolition Leaves a Debris of Dying Hope and Shattered Dreams
Around 2,50,000 people have been rendered homeless after the Centre decided to raze 'illegal' construction at Tughlakabad village in the Capital.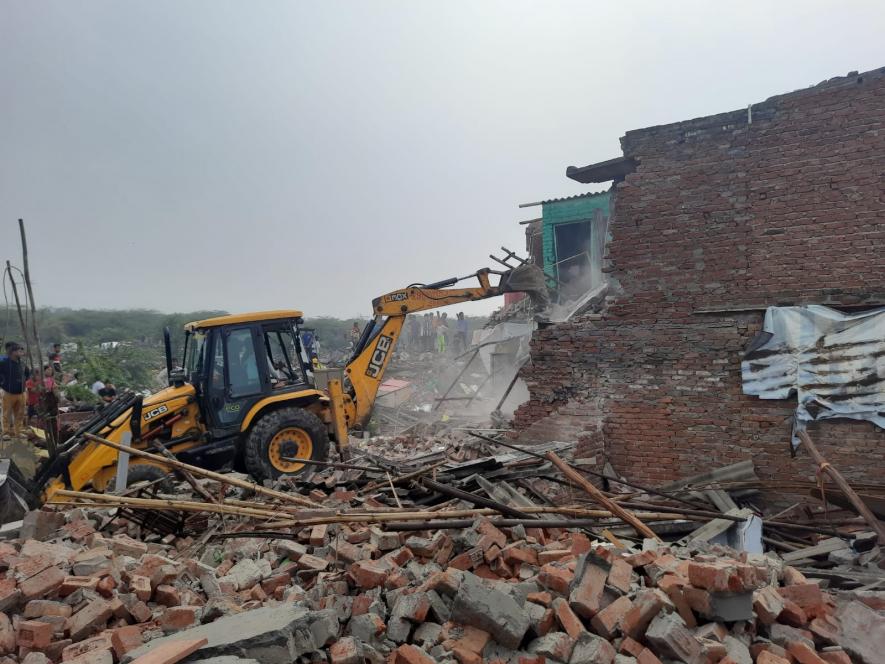 A house being demolished while people stare at the loss of each other.
New Delhi: As one enters Durga Mata Mandir Road, it's full of barricades and unusual police presence. The unprecedented rains add their bit of misery to the huge landscape of debris that once used to be home to thousands of people living in Tughlakabad village in South Delhi.
One can see people crying, some trying to save all the stuff that they can, children saving themselves from the lashing rain by taking shelter wherever they can. It was a sight that made the dark clouds over Delhi seem darker in Tughlakabad village.
A walk amid bricks and broken pieces of temporary roofs brought forth a picture of the pitiable state of homelessness that these citizens of the National Capital were in. Senior citizens sat huddled, wrapped in plastics and banners, saving themselves from the pouring rain. Once a densely populated settlement, the area seemed hit by an earthquake. Just that this one was a State-sponsored one.
The demolition in Tughlakabad is not new. In January 2023, the ASI (Archaeological Survey of India) had declared that construction in the area was illegal and that it was an archaeological site. Initially, the residents were asked to vacate the area by January 26. But later, the judiciary gave them temporary relief with a stay on the demolition order. However, this did not last long, and within a span of three months, on April 26, a notice came the citizen's way declaring that all the houses in the area would be razed within four weeks.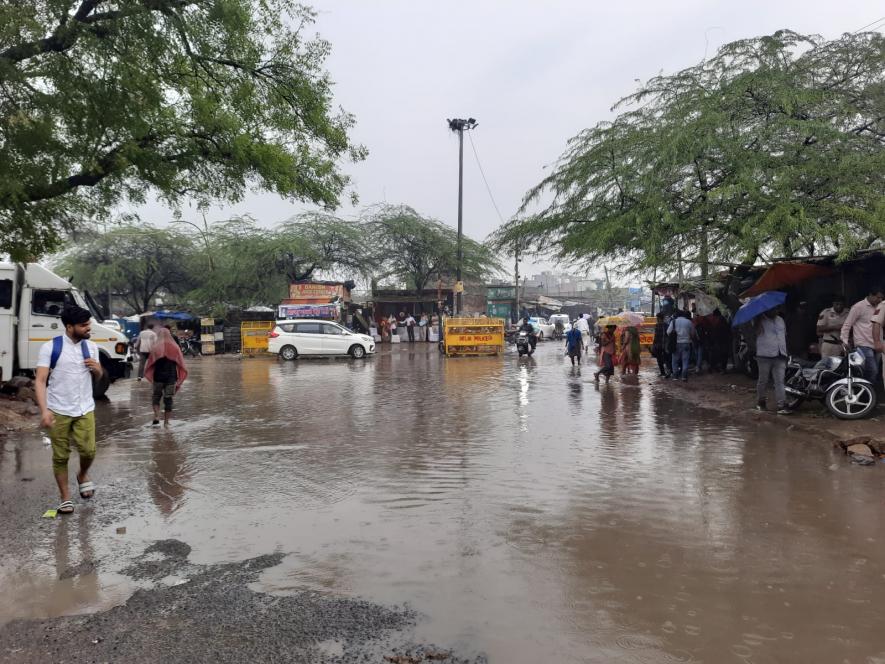 As one entered the village area, a huge puddle of water and the presence of barricades and police personnel could be seen
"We thought we had four weeks' time to find ourselves a shelter, but this happened not even a week into the time period given. They did not want the court to act or us to unite, which is why they bulldozed our houses before we could even act or cry for help," said a resident. Earlier, when the ASI had issued a notice, people had united and protested at Delhi's Jantar Mantar for a long time until the Courts came to their rescue.
The people here do not deny that construction of their houses is illegal. They accept they did not have a registry of their homes. But their sole question is, where were the government authorities when the settlement was taking shape around six years ago. Most of the residents here were earlier living in small rented households. They belong to the working class, some have service jobs, but others run their house on daily wages. They have Aadhar cards and pay water and electricity bills.
'Couldn't save belongings, had to sleep in the jungle'
Right behind the settlement is a small jungle. Due to the loss of shelter, the uprooted residents had no option but to move to the jungle for a few nights. Mothers took bedsheets and plastic bags to protect their small children from the unseasonal rains.
Momina, 40, was among those who took refuge in the jungle. Wrapped in a plastic sheet, sitting under the small shelter where she had kept all her retrieved belongings, Momina was shivering and cursing the government for the situation she was in.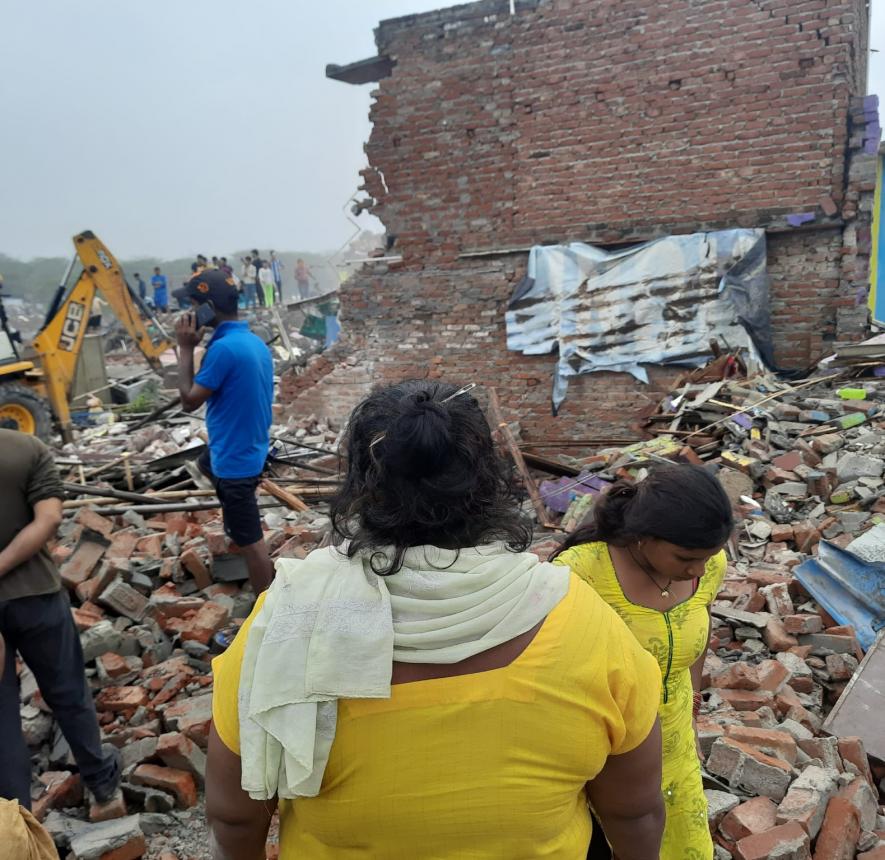 A resident as she saw her house get demolished
"Where else do we go? You tell us? We were in the middle of nowhere, and had lost the only shelter we had. Our situation is such that there are no other relatives here either. Today, I have somehow convinced neighbours on the other side of the road to keep my kids as they are not well, as one of them has a fever. But how many days will anyone do that?" she said.
As this reporter walked through the broken pieces of bricks unaware of what lay beneath, an old lady shouted from her tent some distance away, cautioning of a deep well there. "This was my house. I, along with my husband, lived here," said the woman, who too was shivering as the temperature had dropped after the rains. Her only asset now was a charpoy, a broken cooler and some pieces of bricks from her house that she was using to prevent the tent from blowing away. She started crying while describing what part of her house had what goods, and where the furniture was placed. "Sab barbaad ho gya beta. Hum sadak pe aa gaye (we have lost everything, we are now living on the streets)," she said in tears. 
Beside the old lady's house, a father (a senior citizen) and daughter, in her 20s, were sitting. The family had recently invested in renovating their house and was now collecting shattered pieces to build a shelter. The duo was not even crying. Their faces were pale and their bodies seemed numb. Even as cameras tried to capture them, they hardly paid attention, and kept looking at the ground and building some kind of shelter with two beds and a charpoy.
Those who could afford to, have taken up small houses on rent, while some have gone back to their native places in West Bengal or Bihar. The whole village in Tughlakabad seemed numb and the all-pervading silence after the demolition depicted the helplessness that people felt.
 
'No place to call home' 
Since most of the people in the area belonged to the working class, they had invested all that they had in these houses. Most of them were daily wagers who had come to the Capital city in search of a better life.
Two brothers, Ramesh and Suresh from Motihari in Bihar, said they had invested all their income into building a home. Younger brother Suresh lay on top of a broken pile of bricks, staring into nothing. One could hear people fighting, arguing, carrying their belongings, but Suresh just lay there.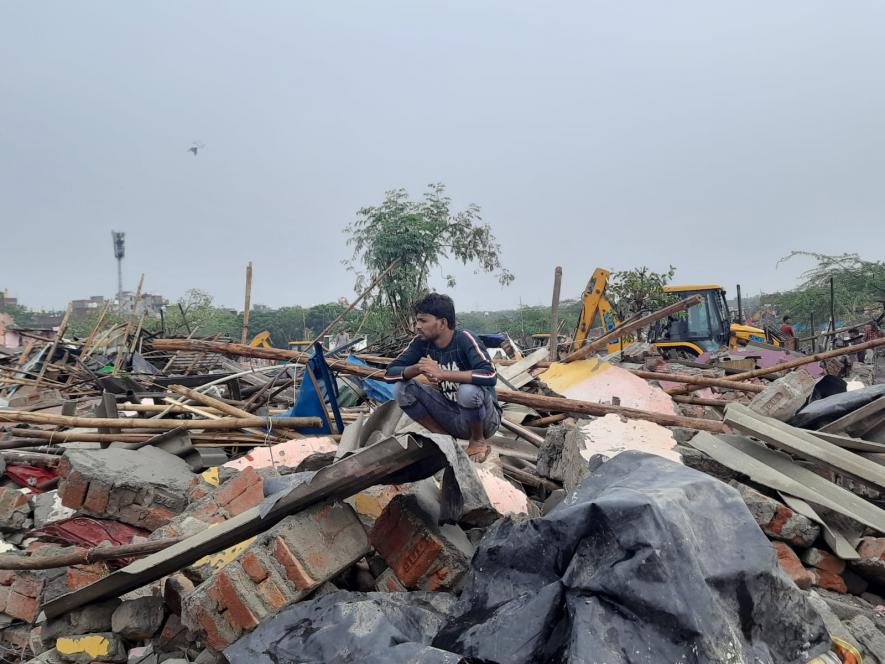 Suresh, the younger sibling sitting on top of all the debris and staring into nothing
The brothers lost their father in 2012, after which they had to quit studying and start running the family. When their financial condition worsened bit by bit, the brothers sold off their ancestral land in the village, sold their mother's jewellery and built this house. "The only reason why we built this house was to have something of our own, some place we could call home. In this city where we have no one but each other and our mother. We really needed this place," said Ramesh. 
They said they had paid off the dealer and police authorities while building the house, but the dealers are nowhere to be seen now, and those very uniformed people were the ones supervising their houses being razed.
"I do not know where our life will go from here. Rent is too high and the only savings we had was in cash that we saved from each of our earnings. It is all buried down there. They did not even give us time to take our belongings out. Also, our new refrigerator was stolen last evening," said Ramesh.
Pramila, who works as a house-help, is from West Bengal. She was living with her husband and two children.  With everything gone, the family is now struggling for food and water. She said she is going around looking for a house since her kids are toddlers and she cannot do without a proper shelter. When asked if she would be willing to go back to her hometown, she said there was no one there, as all her relatives had migrated to different states. 
Sudden hike in rents and theft 
As the two brothers were narrating how their fridge was stolen the previous night after the demolition, other residents started gathering and telling this reporter how their belongings had also started vanishing from where they had kept them.
"Once it's dark, we are compelled to move to a different spot, that's when the thieves come to loot us. For two continuous nights, all of us here have lost something or the other, and we could not even protect our belongings since they were dangerous and had knives on them," said a displaced resident. 
As this reporter moved further into debris, a boy was rummaging into a broken house's debris and taking out all that he could. A woman could be heard saying, "Hey, this is my house and the knife you have in your pocket is mine too, give it back."  One could see many others carrying sacks full of stuff they had collected from the area.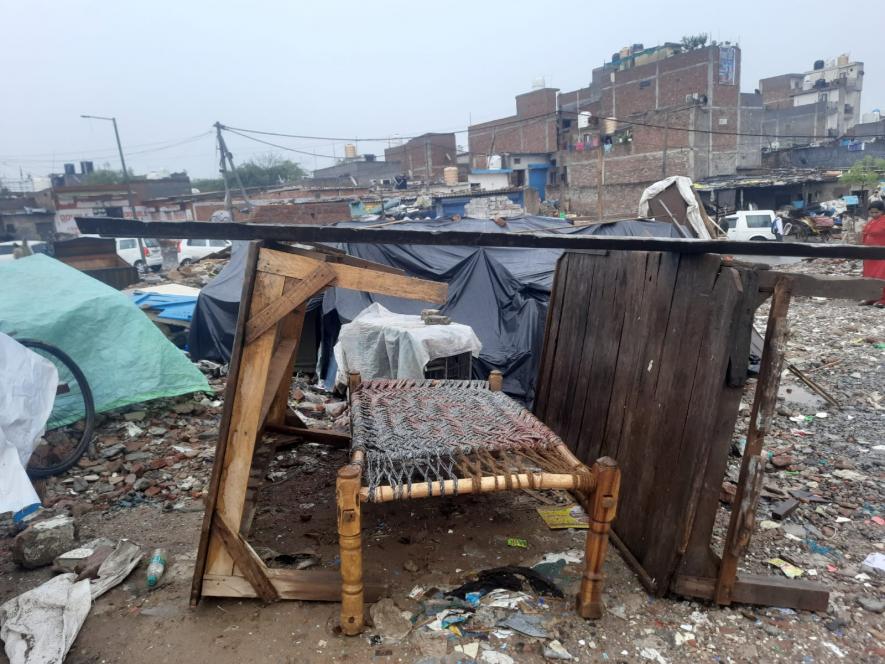 The temporary shelter the father and daughter built from the broken pieces and leftover belongings of their house
The displaced people also said that one big reason why they were not being able to find a home for themselves was the sudden hike in rents in the area. The rent of a tiny one room-kitchen home, which, earlier used to cost Rs 2,000/month, had double to Rs 4,000. "The landlords on the other side of the road, the ones whose houses have not been broken, are taking advantage of our plight," said a resident.
Brokers had also jacked up their charges. Most of the nearby houses are not vacant, and the ones that are, have specific terms and conditions. "A few landlords denied me a house because I have three kids. They say they will not allow a family of more than 4 members. What kind of rule is this? If we are paying the rent, why should anyone have a problem?" said a Bengali woman with four children.
The resdients said that on April 26, the local MLA, Sahi Pehelwan, of the AAP (Aam Aadmi Party) had reached out to them and assured them that their houses will not be demolished until they are given proper shelter. The MLA also promised food and water needs would be taken care of. But, none of the government representatives are to be seen now, they said.
Get the latest reports & analysis with people's perspective on Protests, movements & deep analytical videos, discussions of the current affairs in your Telegram app. Subscribe to NewsClick's Telegram channel & get Real-Time updates on stories, as they get published on our website.
Subscribe Newsclick On Telegram