Udaipur, Amaravati Killings Stir Deep Turmoil in Muslim Community
Observers of Indian politics and society repose faith in institutions, but the hard facts give pause.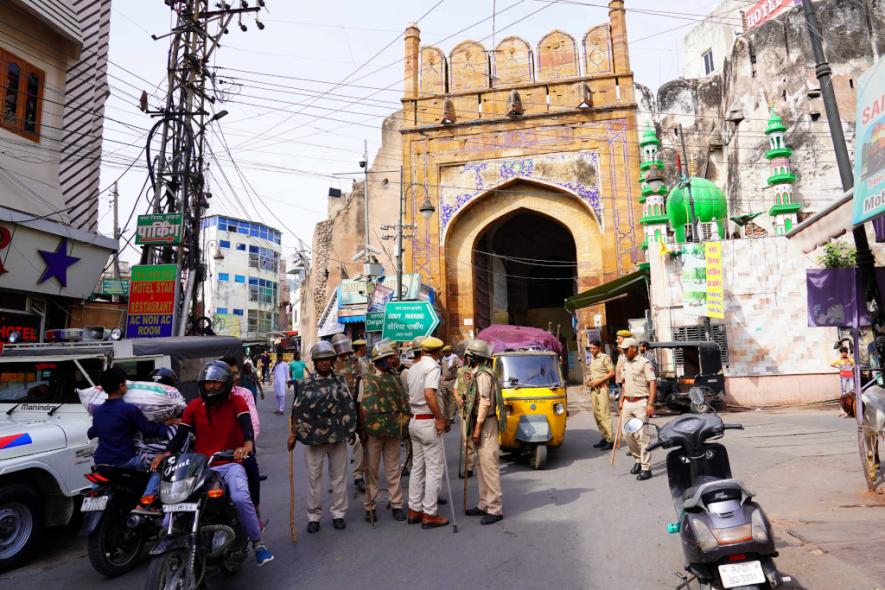 Ajmer, June 29: Police personnel patrol the area to maintain law and order in the wake of the killing of Kanhaiya Lal in Udaipur, Rajasthan. (ANI Photo)
There is a sense of disquiet among educated Muslims, and in intellectual circles in general, ever since Muslim assailants killed two Hindus, a tailor in Udaipur and a chemist in Amaravati. The killings avowedly took place because the victims supported Nupur Sharma, a Bharatiya Janata Party spokesperson suspended for her controversial remarks about the Prophet. Some say there is a chance these two murders were aberrations—but rue that this chance is very dim. There is anguish as people absorb the implications of the killings, which they feel could mark the beginning of radicalism. At least, they fear, the incidents forewarn reactions to Hindutva of the sort they never would condone.
"Nobody will remember our warnings," says Mohammad Adeeb, a former Member of Parliament. To him, as shocking as these killings is the refusal of the ruling party and its supporters to accept that there exists a segment of Muslims in India who would not weigh the consequences of their actions on the community—and the country. This very foreboding had prompted Adeeb to launch his new outfit, Indian Muslims for Civil Rights. Through it, he wants Muslim thinkers and members of the educated middle class to brainstorm ways to short-circuit India's growing communal polarisation.
In its first meeting earlier this year, 600 Muslims arrived in the capital city to discuss democratic solutions to bridge the Hindu-Muslim divide and stop egregious attacks against Muslims. But while they talked of staging protests and holding meetings to promote amity—some suggested courting arrest to protest oppressive State tactics—the media ignored them. "Our idea is that Muslims should fight for civil rights, not masjid and Allah. But TV channels go only where the dadhi-topi waaley [overtly religious] Muslims collect, to widen the communal divide," he says.
What troubles observers after Udaipur and Amaravati is their own growing doubt about whether India's inherent pluralism can turn the tide against communal and majoritarian forces. When they examine the import of recent events, they say they end up drawing the grimmer conclusion that there will be more militant reactions. "What did we expect?" says Prof Mohammad Sajjad, who teaches modern Indian history at Aligarh Muslim University. Recalling the violence in December 1992 and January 1993 in Bombay [now Mumbai] after the demolition of the Babri mosque, he says, "Even then, some had thought the cycle of violence would stop after the fury was 'avenged'. But that did not happen."
It's not just the violence that is worrying. To Sajjad, the State can use its power not just to dispense justice and punishment but pick winners and losers in inter-community disputes. Then the choices it makes would determine whether communities are left nursing grouses or ready to prepare the ground for peaceful coexistence. "To a very large extent," Sajjad reasons, "If the State and judiciary remain non-partisan, there will be hope."
So India has only two options, either embracing diversity and multiculturalism and returning to politics-as-usual—or going the Israel way. The latter could well mean living under the constant threat of militancy, with a section of society perpetually alienated. Such a situation is difficult to control in India because of its enormous geographical and population size.
In his recent book, 'Modi's India: Hindu Nationalism and the Rise of Ethnic Democracy,' French political scientist Christophe Jaffrelot illustrates through his encounters with members of Hindutva groups, particularly the Bajrang Dal, that India has adopted the conditions of a "de facto ethnic democracy". He writes that the "Indian variant of ethnic democracy—a notion that came to the social sciences out of the Israeli melting pot of the 'Jewish state'—is both informed by the promotion of a Hindu definition of the nation in opposition to the secularism enshrined in the 1950s Constitution... and by its opposition to the Christian and (more especially) Muslim minorities." In such a regime, he writes, the majority "lays down the law owing to its legitimacy and the fact that the law of the state can no longer do very much to counter this dynamic".
This description would be familiar to any observer of Indian politics, and the killings in Udaipur and Amaravati further complicate the situation. "If the problem is communalism, and the solution is secularism, then Muslims cannot but work to strengthen its opposite—they have to work to make the secular forces stronger," Sajjad says. That is, even within the dynamics Jaffrelot and others cite, Muslim bigotry cannot pragmatically compete with majoritarian bigotry. "Muslims cannot afford it—they will have to find another way," Sajjad says.
But what are these other ways and options?
Prof Zaheer Ali, who taught history in Mumbai, is reluctant to proclaim "reaction" as the reason for the two recent attacks. "Everybody knows the Muslims are passing through a difficult period. But to call the killings a reaction would sound like justifying a heinous crime by saying there are injustices in society," he says.
Besides, "reaction" would entail chronicling the devastation of the social fabric over a much wider square yardage than in two towns. After all, a sizeable section of Hindu society has radicalised, regularly seen carrying out street-level violence against minorities and Dalits. Ali points out that it took the RSS a hundred years of 'work' across the country to bring virtually every section of the educated middle-class Hindu society to support its ideas. "Now, it's not just Hindutva radicals; even well-off Hindus in smaller cities see nothing wrong in the policies of the RSS and BJP," says he. In the name of defending Hinduism, the wealthy and educated members of the dominant community have supported anything—lynchings and legal harassment, allegations of assorted jihads against Muslims, and a dispensation that leaves the person who made offensive statements free while those exposing fake news are pushed behind bars. Even a Hindu who helps Muslims, as Teesta Setalvad does, finds prison doors open for them. "My heart goes out to those Hindu brothers who are called desh drohi for supporting the cause of Muslim emancipation," Adeeb says.
Former sociology professor at Guru Nanak Dev University in Amritsar Paramjit Singh Judge says India "should be prepared for the worst". For the Udaipur and Amaravati killings have only two interpretations: either they were isolated actions of motivated persons or part of a design. "Generally, what starts as individual action can later become more widespread," he says, "but our policymakers are completely unabashed. If these social conflicts keep growing, India's economy will not progress either and the consequences will be severe." The other fault-line in this terrain has historical precedent. "Every event is unique, but there are also old tricks of absolutist states," Judge reminds, recollecting the history of the 1933 Reichstag fire, which was blamed in communists in Nazi Germany but soon after exposed as a set-up.
To cite an instance closer home, the Congress party and the Akali Dal played with Punjab in the 1980s, both motivated by the belief they could handle Sikh radicalism. Yet, from 1985 to 1991, Punjab spun out of control with violence. To be sure, the Muslims are very different from the Sikhs of Punjab, not just spatially spread across the country but culturally diverse. "But the BJP paints Muslims as monolithic. It labels them as homogenous so as to bulldoze them, and when that happens, there will be reactions. People fight back, maybe even by invoking a glorious past, with which they had nothing to do!" Judge says.
Between the optimism of the pluralists and strict rationality of evaluating events, the worries of the educated Muslims are compounding. They cannot help but wonder what kind of events could unfold in the future, though the broad consensus is that the ruling party will reap electoral benefits from most possibilities they can imagine. "Elections are the biggest truth in Indian democracy today," Adeeb laments, remembering a 1990 meeting with then prime minister VP Singh, which had portends for the present situation too. Singh had asked Adeeb what he thought of post-Emergency India. Those days, LK Advani was on his rath yatra, exhorting Hindus to chant 'Garv se bolo hum Hindu hain' (say with pride you are Hindu), while Muslims were building mosque after mosque. "I told VP Singh that what I saw painted a frightening picture of tomorrow," he says.
But there were warnings then, and there are warnings today. For now, the two killings in two cities are manifestations of a community in deep turmoil.
Get the latest reports & analysis with people's perspective on Protests, movements & deep analytical videos, discussions of the current affairs in your Telegram app. Subscribe to NewsClick's Telegram channel & get Real-Time updates on stories, as they get published on our website.
Subscribe Newsclick On Telegram