UP's Double Engine: Going up or Down?
Some key economic indicators of Uttar Pradesh belie the claim that the Modi+Yogi 'double engine' governance model is good for the people.
A vivid picture of two engines pulling a train is often presented to describe those states with a Bharatiya Janata Party (BJP) government at the helm. One engine is, of course, the Narendra Modi-led BJP government at the Centre, and the other is the state government. This picture is mostly brought out during elections – as we are seeing in Uttar Pradesh (UP) where a high stakes Assembly election is due in a couple of months.
Leaving aside the troubling question why a different party at the state level would cause a disadvantage, let us look at some key economic aspects of UP. How has it performed in economic growth, industrialisation, management of state finances and also on key issues that directly affect the people, like wages, inflation and jobs? All data is from Reserve Bank of India.
Economic Growth Has Slumped
When Yogi Adityanath was anointed the UP chief minister after a BJP sweep in March 2017, the financial year 2016-17 had just ended with a healthy 11.4% growth in the Gross State Domestic Product (GSDP). Since then it has been downhill all the way, as shown in the chart below.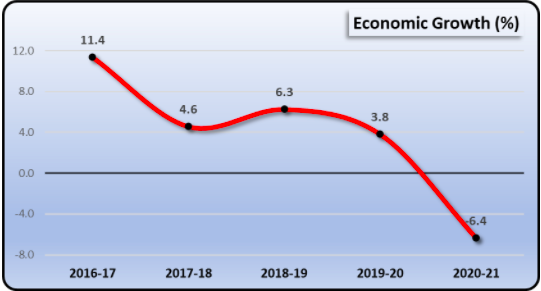 2020-21 is the pandemic year, so the decline in growth is expected although it is staggering at -6.4%. But even before that in 2019-20, UP's growth had dipped to 3.8%. Clearly, something was drastically misplaced in the economic policies of the 'double engine'. The reliance on corporate sector investments exhibited by the Modi government, and faithfully followed by Yogi in UP by holding Investor's Summits and privatisation of various services doesn't seem to have worked. But it is a lesson not learnt because more of the same is being promised by the BJP leaders in the coming days, if re-elected.
Glimpses of Deindustrialisation
Within the floundering economy of UP there is another dimension not being mentioned by the BJP propaganda machine. Between 2016-17 and 2020-21, the contribution of industry to the state's economy has dipped. [See chart below]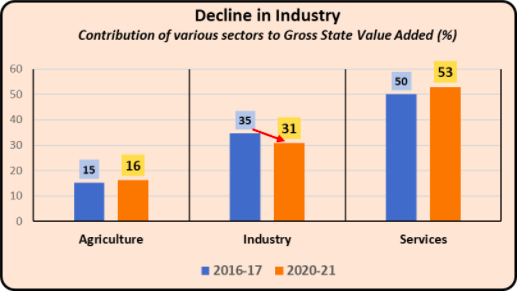 The share of industry to Gross State Value Added dipped from 35% to 31% in the period of double engine government. Agriculture increased by about one percentage point while services rose by three points.
This means that all the talk of massive investments – both domestic and foreign – flowing into the state has led to nothing. Neither has the claimed attention to small scale industry and 'One District, One Product' programme of encouraging traditional or other industries in different districts. It is small wonder that, with industry flagging, employment too has not grown sufficiently. People are either taking shelter in agriculture or continuing to work in informal sector, with meagre wages.
Burden of Debt Grows
The UP government's outstanding liabilities (debt) have shot up by a mind-boggling 40% under the double engine dispensation – from about Rs. 4.7 lakh crore in 2016-17 when Yogi took over to Rs.6.6 lakh crore in 2020-21. That's a huge jump of about 40%. This puts UP – under double engine governance – at the top, as the state with the highest debt. Nearly three-fourths of this debt is commercial, that is, owed to banks and financial institutions, with market rates of interest. In terms of the population of UP, estimated at about 23 crore in 2021, this works out to a debt of Rs.28,708 per person. [See chart below]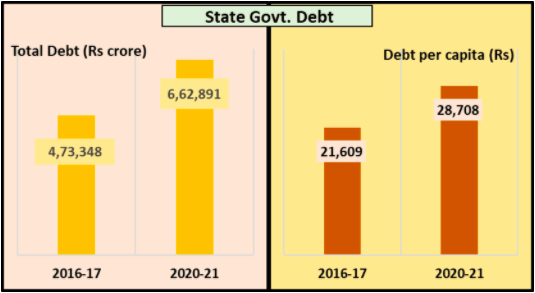 So, the double engine has only pushed the state into more debt, with nothing much to show in terms of advantages of borrowing so much money. In the past year, various sections of government employees from teachers to healthcare workers have been agitating for payment of their earned wages. The healthcare system and the schools are in a poor shape – they don't seem to have benefitted from all this money that the Yogi government has borrowed.
Price Rise in Unchecked
One of the most important aspects of the economic policies of the state for the people is prices of essential commodities in the market. Since 2017-18, with Yogi at the helm and 'double engine' working in full flow, average annual inflation rate (based on Consumer Price Index) rose from 2.4% to 6.1% in 2020-21. [See chart below]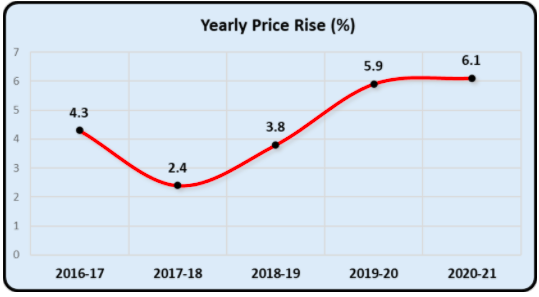 With new jobs not available and, existing ones paying poorly, unbridled inflation is destroying family budgets, forcing people to cut back on various essential spendings, including food items, education and consumer durables, etc.
Rural Wages Remain Low
The miserable plight of people can be seen from one single burning issue – wages of agricultural labourers. Average wage for male workers in 2021 in UP was Rs.274.5 per day. This is, of course, the officially declared rate and in reality, wages are usually less than this. Be that as it may, this rate is less than the average for India, which is Rs.309.9 per day.
In fact, UP wage rates are among the lowest in the country with only five major states having less. These are Bihar (Rs.272.6), Maharashtra (267.7), Odisha (Rs.255.6), Madhya Pradesh (Rs.217.6) and Gujarat (Rs.213.1). UP has the country's highest number of agricultural workers estimated at about 1.99 crore in Census 2011.
Failure of Double Engine
This was a snapshot of the UP government's economic performance. It represents the complete failure of the 'double engine' model of governance. The slogan is mere hogwash because if there is a double engine that pulls everybody downwards then it is of no use. The reason is that both engines are practicing a theory of unfettered privatisation, withdrawal of welfare spending, concessions to corporates and myopic economic policies.
What is needed is increased public spending on welfare measures, for example, on expanding the public distribution system or strengthening of healthcare system, job creation through public investment in industry, better prices to farmers, higher wages to workers, etc. Yogi and Modi both do not have this vision – hence the failure of the double engine. In the coming elections, this erroneous vision which is the cause of so much economic misery will be put to test by the people.
Get the latest reports & analysis with people's perspective on Protests, movements & deep analytical videos, discussions of the current affairs in your Telegram app. Subscribe to NewsClick's Telegram channel & get Real-Time updates on stories, as they get published on our website.
Subscribe Newsclick On Telegram