Gujarat Elections: Assertive Tribal Women Grill Candidates in Devgadhbaria
In a one-day interaction, price-rise and unemployment were key issues in the Assembly polls for women in the eastern part of the state.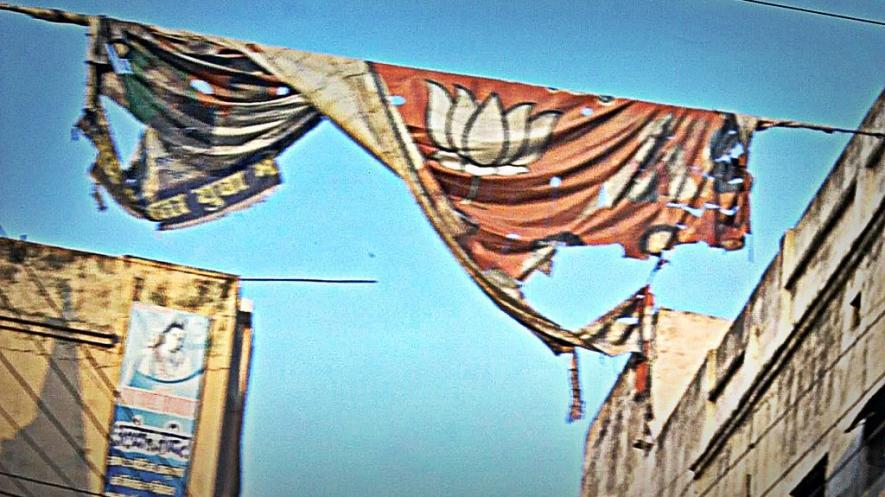 Representational image. | Image Courtesy: flicker
Women remain a marginalised factor in the ongoing Gujarat elections, with 38 women candidates fielded by the main three political parties, 17 from the Bharatiya Janata Party (BJP), 14 from the Congress and seven from the Aam Aadmi Party (AAP).
Of course, each of these parties is promising a long list of freebies to the 2.14 crore women voters from a total of 4.90 crore voters. The AAP has pledged to provide Rs 1,000 per month to every adult woman, 300 units of free electricity and a reversion to the old pension scheme. The Congress has gone a step further and offered free medical treatment up to Rs 10 lakh, Rs 25,000 to pregnant women, free electricity up to 300 units, LPG cylinders for poor women and complimentary bicycles and scooters for girl students.
The BJP finds itself in an awkward position. Prime Minister Narendra Modi had dismissed pre-election promises as "revadi culture", but now his Bharatiya Janata Party has offered pucca houses, free education for girls and two cylinders under the Ujjawala scheme.
But the tribal women of Devgadhbaria constituency, with a population of over three lakh, are no longer willing to buy mere assurances. Under the Devgadh Mahila Sangathan (DMS) banner, whose members are in 45 villages in the scenic Dahod district on the foothills of eastern Gujarat, these women have been schooled on legal rights and local self-governance.
That is how they could get the candidates from the main political parties and one independent contestant in the forthcoming Assembly election to explain their electoral promises to them.
Having emerged as a strong pressure group, these women insisted the candidates participate in a day-long interaction on November 24. Three to four women selected from these 45 villages questioned each candidate on their plans if elected.
The sitting MLA, BJP's Bachubhai Khabad, was subjected to some tough interrogation about his and his party's performance in the last five years. He faced volleys of questions regarding shortfalls in delivering health services, free rations and police inaction in solving rising violence against women.
Bachubhai Khabad, standing for re-election from this constituency, won a landslide victory in the 2017 election. He was hardly prepared for such intense questioning.
Guliben Nayak, president of the DMS, fired the first salvo against him when she demanded to know how khap panchayat-like structures were functioning in villages. People have been levying heavy fines of up to Rs 3 lakh on young boys and girls (often from the same communities) who had decided to marry of their own choice. Taboos against love marriages have become a growing part of tribal culture, where conservative views were not the traditional currency. The result is that many community elders are forcing young couples to pay hefty fines for their "loose" behaviour.
Nita Hardikar, a founding member and director of ANANDI, who has been working in this region for over two decades, said: "Young people are being forced to drop out of education and start a life as labourers to pay these heavy fines which are completely illegal. Many of these girls get auctioned as their families are threatened with a backlash if they dare speak out."
In May 2019, one such auction was halted when a contingent of tribal women assisted by a posse of police officers arrived at the auction site. The girl and her boyfriend had eloped. They were caught, thrashed, and community elders initiated a bidding process to punish the girl and recover the illegal proceeds.
Khabad voiced his agreement with the leaders of the DMS and said he would take all steps to ensure that the villagers do not ill-treat eloping couples.
Nayak said the police have failed to stem the growing violence against women, especially younger women. "The reason for this," she told a cheering assembly of over 150 women gathered for the interaction, was that the police were invariably "paid large sums of money, after which they failed to establish charges against the culprits."
AAP candidate Bharat Wakhala's replies reportedly seemed more reassuring to these women primarily because he is untested. But there is little doubt that AAP's active campaigning has made its presence in this region felt. It indeed forced Khabad to adopt a defensive stance.
The Nationalist Congress Party (NCP) candidate Gopsingh Lavaar, a former BJP worker who has switched sides, withdrew on the last day of filing nominations and went incommunicado. The "dal-badal" that marks politics reflects how Lavaar fought the previous Assembly election in 2017 against Khabad on a Congress ticket.
Inasben Kevadia, another woman leader, wanted to know why the rural job guarantee scheme MGNREGA  was underfunded and workers had to wait several weeks before they received their wages. Khabad strongly defended MGNREGA and insisted there was nothing wrong with its implementation. Nor was he willing to accept corruption in how wages are dispensed under the scheme.
When women insisted they were not getting the 180 days of work assured to them, Khabad insisted contrariwise. It was left to AAP's Wakhala to agree that corruption was rampant in the MGNREGA. Then he promised that if elected, he would take up the specific cases women bring to his attention to ensure they received their dues.
On seeing the applause that Wakhala's response evoked, Khabad tried to save face by saying MGNREGA was a central scheme whose funding had steadily declined. He agreed to take up the matter at the "highest level" and ensure no further delay in payments if he retains the seat.
But the biggest grouse voiced by several women, including Ramilal Rathwa, a grass-roots leader, was regarding the unavailability of health services at the primary health centres.
"There were no doctors available at the block level through the pandemic. The result was that many villagers died due to lack of treatment during that period," she said.
Nita Hardikar said that ANANDI and other NGOs stepped in two years ago to train volunteers to spread awareness about vaccination drives and preventive measures against COVID-19 and other infectious diseases. They had to do this because no government staff was manning the Primary Healthcare Centres.
Khabad's wishy-washy answers were along expected lines. He claimed the situation had improved as the government recruited many more doctors and nurses during and after the pandemic. According to him, many of these recruits work at the district level. But most women were unconvinced and unanimously insisted that health services be seriously upgraded.
Rathwa also raised issues regarding the lack of supplies in ration shops. "Each ration shop receives a certain quota, but because they do not give us bills for items sold, we are never sure about the quotas being fully utilised," she said.
Feeling cornered, Khabad agreed to hold meetings with individual shopkeepers in the presence of the women leaders after this election.
For women, price-rise and unemployment are important issues, and such interactions help them bring their travails to the notice of the political class. They believe it puts public representatives on the back foot and can thus help ensure winning candidates help them overcome their day-to-day problems. At least politicians in this district subjected themselves to this grilling, unlike their top leadership, who mostly refuse public and media interactions.
The day-long interaction in this tribal region shows the grit and determination of women. The 50% reservation for women in local bodies and panchayats has given them the confidence to tackle their day-to-day problems effectively. Unfortunately, the proportion of women candidates in the Assembly election remains between four and seven per cent.
Gujarat may have been one of the first states to bring women into politics over 103 years ago when Sardar Patel passed a resolution allowing women to contest elections in Ahmedabad in 1919. Yet the role of women in Gujarat's political sphere remains abysmal. These tribal women could well help future generations buck this trend.
The author is an independent journalist. The views are personal.
Get the latest reports & analysis with people's perspective on Protests, movements & deep analytical videos, discussions of the current affairs in your Telegram app. Subscribe to NewsClick's Telegram channel & get Real-Time updates on stories, as they get published on our website.
Subscribe Newsclick On Telegram