Uttarakhand to Splurge on Fifth Dham—With Army Welfare Funds
Preserve existing monuments to soldiers, say veterans, and let the fund take proper care of war widows.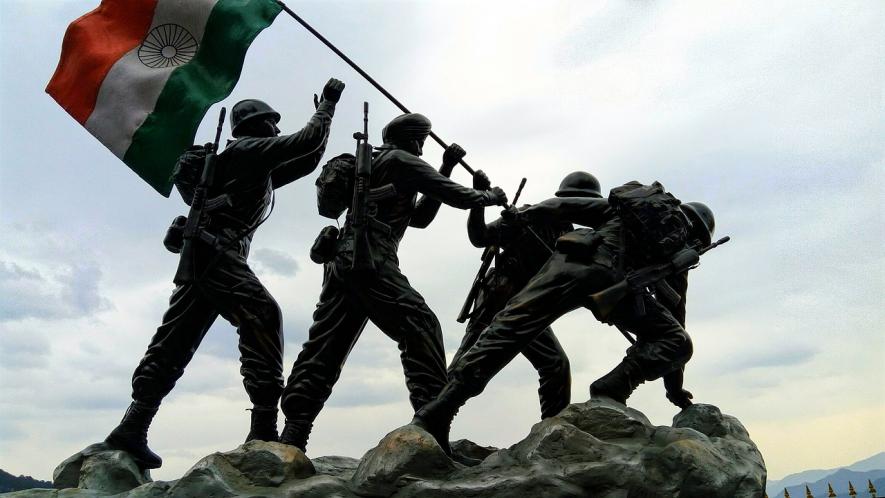 Representational Image. Image Courtesy: Pixabay
During an election rally in Rudrapur in April 2019, Prime Minister Narendra Modi said the hill state needs another dham or pilgrimage site. Uttarakhand bursts at its seams with nearly 50 lakh pilgrims visiting its four religious centres, Kedarnath, Badrinath, Gangotri and Yamunotri, every year. Somehow, the fact that tourist arrivals are almost half Uttarakhand's 1.1 crore population could not satisfy the Modi government's grandiose plans for the state. So, borrowing from the Hindi word sainik, which means soldier, the Prime Minister announced a "Sainya Dham", justifying it on the ground that every second household in Uttarakhand has someone in the army.
But the influential army community in Dehradun is incensed that the Army Welfare Fund is being used to construct this Sainya Dham. "From an initial allocation of Rs 58 crore, the allocation has been increased to Rs 98 crore. Why should the limited amount in the Army Welfare Fund, meant to rehabilitate war widows or servicemen disabled during operations, be utilised for such an extravagant project," asks Dehradun-based Col (Retd.) Vijay Duggal.
But Uttarakhand Chief Minister Pushkar Singh Dhami—and an inner circle led by Ganesh Joshi, the State Minister for Soldier Welfare and Agriculture—is determined to turn Modi's dream into reality. They shortlisted Guniyal, a village adjoining the capital city of Dehradun, to build this fifth dham. Dehradun district is where most of the ruling party's top brass live. It is where the ruling Bharatiya Janata Party (BJP) is executing the so-called Gujarat model, which means a relentless focus on Hindutva and nationalism until the 2024 Lok Sabha election.
Still, why they picked Guniyal village defies the imagination. This serene area comprises mountain ranges and creeks and is one of Dehradun's few green spaces. The Sainya Dham's two temples, auditorium, victory memorial and gallery (featuring soil from the homes of 1,734 deceased soldiers) will now be constructed here. "Will these temples be dedicated to these dead soldiers? If this government can dedicate temples to [Gandhi's assassin Nathuram] Godse, I suppose they can do the same here," he says.
An architect associated with the project who wanted to remain anonymous said the temples would be dedicated to two deceased soldiers named Harbhajan Singh and Jaswant Singh. The main gate will be named after Gen Bipin Rawat, the first Chief of Defence Staff, who died in a chopper crash in December 2021.
Once they picked a spot for the memorial, BJP leaders got down to doing what they are best at—drumming up publicity to show what ardent nationalists they are and their empathy for the Indian Army. BJP president JP Nadda kickstarted a Shahid Samman Yatra in December 2022, criss-crossing Uttarakhand's thirteen districts, collecting mitti [soil] from the aangan [courtyard] of the deceased soldiers' homes. Union Defence Minister Rajnath Singh subsequently laid the foundation stone.
Dehradun's large community of retired Army officers is shocked at the BJP's latest emotion-packed attempt to win over the populace, especially veterans like them. The district and capital city already have several war memorials. For example, the Shaurya Sthal at Cheer Bagh has the names of 1,400 soldiers who died on duty inscribed on seven pillars. "This monument was inaugurated on 13 January by Rajnath Singh. So why should the state government build yet another memorial," asks Major Gen (Retd) Rajendra Prakash, who finds the idea of collecting soil from soldiers' homes "ridiculous".
One of Dehradun's most touching war memorials is in a state of neglect, says a retired major who did not want to be named. "The British built it after World War 1 at Gandhi Park in the middle of Dehradun city. It is inscribed with poignant comments about the 97 local men who fought in the Great War and did not return alive. Why has the government failed to create a beautiful surrounding for this gem of a memorial?"
Says Duggal, "Why did the government not create a beautiful environment around one of our older war memorials? Even the one dedicated to the 97 men was demolished to make way for road construction and reconstructed in the ugliest possible manner."
Yet another memorial forgotten by the Modi and Dhami governments is the Lal Gate Memorial Arch at Nalapani in Dehradun, which commemorates the battle fought in 1814 between the British East India Company led by Gen. Rollo Gillespie and Gorkha soldiers led by Capt. Balbhadra Kunwar. "Instead of focusing on and improving these memorials, the Dhami government, inspired by Modi, is wasting crores on yet another memorial," says the retired major.
Environmentalists are extremely upset over the memorial coming up in a forested area. "They are levelling mountain ridges with JCBs and blocking rivulets to build space to park cars!" says Dehradun-based environmentalist Reenu Paul.
Moreover, the temples are coming up right on a cliff edge, meaning a massive retaining wall must come up to support their structures. These walls are bound to sag after a few years, which would let the organisers demand more money," she says, based on her long experience watching how construction projects go down in the fragile hill ecosystem.
Writer Madhu Gurung, married to Lt. Gen. (retired) Shakti Gurung, is shocked at the speed of construction, which is taking place near their home. "One of the most beautiful parts of the Doon Valley is being destroyed," she says.
She asks if building a memorial is the most suitable way to remember soldiers. "Would it not have been more appropriate to educate the children of these martyrs or train their wives to find employment and rebuild their lives," she says.
After sacrificing natural vegetation for this project, Minister Joshi recently announced plans to cover a rivulet and build a botanical and "flower garden" for an additional Rs 283 crore allocation.
The Centre has ostensibly allocated over Rs 1 lakh crore for Uttarakhand over five years, and Modi has boasted that the state will receive more tourists in ten years than in the previous 100 years without, of course, considering the carrying capacity of mountains.
The Uttarakhand government insists tourist inflows bring in significant revenues, but locals—those at the receiving end of these large numbers—want tourism regulated to remain viable.
Uttarakhand's veterans comprise a formidable political force and are numerically significant. They say around 1.7 lakh residents in the state are wives of deceased armed force personnel, and another 1.50 lakh are serving officers and soldiers. The idea of a fifth dham caters to this audience and will supposedly make up for the little work Dhami has done to develop the state sustainably. If even this fails, the BJP is probably sure that the Hindu-Muslim card will help them score on the electoral mathematics test.
The author is an independent journalist. The views are personal.
Get the latest reports & analysis with people's perspective on Protests, movements & deep analytical videos, discussions of the current affairs in your Telegram app. Subscribe to NewsClick's Telegram channel & get Real-Time updates on stories, as they get published on our website.
Subscribe Newsclick On Telegram