Vested Motives Behind Indian Football's Absurd 'One City One Team' Rule
While Sudeva FC's I-League entry is apt and deserving, sources claim a conscious effort is being made these days to keep new clubs away from the cities which already have Indian Super League (ISL) teams. The recently-minted rule thrown at the prospective club can only be seen as an attempt to monopolise Indian football, harming its future.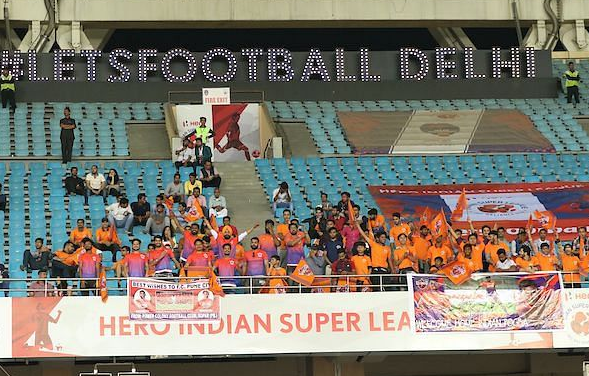 Sudeva will become the first Delhi club to become a part of the I-League from next season, and only the second team to take part in one of the top two tiers of Indian football since Delhi Dynamos' ill fated ISL stint in the city (pic).
The ancient city of Delhi now has a team of its own in the I-League. Finally. The Civil Lines-based Sudeva FC, run by a couple of unassuming but hugely dedicated young football enthusiasts, will figure in the second division league (or the parallel league should we say?) of Indian football in the upcoming season, wherever and whenever it is played.
One more team, Sreenidhi from Andhra Pradesh, will join the I-League from next year. It is easy to understand that they have been kept in reserve to fill the numbers in case a possible vacancy is created by East Bengal.
But back to Delhi. The long-lost football culture of the capital city would finally be restored, claim the propagators of neoliberalism in Indian football. One is inclined to accept the theory despite the uneasy experience around another team that camped in Delhi for five seasons.
Also Read | Delhi's Sudeva FC Enter I-League
Sudeva's selection was certainly apt and timely. They have been building up their squad and infrastructure judiciously for the past few seasons. When talking to them one can gauge they are looking for an upward journey and are truly determined to achieve the target.
Apart from fulfilling all football related criteria, there was another main [possibly main] reason which clinched the deal for the Delhi club. A member of the bid committee, formed by All India Football Federation (AIFF) to select the teams for I-League, said the "one city one team" rule received serious consideration while finalizing the 11th team for the I-League. 
He also said there was a conscious effort to pick a team from a city which doesn't boast an ISL or I-League club. He was correct since the tender notice on June 5 clearly said: "[sic] Bids are invited from prospective team owners in respect of cities like New Delhi, Ranchi, Jaipur, Jodhpur, Bhopal, Lucknow, Ahmedabad, among other similar cities." 
Now, what's the plot behind this "one city one team" emphasis? To spread the game in every nook and corner of the country, it is being touted. A noble idea, something that has dawned on Indian football's bosses a trifle late, may be in the last six years. 
The plan was certainly not in place when a new league (the Indian Super League) was launched in 2014; cities which had established clubs in the I-League were not spared while launching new teams in Kolkata, Mumbai or Goa. 
Did anyone mind that in 2014? Or look upon it as an invasion into their space? Not really. Because fierce rivalries between clubs from the same city is an integral part of football culture all over the world. Even neoliberalism stands for and welcomes open competition; unless of course the attempt is to establish a monopoly to cover up for failures -- personal as well as that of the system.
Sources claim a conscious effort is being made these days to keep new clubs away from the cities which already have ISL franchise teams. A club from Bengaluru, it is believed, were interested in bidding for an I-League berth but were told to choose another city in Karnataka as their base. They felt discouraged, naturally, and kept away. 
Also Read | Indian Football Team to Remain on Ice as FIFA Postpones 2022 World Cup Qualifiers
It wasn't a case of Bengaluru alone. Even in Hyderabad, a certain club decided to move to Visakhapatnam as they felt it would enhance their chances.
Nothing is impossible in Indian football these days since it is being governed with an altogether different level of benefit in mind. How a particular wealthy Mumbai businessman was stopped from raising an I-League team from the city last season is now the worst kept secret of Indian football. The plan to form a squad was discarded even after trials were called. For the good of football, again!
The "one city one team" theory defies even the biggest selling point of Indian football – Mohun Bagan versus East Bengal. There are other examples, too, though not of the same scale. Rivalries like Mafatlal vs Tatas, Mahindras vs Air India, Salgaocar vs Dempo or for that matter ITI vs CIL played a big role in developing football in their respective states. 
The game plan could be to protect a privileged few, plotted by a bunch of people, who, allegedly (a word to be used for the sake of it, though), run the affairs of Indian football with a remote button from the west coast. Their big plans have fallen flat in places like Delhi, Pune and Hyderabad. More than once. Now, all efforts should be made to stop the list getting longer. 
Also Read | Over a Third of Elite Sportswomen In UK Face Online Abuse
Sudeva's inclusion was, of course, a formality. The bid committee meeting was rendered meaningless even before they could meet for the second time in a couple of weeks. The AIFF president Praful Patel had already jumped the gun and announced in a public function that a team from Delhi would be included. Since out of the three applicants only Sudeva were from Delhi, it was safely assumed that they would get the nod of the federation. 
With an I-League berth safely in pocket, Sudeva have a mountain to climb. Apart from raising a competitive side, their chief task would be to bring back the support base, something local Delhi teams moderately enjoyed till recently. 
Sadly, while launching the franchise league, a complete bunch of outsiders were installed as a "local" team. The experiment was a complete flop. After five fruitless seasons and a change of ownership in between, they finally packed their bags in search of seemingly greener pastures in Bhubaneswar.
This season, Sudeva won't get a chance to strengthen their support base since the I-League is set to be a one-venue tournament with Delhi unlikely to be the venue. But once normalcy returns post the Covid-19 crisis, the effort of the local association should be to encourage raising of more teams of equal footing. It will help create a larger fan base, not the other way round. 
Also Read | Tokyo 2020: The Wait Begins Now, For a Better Games
Multiple teams from a city is always the welcome sign – the world otherwise would have missed the fun of watching Real Madrid vs Atletico Madrid, Inter vs AC Milan or Manchester United vs Manchester City. That the city of Kolkata would go without a Mohun Bagan vs East Bengal encounter this season (thanks to some people's untiring efforts to take Indian football ahead!) is already giving fans sleepless nights. 
The problems here are too many. And mostly selfish. All efforts are to safeguard the interest of a certain tournament, a certain set of people. 
Get the latest reports & analysis with people's perspective on Protests, movements & deep analytical videos, discussions of the current affairs in your Telegram app. Subscribe to NewsClick's Telegram channel & get Real-Time updates on stories, as they get published on our website.
Subscribe Newsclick On Telegram