Victory for Trade Unions: Abolition of Contractual Engagement in Govt Jobs in Odisha and Rajasthan
The initiatives by Odisha and Rajasthan governments have prompted political leaders from other states to raise demands for similar action from their state governments.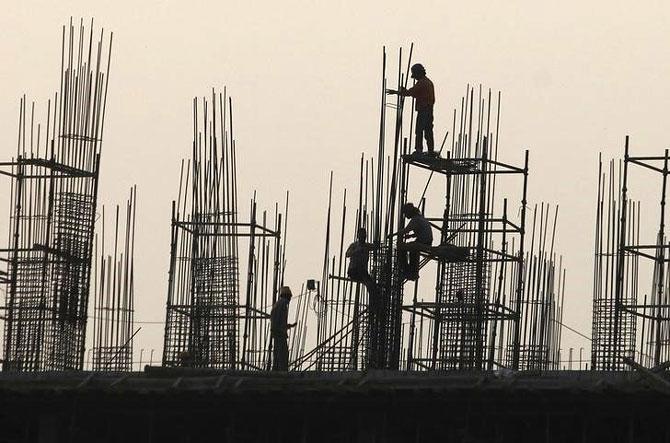 Image for representational purpose. Credit: Rediff.com
Kolkata: The recent decisions by two state governments – Odisha and Rajasthan – abolishing contractual engagement of people for government jobs have come as a morale booster for trade unions. The unions have been agitating for several years demanding contract workers' regularisation. The General Administration and Public Grievance department of the Odisha government issued the notification on October 16, following up on Chief Minister Naveen Patnaik's announcement the previous day. Rajasthan CM Ashok Gehlot approved the regularisation proposal on October 22.
Odisha state CITU secretary Bishnu Mohanty told NewsClick that it was a bad move on the part of the state government to introduce contract jobs in government departments on November 12, 2013. "Continuing a sustained struggle against the move, we held a massive demonstration in Bhubaneswar on September 11 and, in a sense, that was the clincher for us," Mohanty added.
The BJD government's decision would benefit 57,000 persons while the move in Rajasthan would stand an estimated 1.1 lakh persons in good stead, including over 40,000 persons in the Education Department alone.
A close examination of developments culminating in the decision to repeal the contract labour engagement notification by the Patnaik ministry suggests that aiding the struggle of trade unions on this issue were some crucial court orders/observations pulling up the Odisha government for engaging people on a contract basis for government department jobs. For example, in November 2021, a single-judge bench of B R Sarangi had said that it is easy to utilise outsourcing agencies for the supply of manpower and pay them paltry sums of money for extracting work similar to jobs done by regular employees. A government is a model employer; it should not do that. No doubt, technology has its own place in growth but that cannot mean that the government will not create jobs. Getting people from service providers citing financial crunch cannot be the way, Justice Sarangi contended then.
The Rajasthan Contractual Hiring to Civil Post Rules 2022 will ensure transparency and provide for reservation. In the future, contractual workers completing five years of work will get confirmation if the posts are regularised. They can be made permanent after a screening process. Gehlot claimed that this marks a step to provide social security and pointed out there are examples of states not bothering to increase the honorarium.
Interestingly, the initiatives of Odisha and Rajasthan have prompted political leaders to raise demands for similar action by their state governments. An instance is Pattali Makkal Katchi president Anbumani Ramadoss's demand in Tamil Nadu to abolish contract appointments in government departments and set an example of social justice.
The trade union leaders NewsClick spoke to said an opportunity had come their way to step up the agitation in states where contract appointment for government jobs is rampant. A glaring example, according to Ashok Ghosh, president of the Revolutionary Socialist Party-arm United Trades Union Congress, is West Bengal where contract appointment has become the order of the day in the Trinamool Congress regime. Ghosh cited a notification issued on October 18 by the Public Health Engineering Department, the very first sentence of which acknowledges that pump operators and valve operators "are employed as contract labour" through contractors for piped water supply schemes. The notification speaks of the department's decision to accede to the demand for extending the benefits of ESI and EPF, subject to contractors abiding by the stipulations laid down.
In West Bengal, a range of services including teaching is provided by people outsourced on contractual terms. Over a lakh of civil volunteers who, among others, provide assistance to traffic police are all engaged on a contract basis. It all picked up pace in 2014 when the TMC regime was in its first term. In an order dated August 1 that year, Hari Krishna Dwivedi, then finance secretary and now chief secretary, said that after the expiry of the contract of an employee, fresh contract may be executed for engagement in other entity, local fund or government office, as the case may be, with the express condition, inter alia, therein that such engagement "will not be regularised in future in any manner whatsoever". The notification 3967-F(P) of August 1, 2014 made it clear that "contractual remuneration may be the same as was in the present office". The reason for this strong step was obvious – even then the TMC ministry was experiencing a resource crunch and finding it difficult to pay its staff, Ghosh argued.
Here it bears mention of what Odisha CM said announcing the decision to regularise appointments to Group C and Group D posts. It was a difficult decision then (2013). "Now our economy has improved significantly. Odisha has created a new identity for itself in the field of development," Patnaik observed. If his logic is stretched a bit and applied to neighbouring West Bengal, it becomes obvious that West Bengal's economy is in a bad shape and the state government routinely applies the brakes on welfare and social security-related expenditure for its employees, the UTUC president argued.
The chief minister is desperate to prove her pro-industry credentials in recent years in the face of strident Opposition criticism that her ministry's track record in industrialisation and job creation has been dismal. According to Debasish Dutta, a senior AITUC leader who heads the outfit's jute mill union, he discovered to his dismay that the state government has quietly discontinued publication of the labour department's annual report 'Labour in West Bengal', which has been a regular publication with a mine of information since the Congress days. Dutta's bid to get the latest issue was revealing. The last issue was from 2015, of which only one copy was available and the officer was reluctant to part with it. As two copies of the report for 2013-14 were available, he was given one copy.  
For the record:
An editorial in The Telegraph of October 21 has observed: "A significant number of Indian workers who emigrate are semi-skilled or unskilled labourers. The worsening economic situation under the Narendra Modi government is unlikely to stem the flow of émigrés. Several challenges thus lie before the Centre, the first of which is ensuring that Indian labourers abroad are safe and fairly compensated. […] There is also a case for the Centre to turn its eye towards the domestic informal sector that is plagued by similar challenges.[…] The wellbeing of Indian workers abroad is also a diplomatic challenge". 
Get the latest reports & analysis with people's perspective on Protests, movements & deep analytical videos, discussions of the current affairs in your Telegram app. Subscribe to NewsClick's Telegram channel & get Real-Time updates on stories, as they get published on our website.
Subscribe Newsclick On Telegram