WB: Silicosis-affected Migrant Labourers Protest in Kolkata, Demand the Govt to Implement its Policy
Despite an official policy concerning silicosis, the patients continue to suffer due to its poor implementation.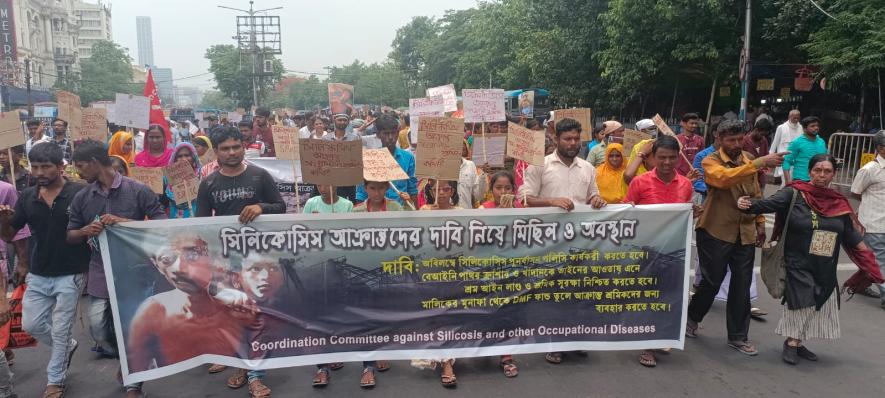 Over thousands of daily wage earners, most of whom are highly vulnerable to silicosis disease, and their families today came to Kolkata from different parts of West Bengal and sat in dharna after participating in a rally. 
Many women came with their children in tow and walked the entire rally with determination demanding immediate execution of the silicosis policy. It can be recalled that silicosis is a deadly disease caused when a patient's lungs get impaired by fine particles of dust or stone chips. 
The lacuna of the government of West Bengal is such that while Rajasthan and Haryana have identified thousands of silicosis patients, West Bengal has only found 53 silicosis patients. 
A high-powered delegation of the Coordination Committee against silicosis and other occupational diseases includes representatives of Pashchim Banga Vigyan Manch, CITU and other workers' organisations. 
Representatives of the organisations submitted, along with a patient, Rejjak Mondal, a deputation to the Additional Secretary, labour department, government of West Bengal. 
Another patient, Bankim Mondal, who is in advanced condition and has lost both sons to silicosis, also participated in the rally and expressed his disdain at the miserable handling of silicosis patients by the West Bengal government. 
From 2008-2012, the village youths of Goaldaho went to work in the stone crushing units as migrant labourers; some others worked in the stone mines of Birbhum from the Minakha block of North 24 Parganas district where Goaldaho is situated.
The life of these migrant labourers has been harsh from day one. They all flock to outside states and Asansol for work at a young age with no land to till. In 2012, when they started to return to their village after working in the highly polluted stone-crushing units at Bhiringi of Asansol, it was found that their lungs had contracted silicosis. 
In recent years, Goaldaho has seen 30 silicosis-related deaths.
As per the government rule in West Bengal, only patients admitted to the hospital can get a free oxygen supply; others having treatment at home must arrange their oxygen apparatus. Each oxygen cylinder lasts about 12 hours at a stretch and costs Rs 700.
Under the state's present rule for treating silicosis patients, they get Rs 2 lakh each for medical expenses, which cater to the oxygen costs.
Sourav Chakraborty of Vigyan Manch told NewsClick that the condition of 12 more patients is serious, and they are inching towards death, and amongst them is Bankim Mondal.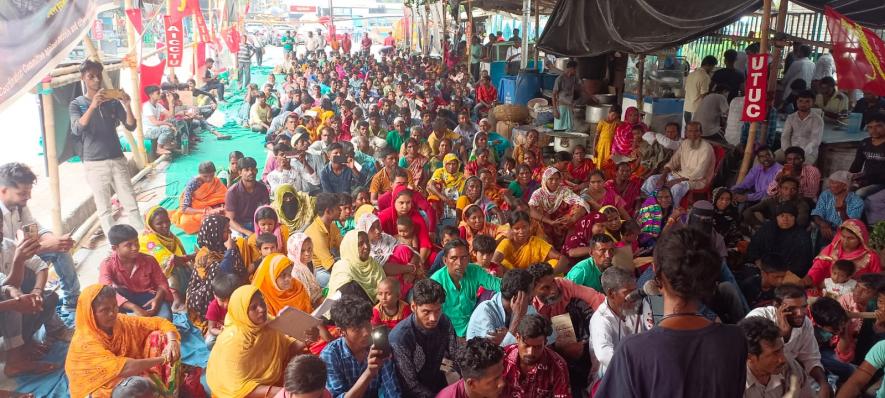 He also informed that the West Bengal government published a new policy for treating silicosis patients. It has also been proposed to give the silicosis patients a monthly sum of Rs 4,000 to maintain their livelihood. 
But nothing has moved beyond pen and paper.
He further informed that not a single silicosis patient has a monthly pension, compensation, or a lump sum amount for the marriage of dead silicosis patients' daughters.
Chakraborty said, "A labourer when they go out to work is covered under major acts of the country such as Factories Act 1948 and Mines Act 1952 which tales of a proper dustfree non-crowded ventilated place which is completely contrary to the existing conditions in the workplaces in the crusher units of Ranigung, Durgapur, and Kulti. Another act is called the Building and Other Construction Regulation of Employment and Condition of Service Act 1996, where labourers are also protected. Another two acts, Employee Compensation Act 1923 and Employee State Insurance Cct 1948, also cover the employment condition of labourers."
Under the National Human Rights Commission's directive, Haryana created an act in 2017, Rajasthan in 2019 and West Bengal in 2022, where the compensation to silicosis patients has been quantified. 
"The process of declaring a silicosis patient lies with a medical board who, after examining a patient, declares him as such. It is noteworthy that after examining a silicosis patient, their xrays are kept with the government health department and not shared with the patient, which is highly unfortunate. Even the forms under the appealing clause have not been mentioned by the government."
According to estimates of Paschim Banga Vigyan Manch under AIPSN (All India People's Science Network), there are nearly 10 million silicosis patients in the country. In Rajasthan, over 330 stone quarries are there, and over 1 lakh patients are there in Rajasthan, out of which about 28,000 are enrolled as silicosis patients. 
"In Rajasthan, the policy is that a dead silicosis patient's heir will get Rs 2 lakh, while if they are alive, they will get Rs 4 lakh as compensation. In West Bengal, a dead silicosis patient's heir gets Rs 4 lakh. They get Rs 2 lakh in the diagnosis stage if they are alive. While pensions are available in Rajasthan and Haryana, West Bengal doesn't have monthly pensions apart from a one-time compensation. Moreover, the West Bengal government doesn't perform tests to detect silicosis in patients. As a result, there are only 53 patients." 
Chakraborty added that from the Goaldaho region, the Paschim Banga Vigyan Manch made a list of 180 highly vulnerable persons who had gone to work in stone crushing units and had contracted silicosis. 
"Not a single state is diagnosing silicosis patients; in West Bengal, the work is even more abysmal. Many declared patients in West Bengal have not received compensation on death or as living patients. Not a single person has received pensions and other benefits like that in Haryana or Rajasthan."
Many patients around the stone crusher units of West Bengal lie outside this system, and the acts' tall words of detection, prevention, control, and rehabilitation are not there. 
"Only in some pockets has detection been made, and the crusher unit has been left outside its purview. Tests are still not up to any plausible level. The IEC programme (Information, Education and Communication to the Society) has not been done for prevention. In the areas where dust pollution occurs, no rectification or technological upliftment of the crusher unit has been done, and no system of periodic health checks or protective gear exists. Most of the crusher units are running illegally. In the case of rehabilitation, even diagnosed patients have not received the pension amount of Rs 4000 to living patients and Rs 3500 for heirs of deceased patients." 
Get the latest reports & analysis with people's perspective on Protests, movements & deep analytical videos, discussions of the current affairs in your Telegram app. Subscribe to NewsClick's Telegram channel & get Real-Time updates on stories, as they get published on our website.
Subscribe Newsclick On Telegram