We are Paying the Price of Holding Our Heads High: Shital Sathe
Singing songs of ordinary people, especially Dalits, Shital Sathe has been singing of the marginalised, Dalits and others all over Maharashtra, She is one of the vibrant singer-poet of the Kabir Kala Manch. Attacked for her trenchant critique of the caste order, the Akhil Bharatiya Vidyarthi Parishad (ABVP) – currently behind the attacks of students at the Jawaharlal Nehru University (JNU) and earlier at the Hyderabad Central University (HCU) – has tried to disrupt her performances in rural Maharashtra. 
On February 7, 2016 she gave a rendering of unique compositions and songs of protests at the Press Club, Delhi. Sudhanva Deshpande interviewed her for this joint production of Communalism Combat and Newsclick.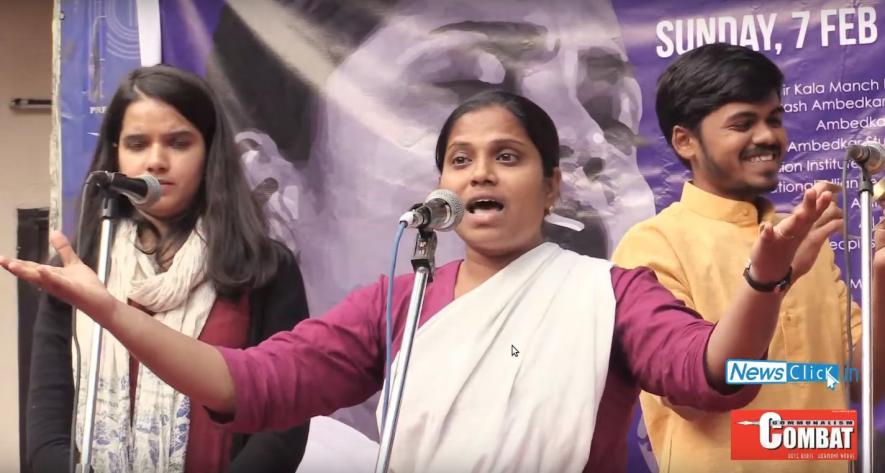 "These are moments of acute loneliness and struggle. My son, Abhang, is without his father. (Sachin Mali has been in jail, denied bail, for 32 months). Sachin is without his son and wife. Sachin's parents are without Sachin. I am without Sachin. We can't be a family, many precious moments of life have been lost," Shital Sathe 
"I sing a song for Abhang anticipating the questions he may put to us. You were born in a storm, and the swing we have for you is tied to the sky," Shital Sathe 
Inssan ke liye gaana chahie, Isaan ke andar ke jaanwar ko maar dene ke liye gaana chahiye
-- Shital Sathe on Wamanrav Kardav her inspiration 
'We are paying the pricing of not bending, not giving in, holding up our self-respect; the cost of self-respect and resistance is the 'Anda' (isolation cell) at Arthur Road jail, a room of 5 X 15 feet," Shital Sathe 
"It was the collective and invisible violence of the caste system that killed Rohith Vemula. He was a victim of caste abuse. The Brahmanism in the education sector is shameful," Shital Sathe. Her song about the killing of Rohith is powerful: Rohith gela, Dalit mela, Meli Lokshaahi (Rohith left us, a Dalit died, It is the Death of Democracy) 
"Kabir Kala Manch sings the songs of the lives of ordinary people, the marginalised, Dalits", Shital Sathe 
"It is our fundamental belief in equality, dignity and opposition to the indignities of caste and the supremacist of Hindutvawaadis that is the real reason for the opposition of the ABVP. There is nothing remotely Maowaadi or Naxalwaadi in us", Shital Sathe 
"Hindu Rashtra can never be acceptable in our country with people of different faiths, different thoughts, Muslims, Christians, Buddhists etc. Hindu Rashtra is against Babasaheb Ambedkar's Constitution", Shital Sathe 
"Mukta Salve, who studied in Savitribai Phule-Jotiba Phule's school in Pune had asked, how can a religion that does not even consider us as human ever be ours," Shital Sathe 
"Babasaheb (Ambedkar) had said that though I was born a Hindu, I don't want to die a Hindu," Shital Sathe 
"My songs talk of the newer manifestations of caste under the neo-liberal regime, our notions of patriotism is the struggle for the equality and dignity for all," Shital Sathe 
"Sachin Mali, my husband and comrade is the poet who's songs we sing; I write some songs too. We are the children of the Maharashtrian Shaayri tradition. The saints of Maharashtra who questioned the caste structure, Tukaram Namdeo; this tradition carried forward to the shaayri (poets) tradition under Shivaji. During the nationalist movement and communist movement Annabhau Sathe and Amar Sheikh are our mentors. Then the Ambedkarite movement gave birth to Wamanrao Kardav and Bhimrao Kardav. We are children of that tradition," Shital Sathe
Get the latest reports & analysis with people's perspective on Protests, movements & deep analytical videos, discussions of the current affairs in your Telegram app. Subscribe to NewsClick's Telegram channel & get Real-Time updates on stories, as they get published on our website.
Subscribe Newsclick On Telegram