We Were Wrong For Not Listening, Admits NFL Boss in Handling Player Protests
The NFL has been the target of massive criticism for its failure to directly address racism or police brutality in America and come out in support of a movement that saw many of the players join in. Over the past few years the league has also been guilty of punishing players' protests.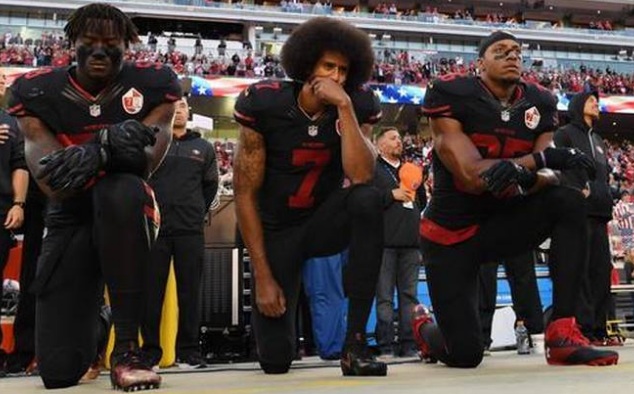 File picture of Eli Harold, Colin Kaepernick, and Eric Reid of the San Francisco 49ers kneeling in protest during the national anthem prior to an NFL game on October 6 2016 (Pic: Twitter, Sportstar).
In what is perhaps the most significant turnarounds recently surrounding systemic racism in the US, the NFL's commissioner Roger Goodell admitted the league was wrong in silencing the player protests that have mushroomed across the league over the past few years.. Goodell said he would be in touch with individual athletes who had voiced their concerns about the league's stance recently.
In a video message posted on social media, he said the league will support all peaceful protests from players in future. "It has been a difficult time for our country," Goodell said. "In particular, black people in our country. We, the National Football League, condemn racism and the systematic oppression of black people.
"We, the National Football League, admit we were wrong for not listening to NFL players earlier and encourage all to speak out and peacefully protest. We, the NFL, believe Black Lives Matter."
Goodell's comments followed the release of a video on Thursday, where more than a dozen of the NFL's biggest stars, including Super Bowl-winning quarterback Patrick Mahomes and Odell Beckham Jr demanded the NFL condemn racial inequality. 
In it, several players pointedly condemn the league for not taking the correct stance regarding protests surrounding racial inequality or racism itself. "How many times do we need to ask you to listen to your players?" Kansas City Chiefs ace Tyrann Mathieu asked, and his question was followed by multiple players questioning what it would take before the league came out in support. 
"For one of us to be murdered by police brutality?" Cleveland Browns' wide receiver Jarvis Landry says.
The video marks a sharp shift from Goodell's previously criticised non-aligned stance regarding player protests. The league's commissioner faced criticism for his handling of the protests led by Colin Kaepernick in 2016. The move was largely derided as benefiting owners rather than the players themselves. 
In his video statement Goodell seems to have changed tack. "I personally protest with you and want to be part of the much needed change in this country," he said. "Without black players, there would be no National Football League. We are listening, I am listening and I will be reaching out to players who have raised their voices and others on how we can improve and go forward for a better and more united NFL family."
Also Read | Donald Trump Using Sports to Divide America, Says LeBron James
Green Bay Packers player Aaron Jones said he is pleased that Goodell has a new outlook to things now.
"I am just glad he is listening. He has corrected himself and he has open ears," Jones said.
The NFL has long struggled with allegations of racism. Many team owners avowed supporters of US President Donald Trump, criticised the player protests in 2017, plunging the league into a protracted crisis.
Trump himself has not been favourable to the protests and has called the protesters kneeling during the national anthem before games 'sons of bitches' who should be fired. At the time, Goodell sided with Trump, saying players should stand for the national anthem.
Kaepernick, started the 'take a knee' protests in 2016 as a statement against the deaths of several unarmed black men during confrontations with police. He was released by the 49ers in 2017.
Read More | Moise Kean Racial Abuse Shows Ugly Reality in Sport; India is No Exception
Since then, Kaepernick -- who is widely regarded as a quarterback that would improve any team in the league -- has not been able to get a team to sign him. Many team owners and coaches have admitted to not wanting to take him on because of the 'baggage' he comes with. Kaepernick later sued the NFL, alleging team owners had blacklisted him for his political beliefs. The case was settled in 2019. 
While Goodell did not directly apologise to Kaepernick in the video for 'taking a knee', the commissioner's admission opens up a debate about whether the quarterback was wrongfully ousted out of the game.
The NFL and its players have been the spotlight in more ways than one over the past week, with several players coming out in support of the protests but others -- most notably Drew Brees -- making social media gaffes that have provoked strong criticism.
In a video interview Brees made comments implying NFL players who kneel during the national anthem are unpatriotic -- something he was hugely criticised for by athletes across the world. Brees backtracked and apologised for his statement multiple times in different ways before releasing an Instagram video where he admitted to being misinformed and not fully understanding the root of the form of the protest itself. 
Also Read | Arsenal Great Thierry Henry Calls for Urgent Change to Stop Racism
One person though was hugely unhappy seeing Brees' apology and subsequent change of message. The President of the United States.
"I am a big fan of Drew Brees. I think he's truly one of the greatest quarterbacks, but he should not have taken back his original stance on honoring our magnificent American Flag," Trump tweeted earlier today. "OLD GLORY is to be revered, cherished, and flown high... We should be standing up straight and tall, ideally with a salute, or a hand on heart. There are other things you can protest, but not our Great American Flag - NO KNEELING!"
It is important to remember that this tweet was sent out by a man who shirked military service during the Vietnam war citing 'bone spurs' in his heels. It is unclear if these same bone spurs are the cause for his loathe of kneeling. 
Get the latest reports & analysis with people's perspective on Protests, movements & deep analytical videos, discussions of the current affairs in your Telegram app. Subscribe to NewsClick's Telegram channel & get Real-Time updates on stories, as they get published on our website.
Subscribe Newsclick On Telegram