Moise Kean Racial Abuse Shows Ugly Reality in Sport; India is No Exception
Sport should not be about judging a person on pigment, but on the basis of merit on the playing field. Juventus striker Moise Kean's racial abuse incident at Cagliari, and similar incidents across venues around the world including India, shows the issue is deep rooted, stemming from the society.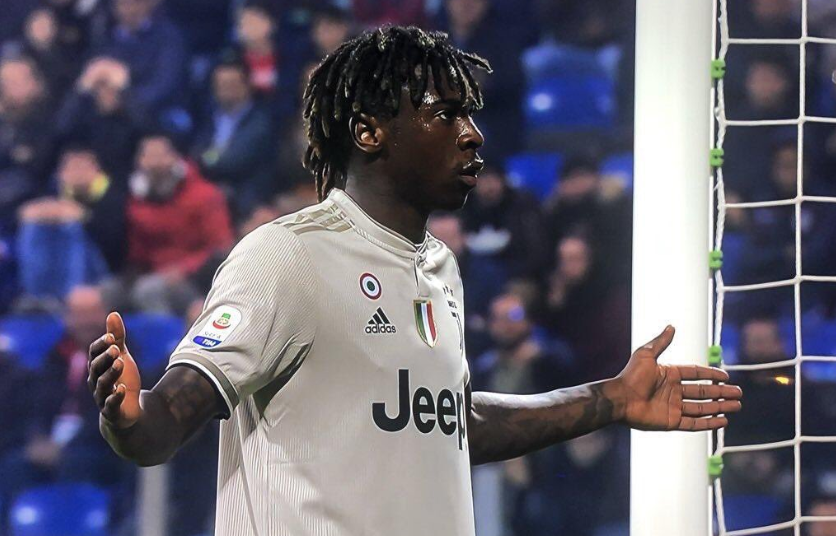 Moise Kean of Juventus celebrated his goal against Cagliari by running out to face their ultras in the Curva Nord of the Sardegna Arena, reacting to racist abuse he had received during the Serie A game.
Even by the standards of goalscorers grabbing headlines, Moise Kean's headlines are slowly redefining footballing folklore. His first goal for Italy, scored in their 2-0 win over Finland, was followed by a series of stories about his father being owed two tractors by Juventus for keeping him in Italy. Over the weekend, in Juventus' Serie A game against Cagliari, Kean came off the bench to score his fourth goal in as many games for club and country, in 11 days.
Unfortunately, though, the next story wasn't about his goal, but everything that followed. Kean celebrated his strike by running out to face Cagliari's ultras in the Curva Nord of the Sardegna Arena. He raised his arms out to his sides, stood and stared, reacting to the racist abuse he had received during the game. The slurs grew in number and volume as he stood. Monkey noises were heard during the remaining minutes of the game.
Video | Reclaiming the Night: Football Fights Back in Kashmir
Kean wasn't the only person reacting. Cagliari's captain Luca Ceppiteli was pleading with his fans, specifically the so-called ultras watching from the Curva Nord, to stop. Blaise Matuidi — who had faced similar chanting at Cagliari last season — remonstrated with the referee asking for play to be halted. But any sign of pause would go when the game ended. What came next was perhaps worse.
In the aftermath, Leonardo Bonucci chose to 'split the blame 50-50' arguing that his 19-year-old teammate had provoked the crowd! Bonucci wasn't the only one who found it easier to say Kean's immaturity and provocation caused the abuse.
Cagliari president Tommaso Giulini followed similar logic in his post-game remarks. "If [Federico] Bernardeschi had celebrated like that, the reaction would have been identical," he said. Juventus manager Massimiliano Allegri said the teenager 'needed to mature', although it is unclear whether he was talking about the celebration or the performance prior to the goal itself.
In response to Bonucci's comments, England international Raheem Sterling posted a story on Instagram; a host of emojis followed by the line 'all you can do now is laugh'. Sterling should now. He has faced similar abuse throughout his career and the incidents have only multiplied over the past few months. He faced racist heckling at Stamford Bridge in December last year. Playing for England in an European Championships qualifier in Montenegro, he took it on the chin again. The Bundesliga and La Liga are far from holding their own hands up clean. The list can go on. And it does.
Also Read | Emiliano Sala's Death, Hakeem al Araibi's Life and Football's Ugly Face
The backlash to the incident has been fierce. Footballers from all across have joined in the chorus. Former Manchester City player Yaya Toure, appearing at UEFA's Equal Game conference to ask what steps the Italian FA had in mind to punish those who had abused Kean.
This is the first thing to clear up here and now. It is accurate and also useless to suggest football has a racism problem. No matter how convenient it is to focus on everything wrong in one place, the truth is that football isn't a separate thing, and football stadiums are filled by fans who are a reflection and a part of society around it.
Football can police and discipline people who walk through its doors. At its very best it can advocate and instruct correct behaviour. But the crazy thing — as former England international John Barnes says best — is that silencing a racist stadium only makes the stadium silently racist.
The racism isn't simply leached into the fans' and stadium rafters either. There is clear evidence of systemic racism across the top reaches of football across Europe. Where black players face abuse and slurs, the South Asian faces the embarrassment of being ignored.
Of the 3700 professional footballers plying their trade in England and Wales, only 12 are of Asian ethnicity. This in a society where British Asians form 5% of the population. It may be easy to dismiss this as failure based on merit. But the truth is that there is little interest from professional clubs in scouting Asian origin players in amateur leagues across the country.
Also Read | FIFA World Cup: Black or White? Les Bleus are French in Colour
Dr. Dan Kilvington, the lead author of the study found players telling him that her had "never seen a scout watch a match in 18 years.
The stereotype of Asians not being sited for high octane British football may seem dated to a globalised, liberal mind. British scouts evidently embrace it. A scout, quoted in the study, reasons that the lack of Asians in professional football is because 'they don't like physical contact'. "I think that's their problem. Why are they good at cricket? Why are they absolutely exceptional at squash? Why do they not participate in any other sports where there is physical contact?"
Away from the Home Countries, where the idea of racial supremacy and ascendancy perhaps originated, things are not much better. Despite existing at the lower end of football's Global South similar racist overtone exists across sporting spectrums in India. North Indians are valued for their physicality, tribals for endurance, athletes from the Northeast for their skill. And these are valued members of our own, multicultural country.
Black athletes across sports can quite calmly testify to the absurd racist cat calling they face in Indian stadiums. This again is the obvious enclosed space manifestation of a societal fault. A society that refers to people from different regions with different 'friendly' slurs, and brackets people of colour within a stereotype. Children growing up in environments which standardizes this behaviour know no better.
I distinctly remember being in the stands researching a story during the Indian Premier League (IPL) final between Mumbai Indians and Chennai Super Kings (CSK) in 2015. Kieron Pollard was manning the square-leg boundary, right in front of the stand I was at. For 15 straight minutes, Pollard faced cat calls that ranged from variant pronunciations of his name to the colour of his skin, and the origins of his ancestors.
Also Read | What Indian Sports Stars Can Learn From Socrates
The last ball of the over sailed for six into 'our' stand. Pollard turned over, put his arms out and asked the crowd to return the ball. The supporters, barely 10 yards from me first started imitating his action, taunting him to come closer before breaking out into what was unmistakably monkey calls. A child no older than 10 sitting in my row joined in. It was harrowing to watch. Pollard turned and walked away. As he did, the ball was thrown back to him. It missed his head by a few inches. This was at the hallowed Eden Gardens.
In my darker moments, I often picture a slightly tweaked, enhanced version of that story. Where the ball hits Pollard. And then this happens. Malice at the Palace becomes Mayhem in Eden.
But that is just deeply depressing. Sport in its purest form is the opposite of all this. The opposite of judging a person on pigment and instead only doing so on the basis of merit. It shouldn't be about vitriolic abuse, devoid of argument. Or about the desire to cause harm — physical and psychological — to professionals who are being professional. But all of this could be asked of society too. The victory isn't in silencing racist abuse. It is when casual racism, indulged in with the viciousness that only a mob can muster, stops being the cool thing to do.
Get the latest reports & analysis with people's perspective on Protests, movements & deep analytical videos, discussions of the current affairs in your Telegram app. Subscribe to NewsClick's Telegram channel & get Real-Time updates on stories, as they get published on our website.
Subscribe Newsclick On Telegram