What Does Karnataka Want From its new Congress Govt?
The expectations of people across Karnataka are varied, but the Congress will be tested on its commitment to social justice.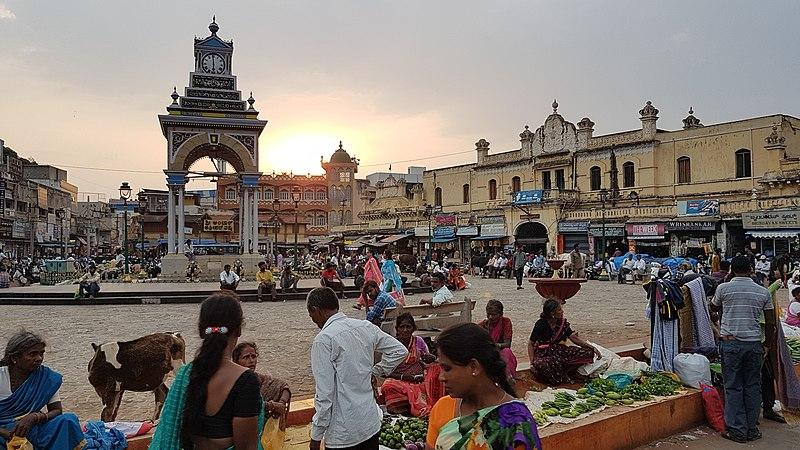 Image Courtesy: Wikimedia Commons
On May 13, the Indian National Congress (INC) received the much-awaited mandate from the people of Karnataka. Four years and two chief ministers later, the BJP government vacated office after drawing the wrath of farmers, workers and ambitious young people looking for jobs. NewsClick spoke to people across the state to understand their expectations from the incoming Congress government. Their responses have been reproduced below.
Amrut, 39, Nurse from Belagavi:
"What I hope from the next government is that they would build an AIIMS in Belagavi. The district has a population of more than 50 lakh people, but the biggest (public) hospital is the district hospital in Belgavi City, and it only has 750 beds. The All India Institute of Medical Sciences (AIIMS) Delhi has over 4,000 beds. There is no working super speciality public hospital that can perform open heart procedures, liver transplants and other major surgeries here. Patients have to go to private hospitals in Belagavi city and spend lakhs of rupees for these procedures. Technically, there is a super speciality hospital inside the district hospital (also known as the civil hospital). It was inaugurated two months ago. But staff recruitments have not been done, and none of the departments are functional. We have campaigned online for an AIIMS hospital," Amrut said.
The healthcare worker compares the health facilities in Belagavi with Dharwad. He says, "Dharwad has a population of around 20 lakhs, but it has the Karnataka Institute of Medical Sciences (KIMS). It is a 2000-bed hospital. They don't even need an AIIMS, but due to political lobbying, they will get one soon. Locals of Gulbarga and Raichur are also protesting against the decision to have AIIMS in Hubballi-Dharwad. It has been a one-year campaign there. We want an AIIMS in Belagavi city. Maybe because this is a border district with a long-standing dispute (with Maharashtra), they are uncertain about giving us more facilities. Even the Suvarna Soudha (second legislative assembly building) has been built closer to Dharwad. The Suvarna Soudha does not have any major government department even after so many years of operation (2012). Finally, the Belagavi airport is one of the oldest airports in the state. However, there is no direct flight to New Delhi or Mumbai; the flights are routed through Bengaluru, which is in the opposite direction. Belagavi is one of the main contributors to the state's revenue, but it is one of the most neglected."
Amrut is part of the Belagavi Core Development Group, a citizens' collective of infrastructure enthusiasts. They attempt to engage with elected officials with suggestions and recommendations for Belagavi's development. 
Vasudev Meti, 52, Farmer from Raichur
"Farmers in Uttara Karnataka are facing difficulties in irrigation due to water shortage. There is a supreme court order to increase the height of the Almatti dam from 519 mts to 524 mts. If the height of the dam is increased, it will benefit eight districts of Uttara Karnataka. It will result in 24/7 water supply for irrigation. In the Hospet dam, 32 tmc water worth of silt has formed. The new government has to ensure desilting. When Yeddyurappa was the CM, we sent him an appeal, he approved a new balancing reservoir in Gangavathi. The Bommai government sanctioned Rs 1000 crores for the project but the DPR has not been prepared. We sent many requests to the previous government to help reduce the price of fertilisers. They did not respond to our appeals," Vasudev Meti says.
Meti speaks about issues faced by borrowers. He says, "There is also an issue of gold loans given by companies like Manappuram Finance and Muthoot Finance. In rural areas, farmers pledge the little gold that they have in exchange for loans. These companies offer loans without any surety. The condition is that if the loan is not repaid after the issuance of three notices, the gold belongs to the companies. In the villages, people do not earn money on a regular basis. They cannot pay interest every month. If the payment is late by a few days, they charge interest for the whole month. The rate of interest is 3%. We pressured the government to act against these companies. Former Srinivaspur MLA Ramesh Kumar brought this up in the Assembly last year. But there is no change."
He elaborates on the condition of APMCs. He says, "The APMCs have been severely mismanaged. Iron and cement is also being sold here. We have been demanding the repeal of the two farm laws (introduced by the BJP state government in 2020). However, our appeals were ignored by the Bommai government. The central government had repealed their laws, but the state government implemented it, i.e. Karnataka Agricultural Produce Marketing (Regulation and Development) (Amendment) Act, 2020. Our expectation is that the Congress will repeal the law. They have promised to do so. It has resulted in the privatisation of APMCs. They are going bankrupt. The other law pertains to the acquisition of agricultural land, i.e. the Karnataka Land Reforms (Second Amendment) Act, 2020. This law removes restrictions on the purchase of agricultural land for non-agricultural purposes. Farmers have small holdings. They can be easily bought out. What will they do after this? Ordinary people will lose their land. They will have to migrate to other places to find work."
Meti also speaks about the impending privatisation of electricity distribution. He says, "electricity supply will be metered and we will have to recharge it like we recharge our phones. Our pump sets will remain idle. How will we irrigate our crops when the pump sets stop functioning? Our expenses are already so high. When we grow cotton, we incur an expense of Rs 5,000 - Rs 6,000/quintal. But the market rate that we receive is Rs 6,500/quintal. How will we survive on this? We want an MSP law as per the recommendations of the Dr. Swaminathan commission."
Shivasundar, 56, Writer Based in Bengaluru   
Shivasundar says, "To speak about the expectations from the new government, we should first understand the nature of the party. It is wedded to the neoliberal economy and soft Hindutva politics. Whenever it is compelled, it will develop welfare measures that do not cross the boundary of neoliberal policies. In fact, the 'fiscal responsibility act' was first passed by the SM Krishna government in 2002. Subsequently, it became an all India law in 2003. This became the bible for all governments. It is all about cutting down welfare measures and saving resources for infrastructure development, which helps foreign direct investment."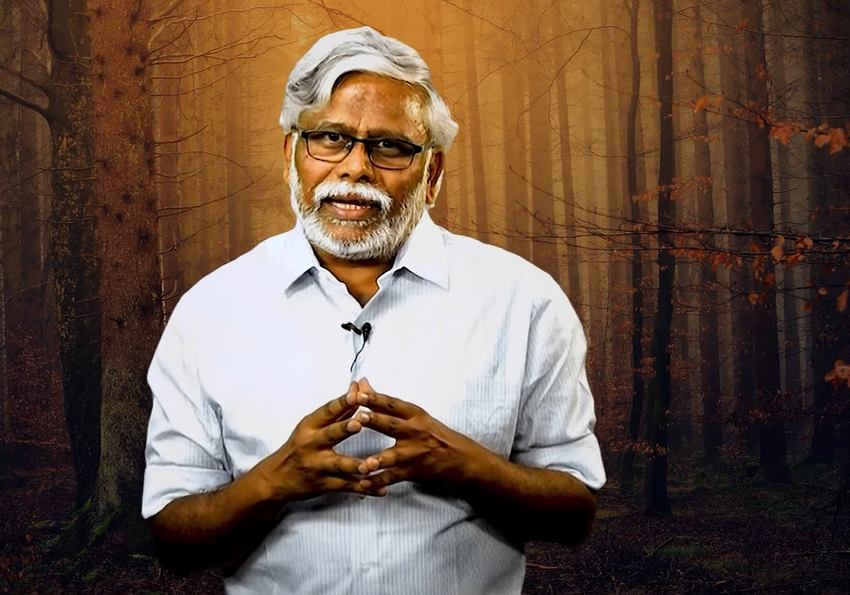 He elaborates on the inability of the Congress to oppose the BJP program. He says, "Maybe the government may act against the Hindutva extravaganza of the BJP. But the BJP in opposition is more dangerous than the BJP in government. Amit Shah made it very clear that you will see communal clashes if you don't vote for BJP. The Congress does not have the organisational machinery to contain the communal elements on the street. They will not even pass any laws to contain these elements, at least until 2024, because they do not want to antagonise the Hindus." 
Finally, he speaks about the 'Congressisation' of the Left and independent voices in Karnataka. He says, "The election was an opportunity to raise the political consciousness of the people. But they became Congress activists. The left parties offered unconditional support to the Congress and JD(S). Instead of providing another alternative, progressive organisations and collectives (which were formed during the elections) also limited themselves to campaigning for Congress. Till 2024, there will be a rider - they will say that if you criticise the Congress, that will help BJP. The problem is that the opposition space is now completely conceded to BJP. People's movement should occupy the opposition space and not be left to the BJP. If there is anger against the Congress, there is now only one alternative."  
Handijogi Rajanna, 49, Activist from Tumkur
"My expectation is that families without homes should be given two acres of land and a house to live in. There are 74 nomadic communities in Karnataka (some activists have pegged the number at 121). They are present in all 31 districts and are living silently in pain. They are living in sheds, tents and pig styes. Leaders of the last government promised that Karnataka would be made hut-free. If any government makes it a reality, I will be happy," says activist Handijogi Rajanna.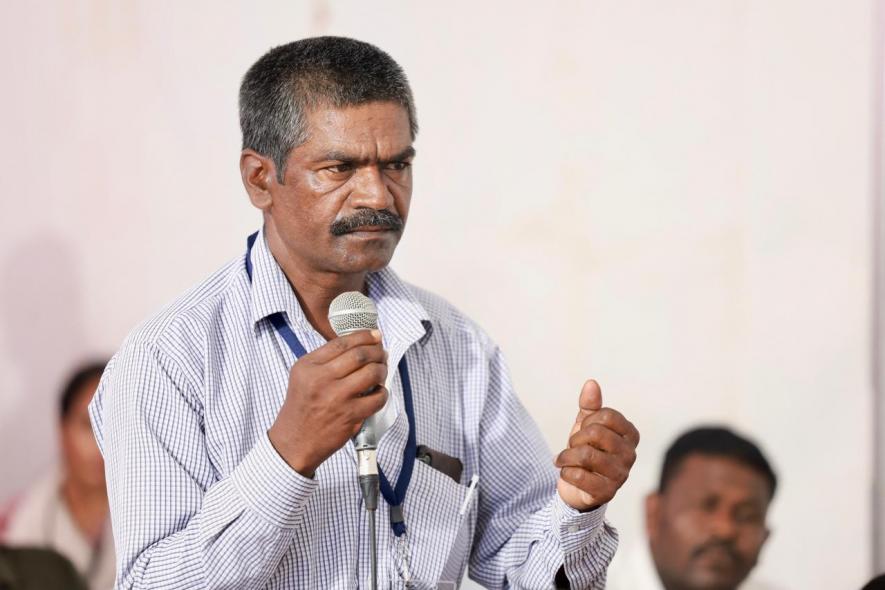 Handijogi Rajanna, a leader of the Alemari Budakattu Mahasabha
The activist based out of the Tumkur district says that, until recently, nomadic communities lacked documentation. "Even in 2013, our kitchens and bellies were not full. Our main profession was to beg on the streets and eat whatever we got. It seemed like we were not destined to earn any livelihood for ourselves. Then there was talk from the central government about prohibiting begging for alms. How will desperate people survive if begging is banned? Nomadic communities had gone under the radar. Nobody made an effort to identify us. We did not have documents like Aadhar cards or ration cards. Then came Siddaramaiah (of the INC). After we built our organisation, the Alemari Budakattu Mahasabha (Association of Nomadic Tribes), we requested him to meet us. He gave us an audience and learned about our communities and how we didn't have documents. He started the Alemari cell within the Dr BR Ambedkar Development Corporation. There was a loan facility of Rs. two lakhs for every member of nomadic communities. Two acres of land and a house was also promised. While we got the loans, we have not yet received land or houses. In Tumkur district itself, there are 128,000 alemari (nomads) families. This is data collected by the Mahasabha. Out of this, only 10% of families have houses for themselves. However, there has been some progress. Alemaris have ration cards. There is food inside their homes. This is the legacy of Siddaramaiah."
Chand Pasha, 29, Student from Gulbarga
Chand Pasha, a PhD scholar at Bangalore University, says, "As a student, I hope the new government gives more importance towards education. I hope the NEP is not implemented by the Congress. NEP does not have a positive long term vision for students. Many experts have opposed it. The BJP government has implemented it. Our teachers have told us that in ten years all the public universities will be closed down and replaced by private institutions. This will affect the future of students. Sc/St/minority students had their scholarships taken away. Teaching posts are lying vacant, from school to college level. They must be filled. This will reduce unemployment and provide a proper education to students. Moreover, there were attempts to take away the eggs from midday meals of children. This should stop. There should be no place for politics in food for children. This is my expectation from the new government." 
Pratibha, 50, Garment Union Leader from Bengaluru
"Our expectation is that the Congress government would immediately roll back the 12 hour workday policy for factory workers. The garment industry in Karnataka employs around 4 lakh workers. 85% of them are women. The promise of free bus travel (for women) should be implemented. I also wish that the government increases the minimum wage for the garment industry. It stands at Rs. 440/day. It should be Rs. 560/day. In 2018, the Congress government brought a draft notification (to double wages). But they withdrew it due to pressure from the factory owners," says Pratibha.
The expectations of people across Karnataka are varied. What is interesting to note is that farmers and workers are demanding the rollback of neoliberal policies introduced by the BJP. The 12-hour workday and new farm reforms have been rejected. The policies of electricity privatisation and liberalisation of agricultural land have filled farmers with a sense of dread. The water shortage in North Karnataka has ravaged farmers' incomes. While a law on MSP depends on the central government, the state can immediately commence work on the improvement of irrigation facilities. 
The Congress will also be tested on their commitment to social justice. While Muslims are hoping for peace and security, nomadic communities are still dreaming of a roof over their heads. 
Get the latest reports & analysis with people's perspective on Protests, movements & deep analytical videos, discussions of the current affairs in your Telegram app. Subscribe to NewsClick's Telegram channel & get Real-Time updates on stories, as they get published on our website.
Subscribe Newsclick On Telegram