What Increased Crimes Against Women in Tamil Nadu, Tell us
Women's rights activists explain why crimes against women have gone up by more than 40% between 2019 and 2021.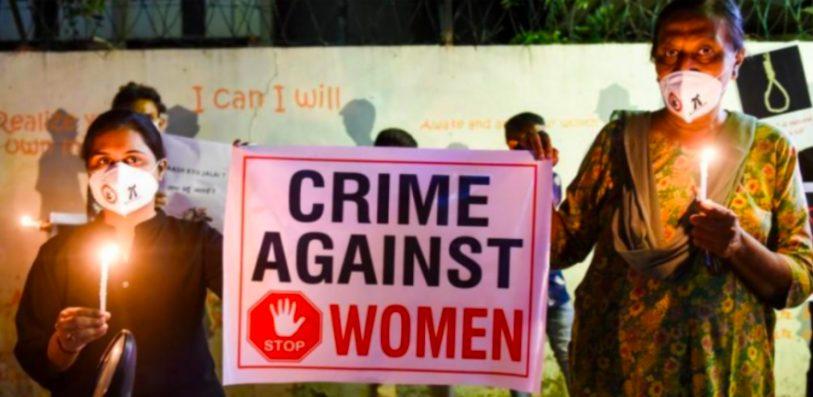 Representational Image. Image Courtesy:  The Leaflet
Reporting of crimes against women has shot up by 43.25% between 2019 and 2021 in Tamil Nadu, shows the recent data from the National Crime Records Bureau (NCRB). There was an increase of 5.35% in such crimes at the all-India level.
Reported crimes against women in Tamil Nadu went up from 5,934 in 2019 to 6,630 in 2020, and 8,501 in 2021, reveals the NCRB data.
These crimes include 'Cruelty by Husband or His Relatives', 'Assault on Women with Intent to Outrage her Modesty', and 'Kidnapping & Abduction of Women', and 'Rape'.
What can we infer from this increase? Has only the reporting increased, or has overall violence against women increased in the state?
IMPACT OF COVID
The NCRB data covers the period between 2019 and 2021, which includes the early days of the COVID-19 pandemic and the following lockdowns.
"The loss of income and Covid restrictions gave rise to anger and dissatisfaction against each other, and it was vented out on women who have a vulnerable position in the family," said U Vasugi, National Vice President of All India Democratic Women's Association (AIDWA), while speaking to NewsClick.
"Increase in violence against women in Tamil Nadu is shocking. More than 30% of crimes against women are domestic violence," she said. 
Speaking to NewsClick, Thilagavathi, a Madras High Court advocate who specialises in women's issues, said, "Though we are over that phase where everybody is bound at home, the practice of domestic violence is not seizing accordingly."
Notably, the 2021 NFHS data also revealed that the percentage of women who ever experienced spousal violence was highest in Tamil Nadu.
G Selva, Secretary of Communist Party of India (Marxist), Central Chennai, told NewsClick, "We are living in very modern times, but the feudal mindset is still stark, and it became prominent with the pandemic. We are campaigning against it."
On September 27, CPI(M) Central Chennai organised 'Seize the Night', an initiative against rising violence against women.
UNDERLYING REASONS
The pandemic cannot be the sole reason for the increase in crime against women, say women's rights and political activists.
Thilagavathi said, "Crime is always against women, it is a part of the culture. Hitting, beating and mentally harassing the woman are normalised, and these are usually not considered a crime by the assaulters."
She added, "Adults beating children is also a crime, but not much is spoken about it because it usually does not lead to death. With women, it goes up to murder and suicides, so awareness about the laws on crime against women are spreading."
"The insecurities, economic burden, steep all-round price rise, acute unemployment etc., pushed men into more and more alcoholism. And, this gives rise to domestic and sexual violence," said Vasugi.
She added, "The higher-ups like DGP involving in sexual harassment, Hindutva ideology with patriarchal norms gaining ascendancy, and so on are also reasons."
She further said, "This is a silent indication of an impending vicious atmosphere in the coming days. So, it is just not man vs woman, just not patriarchy alone, it is linked to the neo-liberal economic system."
INCREASED REPORTING
Activists say that the increased reporting of crime against women in Tamil Nadu also reflects women's high level of self-respect and awareness.
Tamil Nadu-based documentary filmmaker Geeta Ilangovan told NewsClick, "More and more women are educated and employed. Their awareness about their rights has increased; thereby, the reporting of crime against them has also gone up."
She further said, "Just because reporting has increased, it need not mean that crime against women has increased accordingly. We need to view it along with other societal developments."
"I am speaking about the overall trend of developments in the last 20 years in Tamil Nadu. Many girl children are going to school, the state facilitates them with food and transport," the filmmaker, who covers social issues, added.
Thilagavathi said, "The increase in reporting of crime against women is a positive trend. It reflects the relevance of such crimes on a large scale".
LAG IN DUE PROCESS
Although there is an increase in reporting of crimes against women, women's rights activists complain that there is a lag in the due process that discourages women who are willing to speak up and fight for their rights.
"The law and the justice system are broadly supportive of women, but the police are not," said Thilagavathi.
She said, "Women's police stations act as kangaroo courts. They assume that they are not capable of being strict with men. Only if there is a case of murder attempt, suicide, dowry deaths do they file a case," said Thilagavathi.
"The offenders are encouraged due to various reasons. The cases take a very long time to conclude, with a low conviction rate, and the offenders not facing any social stigma, and other causes are there," said Vasugi.
She added, "the functioning of statutory bodies like state women's commission and commission for the protection of child rights (SCPCR) should be more effective. Their intervention is not up to the mark. They are short of funds and infrastructure."
"Though the law states that the state government should get women's commission recommendations, act on it and submit Action Taken Reports (ATR) in Assemblies, that hardly happens," she added.
Along with a rise in crime against women, teenage pregnancy has increased, sex ratio has widened, and the health of pregnant women has fallen. The recent state policy on women says such inequality and discrimination need to be addressed.
Get the latest reports & analysis with people's perspective on Protests, movements & deep analytical videos, discussions of the current affairs in your Telegram app. Subscribe to NewsClick's Telegram channel & get Real-Time updates on stories, as they get published on our website.
Subscribe Newsclick On Telegram